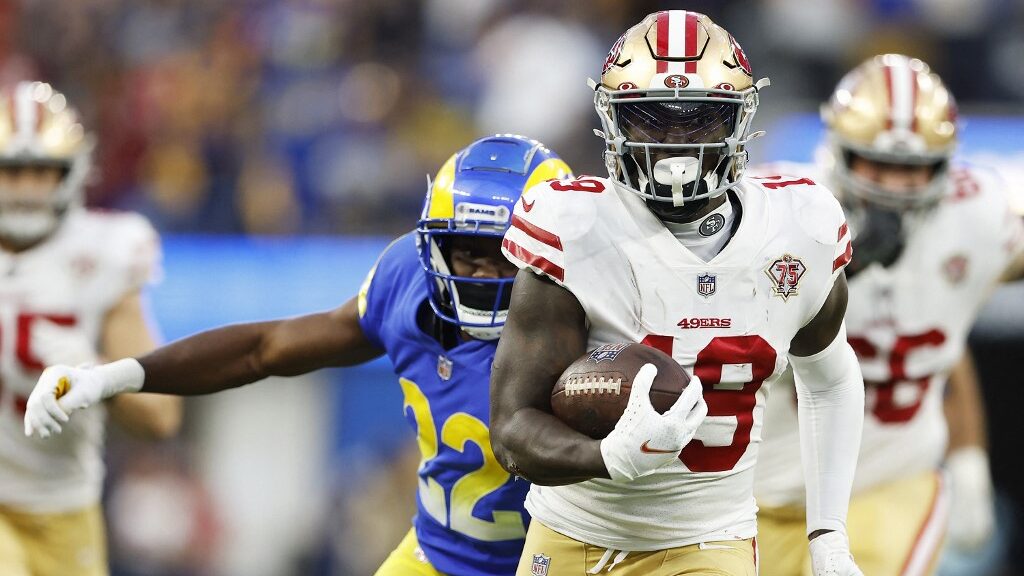 Deebo Samuel told ESPN's Jeff Darlington on Wednesday, April 20th that he has "asked the 49ers to trade him" but did not go into any more detail than that. However, other reports say that he's unhappy, not only with his contract deal but also with the way he's utilized as both a running back and wide receiver in Kyle Shanahan's offensive system.
Nonetheless, the Niners are hell-bent on keeping him in the Bay Area. "You just don't let guys like that walk", 49ers' GM John Lynch said, per Sports Illustrated's Albert Breer.
"I can't envision a scenario where we would." But while San Francisco has zero plans to let him go, that won't stop other teams from calling and making an offer if one of the best in the league wants out.
Potential Suitors
So, who is calling? Most likely every NFL team, however only a handful could afford to take on Samuel's contract let alone offer up enough in return.
According to the top-rated sportsbooks, the New York Jets are the top trade suitors for Samuel, followed by the Philadelphia Eagles and New England Patriots:
New York Jets (+450)
Philadelphia Eagles (+1000)
New England Patriots (+1600)
---
New York Jets
The Jets are on a mission to find a new weapon for Zach Wilson this offseason. They already went after Tyreek Hill but lost the trade war to the Miami Dolphins, so why not put a package on the table for Samuel?
Well, they already have. According to NFL insider Tony Pauline of Pro Football Network, the Jets are "all in" on acquiring Deebo and are willing to offer up the 10th pick in the 2022 NFL Draft. Of course, it's going to take a little bit more than a first-round pick to move the Pro Bowler, but the Jets are ready for this with a total of nine picks in their back pocket this year.
Giving up an early first-round pick, and possibly one of their better players, is a huge sacrifice but the Jets are bright enough to know that Deebo would come in and make an immediate impact alongside Elijah Moore, Corey Davis, and Braxton Berrios.
---
Philadelphia Eagles
The Eagles are in the same boat as the New York Jets and also have two first-round picks in this year's draft to bribe the Niners. However, they pick out of the top 10 at No. 15 and No. 18.
Those numbers might not look as appealing as the Jets' earlier picks but reports say that the Eagles are also willing to throw in wideout Jalen Reagor and "multiple" other draft picks in exchange for Deebo, which could be very tempting for the Niners.
And if he is traded to Philly, he would be a huge upgrade at wide receiver for young quarterback Jalen Hurts and a great mentor for DeVonta Smith, who is already en route to being one of the best in the league.
---
New England Patriots
Four years ago, when things were rather normal and Tom Brady was still at the helm of the New England Patriots, Deebo Samuel had a strong desire to go join him and Bill Belichick in Foxborough out of the 2019 NFL Draft.
But unfortunately for the Alabama product, that didn't happen and times have certainly changed since then as Brady is winning rings in Tampa and Belichick is still in the midst of a re-build.
Of course, Deebo would be a huge upgrade for their receiving corpse but the Patriots need to hang onto their draft capital to continue to fill several holes on their roster. So unfortunately for Pats fans, the timing just doesn't seem right. But then again, we are amid one of the craziest offseason in NFL history so nothing would be surprising at this point.
The 2022 NFL draft kicks off on Thursday, April 28th and it would make sense for Deebo and the Niners to come to an agreement with each other or another team by then.