http://www.bbc.com/news/world-us-canada-43794846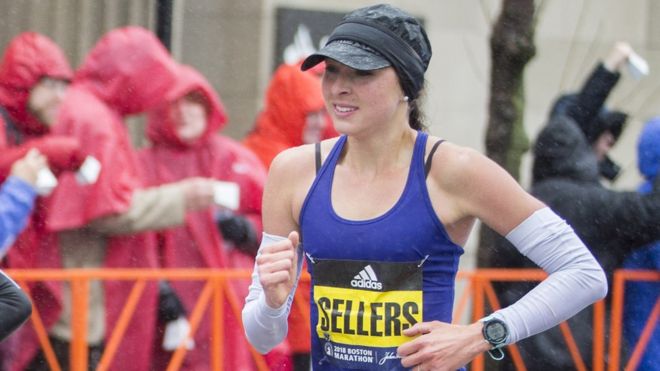 A two-time Olympian, Desiree Linden, became the first American woman to win the Boston Marathon since 1985 on Monday - but it's the runner-up who is making headlines.
Sarah Sellers ran the 26.2 mile (42km) course in a time of two hours 44 minutes four seconds, finishing just minutes behind Linden.
Monday's race was only the second marathon that the 26-year-old nurse has run. The first, in Utah, she won to qualify for the prestigious Boston event.
She was a keen track and field competitor in college, but is an unknown to the professional running world. Previous injuries meant she stopped competing.
The nurse only signed up for Monday's event because her younger brother was participating. After paying the $185 (£130) entrance fee, she now leaves the east coast with $75,000 (£52,000) in prize money.
Sellers ran the race without sponsors or an agent, and she has a day job. As the marathon got closer, she has typically been waking up at 04:00 to squeeze in training before long anaesthesiology shifts starting at 06:30 at Banner Health Centre in Arizona.
"Looking at the field of athletes assembled yesterday, I would have been ecstatic to finish in the top 15," she told the BBC.