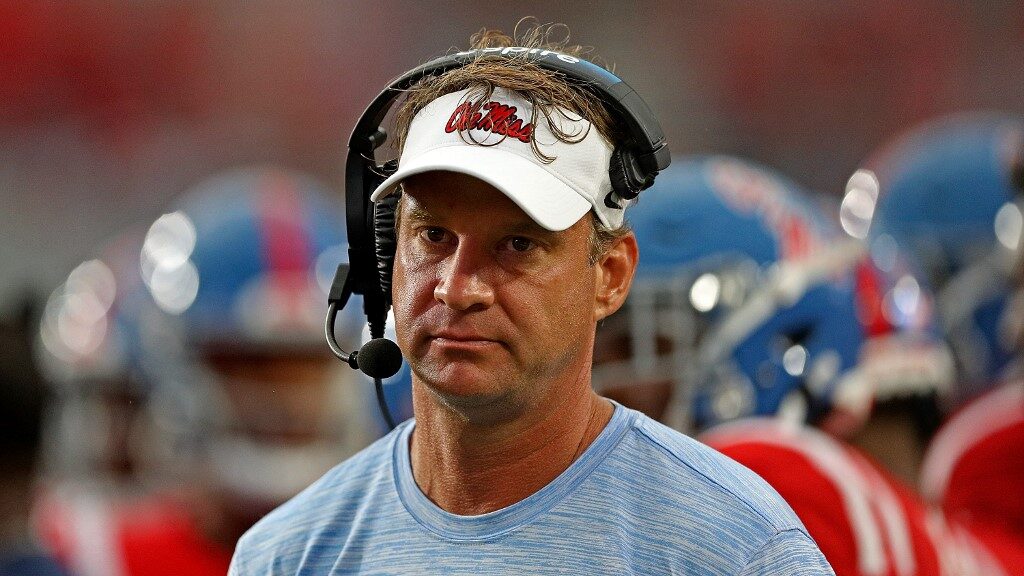 While some might argue, we think Rivalry Week in college football is the best week of the regular season. We bring you what you need to know, especially public betting trends along with the NFL Week 12.
We dig into sports personalities like Lane Kiffin, Justin Jefferson, Von Miller, and Peyton Manning. Plus, recap Thursday and share the latest football line moves and what side you want to be on for tonight's Cavs vs. Bucks battle.
---
About Last Night…
---
NFL
Since 2005, favorites have covered the spread two-thirds of the time on Thanksgiving but it didn't happen yesterday.
Buffalo never threatened to cover the -9.5 against Detroit, needing a last seconds game-winning field goal. The Lions have covered four straight games in spite of being outgained in each contest by a grand total of 382 yards.
If you have Dallas at -10 or 45.5, you probably were not happy with the Cowboys' Micah Parsons for getting a 15-yard penalty which set up the Giants' backdoor cover and the Under being blown up.
New England and Minnesota were a highly entertaining way to end the day. A great back-and-forth contest that showcased Justin Jefferson is probably the best receiver in football and Rhamondre Stevenson is swiftly moving up the list for top all-around running back. Ultimately, it was the Patriots' special teams that cost them the game.
NCAAF
The Egg Bowl made it four good football games to watch though you would have sworn they were using Pac-12 referees with several terrible calls. Ole Miss failed to cover the -2.5 because the Mississippi State defense held the Rebels to season-low 79 yards rushing.
Thanksgiving
The Over was the correct call on food and beverage for Thursday and by our own experience, the trips to the refrigerator looking for leftovers is 5.5 daily through the weekend and we would again recommend the Over.
---
Trendy Talk
---
NCAAF
Arizona State is 10-4 ATS at rival Arizona.
Missouri is 9-2 ATS versus teams averaging 450 or more yards a game.
Oregon State is 11-0 ATS in home games since last year.
Alabama is 26-5 ATS off two no-covers as a favorite when they won.
Stanford is 0-10 ATS in the second half of the season the last two years.
Florida Atlantic is 0-11 ATS in home games off two or more Overs.
Arkansas St. is 18-2 Under playing against a team with a win percentage of 75% or higher.
Colorado St. is 10-1 Under this season.
NBA
Golden State is 13-1 ATS November home games the last two seasons.
Memphis is 29-13 ATS after a game where they failed to cover the spread.
Houston is 22-10 Over after losing two of their last three games.
LA Lakers are 14-4 Over in road games off a road loss.
NHL
Dallas is 15-2 in home games when playing against a team with a winning record in the first half of the season.
Boston is 12-0 as a favorite this season.
New Jersey is 12-1 against teams allowing 3+ goals a game.
Columbus is 18-4 Over revenging a loss as a road favorite.
NCAAB
Alabama is 1-11 ATS after two or more Overs.
Pacific is 1-14 ATS after playing a home game since last season.
Davidson is 11-1 ATS after 3 consecutive non-conference games.
Middle Tenn St. is 21-5 ATS versus teams who attempt 21 or more three-point shots a game.
Washington St. is 19-2 Under when playing only their 2nd game in a week.
NFL
Arizona is 1-11 ATS versus teams averaging 350 or more yards a game in the second half of the season since 2020.
Chicago is 0-8 ATS in weeks 10 through 13 since 2000.
Tennessee is 7-0 ATS after one or more consecutive wins against the spread this season.
Denver is 13-2 Under when the line is +3 to -3.
Green Bay is 20-4 Over in road games after allowing 25 points or more in two straight contests.
---
BMR's Betting Pulse
---
NCAAF
It is Rivalry Week and we'll have it covered from wall to wall with Florida vs. Florida State Friday, starting Saturday with Michigan vs. Ohio State and closing the day with Notre Dame vs. USC. This and 12 other battles and our Best Bets and top Last Chance Value Picks.
World Cup
Make sure to follow our daily information for all the Group Stage action as we provide insightful information on the various matchups for your soccer picks.
NBA
The NBA is back and look for our popular NBA prop picks (they're free) Friday and Saturday and come back Sunday as we break down the Mavericks vs. Bucks.
NCAAB
The fun continues in College Basketball with the holiday tournaments and you can pick up a ton of information quickly on the various teams. Also, watch for our daily free picks.
NHL
After being off Thanksgiving, hockey returns and we'll provide free picks for the ML, Puck Line, and totals.
NFL
It is time for the rest of the Week 12 slate, as we have all 13 contests broken down. This and our Best Bets, Upset Alert, and top Last Chance Value Picks.
---
The Buzz
---
World Cup – Does the U.S. Have a Chance Today?
Most sportsbooks' betting odds have the United States as a +625 underdog to England. More than anything, let's see what they got.
NFL – Lions Criticism
We've mentioned on these pages that we like Lions coach Dan Campbell. Yet, Detroit keeps finding ways to lose one-score games, despite as one can see, the roster is much improved over a year ago.
He continues to make questionable calls in key spots and whatever his assistants are calling on defense, when they need a big stop it seldom happens.
NBA – Von Miller, No Tear but…
The good news for Buffalo is Miller did not tear his ACL, but he will miss time at an important part of the season as the Bills try to earn home-field advantage in the AFC. This is worth noting.
---
Football Focus
---
NCAAF – Lane Kiffin Watch Is On
With speculation that Kiffin is headed to Auburn, he told his team and the press that he expects to be back with Mississippi in 2023.
Frankly, who would want the Auburn job? Gene Chizik won a national championship and a year later was fired. Gus Malzahn played for the championship in his first year and was on the hot season thereafter and still got an extension. Bryan Harsin didn't last two years.
Whether or not these were the best coaches for the job is immaterial, somebody hired them as their best choice. Hard to beat the money in the SEC, but it can take a toll.
NCAAF Biggest Line Moves – Updated 11/25
Temple +13 to +10 vs. East Carolina – Temple has 70% of cash and bets placed.
Syracuse -8.5 to -10.5 over Boston Coll. – Despite the rise, only 60% of money and bets on the Orange.
Penn State -17.5 to -19.5 over Mich. State – A solid 80% of both categories on the Nittany Lions.
Indiana/Purdue Total 55.5 to 53 – 90% of cash on the Under.
UCF/USF Total 70 to 67 – 85% of money and 65% of wagers on the Under.
We. Kent./FAU Total 59 to 62 – Cash and Bets running 80+ percent.
Play or Fade?
Top 5 Bets Placed by Percentage (highest first) (20-40 record) – Utah, Illinois, Southern Miss, Liberty, and Houston
Top 5 Bets Placed by Money (highest first) (25-33-2 record) – Illinois, Houston, Pittsburgh, Northern Illinois, and Georgia Tech
Top 5 Totals Bets by Percentage (highest first) (37-22-1 record) – Utah/Colorado Over, South Carolina/Clemson Over, Auburn/Alabama Over, Oklahoma/Texas Over, and Southern Miss/UL-Monroe Under
NFL Biggest Line Moves – Updated 11/25
Commanders -3 to -4.5 over Falcons – A small buyback to -4, with 55% of money on Atlanta.
Dolphins -9.5 to -14 over Texans – Houston QB change raised number two points. 90% of both sides on Miami.
Ravens/Jaguars Total 46.5 to 43.5 – Oddly, 55% of cash on Under and 55% of bets on OVER for a big drop.
Bucs/Browns Total 45.5 to 42 – 90% of money on Under, with only 55% of wagers on same side. Suggests sharp action.
Play or Fade?
NFL Top 3 Bets Placed by Percentage (highest first) (14-17-2 record) – Dolphins, Chargers, and 49ers
NFL Top 3 Totals Bets by Percentage (highest first) (16-17 record) – Raiders/Seahawks Over, Steelers/Colts Under, and Saints/49ers Over
---
Out the Door
---
NFL – Do We Need These?
After the Vikings' victory Thursday we got a good look at Justin Jefferson's custom Grillz. Who else wants some? (Only $200K we're told.)
World Cup – Maybe This Can Happen to You For Doing a Great Job at Work
You should have heard that Saudi Arabia pulled off the greatest upset in World Cup history this week. Besides winning, they are getting this reward.
Football or Soccer
If you missed it, you have to see this full commercial. Check it out here.
---
Who Is Right?
---
Tonight in the NBA, if Cleveland can upset Milwaukee in the Brew City, they would take over first place in the Central Division. The total on this clash has dropped precipitously from 218 to 215.5 and 80% of the money is on the Under. Yet, 65% of bettors by volume have other ideas as their tickets are on the Over. What side would you be on?
Let's get some winners! Have a great rest of your holiday weekend and see you back here Monday!