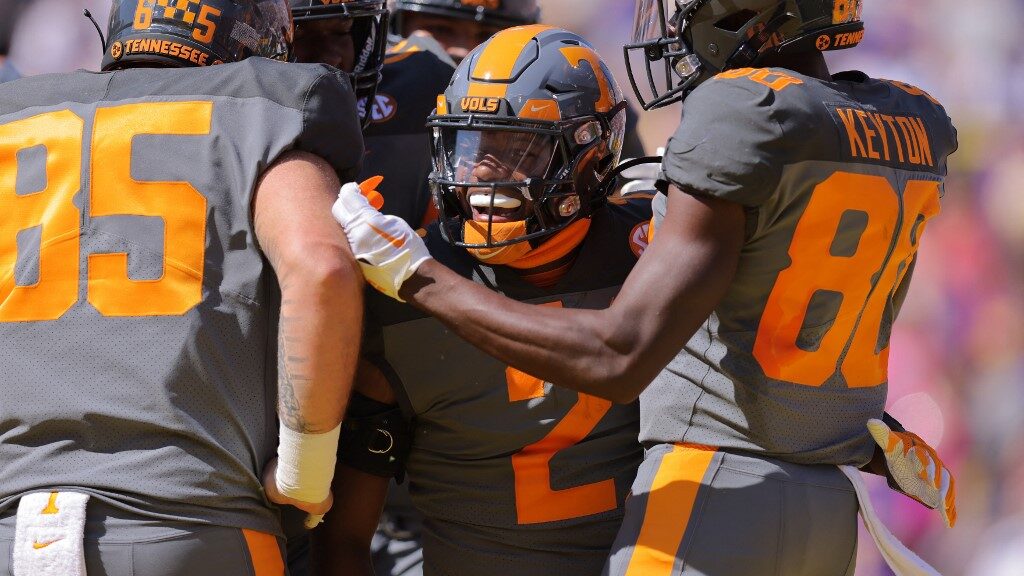 It is time for another super weekend of football! We might not have every bit of information for this weekend's games on the gridiron but we did try. Hope you enjoy.
We also have notes about the World Series, what's up with Kyrie Irving, and something to look for Saturday in horse racing you have to see.
Take your time and peruse all our information and look over what is happening in wagering.
---
About Last Night…
---
World Series
Justin Verlander once again was lacking his A-Game in the World Series, but he did enough and his teammates picked him up for the 3-2 victory, giving the Astros a 3-2 series lead. The Phillies had their chances leaving 12 baserunners on.
Game 6 is Saturday and it features a great pitching matchup between Zack Wheeler and Framber Valdez. As this was posted, the best sportsbooks had Houston as -140 to -145 ML favorites with a total Under 7.
NBA
Kyrie Irving was suspended by Brooklyn for at least five games, THEN he apologized. Most would assume it was far from heartfelt, and that the Nets would love to trade him for even a mediocre offer.
It was learned yesterday that the 76ers' James Harden will be out for a month with a foot injury. Philadelphia is only 4-5 SU and ATS to start the season and this won't help.
NFL
Philadelphia gave a lackluster performance and never was truly close to covering the two-touchdown point spread as the visitor.
One cannot help but be impressed by Houston running back Dameon Pierce, who had 139 rushing yards.
---
Trendy Talk
---
NCAAF
Oregon State is 6-0 ATS after a win by 17 or more points, (Friday)
Rutgers is 3-16 ATS in home games after scoring 6 points or less in their last game.
Iowa State is 0-9 ATS after gaining 75 or less rushing yards in two straight games.
Georgia is 4-14 ATS in home games after three straight wins by 17 or more points.
North Texas is 10-1 ATS vs. defenses allowing a comp. pct. of 58% or higher. (New)
Boise St. is 11-0 over in home games after allowing 250 or less total yards in their last three games. (New)
TCU is 11-1 over after one or more straight-up wins. (New)
Oregon is 7-0 over as a favorite this season. (New)
Army is 10-1 under after failing to cover the spread in two out of their last three games. (New)
NBA
Phoenix is 15-1 ATS revenging a straight-up loss as a road favorite.
Dallas is 15-3 ATS as a home favorite of 6 points or less.
Utah is 5-17 ATS off a road loss.
Minnesota is 12-1 over versus teams outscoring their opponents by 6+ points a game.
NHL
Columbus is 1-15 in road games after allowing four goals or more in two straight games.
Carolina is 17-2 in home games after a two-game unbeaten streak.
MLB
Framber Valdez and Houston are 21-4 vs. teams whose hitters draw three walks or less a game. (Game 6)
Houston is 29-12 under after scoring and allowing three runs or less this season. (Game 6)
NFL
Atlanta is 5-27 ATS in home games off a home win.
Arizona is 1-8 ATS in home games since last year.
Carolina is 0-9 ATS off one or more straight Overs.
New England is 8-0 ATS against teams who force one or less turnovers a game. (New)
Cincinnati is 10-0 under after gaining 99 or less rushing yards in two straight games. (New)
Washington is 8-0 under after two or more consecutive wins against the spread. (New)
Las Vegas is 7-0 over off an upset loss as a favorite the last three seasons. (New)
---
BMR's Betting Pulse
---
NCAAF
After the Friday action we also break down our Best Bets, Top Parlay Picks and Last Chance Value Plays.
Of course, we've covered the best games of the week like Tennessee vs. Georgia, Alabama vs. LSU, and Clemson vs. Notre Dame, along with betting picks on more than 10 other key contests.
NFL
For Week 9 we preview all the meaningful matchups like the Bills vs. Jets, Chargers vs. Falcons, and Rams vs. Buccaneers, plus the Sunday Night showdown with the Titans vs. the Chiefs.
Also check out our Best Bets, Upset Alert and Last Chance Value Picks on our NFL picks section.
NBA
For the weekend we have our ATS, Moneyline, and Total picks, plus Play Props in the NBA.
On Sunday we dial into the Cavaliers vs. Lakers and Jazz vs. Clippers matchups.
NHL
Friday night we look deep into the Buffalo vs. Carolina contest and return Sunday to follow the Hurricanes again when they host Toronto.
World Series
On Saturday, it is Game 6 and we have the complete breakdown, and if Philadelphia wins, we will be back for Game 7 with more winning MLB props and picks.
UFC
Look over our coverage of UFC 281 – Adesanya vs. Pereira, and UFC Vegas 64 – Magny vs. Rodriguez.
Soccer
Be sure to look over our free picks in this weekend's Best European Soccer Bets and English Premier League Matchday 15.
Horses
This weekend is the Breeders Cup, the Super Bowl of the sport and we have coverage of all the big races on Saturday.
Note: Don't forget to review all our popular prop plays in all the sports.
---
The Buzz
---
NHL – Boston Buzzing
The Boston Bruins were not thought of as a Stanley Cup contender and in truth, seeing it is November, they still truly are not. Nonetheless, their 10-1 record is sensational and B's backers are making a killing backing them.
The Bruins have been a top-heavy team for years with their top line one of the best, but that doesn't work in the playoffs. A few aging veterans started the year on the injured list and several others have stepped up early.
New head coach Jim Mongomery is also reviving his career after admitting he had a problem.
Horse Racing – 2022 Breeders Cup
On Friday and Saturday, there will be several fantastic races at Keeneland race track in Lexington, KY. The biggest race all horse bettors want to see is the Breeders Cup Classic, which is the 11th race Saturday.
In this race, Flightline is a 3/5 morning favorite. For older racing fans who remember Secretariat, this is the closest thing since for many, as he's won all five of his races, and all but one has been by 11 or more lengths.
Learn why horse bettors are crazy for this horse.
---
Football Focus
---
NCAAF – Bettors Heavily Backing Vols in Athens
This has a variety of names, but when the betting public is crazy about an underdog, while unusual, it is still considered wise by many to bet against the public.
Sportsbooks everywhere have lowered Tennessee from +8.5 to +8, as this is their top liability on Saturday. It seems crazy to think that the sharp side is Georgia.
From Chris Fallica of ESPN, "AP No. 2 Tennessee is an 8-point dog at No. 1 Georgia. Only twice has a team ranked in the Top 2 been an underdog of more than seven points in the regular season. The last instance was in 2014 when No. 1 Mississippi State was a 9.5-point dog at No. 4 Alabama and lost 25-20. The other came in 2000 when No. 2 Virginia Tech lost 41-21 at No. 3 Miami as a 9.5-point dog."
NCAAF Biggest Line Moves – Updated 11/4
Duke -9.5 to -11.5 over Boston Coll. (Friday) – Bets at 75% on Blue Devils and has been building all week. (new)
Minnesota -11 to -16 over Nebraska – A definite buyback to -14.5. 75% on money and bets on Cornhuskers.
Illinois -14 to -16.5 over Michigan State – Slight bump to -17 and at 75% for bets and cash on the Illini. (Includes sharp action)
Missouri +2.5 to -1 over Kentucky – Stationary since Wednesday with 55% (cash) on Tigers and 65% (bets) backing the Wildcats.
Fresno State -22.5 to -27 over Hawai'i – A half point added to Fresno State though 88% of the money on the Rainbow Warriors.
Miss. State -10.5 to -13 over Auburn – Dropped back to -12.5 with 60% of wagers on the Bulldogs.
USC -19.5 to -21.5 over California (new) – 80% support across the board on Trojans despite their defense.
*There are numerous totals that have dropped 3 to 6 points because of very windy conditions expected in the middle of the country.
NFL Biggest Line Moves – 11/4
Bills -10.5 to -12.5 over Jets – Bills backed up to -11.5 and just 55% of the money is on Buffalo.
Panthers +9.5 to +7 vs. Bengals – Steady, though 80% across the board on Cincinnati.
Saints +3.5 to +1.5 vs. Ravens (new) – Home dog at 80% money, with 60% of tickets backing Baltimore.
Dolphins/Bears Total 41.5 to 45.5 (new) – Both cash and wagers running 80% over.
Play or Fade? (Notice the Patterns)
Check out the college records.
NCAAF Top 5 Bets Placed by Percentage (highest first) (14-31 record) – UCLA, Utah, Michigan, USC, and Boise State
NCAAF Top 5 Bets Placed by Money (highest first) (20-23-2 record) – UCLA, Florida State, Stanford, Air Force, and Memphis
NCAAF Top 5 Totals Bets by Percentage (highest first) (27-17-1 record) – TXU/Texas Tech Over, Texas/Kansas St. Over, Houston/SMU Over, UCF/Memphis OVER, and Air Force/Army Under
NFL Top 3 Bets Placed by Percentage (highest first) (10-13-1 record) – Bengals, Dolphins, and Bills
NFL Top 3 Totals Bets by Percentage (highest first) (11-13 record) – Vikings/Commanders Over, Dolphins/Bears Over and Chargers/Falcons Over
---
Out The Door
---
NCAAF
Word on the street is Alabama is on everyone's parlay card for a money line play. If LSU would pull the upset, it would make for a bad day for bettors.
The underdog in Florida State and Miami is 16-5 ATS.
MLB
Zack Wheeler's velocity was down in Game 2 of the World Series, mostly accounting for him getting hit.
Reports have his bullpen session fine, but you have to wonder how far he can go Saturday.
---
Who is Right?
---
Those betting have cashed three straight here. Tonight's Duke at Boston College game finds 90% of the money supporting a higher-scoring affair with the total at 47, down two points from the opening 49.
Just past 50% of the wagers made are on the Under, which is quite a gap, if not a ringing endorsement for a lower score. What would you do?
Let's get some winners! See you back here Monday!