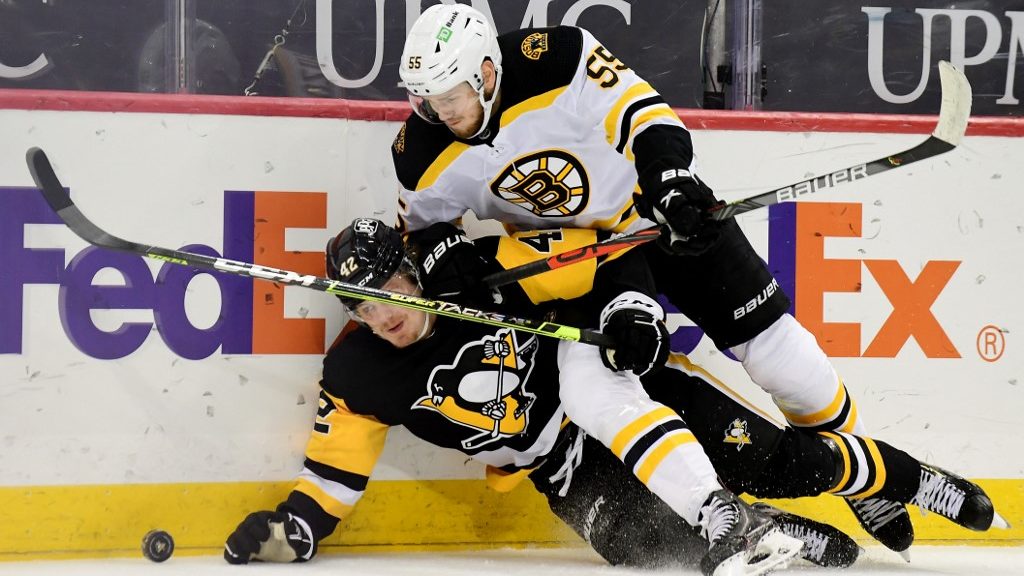 Injuries and trades are two of the biggest unknowns entering an NHL season for any team and below we take a look at which teams have been impacted the most and are worth considering when making your NHL picks.
Shakeup in Boston Leads to Winning Streak
The Boston Bruins, projected to be a Stanley Cup contender entering this season, had been treading water throughout much of the season. Injuries and COVID concerns sidelined both of their goalies, Tuukka Rask and Jaroslav Halak, simultaneously forcing Boston to summon Dan Vlader and Jeremy Swayman from their AHL affiliate in Providence.
On April 11th, the Bruins got waxed, 8-1, by the Capitals with Vlader tending the twine and allowing eight goals on 33 shots. After the game, it was announced that GM Don Sweeney had swung a deal with Ottawa for 27-year-old defenseman Mike Reilly in exchange for a 2022 third-round pick. Injuries had decimated the Bruins' defensive corps and Reilly would prove to be a fine addition, getting at least one assist in five of his first six games with his new club.
But Reilly wasn't the only move Don Sweeny had on the docket. Shortly thereafter, the Bruins welcomed former first-overall pick in the 2010 NHL draft, Taylor Hall, along with another first-round selection (2013, 17th overall), Curtis Lazar, to bolster their offense.
And wouldn't you know it, the players took notice and suddenly the Bruins had reeled off six consecutive victories following their 8-1 thrashing at the hands of the Capitals. Hall has emerged with three goals and three assists in his first seven games with the B's, awakening from a season-long slumber while Lazar has contributed a goal and an assist since he was acquired but contributing on the defensive end with solid backchecking.
The streak began after a lackluster performance in net by the rookie netminder, Dan Vlader, who has been decidedly outplayed by his counter-number, Jeremy Swayman, since being called up to the big club. But once the trades were made the Bruins came alive winning their next six games but then the streak ended abruptly on April 23rd when the lowly Buffalo Sabres pulled a 6-4 upset, despite the NHL odds installing them as high as a +306 home underdog to Boston.
It was a stunning end to a rather surprising winning streak but the Bruins are a better club because of the moves Sweeney has made recently. And although Boston is currently occupying the fourth spot in the East, they are now within striking distance of the Capitals, Penguins, and Islanders, the three clubs above them in the standings.
Although injuries have taken a toll on Boston this season, it could very well be that goaltender Jeremy Swayman is the diamond in the rough the B's had been seeking while Sweeny has landed a trio of talented players who could help Boston in the stretch run and beyond.
Penguins a Force Despite Plethora of Injuries
The Penguins have been ravaged by injuries this season, and for many seasons, as a matter of fact. It should be noted that Sidney Crosby has played with 83 different teammates since the start of the 2016-2017 NHL season. And then consider that only forwards Jake Guentzel and Bryan Rust have played in every game this season while just nine players have competed in at least 30 games.
And what makes it all more astonishing is that Pittsburgh is in second place in the East Division and only a point out of first place, behind the Washington Capitals. Obviously, top-notch talent and layers of depth can overcome many sins but it also takes an excellent head coach like Mike Sullivan to pull all the right levers and monitor minutes to keep the wheels spinning on a bus that could very easily have broken down at the station.
"It's been unfortunate that we've been hit with it all at the same position at different parts of the season, but I really like how the guys have responded," Sullivan said. "Guys that have been given opportunities have stepped up and really taken advantage of it. … And our veterans, our core guys, have been great leaders through this. I've watched these guys for five-plus seasons, and they never look for excuses. They always have an expectation to win and believe we have enough to win, regardless of who is in the lineup. We have a lot of hockey left in front of us, and we're well aware of that, but certainly, the progress we've made to this point has been encouraging."