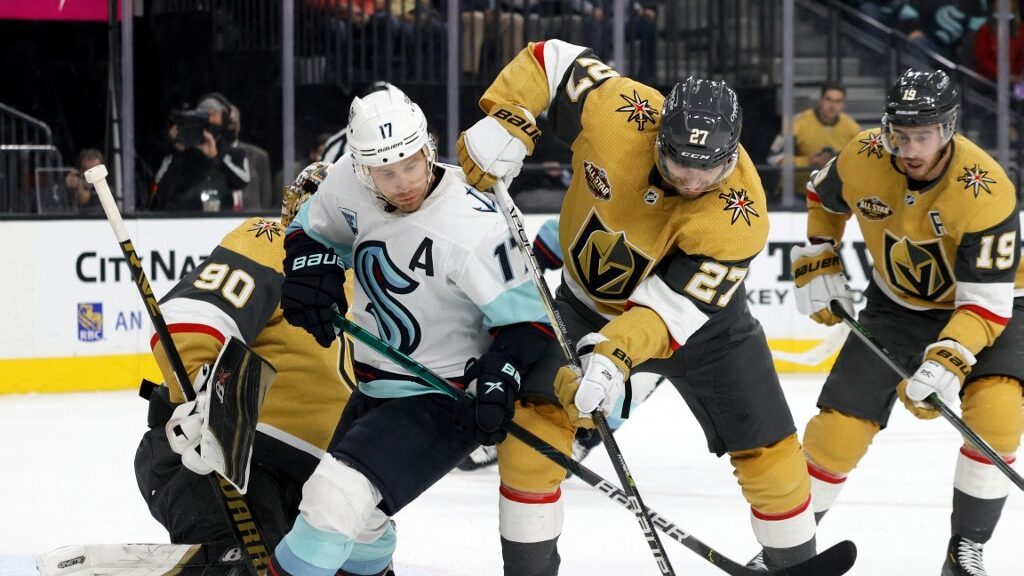 NHL total's is a market in which you can bet on the total number of goals to be scored in a game between both teams combined. In this market, we must bet on the over (more goals than) or under (fewer goals than) goals line. Each day the best sportsbooks set the line for each individual game and we must find our spots to take the over or under. What are the best strategies to use when betting game totals and how can we utilize them effectively?
How Do the Totals Work?
Assuming 99% of anybody reading this knows what way the totals line works, we will just quickly explain for those who are unaware.
As an example, we will use the last game between the Las Vegas Golden Knights and Seattle Kraken. The total was set at 5.5 at the NHL odds of +102. This means that should the game land on 5 or fewer goals than under would cash and be a winner, should the game land on 6 or more goals, the over would cash as a winner. The final score was 4-2 to the Golden Knights, so the over bet was a winner in this particular game.
If a totals line is ever set at 5.0, 6.0, or 7.0 this means that should you bet the over or under and the game finishes on the exact line, you will receive a push or void, meaning your money will be returned to you, with no profit or loss. These types of lines usually have the juice to pay for. With that quick example explained let's get into the best strategies to use when betting totals.
Simple Goal Per Game Stats
One of the simplest ways to approach NHL betting game totals is taking each team's total number of goals per game, so for example the Seattle Kraken home matches seen an average of 5.6 goals, whilst their away opponents average a total of 5.0 per game, we then find the mean or middle between these two which would be 5.3, meaning if the game line is set higher than 5.5, we would look to take the under, and if the line us set lower than 5.0 we would look to take the over.
Another way to use this metric is by taking each team's total goals as an average and adding them together, again we will use Toronto and Philadelphia as an example. Toronto average 2.89 goals at home, whilst Philadelphia see an average of 2.2 goals away from home, we add the two stats together and we get a total of 5.10, meaning we now have our line and can check whether to take the under or over depending on the line, in this case, we can get a line of 6.0 so we would be happy to take under 6.0 in this scenario based on the stats.
Now the one problem with this system is first and foremost not all games will go as planned and stats are just guidelines, anything can happen in sports as we know. Secondly, it's readily available information and the sportsbooks also have access to these stats and they also use them to make their lines so it's very hard to find an edge. Certainly a strategy for beginners.
Line Shopping and Key Numbers
The best thing about sports betting is everybody uses their own unique approach to handicapping games and some people use certain stats whilst others ignore them, here are two important factors to add to your NH handicapping armory, line shopping, and key total numbers.
Line shopping is simple yet effective and can significantly boost your odds of winning more money in the long run. You see the Toronto and Philadelphia game is set 6.0 with one sportsbook and 6.5 with another, and you are looking to take the under, you would easily choose the under 6.5 with sportsbooks B, if you were looking to take the over you would take the 6.0 offered at the first sportsbook.
Another approach to line shopping is getting ahead of the market, so for example you believe Toronto and Philadelphia game total should be 6.5 but the lines are later released and you see they are 5.5, you now have a perceived edge on the market and you can take advantage of this before the line potentially gets moved to 5.5.
The key numbers for betting totals in the NHL are 5.0 and 5.5 because 30% of NHL games finish on exactly 5 goals. There are no tie games in the NHL so a 2-2 scoreline at the end of regulation will always end on 5 goals, meaning you will push at the very least if you get 5.0, whereas if you got 5.5 you would have a loss, its vital to stay up to date with the market and knowing what way you believe lines will move if you know this then making money betting totals can be much more profitable.
Trend Betting and Situational Betting
These are stats that some handicappers hold dear to their hearts and will wear them on the sleeves, whilst others see them as pointless and a waste of time. There is no right or wrong way to beat the sportsbooks so if they work for you, great and if they don't, that's also great.
Trend betting is straightforward, you see that the Montreal Canadians have had 11 of their previous 15 home games go under the total of 5.5, so you bet the under 5.5, or the San Jose Sharks has seen 18 of their previous 25 matches away to the LA Kings go over the total, so you bet the over. It's relatively straightforward and can be interpreted differently, used in different ways, etc. Just be wary of the trend, yes team A might see 80% of their home games go over the total, but what if team B sees 15% of their away games go under? You have to find the right spots when betting trends.
Situation betting is this simple, you take a look at each team's situation and consider what the play should be. One example of this could be a team is playing back-to-back games against a rested team, and the team on a back-to-back is starting their backup goaltender. You might consider the over here as you have a backup goaltender, a fresh team, and a tired team. There are many different ways to approach situation betting.
Conclusion
Everybody has their own systems and approaches to handicapping NHL totals, and believe us when we say, anybody who has an amazing system to beat the sportsbooks won't be sharing it all over the Internet. The best way to approach total betting in the NHL is by using a variety of all the above headings, mixing and matching what works best for you, and always being prepared to adapt and change. The sportsbooks are always looking for ways to sharpen their lines and odds so why shouldn't we?