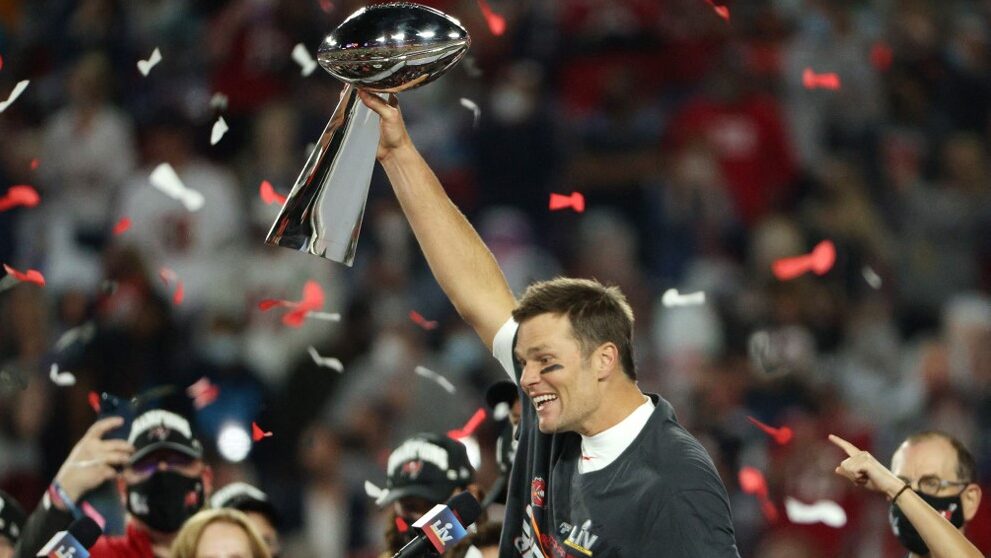 Tom Brady is retiring, once again. But as he puts it, this time it's, "For good." His on-the-field accomplishments are well-documented, but what you may not know is that everyone who bet against him during his career lost money. It makes no difference if you were betting offshore or onshore.
Brady announced his retirement in a video that he posted to social media. He thanked his family, friends, teammates, and his competitors, saying "He wouldn't trade any of it."
What fans wouldn't trade is his winning percentage at the sportsbook. He's in elite company when it comes to his overall winning percentage versus the book.
Brady Was Bad Against The Spread Last Season
If you break down Tom Brady's 2022-2023 season against the spread, it's not that good. The GOAT went 4-13-1 ATS last season. The only games he covered were weeks 1 and 2. In both games (against Dallas and New Orleans) the Buccaneers went in as 2-point favorites. Week 10 against Seattle, again, as a 2-point favorite. And as a 3-point favorite against Carolina in Week 16, Brady and the Bucs covered.
The one push came in Week 9 against the Rams. Tampa won the game 16-13, but as a 3-point favorite.
But the rest of last season was a complete disaster ATS, so this was not the year to be betting on Brady.
But One Bad Season Doesn't Make a Career
Remember, this IS the GOAT that we're talking about, so one rough against-the-spread season will not define his career for bettors. If you've been trusting Brady with your money over the years, you probably already know that it was a safe investment.
From the time Brady entered the league in 2001, he ended up covering 56.4% of his 381 starts, including his 47 postseason games. Brady has a 35-12 straight-up and 25-21-1 ATS record in the postseason and was an underdog twice in his 10 Super Bowl appearances. He won both times. First, as a 14-point underdog against the Rams in 2002 and as a three-point dog against the Chiefs in 2020.
The regular season numbers are even more impressive according to Yahoo Sports. Brady went 184-123-9 against the spread in his 316 regular season games. He did a lot of this damage while playing for the Patriots in the Boston area, where regulated sports betting JUST started. But he retires as the second-best ATS quarterback of all time among quarterbacks with more than 100 starts, trailing only Joe Montana.
What this means is that if you bet on Brady in every game of his NFL career, at the typical ATS odds of -100, you would have won close to $4,000.
Who's The Next Brady Against The Spread?
So now that Brady is riding off into retirement, what quarterback should you rely on the most when you go to bet?
Heading into the 2022 season, Teddy Bridgewater, Josh Allen, Brady, Aaron Rodgers, and Geno Smith led the pack of quarterbacks, with at least 20 starts, who had covered the most games in their careers. So who's the guy you want to bet on now?
After covering 8 games last season, Aaron Rodgers now sits atop the ATS Olympus. His career ATS record is now 126-89-4 (.586 win percentage), after going 8-9 last season ATS.
Josh Allen is now number 2. His career ATS record moved to 40-30-4 (.571 win percentage). Geno Smith, despite being a full-time starter and playing well this season, saw his ATS win percentage drop to .522 after going 7-11 against the spread last season. His overall record dropped to 26-24-2.
So, Brady may be gone, but there are some old friends ready to claim their stake as the best quarterback to bet on in the NFL. In the meantime, be sure to check out the top 10 bets that our very own Swinging Johnson lost to Brady and why he is no longer a fan of Giselle.
Record Straight Up (SU)
Regular season: 243-73
Postseason: 35-12
Record Against the Spread (ATS)
Regular season: 184-123-9 (59.9%)
Postseason: 25-21-1 (54.3%)