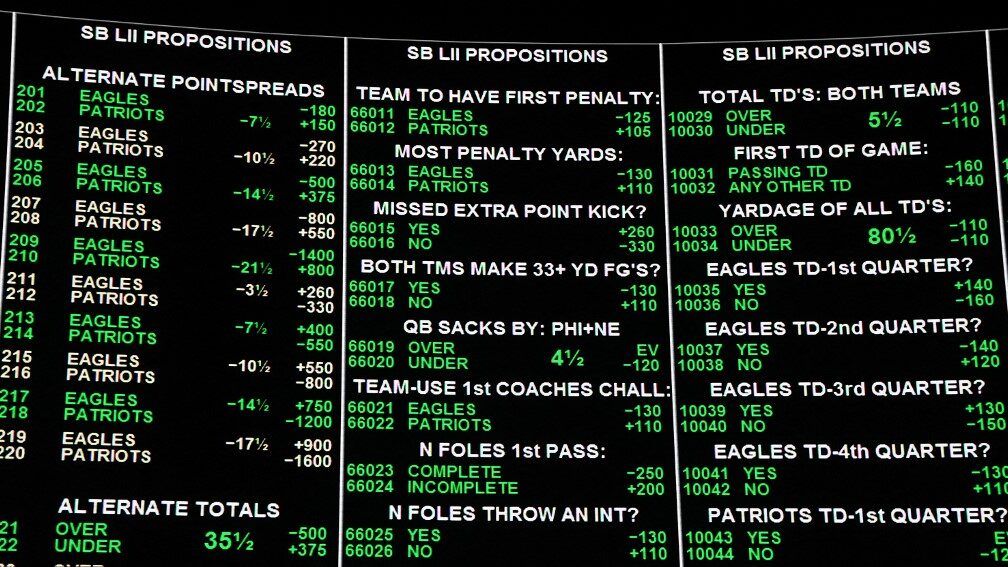 Super Bowl LVII is set with the Kansas City Chiefs taking on the Philadelphia Eagles in a battle of No. 1 seeds with 16-3 records.
It should be a great matchup between the best passing offense and the best-passing defense.
But with over 100 million people expected to tune in, the Super Bowl brings more prop bets than arguably any other event in the world. Forget just betting on Player Props or the Spread and Total.
What are otherwise top-rated sportsbooks will throw a ton of non-sports props at you such as:
Which quarterback they are going to show first during the singing of America the Beautiful and the National Anthem
Over/Under how many times NFL Commissioner Roger Goodell is shown
Over/Under 17,000 hot dogs are sold at State Farm Stadium during the game
Which company shows their advertisement first?
The hair color of halftime performer Rihanna
Rihanna announcing she is pregnant during her performance (+800) at Bovada
You may think because it is the final NFL game of the season that the money you have left in your bankroll is going to burn a hole in your pocket.
But we have come up with some do's and don'ts for betting on the Super Bowl props to make sure you have fun and not blow all your money on silly things.
Here are a few suggestions for NFL picks for you to balance with NFL odds to help get you started as we approach the big game.
Save something for March Madness and the NBA playoffs.
Check out the best US Betting Sites available in order to make secure wagers in your own home state.
---
Kansas City Chiefs vs. Philadelphia Eagles
Sunday, February 12, 2023 – 06:30 PM EDT at State Farm Stadium
Do Bet Like It's Just Another Normal NFL Sunday
It is the biggest game of the year, but you should stick to your usual process and bet on your preferred markets whether it be the Spread, Total, a Same Game Parlay mixture of things, or Live Bets with current sports odds you think to look favorable as the game progresses.
The Super Bowl is a massive spectacle, but it is still just another football game at the end of the day. Stick to your budget and do not go overboard for this game.
---
Don't Put Much Stock on the Last Meeting
The Eagles and Chiefs last played in Week 4 of the 2021 season, and the Chiefs won 42-30.
In typical Kansas City fashion, Patrick Mahomes blew open a 28-23 game in the fourth quarter with two touchdown passes to Tyreek Hill before the Eagles added a garbage-time score with seconds left to produce the 42-30 final.
But that was just the fourth game of the Nick Sirianni era and these teams are different now, especially the Eagles, who are much better.
You can acknowledge some of the statistics from that game like Jalen Hurts having his career day in passing volume, but it should be taken with a grain of salt for prepping how this one is going to look.
---
Don't Bet on the Coin Toss
Save your strength (and money) for the real tests of knowledge to come later.
The coin flip is a 50/50 proposition with no real edge to the bettor, and betting anything significant on it would be a silly way to start your game day.
If you lose, imagine how embarrassed you'll look at your gathering, or the mood it might put you in for the rest of the night.
Just fade it entirely.
---
Do Bet on the Officiating and Penalty Props
The head referee for Super Bowl LVII is Carl Cheffers, who has seen his crew lead the NFL in penalties per game the last two seasons.
He is particularly fond of calling defensive pass interference, and he has some bad history with the Chiefs, who were on the losing end of Super Bowl LV when Cheffers was the lead official for that one.
There were two phantom defensive pass interference calls before halftime against Kansas City's defense that helped the Buccaneers to a touchdown to blow that game open.
Guess which defense in 2022 leads the NFL with 15 defensive pass interference flags for 251 yards?
That would be Kansas City. With Cheffers in charge of this game, you could play some great props on the flags to come in this one at Bovada for example:
First team penalized for pass interference: Chiefs (-125)
Total penalty yards: Over 79.5 (-145)
Distance of longest enforced penalty: Over 15.5 yards (-215)
---
Do or Don't Bet on Rihanna Props, Depending on Your Fandom
If you are looking at a sports betting advice site, then the Rihanna halftime show is probably not your source of interest in Super Bowl LVII.
But if you happen to be a fan of Rihanna and sports betting, then maybe you are in love with the props available for that.
You can bet on the color of her first outfit and hair, the first song played, and if anything special happens like if Drake or Jay-Z appears.
But maybe the most intriguing bet is the over/under 9.5 songs played in the setlist for the show.
Recent Super Bowl halftime shows have gone into double digits with the songs, and lately having a special guest beyond the main performer has been the new trend.
That could be an easy over and is a more interesting music prop than anything involving the National Anthem or America the Beautiful.
---
Do Bet on the Short Touchdown
A bet you can often do for NFL games but may take more interest in it for the Super Bowl is the over/under in yards on the shortest touchdown scored in the game. It usually is over/under 1.5 yards.
In this matchup, taking the under 1.5 yards (-160) is the right call. The Chiefs are no strangers to throwing from the 1-yard line if need be, and their defense is also terrible in the red zone.
But the Eagles are even more critical to this prop as they have nine 1-yard touchdowns on offense (ranked No. 7) and have allowed 10 1-yard touchdowns on defense (ranked No. 4).
They have also allowed a 1-yard fumble return touchdown, so that is a total of 20 1-yard touchdowns in Eagles games. Only the Lions (27) had more this season.
---
Do Bet on the Super Bowl MVP
One of the best Super Bowl bets at top sportsbooks is to bet on who will win the MVP award.
After 56 Super Bowls, we have seen just one player on the losing team win it, and that was way back in Super Bowl V, an awful game to end the 1970 season. Just once we have seen co-MVPs too.
So, you know it is going to be a player from the winning team, and more often than not it has been a quarterback (31 times). Here are some other Super Bowl MVP facts:
More wide receivers (8) than running backs (7) have won it
No running back has won since Terrell Davis on the 1998 Broncos
No tight end has ever won it, so Travis Kelce or Dallas Goedert would be a first here
No offensive lineman has ever won it
No kicker has ever won it
One return specialist (Desmond Howard) has won Super Bowl MVP
Only 10 defenders have won it (last: Von Miller for 2015 Broncos)
Mahomes is far more likely to win it if the Chiefs win, but Hurts is far from a lock for the Eagles if they win as the favored, more complete team.
But throwing a few bucks on longshots such as Haason Reddick (+5000) and DeVonta Smith (+2200) is worth it.
---
Do Bet on the Beer to Flow
Finally, if there is one thing we can count on Americans during a Super Bowl, it is to fill their mouths with beer.
With societal norms thrown out the window during the pandemic, look for the over 120,000 beers sold at the Super Bowl (-135) to hit.
No matter which Super Bowl props you ultimately choose to take part in, remember to bet (and drink) responsibly.
Make sure to check out these great Super Bowl betting sites for your 2023 NFL Championship betting needs.
*The line and/or odds on picks in this article might have moved since the content was commissioned. For updated line movements, visit BMR's free betting odds product.