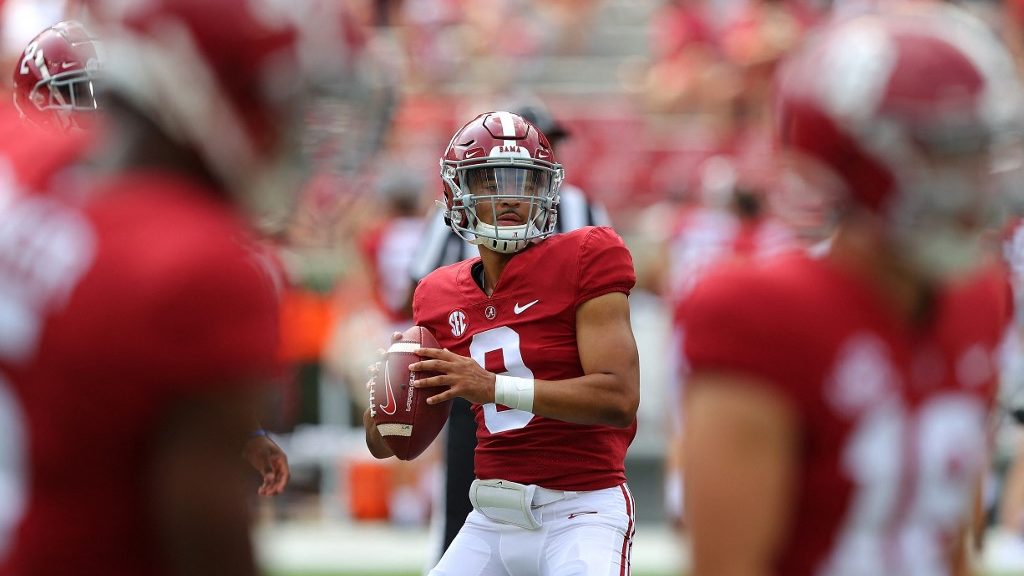 When you evaluate quarterbacks in games you're handicapping, what statistics do you use? You can quickly look up completion percentage and compare touchdowns to interceptions, but is this where you stop?
You need to look at quarterback play in a much deeper way if you want to have success with college football odds. The quarterback is the most important position on the field, and you need to learn how to evaluate and compare the ability of each quarterback in a game.
The teams with the best quarterbacks are simply more likely to win, although a great quarterback alone rarely wins on the highest level in college.
We're looking at four top criteria for handicapping quarterbacks when betting on college football.
1. First Down Completion Percentage
The average football bettor doesn't understand the importance of a first down. All of the action seems to be on third-down conversions, but the results of first-down plays set up everything that happens on second and third downs.
You need to learn about the first down tendencies for every team you evaluate because some teams run more on first down than others. But you also need to know how well every quarterback does on first down. You should track the completion percentage on first down for every quarterback.
The first down completion percentage is a valuable statistic by itself, but it's even more valuable as a comparison tool between two offenses in a game. Every quarterback should have a higher completion percentage on first down than on other downs.
On first down, defenses need to be prepared for a run or pass play, so they can't put the same pressure on the quarterback as they can in second and third and long situations. This makes it easier for the offense to complete passes on first down.
I use this information when I handicap NFL and college games, but it's the most profitable for me when betting on NCAA football games. The NFL lines are almost always tighter than college lines because the NFL draws a bigger handle and there are fewer games in the pros every week.
Mind the Gap
In college football, you find many games where the first down completion percentage is a wide gap between the two quarterbacks.
The team with the quarterback with a much lower first down completion percentage has a harder time scoring because they're forced to deal with more second and long and third and long situations.
You also need to be aware of the passing game tendencies for each team and make adjustments. A team that tends to throw five-yard passes on first down had better have a much higher first down completion percentage than a team that throws 15 yard passes on first down.
Both types of teams can be successful, depending on many different factors, but the quarterback in a quick hit system needs to complete a high percentage of first-down passes to be successful.
A quarterback who throws 10 to 15 yard passes only needs to complete one every three downs to move the chains. A quarterback throwing five-yard passes needs to complete two every three downs to move the chains.
2. Interception Percentage
Every sports bettor can quickly see how many interceptions a quarterback has thrown, but almost no one uses the information in comparison to total attempts. To get a true comparison of quarterbacks, divide the number of interceptions by pass attempts.
Most of the time the quarterbacks with the highest total number of interceptions also have the highest interception percentage, but the percentages can show which quarterback does a better job protecting the ball when two quarterbacks appear to be close.
When a team gets down by a large margin late in a game the quarterback is forced to make throws that he usually doesn't make. This leads to more interceptions.
When It Counts
Of course, a team that's often behind is an issue for many reasons, but you need to be aware of the difference between garbage time interceptions and interceptions were thrown when the game is close.
Some interceptions are clearly the quarterback's fault, but some are caused by mistakes that receivers make. Sometimes a receiver misses a catch that ends up being intercepted. If you can identify these situations, which you can only do by watching games or film, you can eliminate these from the stats.
But this isn't always the best way to handle the situation. If this happens once you can probably safely subtract it from the equation, but some receivers create problems on a regular basis. Even if it's not the quarterback's fault, if it's likely to happen again you can't ignore it.
Your job is to handicap the games in a way that gives you a chance to win a wager, not defend a quarterback or receiver. You can't afford to let anything cloud your judgment, so you have to deal with facts and learn how to evaluate them correctly.
3. Sack Percentage
Amateur handicappers are quick to believe that sacks are 100% on the offensive line. But the truth is that sometimes sacks are the quarterback's fault. It's often difficult to determine when the line fails and when the quarterback holds the ball too long or doesn't move away from pressure. The only way to get a good idea is to watch as many games as possible.
Don't make the mistake of underestimating the importance of sacks. A high percentage of drives that include a sack don't end in points. A sack is a classic drive killer, so you need to know which quarterbacks and teams are prone to taking a sack and killing a drive.
4. Yards per Attempt
This is one of the easiest statistics to find because it's listed by some stats services. The more common statistic is yards per completion, but yards per attempt is a much better way to compare two quarterbacks.
To determine yards per attempt, simply divide the total number of passing yards by the total number of pass attempts. I always take this another step and find the average number of times the quarterback throws every game.
When you look at yards per attempt it rolls yards per completion and completion percentage into one statistic. You still need to look at completion percentages when you evaluate games because there's no argument that a guy completing 65% of his passes has an advantage over a guy completing 50% of his passes. But the gap might not be as big as you think.
As a matter of fact, a quarterback completing 65% of his passes can have the exact same yards per attempt as a guy completing 50% of his passes. If this is the case, I still give the guy completing 65% of his passes an edge, but it's not a huge edge for handicapping purposes.
The reason why I lean toward the quarterback completing 65% of his passes over the quarterback completing 50% of his passes with the same yards per attempt is that whoever has the higher completion percentage has a better chance of completing a pass when it's most important.