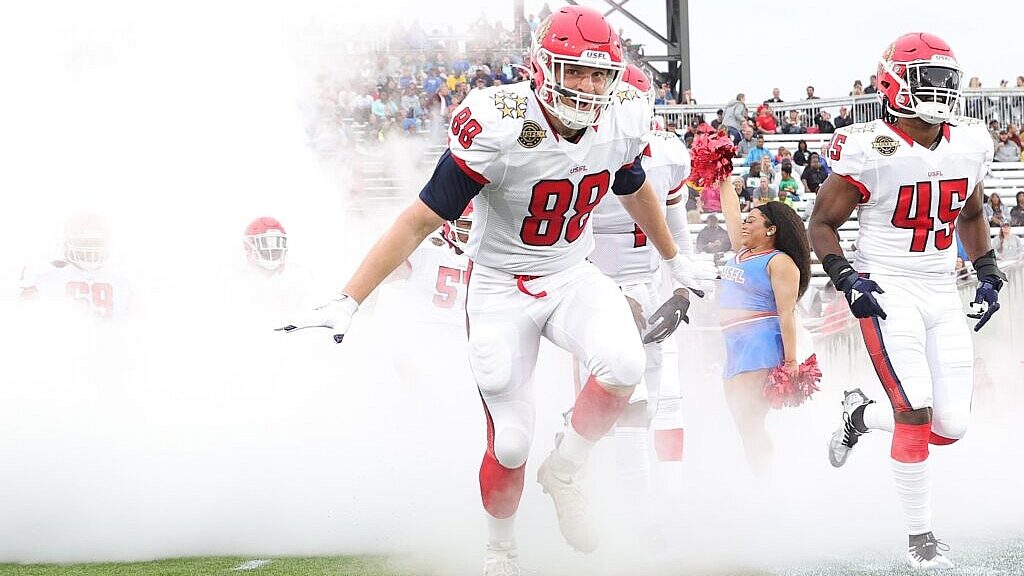 Football fans, don't adjust your dials. The USFL logo that you keep seeing isn't a glitch. It's a sign that there will be spring football again in 2022.
The USFL's first matchup kicked off on April 16, and the season will continue through July 3.
Sports bettors can also use it to continue their hot streak after the Super Bowl. They can gamble on eight teams for ten games and then have a brief postseason.
Introduction to the USFL
This current revival of the USFL is intended to succeed where other non-NFL Leagues have failed (see: WFL and XFL1-2) and will limit the number and players of teams and games.
There is still time to learn more about the league, its players and coaches, and how the oddsmakers see this competition unfolding.
We have broken down the USFL's upcoming season and provided a breakdown of the USFL.
With a new league, you could always try a new sportsbook out and see if you like it! Good luck and win big!
---
What Is the USFL?
The United States Football League (USFL), a professional football league, is owned by Fox Sports. It started playing a ten-week season on April 16, 2022.
Daryl "Moose" Johnston will be the Executive Vice President of Football Operations. The USFL will not be trying to compete with the NFL.
It will instead serve as a developmental league to help develop talented young players who may not yet be ready to play in the Big Leagues but could if they were given more coaching and time.
The USFL is considered "Spring Football" and will be played while the NFL is still in its offseason. However, the oddsmakers have already begun to predict the future and released their odds.
Where To Bet on USFL?
The oddsmakers have already begun to choose their USFL favorites and underdogs.
Still, it's primarily based on speculation and statistical predictions since these players and coaches, and teams are relatively unproven so far.
For the best USFL odds and bet selection, check out our favorite mobile sportsbooks, all with different odds and spreads, so make sure to find the ones that make the best sense for you. We rate and review sportsbooks like:
BetOnline
Heritage Sports
Bovada
GTbets
and many more
Be sure to also check out our predictions article on USFL futures and weekly game previews that break down each matchup so you can get a better idea of which team has the best chance to win the game.
---
USFL 2022 Teams and Divisions
There are eight teams in the USFL, and they are split into two divisions
The North Division
The South Division
Although they are all currently based out of Birmingham, Alabama, the teams represent a nominal area where their fans are expected to emerge.
Each of these eight teams revived the name and colors of teams from the 1980s version of the USFL, a situation that was allowable since the original trademarks had been abandoned when the current league acquired them as their own.
USFL 2022 Players Selection
Each of the eight USFL teams is permitted to maintain a 38-man active roster and a 7-man practice squad.
These players were acquired via a draft over two days – February 22 and 23 – with each of the rounds dedicated to specific players to better divide the available talent pool between all eight teams.
In terms of age, the USFL allows any player to be eligible if they've graduated from high school in 2020 or earlier so that, in theory, a player can opt out of college after two years and join the USFL.
Who Are the Coaches in USFL?
The USFL will serve as a bit of a developmental league for head coaches and staff, and some of these men are most likely using this opportunity to showcase their leadership and game planning skills for NFL owners to see.
Here are the eight new USFL head coaches who will be vying for the championship in 2022, a list that includes such NFL luminaries as Todd Haley and Jeff Fisher, as well as some known college-level names, including Skip Holtz and Larry Fedora.
---
USFL 2022 Schedule
The USFL regular season will run for ten weeks, from Saturday, April 16 through Sunday, June 19, with two games played on Saturdays and two on Sundays throughout the schedule.
The best two teams from each division will square off on Saturday, June 25, and the winners of those two matchups will play for the USFL championship on July 3, 2022.
Don't forget to check out our game preview for each week of action!
---
USFL 2022 Salary
The coaches and players in the USFL will make relatively good money for their work, though it pales in comparison to the multi-million dollar contracts of the NFL.
Active Roster Players:
$45,000 for the 10-game season
$4,500 per game
Practice Squad Players:
$15,000 for the 10-game season
$1,500 per game.
On top of that base salary, players will also receive an $850 bonus for every win, and the winning players on the championship team will receive a $10,000 prize.
Another USFL bonus will be that players and staff will be eligible to receive a "tuition-free and debt-free" college degree thanks to a partnership with Strategic Education's Capella University and Strayer University.
---
The Top Sportsbooks for Betting on the USFL
BetOnline
One of the longest-running online sportsbooks in the game, BetOnline is king for many users. They're based out of Panama City, Panama, and offer players a variety of services.
The best parts of BetOnline are its best-in-class odds, live betting experience, and favorable banking methods.
If you want juicy lines and fast payouts, check out BetOnline. They almost always have lined up first as well. They're an industry giant and we highly recommend them.
Heritage Sport
Another long-time favorite of ours is Heritage Sports. The Costa Rica-based entity has been around for over 20 years and is offering new registrants a 50% cash bonus to play with.
They are best known for their competitive betting odds, fast customer service, and unique cashback opportunities.
You can withdraw in full and quickly, which is not something every book can say, unfortunately.
To further enhance your experience, Heritage Sports has an excellent live betting interface that makes it easy to stay engaged in the action.
The only downside is you have to be a resident of the United States or Canada.
Bovada
There's not a bigger brand associated with online betting than Bovada. The Canadian sportsbook has been a mammoth since launching in 2011.
They offer new players a solid 75% cash bonus to use in their sportsbooks. Bovada is great because their unique prop bets have low-risk attached to them.
They have industry-leading software that makes their app easy to use. Make sure you take advantage of their bonuses and boosted odds that sweeten any bet you put down.
Bookmaker
If you're looking for the option to have high limits, Bookmaker is your place to go. But don't be scared away if you're a new user and do not want to invest heavily.
Casual bettors will love their friendly interface, low minimum wager guidelines, and a constant string of bonuses.
There's also a popular loyalty program you can take advantage of with Bookmaker.
You'll earn special bonuses and prizes for playing with Bookmaker. Sign up today to grab their 100% cash bonus.
BetAnySports
Looking to get a free play instead of a cash bonus? Check out BetAnySports. A lesser-known entity despite being around for two decades, BetAnySports is an elite sportsbook out of Costa Rica.
The best part of BetAnySports, hands down, is their lines. Getting reduced juice lines are hard to find nowadays so this is the place to go for a better return on your dollar.
BetAnySports also has some of the best customer services we've experienced, and a fun casino to dip your toes into. Download their app today and give BetAnySports a try!