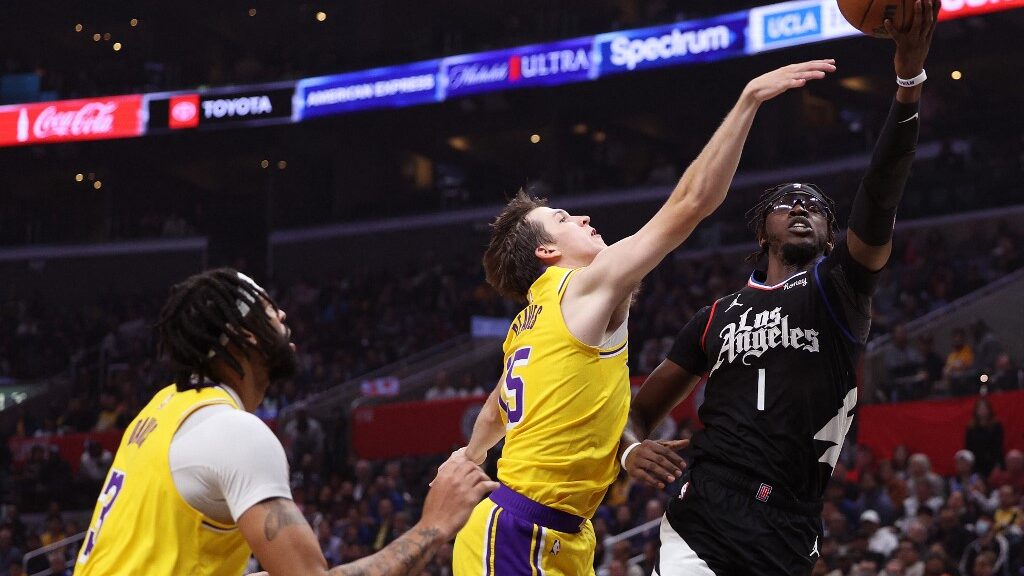 As per usual, we have the events of last evening and there are intriguing stories. We move full speed ahead into football in all facets of the NFL and College to set you up for the weekend.
Plus, we explain why NBA bettors are displeased (that might include you) and what the oddsmakers are thinking about Josh Allen.
We close it explaining why betting against one NBA is like stealing.
---
About Last Night…
---
NFL
If you drafted any NFC South players for your fantasy team and you are locked in as long as your players are healthy, you are having a losing season.
Forget the rain, that was just another god-awful Thursday night football game to watch, but at least Under bettors and Carolina backers cashed.
NBA
The Portland Trail Blazers have an appropriate nickname after blasting New Orleans 106-95 as 10-point road underdogs.
Portland has started 9-3 and 9-2-1 ATS and is in the Top 5 in points allowed and Top 10 in field goal percentage defense for the first in forever. (Or as far back as we can remember)
NHL
Another big favorite lost Thursday as the New York Islanders were shutout 2-0 by a weak Arizona squad. We should also note the Coyotes have bonded defensively and they have won three straight on the road and surrendered just three goals. Those with the courage to take Yotes have picked up $709 profit on three $100 bets.
Also, let's give a hand to Vegas who has won nine in a row after baffling Buffalo 7-4. The Golden Knights have wobbled from time to time but have won three times in OT to keep the streak alive.
---
Trendy Talk
---
NCAAF
E. Carolina is 9-2 Under as an underdog. (Friday)
Oregon ST. is 10-0 ATS in home games the last two seasons.
Pittsburgh is 12-0 ATS after two consecutive games where they forced no turnovers.
Wake Forest is 8-1 ATS in home games against conference opponents. (New)
Hawaii is 13-1 Over in home games off three straight losses against conference rivals. (New)
San Jose St. is 9-0 Under (+9 Units) after 2 or more consecutive straight-up wins the last three seasons. (New)
ARMY is 27-5 Under vs. teams averaging 8.5 or more passing yards per attempt. (New)
Louisiana Tech is 31-8 Over when the total is between 63.5 and 70. (New)
NBA
Memphis is 35-15 ATS after playing a road game.
Oklahoma City is 22-8 ATS after three or more consecutive losses.
Minnesota is 20-5 Over after failing to cover 3 of their last 4 against the spread.
New York is 17-4 Under versus teams outscored by their opponents by 6+ points a game.
NHL
Dallas is 8-1 against good power play-killing teams at 14.5% or lower on chances.
Pittsburgh is 2-7 against good passing teams averaging 5 or more assists per game this season.
NCAAB
Florida St. is 1-11 ATS after a combined score of 155 points or more.
DePaul is 10-1 ATS off a home win.
Illinois is 23-6 ATS in home games off a home no-cover where the team won straight up as a favorite.
Florida Atlantic is 0-8 ATS in road games after a win by 10 points or more.
NFL
Dallas is 8-0 ATS playing against a team with a losing record the last two seasons.
Cleveland is 2-12 ATS in road games off a win by 10 points or more over a division rival.
Miami is 8-0 ATS in home games vs. teams with a completion pct. of 61% or better in the second half of the season.
Dallas is 8-0 ATS playing against a team with a losing record. (New)
Arizona is 11-1 Under in road games after one or more consecutive losses the last three seasons. (New)
NY Giants are 10-1 Under in home games. (New)
Tennessee is 8-1 Under as a home favorite. (New)
---
BMR's Betting Pulse
---
NCAAF
We look ahead to our Saturday Best Bets and Top Value Picks along with top matchups like TCU vs. Texas, Georgia vs. Mississippi State and Alabama vs. Ole Miss.
And that's not all, as we break down at least 10 more tilts in our NCAAF picks section.
NFL
For Week 10 we cover key games like Vikings vs. Bills, Seahawks vs. Buccaneers and several others. And yes, we still have our Best Bets and Values Picks that are absolutely free!
NBA
There is some great action this weekend starting Friday, check out what is on tap.
Return Saturday for more with the Jazz vs. Sixers and Sunday for the Nets vs Lakers.
NHL
Over the next three days, review our daily hockey picks including ML, Puck Line and Total bets, along with player props.
NCAAB
We have our first full weekend of college basketball. We are focused on ATS wagering along with Totals and money lines from our top-notch experts.
Soccer
You know the drill by now with English Premier League Matchday 16, this weekend's Best European Soccer Bets and World Cup Group G Full Breakdown.
UFC
The card looks incredible for UFC 281 and we have nailed down a top parlay to follow.
Note: Don't forget to review all our popular prop plays in all the sports.
---
The Buzz
---
NFL – Oddsmakers Playing The Middle (It Appears)
We continue to be told Josh Allen is 50-50 to play Sunday against Minnesota. The line on the Bills on Monday had Buffalo at -7, and when the news broke on Allen, the sportsbooks lowered it to -3.5. It doesn't take a football genius to understand Allen is worth more than 3.5 points to the Bills.
Our guess is the books are taking a cautious approach because if they went to -2.5, bettors would jump on Buffalo, which could set them up for a middle on the key number of 3, if Allen would play or even possibly not. Smart move we say.
NBA – Late Injuries and Rest Making Bettors Angry
This has gone on for a while, however, with it happening so early in the NBA season, basketball bettors are voicing their unhappiness on Twitter. Those that can only place NBA bets in the morning are finding out later about the team they are backing is deciding to rest players long after they placed the bet. They later find out the betting odds have changed dramatically.
And even those that place them later or buy from handicappers, are ending up on the short end of the stick.
We acknowledge that NBA teams are under no obligation to those making NBA picks, they are going to do what is best for their team. Nevertheless, it would be helpful for the league that has accepted money from the sportsbooks to have a set time or two for daily injuries, or rest reports that can be viewed for all contests.
---
Football Focus
---
NFL – Seahawks Public Darlings
The Seattle Seahawks are receiving heavy action across the board for the matchup in Germany versus Tampa Bay. They will easily be the most supported underdog for NFL picks in Week 10, yet as this article was posted, Seattle has remained at +2.5 since Thursday, so the books are not impressed.
NCAAF Biggest Line Moves – 11/11 Update
East Carolina +7 to +5 vs. Cincinnati (Friday) – This has slid to +4 with about 60% of all action on the Pirates.
Rutgers +12.5 to +10 vs. Michigan St. – One more dip to -9.5 and 75% of the money (mostly sharp money) is backing the Scarlet Knights.
Utah -21.5 to -23.5 over Stanford – Unchanged with 85% of bets placed on the Utes.
Arizona St. +10 to +8 vs. Wash. State – The Cougars have been bumped up to -8.5 and 80% of money and bets are on them.
Wisconsin +1.5 to -1.5 over Iowa – In a big shift, Iowa is back to -1 with 75% of the cash on them.
Boston Coll. +20 to +18 vs. N.C. State (new) – 60% of money on B.C and 75% of bets on the Wolfpack.
Arizona St./Washington St. Total 55 to 59.5 (new) – Despite the rise, 90% of cash is on Under.
UNC/Wake Forest Total 75 to 78.5 (new) – There seems to be no limit on the ACC action, though only 65% of bets are on the Over.
Washington/Oregon Total 69 to 72.5 (new) – 70% of money and bets placed is riding the Over.
NFL Biggest Line Moves – 11/11 Update
Buccaneers -1.5 to -3 over Seahawks – Backed up to 2.5 and about 60% support both ways.
Browns +5.5 to +3.5 vs. Dolphins – No movement with 75% of wagers for Miami.
Browns/Dolphins Total 46.5 to 49 – Up to 49.5 and all reports of 80+ percent on the Over.
Lions/Bears Total 46 to 48.5 (new) – The market is at 70% for the Over.
Play or Fade? (Notice the Patterns)
Check out the college records.
NCAAF Top 5 Bets Placed by Percentage (highest first) (17-33 record) – Houston, Penn State, UCLA, Utah and Western Kentucky
NCAAF Top 5 Bets Placed by Money (highest first) (21-27-2 record) – Indiana, UCLA, Baylor, Houston and Western Kentucky
NCAAF Top 5 Totals Bets by Percentage (highest first) (31-18-1 record) – Maryland/Penn State Under, Indiana/Ohio State Over, Nebraska/Michigan Over, TCU/Texas Over and Vanderbilt/Kentucky Under
NFL Top 3 Bets Placed by Percentage (highest first) (11-15-1 record) – Chiefs, 49ers and Dolphins
NFL Top 3 Totals Bets by Percentage (highest first) (12-15 record) – Browns/Dolphins Over, Lions/Bears Over and Commanders/Eagles Under
---
Out The Door
---
NCAAB – There She Blows
Tonight's matchup between Michigan State and #2 Gonzaga on ESPN is being played on the USS Abraham Lincoln ship in San Diego and the winds are expected to be blustery. With this, the total is being slammed, once at 157 and the latest at 142.
We are not saying that is wrong, still, that is a massive drop for two teams that can get up and down the floor and score in the paint a great deal.
NBA – This Is Easy
Is there an easier way to make money than betting against the hapless L.A. Lakers? The Purple and Gold are 2-9 SU and ATS and are losing by 8.4 PPG. Maybe they will find some answers but it does not seem like they will at the moment.
---
Who is Right?
---
We venture into some college hoops on Friday night with the College of Charleston taking on No. 1 North Carolina. The Tar Heels were sent out at -23 and have tumbled to -19. The number of wagers placed still supports the Heels, but C.O.C. is attracting 90% of the money. Do you dare bet against No. 1?
Let's get some winners! Have a hugely profitable weekend and see you back here Monday!