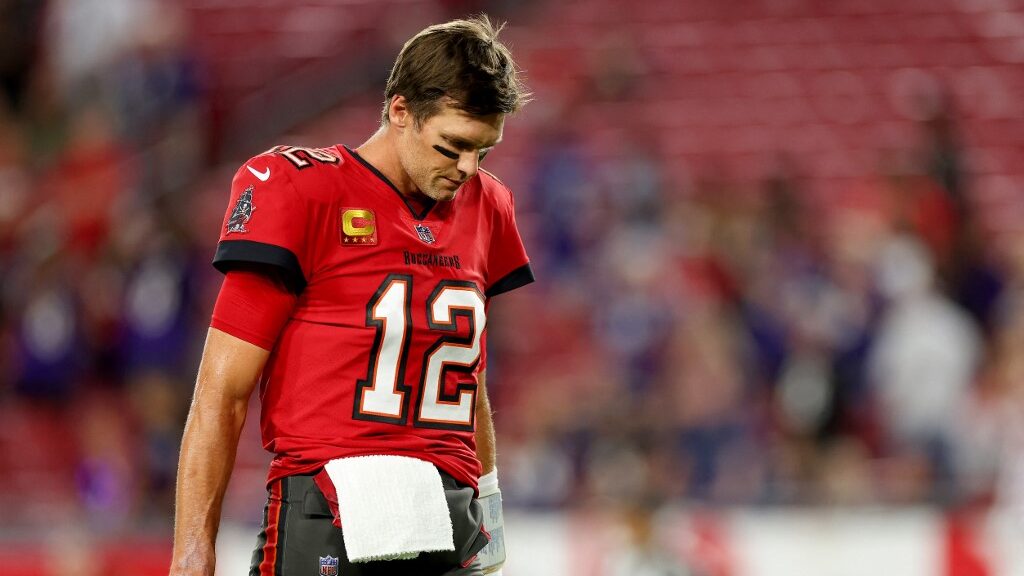 You know what today is, it's Football Friday! We have a ton of betting information for you to digest in the NFL and college football.
That's not all, as we have betting news from Thursday evening and various tidbits about Tom Brady. Also, review a full weekend of free picks and top trends in a variety of sports.
Finally, an NBA matchup tonight that has fascinating line movement and one of our favorite sports commercials from yesteryear!
---
About Last Night…
---
NFL
The bad news just keeps piling up for Tom Brady and Tampa Bay, losing 27-22 to Baltimore after being "steamed" to -2.
Brady has lost three straight for the first time in two decades, and for the first time ever, a team he is the quarterback for is two games below .500. The only good news for the Bucs and Brady, they are in the NFC South in 2022.
NCAAF
If you had Virginia Tech vs. N.C. State over 39, at halftime, you could not have been more sullen with the score being 0-0. You probably turned the channel, wrote it off as a loser, and cursed at yourself for making such a pick.
However, as we have seen time and again, they only collect or pay out on those bets when the games are legally completed, and both offenses awoke and scored 43 points in just 22.5 minutes and you had a comfortable winner with time to spare, with the Wolfpack a 22-21 winner. Now about that person who had the under…..
NHL
Florida and Toronto both lost as -200 or higher road favorites.
After this many days into the season, big favorites are off to their worst start in 17 years. What gives?
NBA
The Brooklyn Nets fell to 1-4 SU and ATS losing in OT to Dallas 129-125 as three-point underdogs. KD and Kyrie are scoring 55.5% of the Nets' points, and defensively they are 28th in points allowed and 26th in field goal percentage defense.
Brooklyn's record will improve against lesser competition but no certainty Brooklyn will have real improvement any time soon.
---
Trendy Talk
---
MLB
Philadelphia is 9-2 (+8.3 Units) in playoff games.
Houston is 11-1 in October games. (7-0 in playoffs)
J. Verlander is 13-4 under in night games this season.
 NCAAF
East Carolina is 2-10 ATS after two consecutive games with a turnover margin of +2 or better. (Friday)
Rice is 22-4 ATS at home after gaining 6.25 or more yards a play in their previous game.
Tulsa is 9-0 ATS as an underdog since 2020.
Temple is 0-8 ATS as a road underdog.
Syracuse is 8-0 ATS in October the last two seasons.
Penn St. is 9-30 ATS versus teams allowing 4.25 yards a play or less. (New)
Boise St. is 10-0 OVER in home games after allowing 250 or less total yards a contest over their last three games. (New)
UCLA is 11-1 OVER after a game where they committed one or fewer turnovers. (New)
Arizona is 12-1 OVER after allowing 475 or more total yards in two consecutive games. (New)
Ohio State is 16-3 OVER away when the total is between 56.5 and 63. (New)
NBA
Boston is 14-2 ATS versus teams outrebounding opponents by 3+ per game.
Atlanta is 1-12 ATS after a win by six points or less the last two seasons.
Chicago is 20-7 ATS as a favorite of 3.5 to 9.5 points.
New Orleans is 12-2 under in road games after playing two home games.
NFL
Carolina is 0-9 ATS when playing against a team with a losing record.
Cleveland is 0-8 ATS after playing their last game on the road.
Miami is 0-8 ATS in October the last two seasons.
Buffalo is 12-3 ATS when the total is between 42.5 and 49 points. (New)
Denver is 18-6 under in all games the last two seasons. (New)
L.A. Rams are 11-1 under when playing against a team with a losing record. (New)
Arizona is 13-2 under in road games when the total is 45.5 or higher. (New)
Washington is 7-0 under after two or more consecutive ATS wins the last three seasons.
NHL
N.Y. Islanders are 8-31 as an underdog.
New Jersey is 1-12 at home playing against a marginal winning team (Win Pct. 51% to 60%) in the first half of the season since 2020.
Columbus is 15-3 over after a home game where both teams score three or more goals.
---
BMR's Betting Pulse
---
MLB World Series
Review our complete betting breakdown on the Phillies vs. Astros series and what you need to know about Game 1 and Game 2 in Houston.
NFL
We move ahead to the rest of Week 8 as we go over all the top tilts and share our free picks, best bets, upset alert, top parlay, and last-chance value picks.
We also hone in on the Broncos vs. Jaguars in London, and Sunday Night with the Packers at the Bills. 
NCAAF
For Week 9, we offer top battles that feature Ohio State at Penn State, Kentucky at Tennessee, and Georgia vs. Florida and at least six more matchups, plus our best bets, sharp parlay, and last chance picks.
NBA
For this weekend we release our ATS, moneyline and total picks.
Additionally, we have our favorite player props.
NHL
Make certain to look over our daily picks on games and player props. 
Soccer
Need soccer action? We have it! Starting with 2022 World Cup Group E Full Breakdown & Best Bets, English Premier League Matchday 14, and this weekend's best European soccer bets.
UFC and Boxing
Whether it is the octagon and square, we have a UFC Vegas 63 parlay or the Le'Veon Bell vs. Uriah Hall Betting Preview.
Note: Review all our popular prop plays in all the sports.
---
The Buzz
---
NFL  – Bengals Chase Out Indefinitely
Just when it looked like the Cincinnati Bengals might be returning to last year's form, the news broke yesterday that star wide receiver Ja'Marr Chase has a hip injury, meaning he'll miss at least the next four games going on the IL.
A big blow to the Bengals.
NBA – The Leakers
The winless L.A. Lakers are back where they were originally born, in Minnesota tonight, trying to find a W.
The Lakers are the "Gang That Can't Shoot Straight", converting on just 41.7% of all attempts and at 22.3% from behind the arc, both of which are last in the NBA.
The Purple and Gold are +7 or +7.5 point road underdogs depending on the sportsbook and are a mess.
NFL – This Just In…
Gisele Bündchen just filed for divorce against Tom Brady.
---
Football Focus
---
NFL – A a Betting Oddity About Tom Brady
According to Darren Rovell, "Tom Brady is now 2-14 against the spread in his last 16 night games, failing to cover the spread by 8.1 points per game."
NCAAF Biggest Line Moves – Updated 10/28
Florida State -20 to -24 over Georgia Tech – This came back to -23 and just 55% of bets on the Seminoles.
Cincinnati +1 to -1 over UCF – Went up to -2 Thursday, back to -1 Friday, with 80% of the money on the Knights.
Eastern Michigan +9 to +6.5 vs. Toledo – No change and 80% backing the former Hurons (That's EMU).
Missouri +5.5 to +3.5 vs. South Carolina (new) – 80% of money on Tigers and it is heavily sharp action.
Fresno State -7 to -9 over San Diego St. (new) – 70% of cash and bets on the Bulldogs.
SMU/Tulsa Total 68 to 64 – Oddly, more than 90% of money and bets placed on the over.
USF/Houston Total 63.5 to 60 (new) – Exact same story as above.
Note: If you have read this regularly during the college football season, you probably noticed the differences have gotten smaller.
This is what happens when the oddsmakers develop sharper numbers as the season goes along. It happens every year at about this time.
NFL Biggest Line Moves – Updated 10/28
Panthers +7 to +4 vs. Falcons – No movement, with 60% of wagers on the Dirty Birds.
Cardinals +6.5 to +3 vs. Vikings – Arizona back to +3.5 and 65% of money on the Redbirds.
Seahawks -1 to -3 over Giants – Steady with 65% of bets on New York
Bills -8 to 11 over Packers (new) – 70% of bets and cash on Buffalo.
49ers/Rams Total 40 to 42.5 (new) – 70% of money under and 55% bets on over.
Play or Fade? (Notice the Patterns)
Following the top bets was 14-7 last week.
NCAAF Top 5 Bets Placed by Percentage (highest first) (13-27 record) – USC, Navy, Miami-FL, Arkansas, and Old Dominion.
NCAAF Top 5 Bets Placed by Money (highest first) (19-19-2 record) – Arizona State, UCLA, Tulsa, Old Dominion, and Marshall.
NCAAF Top 5 Totals Bets by Percentage (highest first) (23-16-1 record) – SMU/Tulsa over, Pittsburgh/No. Carolina over, Wake Forest/Louisville over, Cincinnati/UCF over, and USF/Houston over.
NFL Top 3 Bets Placed by Percentage (highest first) (8-12-1 record) – Eagles, Dolphins, and Titans.
NFL Top 3 Totals Bets by Percentage (highest first) (9-12 record) – Cardinals/Vikings over, Raiders/Saints over, and Panthers/Falcons over.
---
Out The Door
---
World Series –  Smooth Move
This writer thought it was a brilliant move to start Aaron Nola in Game 1 of the World Series.
If the Phillies lose, they come back with ace Zack Wheeler in Game 2, and if they win, they will have a shot at a road sweep. Let's see how it plays out.
FYI: Houston Justin Verlander starts for Houston tonight, and did you know he is 0-6 with a 5.68 ERA in seven World Series starts? Now you do.
MLB – Still One of the Best Sports Commercials Ever
Do you know who these two Hall of Fame pitchers are in this commercial?
---
Who is Right?
---
Interesting contest in the NBA tonight with New Orleans at Phoenix. The Suns opened at -6 and were beefed up to -7, and just over 60% of bets made are on the favorite.
Where things get goofy is 85% of the cash in on the Pelicans. Weird, right? What are you thinking about this matchup?
Let's get some winners! Have a perfect weekend and we will see you back here Monday!