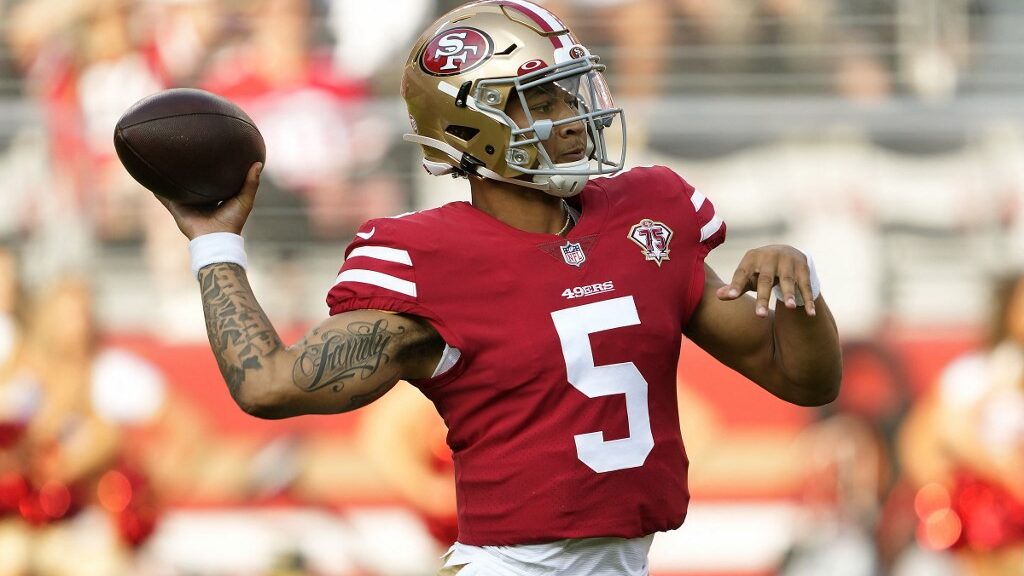 Is Trey Lance ready to take the Niners back to the playoffs, or will he be the reason they fail to make them? Also in this issue, we have bad news to report from Buffalo and Oklahoma City.
Additionally, in this jam-packed weekend edition, we have the latest line moves in the college football odds along with our NFC East preview and a host of great betting trends across the board.  
---
About Last Night…
---
MLB
 The New York Yankees (-210 ML) offense finally busted out, in a 13-4 drubbing of Oakland. However, the Yanks did so in an unusual way.
When you are a gargantuan -430 favorite as the Mets were last night (-195 on the RL) over Colorado, what could go wrong? After playing two series against rival Philadelphia, plus facing Atlanta, the Yankees, and having the Dodgers on deck, it would have been easy for a HUGE letdown for the Metropolitans, but they went to work and did their job in a 3-1 victory.
NFL
We saw a few "experts" touting Trey Lance as an intriguing MVP candidate (betting purposes) earlier this week. If you watched the 49ers lose 17-0 to Houston last night, you might want to hold on putting that money down on the second-year pro.
As was astutely mentioned on SportsCenter by Ryan Clark, Lance has a higher upside than Jimmy G, but Garoppolo made all the routine plays and Lance is still learning to do that. That bears watching.
---
Trendy Talk
---
MLB
Milwaukee is 3-11 (-18.3 Units) vs. an NL team with a slugging percentage of .400 or worse in the second half of the season.
San Francisco is 5-18 as an underdog of +100 to +150 this season.
Arizona is 16-3 over vs. an AL starting pitcher whose WHIP is 1.30 or better.
Atlanta is 12-1 UNDER after scoring 12 runs or more.
Chris Bassitt of the Mets is 21-3 when playing against a team with a losing record the last two seasons. (Team's record)
NCAAF
Florida Atlantic is 6-16 ATS in home games in the first month of the season.
Utah St. is 16-6 over in home games in the first month of the season.
UTEP is 16-5 under AT home when the total is between 52.5 and 56.
Vanderbilt is 26-7 under the first two weeks of the season.
NFL Preseason
Las Vegas is 13-4 over off a road win.
New Orleans is 4-14 ATS after a two-game road trip.
Jacksonville is 13-3 ATS in a road game when the total is between 35.5 and 38 points. (Saturday)
Tampa Bay is 17-5 ATS off a road loss. (Saturday)
WNBA
Las Vegas is 13-3 OVER at home having won eight or more of their last 10 games. (Sunday)
Chicago is 2-8 ATS at home versus teams who average 42 or more rebounds this season. (Sunday)
CFL
Hamilton is 6-0 ATS having lost two out of their last three games.
British Columbia is 18-6 UNDER after gaining 7.5 or more yards a play in three consecutive contests.
---
BMR's Betting Pulse
---
MLB
Friday we feature a great Game 1 between Atlanta vs. St. Louis and all weekend we have our daily top picks for ML, RL and totals.
NFL
The final week of the preseason continues and we give out weekend Best Bets against the betting odds!
NCAAF
College football is back and we are geeked up. Review our Best Bets, sweet parlay, and our top values selections.
---
The Buzz
---
NFL – Buffalo in a Situation
Buffalo rookie punter Matt Araiza and two others have been accused of gang-raping a 17-year-old girl last year in a lawsuit filed in San Diego County Superior Court on Thursday.
This is a serious accusation and while cutting him without actual proof seems harsh, the Bills have to act swiftly and keep him off the active roster immediately.
NBA – Bad News for OKC
Sad to hear the Thunder's top pick Chet Holmgren will miss the entire 2022-23 season with a Lisfranc injury in his right foot. There is no timetable for 100% recovery and given the past of Greg Oden and the soon-to-be-determined future of Zion Williamson, both of who suffered foot injuries, let's hope for the best for the rookie.
Golf – LIV Golf Mocking PGA Tour for Offering Bigger Purses in 2023
The PGA Tour has been swift and decisive looking to prevent further players from leaving and for the LIV Tour.
The LIV Tour was unashamed about paying millions and buying players to start their venture. The PGA Tour brass took the challenge head on and though they are not offering – guaranteed salaries – for the top players, no-cut tournaments are somewhat similar.
It is interesting to watch players of LIV Golf like Lee Westwood mock the PGA Tour for using some of their ideas. But if you just got paid the money you wanted, why would you care? Someone copying you should be seen as a form of flattery, be happy with it.
---
Football Focus
---
As we get closer to the start of football, we will have a report on every college football conference and each NFL division before their season starts. On Monday we have the NFC North and NFC South.
Odds to Win the NFC East and Season Win Total 2022
Dallas Cowboys (+140): Over 10 (+100) / Under (-130)
Philadelphia Eagles (+150): Over 9.5 (-155) / Under (+125)
Washington Commanders (+500): Over 8 (+105) / Under (-125)
New York Giants (+700): Over 7 (+100) / Under (-130)
*All odds via BetOnline (visit our BetOnline Review)
Football Pulse
The Dallas Cowboys spent the off-season trying to convince the world losses and departure of what were once key people would not matter. Oddsmakers at the top sportsbooks disagreed. Dak Prescott's receivers have potential, but will that lead to productivity? Losing LT  Tyron Smith is a big loss and one not easily filled. Because it's the Cowboys, we know the defensive players' names, but are there enough playmakers?
If not Dallas, then Philadelphia looks ready to win the NFC East. The Eagles' front office has cast their lot with Jalen Hurts and similar to Miami, they are providing their still youthful and somewhat unproven QB with new tools to give him a chance to succeed. On defense, last year's 29 sacks were the fewest by a Philly defense since 1973. That has to improve dramatically along with figuring out that opposing tight ends have to be covered after permitting 102 catches and 13 touchdowns.
PLAY NOW: $25,000 Free-To-Play NFL Contest: BMR's 2022 Pick'Em Pool Opens for Registration
What to make of the Washington Commanders? There is excellent individual talent on both sides of the line of scrimmage. That's individual, not team talent. We know Ron Rivera is a good NFL coach but having Daniel Snyder as an owner limits his authority on how to run his team. Carson Wentz seems unlikely to have a career revival at this point. Last place is not out of the question for the Commandos. (intentionally stated)
Brian Daboll is the fourth New York Giants head coach since Tom Coughlin was fired in 2015. We would have never chosen Daniel Jones as a first-round QB, but all this upheaval and change has not helped his development in the Big Apple. Daboll has to get his team to play Giants football, not make continual mistakes and penalties and generate turnovers. No easy task.
NFC East Pick: at BetOnline
NFC East Fun Pick: at BetOnline
---
Out the Door
---
NCAAF – Week 0 Line Movement
Nebraska -10 over Northwestern
Illinois -9 over Wyoming
Nevada -14 over New Mexico St.
Vanderbilt -2.5 over Hawai'i
All those lines were adjusted in the last month and here is what it looked like on Monday.
Nebraska -10 to -13.5 over Northwestern
Illinois -9 to -11 over Wyoming
Nevada -14 to -9.5 over New Mexico St.
Vanderbilt -2.5 to -6.5 over Hawai'i
On Thursday, regular football bettors showed up and this is what the numbers showed Friday morning.
Nebraska -10 to -13.5 to -12 over Northwestern
Illinois -9 to -11 to 13.5 over Wyoming
Nevada -14 to -9.5 to -8 over New Mexico St.
Vanderbilt -2.5 to -6.5 to -10 over Hawai'i
We knew going in the sharp money was on New Mexico State and Illinois and appears the public has jumped on and created its own steam. Let the games begin.
---
Who Is Right?
---
Almost 80 percent of tickets written are backing the Dallas Cowboys as underdogs tonight, which now shows them at +7 at home against Seattle.
Yet, 55% of the money is firmly behind the Seahawks to cover the number as they look to choose a quarterback with Drew Lock and Geno Smith having one final battle. Who do you like?
Let's get some winners! Have a super fun weekend see you back here Monday.