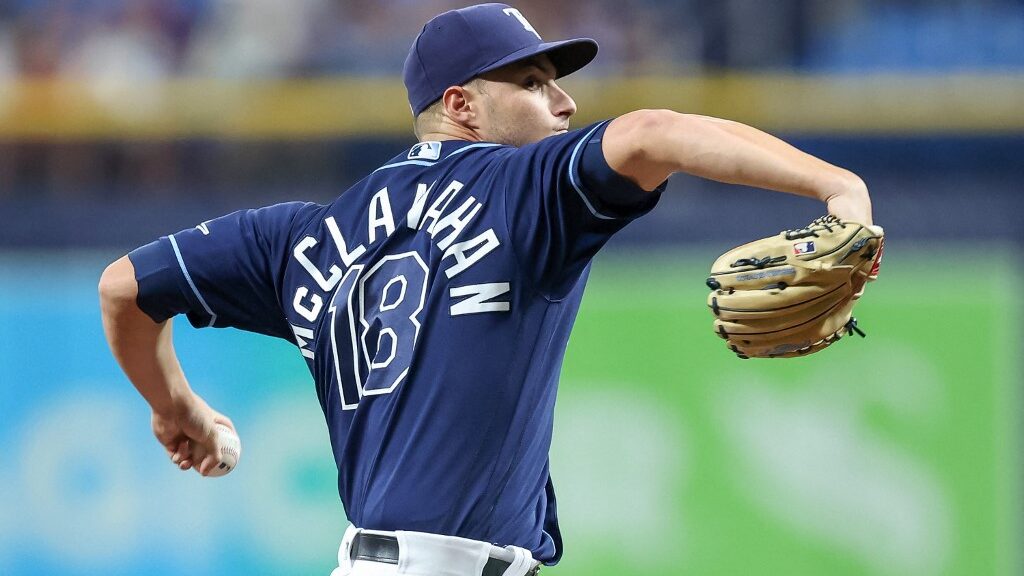 Even with all the protection baseball pitchers receive, they continue to end up on the injured list as we explain. The Braves lost last night as monstrous favorites and that trend continues.
We also have a variety of news about college football and several top trends heading into Week 1. Plus, news on the WNBA and one last football preview, this one from the NFC West.
---
About Last Night…
---
MLB
What is going on? Shane McClanahan of Tampa Bay was warming up to pitch last night when he was a late scratch in his scheduled start against Miami, on Tuesday, because of left shoulder impingement.
In the last several days, Justin Verlander and Tony Gonsolin have gone on the IL and while none of these injuries appear serious, it's a concern to those teams and the sport. The Rays still won 7-2 as -180 favorites.
Atlanta posted their second three-game losing streak this month last night falling 3-2 to Colorado. The Braves are trying to catch the Mets in the NL East division, trailing them by three games, and are in the midst of a perfect opportunity to narrow the gap facing Colorado, Miami, and Oakland, who are presently a combined 69 games below .500.
The Braves were gargantuan -340 or higher favorites and this season -300 or higher favorites (which means they should win 75% or more of the time based on betting odds), are only winning about two/thirds of the time, and are crushing backers.
NBA
There is a lot of discussion about mental health in all walks of life, and it has infiltrated the sports world. Read what John Wall, now of the L.A. Clippers had to say.
---
Trendy Talk
---
MLB
Cleveland is 27-7 as a home favorite of -150 to -200 since last year.
Minnesota is 19-7 at home with a money line of -100 to -150.
Washington is 30-13 OVER at home vs. teams outscored by opp by one or more runs a game in the second half of the season
Atlanta is 11-2 OVER revenging a loss vs opponent as a home favorite of -150 or more.
Mike Minor of the Reds is 4-18 in home games the last two seasons. (Team's record)
NCAAF
West Virginia is 7-3 SU and ATS at Pittsburgh. (Thursday)
Purdue is 19-8 ATS as an underdog under Coach Brohm. (Thursday)
Temple is 1-9 ATS when the total is between 49.5 and 56. (Friday)
Illinois is 8-1 UNDER after playing a game at home. (Friday)
Memphis is 0-9 ATS in road games. (Saturday)
Florida Atlantic is 0-7 ATS after a win by 17 or more points. (Saturday)
Tulsa is 10-1 ATS in road games. (Saturday)
Notre Dame is 19-4 UNDER as an underdog of 10.5 to 21 points. (Saturday)
WNBA
Chicago is 3-11 ATS off a home loss the last two seasons.
Las Vegas is 11-3 ATS off an upset loss to a division rival as a favorite.
---
BMR's Betting Pulse
---
MLB
Review our best picks for ML, RL and totals for Wednesday and Thursday.
College Football
College football is all the way back with Week 1 action. We have game picks starting Thursday with West Virginia at Pittsburgh, plus the biggest of games that include:
Utah vs. Florida
Cincinnati at Arkansas
---
The Buzz
---
WNBA – Betting Public Split on Favorites
As we talked about on this page Monday, both home favorites lost Game 1's of the semifinals. The consensus was both would be rising faves for Game 2, but that is not the case.
The defending champion Chicago has gone up from -4 to -5.5 in their line against Connecticut. However, Las Vegas has slid from -6 to -5 versus Sue Bird and Seattle.
NBA – Netflix Might Have Flawed Program
First, we have to be honest, we have not seen "Untold: Operation Flagrant Foul", a story about disgraced referee Tim Donaghy. However, Sean Patrick Griffin @spgauthor is all over Twitter to let people know that Donaghy's story is not true and is ever-changing. We recommend you follow Griffin's tweets and watch the story on Netflix and decide for yourself.
This writer has experience with Donaghy when he was in the picks business seven/eight years ago and it was not good.
NCAAF – What Most Sharp Action is Following Thursday
Though not overwhelming, the majority of sharp betting action for Thursday night on ESPN is backing Pittsburgh, who is up to -7.5 from -6.5 over West Virginia in the renewal of the – Backyard Brawl.
An hour later on FOX, Penn State is visiting Purdue in both clubs' Big Ten opener. Though the NCAAF odds have remained steady with the Boilermakers at +3, we've heard more talk of taking the points from respected voices than giving them
---
Football Focus
---
As we get closer to the start of football, we will have a report on every college football conference and each NFL division before their season starts. Today, the NFC West concludes our series
Odds to Win the NFC West and Season Win Total 2022
Los Angeles Rams (+130): Over 10.5 (-115) / Under (-115)
San Francisco 49ers (+165): – Over 9.5 (-160) / Under (+130)
Arizona Cardinals (+350): – Over 8.5 (+100) / Under (-130)
Seattle Seahawks (+1400): – Over 5.5 (-125) / Under (-105)
*All odds via BetOnline (visit our BetOnline Review)
Football Pulse
Remember after the L.A. Rams won the Super Bowl and almost everyone was predicting they were a "one and done" champion? Funny how life works because all those that made that proclamation have been drowned out by "the Rams are still a threat to repeat".
Of course, the hunger is unlikely to be the same but much of the talent remains in place in Los Angeles and this group has shown the last few years they can win on the road.
San Francisco has a Super Bowl roster except for one position, the quarterback. Trey Lance was named the starting quarterback after the 49ers lost in the NFC title game. Jimmy Garoppolo was thought certain to be traded until he wasn't. Because the Niners had no offers, they decided to keep Jimmy G as their backup with no mention of Lance's uninspiring preseason play.
Kyle Shanahan is a noted offensive innovator highly respected in the NFL. Yet, his play-calling to close out big games is below average. San Francisco either returns to the Super Bowl or is a 10-7 wild card team. Bets anyone?
Kyler Murray got paid in Arizona, will he be able to keep Kliff Kingsbury from getting fired? We can all assume the Cardinals will be first half of the season contender in the NFC West. But what happens after the middle of November will determine what kind of year the Redbirds will have just like the past two seasons. The Rams and 49ers have better rosters making Arizona a 9-8 or 8-9 club.
Who has a worse quarterback situation than Seattle? Nobody. We already know what Geno Smith is and it is becoming Pepsi Clear that we are close to a similar decision on Drew Lock. The Seahawks have more talent than most realize across their roster, but focusing on the lack of true field general makes Peter Carroll's crew, not one to like much.
NFC West Champion Pick: San Francisco 49ers (+165) at BetOnline
NFC West Fun Pick: H2H – 49ers 2-0 SU over Seattle (-165) at BetOnline
---
Out The Door
---
NFL – Tradable Asset
Though there has been no talk of this, we can't help but wonder if the San Francisco 49ers kept Jimmy G figuring one or more teams will lose a quarterback for the season or an extended period and then they have a tradable asset? Just sayin'.
Tennis – Tough Loss
Naomi Osaka lost to Danielle Collins in her opening match last night at the US Open. The former champion looks like a shell of her former self and has lost three straight first-round matches. Tough to watch Naomi when thinking about her issues.
CFB – Long Shot to Win College Football Crown
The Big 12 is beginning discussions with ESPN and FOX about their TV future. What seems odd is the Pac-12 supposedly had an advantage in already talking to ESPN, what happened to that?
We are all excited for the first big Saturday of college football. Nevertheless, two of the marquee matchups have Ohio State as a 17-point home favorite over Notre Dame and Georgia at -17 over Oregon. Are these matchups that fascinating?
---
Who Is Right?
---
First place Cleveland handled Baltimore 5-1 in the series opener last night. The Guardians have won 14 of 21 and are hovering around -165 ML favorites over the Orioles.
It is interesting to find the Birds have more backing in tickets written at 3:00 ET (low 50s percent), with 75% of the money on Triston McKenzie to outduel the O's Jordan Lyles. This is worth following.
Let's get some winners! See you back here Friday.