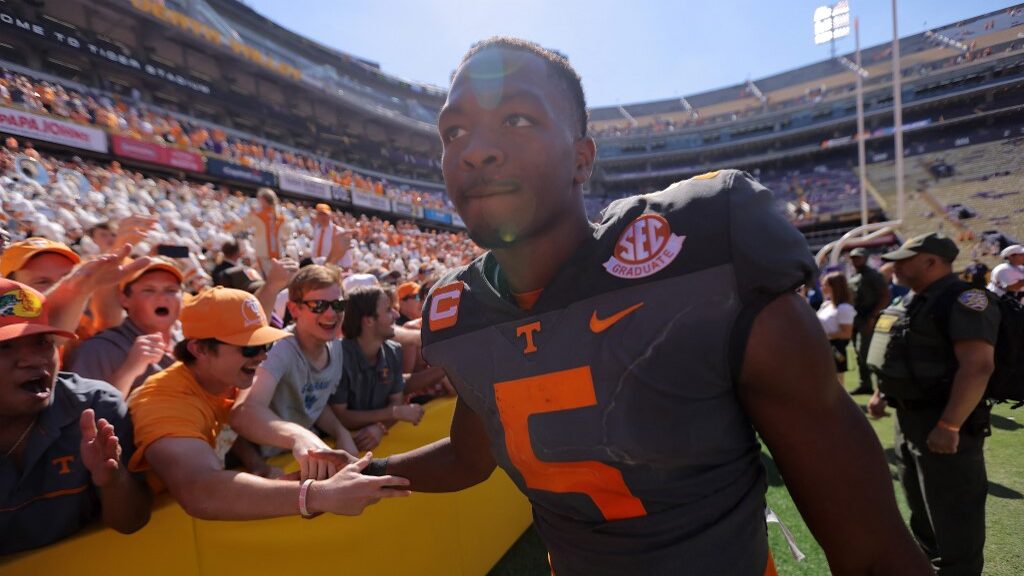 For whatever reason, it seems like the college football season has flown by as we are into the final month of the regular season. We talk shop from this past week, look forward to MACtion starting Tuesday and look ahead to this week's best matchups.
A somewhat quiet day in the NFL by normal standards, but we still have most of the important stuff and bettors like us, according to the books, had a winning day. This plus Auburn firing its coach and NASCAR move you don't see anymore (until yesterday).
---
About Last Weekend…
---
NFL
It's Halloween today and in the NFL, there are three scary good teams as we approach the halfway point of the season. Buffalo jumped on Green Bay early and frankly could have beaten them much worse, but appeared to let up in the second half and the Packers got the cover.
Green Bay has some serious flaws, but if you are a Packers fan, at least you saw passion and effort Sunday night, let's watch if that continues as it's been lacking all season.
Philadelphia is the next scary team who seems to have an unstoppable offense with Jalen Hurts and is loaded with weapons that everyone might not know who they are. Philly is just behind Buffalo in point differential. The other top club is Kansas City.
The most fascinating Week 8 game was the back-and-forth battle between Carolina and Atlanta. Getting to the good parts, the Panthers looked done, down 34-28 when DJ Moore somehow got behind the Atlanta secondary and scored a 62-yard touchdown with 12 seconds remaining.
All the Panthers needed was the extra point but because Moore took his helmet off, the extra point for kicker Eddy Pineiro was from 48 yards for an unsportsmanlike penalty and missed it to send the game to OT. Pineiro had a chance to win it again from just 32 yards in OT and yanked it. The Falcons got the ball, drove down, and kicked the field, placing them in first place in the NFC South.
Though the Jets had won four in a row, they were home underdogs all week to New England who was coming off a bad loss to Chicago on Monday. The oddsmakers made the Pats a 1.5-point favorite and Sunday they went to -3 and football bettors were rewarded with the Pats a 22-17 winner.
NCAAF
Georgia and Tennessee took care of business Saturday which set up a monumental matchup on Saturday, with the winner likely headed to the SEC title game.
Wake Forest was a popular play against team by sharp bettors versus Louisville. The Demon Deacons were their own worst enemy, with 6 turnovers in the third quarter alone (8 in all) in a stunning 48-21 thrashing by Louisville.
On the topic of thrashings, Oklahoma State evidently had nothing left after coming from behind to beat Texas and they were routed 48-0 by Kansas State as 1.5-point underdogs. Normally road warriors under Mike Gundy, the Cowboys did nothing right and the Wildcats played a perfect game to hand Gundy his worst-ever defeat.
NASCAR
This was old-school NASCAR at its finest with a twist thanks to video games.
---
Trendy Talk
---
MLB
Houston is 23-8 as a road favorite of -125 to -175 this season.
L. McCullers Jr. is 7-0 Under as a favorite of -110 or higher this season.
NFL
Cleveland is 0-7 ATS off a road loss the last two seasons.
Houston is 3-11 ATS having lost two out of their last three games.
Atlanta is 5-27 ATS in home games off a home win.
Arizona is 1-8 ATS (-8.8 Units) in home games since last year.
NBA
Brooklyn is 6-31 ATS as a home favorite.
Detroit is 0-12 ATS off a home win by 10 points or more.
Charlotte is 27-8 Under at home when the total is 230 or higher.
NHL
Los Angeles is 13-5 in road games after scoring three goals or more in two straight games.
Buffalo is 13-3 Over at home having lost two of their last three games.
NCAAF
Ball St. is 22-7 ATS as a road underdog of 7 points or less.
Ohio U is 11-1 straight up at home against Buffalo.
W. Michigan is 13-4 Over in November games.
Appalachian St. is 18-5 Over off 2 or more Unders.
---
BMR's Betting Pulse
---
World Series
Review our betting breakdown on the Phillies vs. Astros and what you need to know about Games 3 to 5 in Philadelphia.
NFL
We close out the week with the Battle of Ohio Monday Night. We start looking ahead to Week 9 with Thursday's Eagles at Texans tilt and we showcase our Early Week Value Plays along with several free picks on various games.
NCAAF
It's November, which means it's time for MACtion football on Tuesday and Wednesday and we have it covered. We also breakdown what are the Top Early Week Value Picks and start assembling information for you on the best games of the week like Tennessee vs. Georgia.
NBA
To start the week we release our ATS, Moneyline and Total picks and look ahead to Tuesday with Golden State at Miami and Minnesota at Phoenix.
NHL
Make certain to look over our daily NHL picks on games and player props.
---
The Buzz
---
NCAAF – Auburn's Looking for a New Head Coach
The most obvious thing before the season began was Bryan Harsin would be fired at some point this year at Auburn. It happened today and this is what it will cost Auburn.
Just under two years ago Auburn paid Gus Malzahn 21.7 million to go away.
NCAAF – Michigan State At Least Did the Right Thing
Michigan State suspended four players for beating up two Michigan players in the tunnel after the Wolverines beat the Spartans 29-7 in a contest that was never that close.
Maybe Spartans head coach Mel Tucker really did not know or understand what happened, but his initial answers were not helpful to the situation. Tucker on Sunday night was much different and added the correct tone.
GOLF – Good For Them
If you were lucky enough to be a journeyman like Pat Perez and someone a little past their prime like Dustin Johnson, you just cashed big. Perez made over 8 million dollars on the LIV Tour and Johnson over 35 million. Great work if you can get it.
This reminds us of a CEO who gets fired but has a buyout of 100 million.
---
Football Focus
---
NFL
Here is a little-known Halloween Betting Angle.
NFL – Sportsbook Suffer Losing Sunday
After having a profitable Saturday, sportsbooks took it on the chin in two ways for NFL Week 8. First, they were on the losing end of several positions as favorites went 7-5, with Dallas, Philadelphia, and New England the most painful. Also, the volume was down with the Giants and Seahawks the only contest featuring winning teams.
Here is a great example of the first stages of sports betting evolving or changing and it involved Derrick Henry.
NCAAF – A Hooker for Heisman
With Tennessee crushing Kentucky and QB Hendon Hooker having another superlative game, BetOnline (visit our BetOnline Review) and other sportsbooks now have him as a decided favorite to win the Heisman Trophy. That could all change if Georgia beat the Vols badly Saturday.
---
Out the Door
---
Halloween
Our favorite sports Halloween costume this year.
NCAAF – Big Game Lines
With November here, the importance of college football games is magnified. Here are the NCAAF odds on the biggest contests as of Monday afternoon.
Georgia -8.5 over Tennessee
Alabama -13 over LSU
Clemson -3.5 over Notre Dame
Texas -3 over Kansas State
World Series – Game 3 Matters
The winner of tonight's Astros at Phillies encounter finds the Game 3 winner has won the title 69% of the time.
---
Who Is Right?
---
If you were with us here last Friday, the public, not the sharper action was correct on the Phoenix Suns. On Monday we have a similar situation on the total between Philadelphia and Washington. The total has crumbled from 220 to 216.5 and an enormous 85% of the money is on the Under. However, nearly 60% of wagers placed are on the Over. What would you pick?
Let's get some winners! See you back here Wednesday!