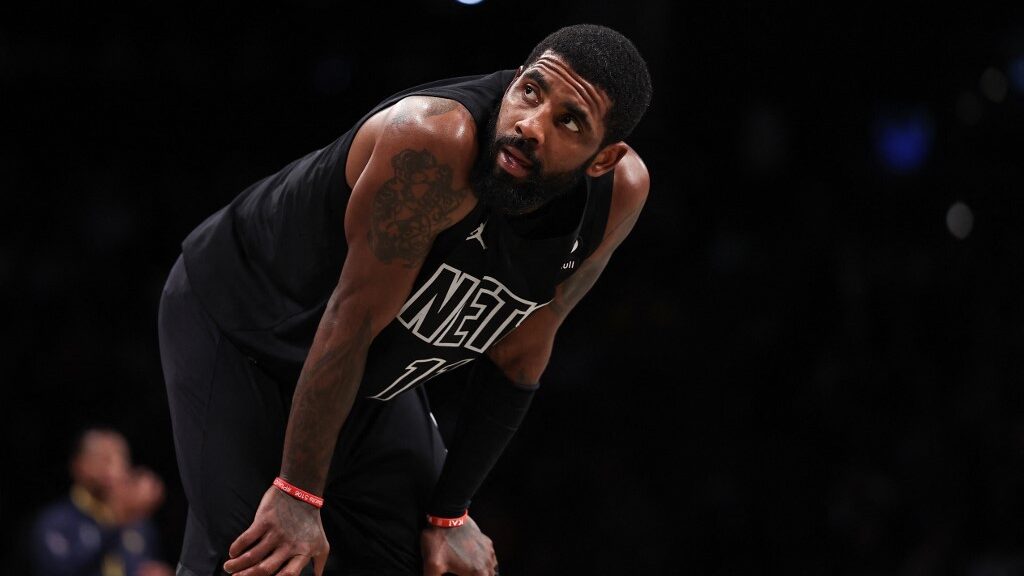 Tonight is Game 4 of the World Series and last evening the Phillies went yard five times. We talk about that and a wild wager someone made on the game that cashed.
The Brooklyn Nets are a dumpster fire (we need a new expression for this) and we discuss some wild happenings in the NHL.
The first College Football Playoffs poll is out and we explain how to react, and we react to several NFL trades and a bit of irony about Calvin Ridley becoming a Jaguar. This and football line moves and top trends in five different sports.
---
About Last Night…
---
MLB – World Series
The Philadelphia Phillies went mashing in Game 3 of the World Series, tying a record with five homers in a 7-0 blowout of Houston. It appeared that Lance McCullers Jr. might have been tipping his pitches with the swings the Phillies batters were taking.
As we reported here Monday, the Game 3 winner has won the series 69% of the time. Let's see how it plays out.
NBA
The Brooklyn Nets are starting to look like they have their own show on Bravo with all the drama. Kyrie Irving is becoming –if he already wasn't– a nut job with his continued antics. With him the story and not the team at 2-5 yesterday, Steve Nash was fired, making him possibly as happy as whoever wins the PowerBall.
Then it broke that the Nets are looking to hire disgraced Boston Celtics head coach Ime Udoka, who was suspended for the season by Boston. Clearly, the Nets had been talking to Udoka and his people, which sounds like tampering. And according to the NBA, the Celtics are reportedly not asking for compensation for Udoka.
NHL
The Phoenix Coyotes won their first home game in the tiny 5,000-seat arena they are sharing with Arizona State while trying to get a new hockey stadium. Who the Coyotes beat is the story, as Florida was a -300 road favorite and they have lost three of their last four, with each loss by -200 or higher.
If you had the Pittsburgh Penguins last night, you had like your chances at -120 having a two-goal lead at home over smoking-hot Boston. The Bruins had other ideas and scored twice in the last period and tightened up the defense and went on to win in OT 6-5. The B's are an NHL-best 9-1 to start the year.
---
Trendy Talk
---
MLB
Houston is 21-4 vs. teams outscoring foes by 0.5 or more runs a game.
A. Nola of the Phillies is 9-1 over in home games when playing against a team with a winning record this season.
NBA
Memphis is 12-0 ATS off a road loss by 10 points or more.
Chicago is 12-1 ATS at home playing against a marginal losing team (Win Pct. 40% to 49%) since 2020.
Utah is 12-1 ATS off an upset win by 15 points or more as a home underdog.
Milwaukee is 17-5 under vs. division opponents the last two seasons.
NHL
Toronto is 20-5 in home games when playing against a team with a winning record.
Pittsburgh is 0-5 playing their 3rd game in 5 days this season.
NCAAF
W. Michigan is 13-4 over in November games. (Wednesday)
Appalachian State is 18-5 over off 2 or more Unders. (Thursday)
Oregon State is 6-0 ATS after a win by 17 or more points, (Friday)
Rutgers is 3-16 ATS in home games after scoring 6 points or less in their last game. (New)
Iowa State is 0-9 ATS after gaining 75 or less rushing yards in two straight games. (New)
Georgia is 4-14 ATS in home games after three straight wins by 17 or more points. (New)
NFL
Houston is 3-11 ATS having lost two out of their last three games. (Thursday)
Atlanta is 5-27 ATS in home games off a home win.
Arizona is 1-8 ATS in home games since last year.
Carolina is 0-9 ATS off one or more straight Overs. (New)
---
BMR's Betting Pulse
---
World Series
With Philadelphia ahead 2-1, review our betting breakdown on the Astros vs. Phillies and what you need to know for Games 4 and 5.
NCAAF
We have two more MACtion football contests Wednesday and look over the Friday action. We also break down our Best Bets, Top Parlay Picks and Last Chance Value Plays (Thursday). Of course, we've covered the best games of the week like Tennessee vs. Georgia, Alabama vs. LSU and Clemson vs. Notre Dame, along with more than 10 other key contests.
NFL
For Week 9 we begin with Thursday's Eagles at Texans tilt.
From there it's all the meaningful matchups like the Bills vs. Jets, Chargers vs. Falcons and Rams vs. Buccaneers, plus the Sunday Night showdown with the Titans vs. the Chiefs.
NBA
We continue our ATS, Moneyline and Total picks in the NBA and zoom ahead to Thursday for Golden State at Orlando and Denver at Oklahoma City matchups.
NHL
Pucks players, see our best bet on the Flyers vs. Maple Leafs for Wednesday and Thursday with a deeper card, our ML, Puck line and Totals free plays.
Note: Review all our popular prop plays in all the sports.
---
The Buzz
---
NFL – Trade Deadline
The Miami Dolphins were aggressive Tuesday in acquiring linebacker Bradley Chubb (Broncos) and RB Jeff Wilson (49ers). We don't believe the Fins are in the class of Buffalo and Kansas City this season, but who thought Cincinnati would be in the Super Bowl a year ago at this time?
Buffalo made a wise move trading for safety Dean Marlowe, who adds depth to a position that has suffered injuries. Marlowe was in Buffalo from 2018-20. The Bills also acquired Nyheim Hines from the Colts, giving them an RB that can catch passes, which fits their offense.
Chicago trading for Chase Claypool was puzzling. Sure Claypool has NFL experience and a workable contract. However, Pittsburgh like the Bears has a young quarterback they are trying to develop, so if the Steelers didn't want Claypool what does that say about his value?
One other trade of note was Calvin Ridley traded from Atlanta to Jacksonville. Here is the interesting twist.
---
Football Focus
---
NCAAF – First College Football Poll Released
Tennessee
Ohio State
Georgia
Clemson
Though some in Ohio will complain Tennessee is first, everyone needs to take it easy. The first poll is a talking point and each week will bring even more talking points, which is what the sport wants.
The only poll that matters is the one that comes out after the conference championship games in early December, the rest is noise.
MACtion – Gotta Love It
The MAC might be the worst conference in the FBS, running neck-and-neck with Conference USA, but at least they have a TV deal.
Last night both favorites lost outright and the totals split. Tonight, Northern Illinois is a -6 home favorite with a total of 57 (ESPNU) and Bowling Green is a -5 home fave with a total of 48 (ESPN2).
NCAAF – Biggest Line Moves
Minnesota -11 to -16 over Nebraska
Illinois -14 to -16.5 over Michigan State
Missouro +2.5 to -1 over Kentucky
Fresno State -22.5 to -27 over Hawai'i
Miss. State -10.5 to -13 over Auburn
NFL – Biggest Line Moves
Eagles -9.5 to 14 over Texans (Thursday)
Bills -10.5 to -12.5 over Jets
Panthers +9.5 to +7 vs. Bengals
---
Out The Door
---
NCAAF – Big Game, Maybe 20 years Ago
We know many of you will be turning your clocks back Saturday night but other than that (going back in time), we cannot think of one good reason for ABC having Florida State at Miami as their prime-time game Saturday night.
World Series – Unreal Bet
This seems too unbelievable to be true yet the author is legit.
---
Who is Right?
---
The first game of the evening in the NBA features Washington at Philadelphia. The 76ers opened as an 8-point home favorite and have been dumped to -7.
At 02:30 PM EDT, the Sixers had attracted 77% of the money waged in the contest. When it came to bets, the complete opposite with 86% on the Wizards.
We actually had this same game here on Monday at Washington on the total and the bets placed won a second straight time against the money. Will it happen again?
Let's get some winners! See you back here Friday!