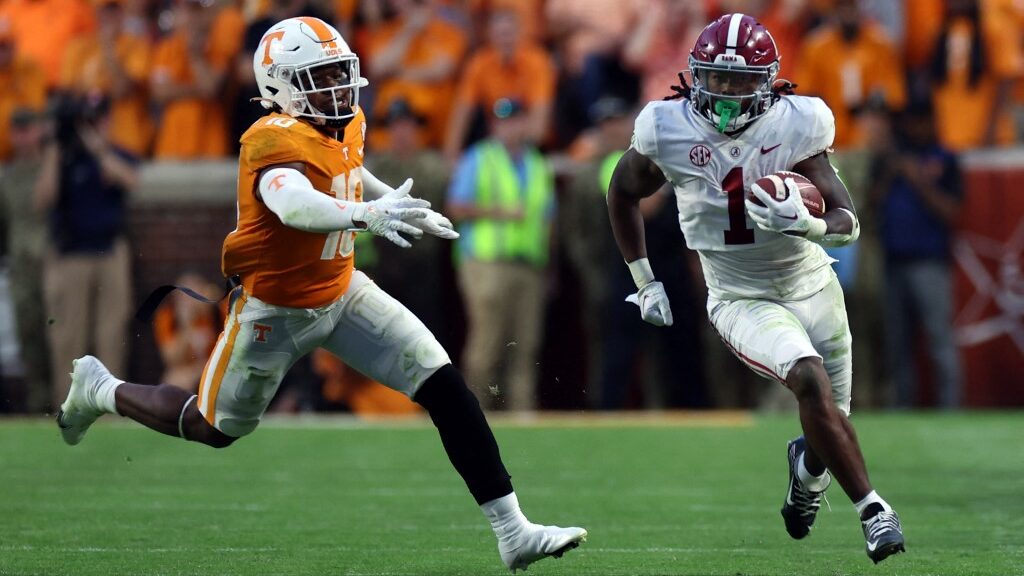 Remember when your parents, or maybe you, had a record player and sometimes the record would get scratched and they would get stuck and keep repeating the same music?
Well, that's what it has turned to every Monday recapping the weekend of football. We are not saying that is bad, rather, it is so crazy and wonderfully unpredictable.
We talk about what happened in depth in college and pro football and also touch on the MLB Playoffs. Also here is one unbelievable parlay that was hit and one gambler dropping over a million on a betting ticket for NFL three games.
PLAY NOW: $25,000 Free-To-Play NFL Contest: BMR's 2022 Pick'Em Pool
---
About Last Weekend…
---
NFL
Let's start with the two best teams in the AFC, Buffalo against Kansas City. The game was everything we hoped for (unless you had the Over), with smart plays on offense, unbelievable effort on both sides of the ball, and a far better defensive game than we would have imagined. Josh Allen has passed Patrick Mahomes as the best NFL quarterback.
Philadelphia has quietly assembled an extremely good roster and last night they proved they could handle adversity. After building a 20-0, Dallas found some offense, they started attacking Jalen Hurts and stifled the Eagles' offense and worked back to make the score 20-17.
Then, Philly put together an amazing touchdown drive and the defense went to work for the cover and a somewhat surprising Over. Already looking forward to the Eagles at Dallas on Christmas Eve. Otherwise, just a normal Sunday in the NFL. The Steelers catching 10 points upset Tom Brady and Tampa Bay. It's looking like Brady second-guessed his retirement and was wrong and he's getting crushed on Twitter (not that he cares).
The New York Jets thoroughly outplayed Green Bay on the road and routed the Packers 27-10. And maybe San Francisco should not have stayed on the East Coast in a bumbling loss to Atlanta. Who had Marcus Mariota, Zack Wilson, Mitch Trubisky (a Chris Berman "What!) and Bailly Zappa as winning quarterbacks Sunday?
NCAAF
It doesn't happen often, where you are truly looking forward to something and it exceeds your expectations. That is what happened Saturday in college football.
Alabama and Tennessee was a masterpiece, with the Vols never caving in before an unbelievably loud crowd dressed in orange. We kept waiting for them the crumble and they did not. The celebration afterward probably was worth it waiting 16 years to finally beat Bama.
The list of memorable games like Oklahoma State vs. TCU, USC vs Utah and at least 10 more. The second biggest takeaway is, Underdogs went 34-11 against the spread Saturday, pulling 15 outright upsets.
MLB Playoffs
With the Dodgers and Braves gone and we will find out about the Yankees tonight, the Final 4 of baseball might have turned into the Houston Invitational.
Let's stop complaining about the new playoff format, it's one year.
And just because you are great for 162 games in the regular season, that can get you a home-field advantage, you still have to win on the field.
---
Trendy Talk
---
NFL
Denver is 0-6 ATS off an upset loss as a favorite since last season.
Arizona has lost eight straight home games and is 1-7 ATS. (Thursday)
Carolina is 2-13 ATS vs. teams with a completion percentage of 61% or higher.
Cleveland is 2-11 ATS versus teams allowing 5.65 or more yards a play.
MLB
J. Taillon and the Yankees are 20-3 when the total is 7 to 8.5.
Philadelphia is 10-1 Over off an upset win over a division rival as a home underdog. (Tuesday)
NHL
Vancouver is 5-0 off a road loss by one goal.
Anaheim is 13-38 when playing only their second game in five days.
Minnesota is 14-3 Over after allowing four goals or more.
NBA
Philadelphia is 15-5 Under as a road underdog. (Tuesday)
L.A. Lakers are 32-16 Over at Golden State. (Tuesday)
NCAAF
Georgia State is 7-0 ATS in road games in the second half of the season since 2020. (Wednesday)
Virginia is 19-4 UNDER after gaining 40 or less rushing yards. (Thursday)
UAB is 0-7 ATS after gaining 475 or more total yards in two consecutive games. (Friday)
Oregon State is 9-0 ATS at home the last two seasons.
---
BMR's Betting Pulse
---
NFL
Tonight is the Monday Matchup of the Broncos vs. Chargers and we look ahead to Thursday with the Saints at the Cardinals. This and our NFL Early Value picks for Week 7.
MLB
Monday is the decisive Game 5 between the Guardians and Yankees. Tomorrow we start the NLCS with two surprise clubs Philadelphia and San Diego.
NHL
With the NHL back in action, review our Monday and Tuesday Money Line, Puck Line and Total picks.
NBA
The NBA commences on Tuesday and we feature Philadelphia vs. Boston and Lakers vs. Warriors!
NCAAF
We have college football from the Sun Belt starting Wednesday, along with other contests on Thursday and Friday. For another great Saturday of gridiron action, we hone in on Mississippi State against Alabama, UCLA and Oregon, and Syracuse against Clemson. In addition, we have our Early Values choices for Week 8.
---
The Buzz
---
NFL – Sportsbook Crush it in Week 6
With all the major upsets in the NFL Sunday, the top-rated sportsbooks won nearly every important position on games, parlays and teasers. That was especially true for one Nevada bettor.
NFL – Brady's Reputation Taking a Hit
'Tom Terrific' as Tom Brady was once called is getting hit hard on social media and let's be honest, after being a person who loved practice as much or more than any player, his behavior this season is rubbing people the wrong way.
He skipped practice Wednesday and Friday (attended Robert Kraft's wedding) and missed the Saturday walk-through.
Sunday, with his team trailing to Pittsburgh, he was caught yelling at his offensive line. This is not news and if the events of this season were not happening or like this week, nobody would think a thing about it. He might be the GOAT, but he's not putting in the work this year and some of the criticism is warranted.
---
Football Focus
---
NCAAF – Notre Dame In Trouble
Notre Dame has lost two games at South Bend in which they were favored by 16.5 or more points with their 16-14 defeat to Stanford.
The less-than-fighting Irish are the only team to have two such losses of 16.5 or more points and to make matters worse, the Cardinal and Marshall are a combined 0-7 SU against the other FBS teams they have faced.
Notre Dame still had to go to Syracuse and USC and has Clemson at home. Even a four-leaf clover won't get them through those teams to go 3-0.
NFL – How Good a Season is Jalen Hurts Having?
Some would call it unique.
NFL – Have the Green Bay Packers Come Full Circle?
The Packers are averaging 17.8 points a game, which is 24th in the NFL and their lowest total since 1992 after six games.
That season, Don Majkowski was the starting quarterback and he got hurt and was replaced by an unknown Brett Favre.
With Green Bay lacking, even average wide receivers and the offensive line failing, is this the end of the line for the Packers having two Hall of Fame QBs and starting a decline?
NFL – Dirty Birds Are Disliked like by Sportsbooks
Atlanta remains unbeaten against the NFL odds at 6-0 ATS. They are the only third team to start a season this way since 2013 and they have been an underdog in each situation.
---
Out The Door
---
NFL – "That Zappe, Just Like it Sounds"
Earlier we mentioned Bailey Zappe of the Patriots and last week we wondered here at The Pulse last week if New England would have a quarterback issue on their hands when Matt Jones returns. Yesterday, Zappe threw for 309 yards and 2 TDs, which placed him in this rare company.
NBA – Championship Betting Odds
For once, it feels like the NBA might be more wide open than it has been in years to start the season as to who will win the championship. Here are the latest NBA odds from Bovada (visit our Bovada Review).
Los Angeles Clippers (+550)
Boston Celtics (+600)
Golden State Warriors (+600)
Brooklyn Nets (+700)
Milwaukee Bucks (+800)
For those that would care, someone writing this article's favorite season win total is Denver Nuggets Over 50.5 wins. Just sayin'.
---
Who is Right?
---
Tonight's ALDS winner between Cleveland and New York advances to play Houston for the American League title. The total started at UN7.5 (-120) and that has been juiced up a little to -125.
At 2:30 ET, 55% of bets made were on the Over. However, more than 70% of the money is on the Under. What side do you believe is correct?
Let's get some winners! See you back here Wednesday.