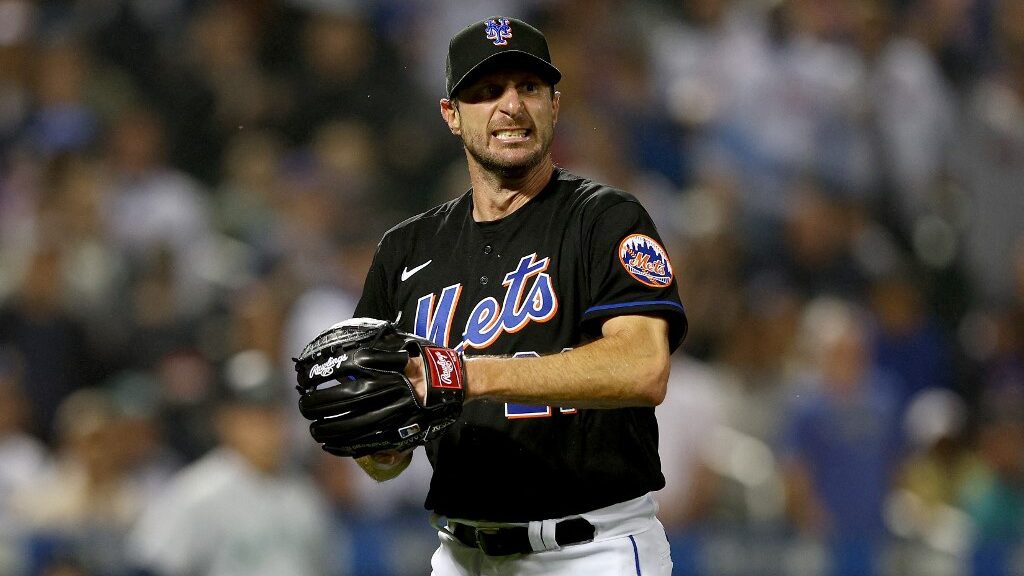 We are back discussing betting baseball, what is happening in college football reshuffling and Chet Holmgren's debut in the NBA summer league.
This plus USC's football prospects for 2022 in the still-standing Pac-12, crazy numbers from the CFL, and a wild betting spot in MLB this evening.
---
About Last Night…
---
MLB
It was great to see Max Scherzer back on the mound and though the Mets lost 1-0 to Cincinnati as a -215 money line road favorite, he passed Curt Schilling for second all-time for double-digit K's and zero walks in a start.
The San Diego Padres were just swept at home by Seattle in a two game-series and have lost eight of 10. Padres' backers are starting to wonder if they will have déjà vu all over again when the Friars sunk like an anvil in water in the second half of the season.
NBA
Oklahoma City rookie Chet Holmgren had an impressive debut in the NBA summer league. The No. 2 pick in the draft had 23 points, seven rebounds, four assists and six blocks in 24 minutes for the Thunder.
---
Trendy Talk
---
MLB
The San Francisco Giants are 13-3 (+13.6 Units) in road games with double revenge.
The Washington Nationals are against division opponents this season.
The Chicago Cubs are 9-0 under in road games vs. an NL starting pitcher whose WHIP is 1.25 or lower.
The Toronto Blue Jays are 29-11 over vs. a starting pitcher who gives up 5.5 or fewer hits a start.
Jose Urena of Colorado the Colorado Rockies is 2-21 vs. teams outscoring foes by one or more runs a game in his career. (Team's Record)
WNBA
The Minnesota Lynx are 10-2 OVER after a blowout win by 15 points or more.
The Atlanta Dream are 11-1 ATS in home games off a win by 10 points or more as an underdog.
The New York Liberty are 6-0 UNDER as a road underdog of 9.5 to 12 points.
CFL
The Calgary Stampeders and the Edmonton Elks have played four consecutive OVER's and this season are a combined 6-1 OVER. (Thursday)
---
BMR's Betting Pulse
---
MLB
Division rivals Tampa Bay and Boston wrap up their series which is tied at 1-1 and Atlanta attempts to make three straight wins at home Wednesday evening over St. Louis.
On Thursday, the Red Sox will host the Yankees in a large four-game series and the scuffling Padres and Giants open a long series of their own.
CFL
Just three games on the Week 5 docket in the CFL, but there are some terrific encounters to check out along with free picks.
Tennis
We are into the latter stages of Wimbledon and our tennis expert breaks it all down for you.
---
The Buzz
---
College Football: Chaos Continues
College football continues to be a mess. The now PAC-10 is trying to put a new TV deal in place while six of the schools are also talking to the Big 12, Big 20, whatever, about joining their conference.
MLB: Baseball Dying Breed – The Starting Pitcher
The game of baseball has changed and more than one person believes not for the better. Starting pitchers are barely pitching five innings and the average number of pitches thrown is below 85.
That makes handicapping that much harder as you have to consider the entire pitching staff and find which relievers threw the previous night and hope whoever is used over the final four innings doesn't blow your wager.
Appreciate the studs like Mad Max and Justin Verlander and we salute Miami's Sandy Alcántara has eight outings this season of at least eight innings this season.
---
Football Focus
---
USC Trojans to Win National Championship: +1600 – 5th overall choice at BetOnline (visit our BetOnline Review)
USC Trojans Total Wins 9.5: Over (-115)/Under (-115)
Football Pulse
In honor of USC and UCLA blowing up college football, we will focus on the Trojans this week right here.
It seems just like yesterday the hire of Lincoln Riley as head coach would change USC's fortunes and they would again dominate the Pac-12. Plus, it was a good move for Riley not to have to go with Oklahoma to the SEC, where their status would likely change. Life comes at you fast!
Riley has already changed the trajectory of USC recruiting-wise, but that doesn't mean the prior players are automatically going to be studs because of a coaching change. The preseason magazines we have seen actually have Utah winning the Pac-12 South.
There is no more unknown team in the conference because how the Trojans will play is completely different from what everyone has seen in the last several years. The schedule is manageable and USC will be a different team in November compared to September. Betting them to win the national championship is foolish and 10 wins is not a guarantee.
---
Out the Door
---
CFL
In case you missed this, there is some crazy sh–, stuff going on in Canadian Football early on. The West Division has three unbeaten teams and four of the five clubs have winning records. The Eastern Division has four squads and not one has even has a .500 record going into Week 5.
As you might expect, there have been several cross-over matchups already; the East is 1-11 SU and 4-8 ATS, with their lone victory in a one-week revenge spot. This should be followed by CFL football bettors.
Summer Activities
If your swimming pool activities are getting a little dull, you might want to try this summer to add a twist and turn it into a competition.
---
Who is Right?
---
The New York Yankees somehow lost to Pittsburgh last night 5-2, which came on the heels of being shutout 2-0 by Cleveland Sunday. Over 80 percent of the betting tickets have the Over on the 8.5, which opened at 9.
However, three-quarters of the money is on the Under, as those bettors are thinking the Yankees' .217 batting average and .280 OBP in their past seven outings means something.
Let's get some winners and see you back here Friday.