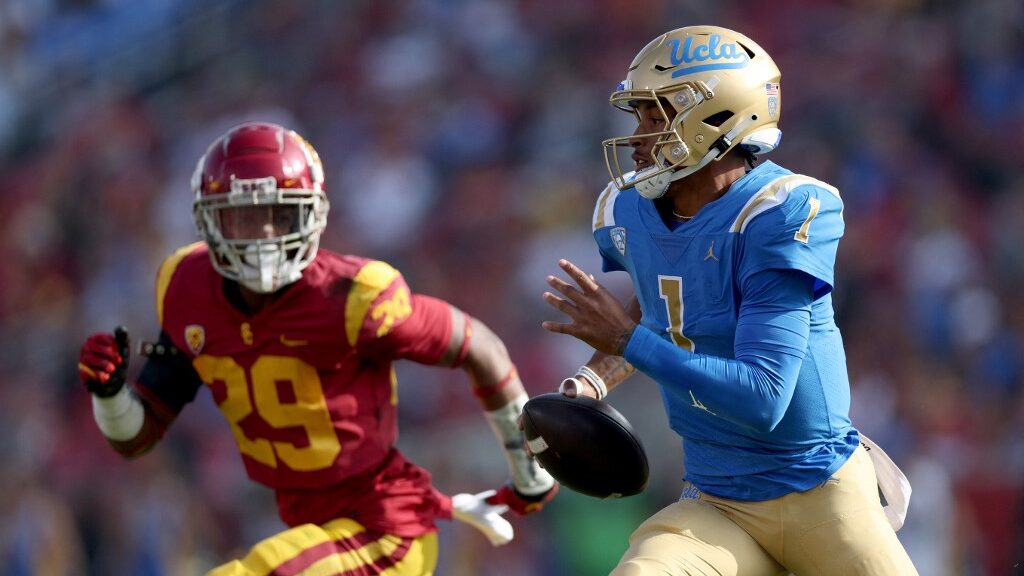 USC, UCLA, and Kevin Durant were the headline makers Thursday and everyone, including us, is talking about them today.
We have more tales of woe or joy about MLB action from Thursday night and cover a shift in the World Series odds. This and NBA free agency news, Football Focus, and two nutty situations on the betting board in baseball and the WNBA. Finally, a retired MLB player is still making a lot of money.
---
About Last Night…
---
College Football
If you thought Texas and Oklahoma leaving was a big deal, the announcement of USC and UCLA flying for the Big Ten has broken the door down for college sports. As we see time and again in today's world, everything is always about money. Tradition and rivalries don't mean anything unless they can be profited from.
We've already seen the Big 12 scramble to pick up the scraps and try to make its name seem important and the Pac-12 will do the same. The ACC now has to find a way to bring Notre Dame in and even if they do, the SEC and Big Ten will still be sniffing around.
This means nothing to those of us that bet on college football, there will still be games and point spreads and once the games start, we won't worry about this. Nonetheless, there is a sense of melancholy and the realization this is professional sports just without the title.
MLB
The Minnesota Twins will prefer not to go back to Cleveland for a while. (It will be Aug. 31) The Twins had three leads going into the 8th or 9th inning on the shores of Lake Erie and lost all three times, two on walk-off home runs. If you had the Twins against the betting odds, you were left stunned. If you had Cleveland, that nickname change to Guardians is making more sense presently.
If you had the Brewers at -120 Thursday you were feeling good since they were 6-0 this season versus Pittsburgh and 8-0 since last year. You end up scoring 7 runs with the Crew but are done in with the Pirates hitting 5 homers, including three by Michael Perez.
The Bucs backup became the first player in MLB modern history (1900) to hit 3 dingers in the same game with a batting average of .129 or lower with a minimum of 75 at-bats in the season.
NBA
The biggest news of the day was Kevin Durant saying he wanted to be traded. Reports have him mentioning Phoenix or Miami as a destination. The NBA is mastering what the NFL has done for years, staying in the news cycle.
---
Trendy Talk
---
MLB
Colorado is 17-2 in home games playing against a bad team (Win Pct. 38% to 46%) the last two seasons.
LA Dodgers are 27-3 at home after scoring and allowing three runs or less.
St. Louis is 9-0 Over after allowing four runs or less in three straight games.
Cincinnati is 17-6 Over home vs. a team with a good bullpen whose WHIP is 1.35 or lower.
Chris Bassitt of the Mets is 18-2 playing against a team with a losing record the last two seasons. (Teams record)
WNBA
Dallas is 6-15 ATS versus averaging 62 or more shots after 15+ games the last two seasons.
Minnesota is 7-0 ATS after two straight games with 20 or more assists.
Seattle is 8-2 Over versus teams scoring 77+ points a game.
CFL
Hamilton is 16-5 Under at home versus rushing defenses allowing 6 or more rushing yards a carry.
Montreal is 6-0 Under off one or more Overs. (Saturday)
Toronto is 31-6 Under when playing with 8 days' rest. (Sunday)
---
BMR's Betting Pulse
---
MLB
We have a trio of great games to read about and get our free plays, highlighted by the intense series between the Padres at Dodgers. Saturday we head to Wrigley Field where the Red Sox (FOX) make a rare appearance and close it out with the Cardinals vs. the Phillies on ESPN.
CFL
CFL Week 4 continues for football north of the border with three more matchups this weekend. Check out all of this week's action for betting purposes.
Tennis
Wimbledon is underway across the pond so watch for our frequent reports and free tennis picks.
UFC
It is UFC 276 and we cover it including the big fight with Adesanya vs. Cannonier.
---
The Buzz
---
NBA
With the start of free agency, several players have already decided to stay home like Bradley Beal and Zack LaVine. Jalen Brunson had clearly made up his mind to go to the Knicks, but is he the same player with no Luka Doncic to help him out?
Charlotte free agent Miles Bridges was looking for a large contract and instead found trouble, reportedly of his own doing.
Bridges was arrested for felony domestic violence in Los Angeles Wednesday after turning himself in to local authorities for an alleged assault that took place a day earlier. His wife posted pictures and more on her Instagram Friday morning. This will cost him millions and any team that would want to sign Bridges has to understand the blowback coming.
MLB
This week at top sportsbooks everywhere, the New York Yankees have passed the Los Angeles Dodgers as favorites to win the World Series. That is not a shocker to many, but books have held tight, but have been forced to make the move. After those clubs, Houston and the New York Mets are next.
---
Football Focus
---
Tampa Bay Buccaneers +850 (2nd overall choice at BetOnline)
Buccaneers Over 11.5 (-115)/Under (-115) 11.5 Win Total
Football Pulse
With Tom Brady returning to Tampa Bay, it will be fascinating to see how everything works out. The offensive line remains one of the top units in the NFL which benefits Brady, but with no Rob Gronkowski or O.J. Howard at tight end, is Cameron Brate the guy to get those first downs and get open in the end zone?
Todd Bowles is familiar with what has gone on in Tampa as the defensive coordinator, but now he's calling the shots as the head coach. His approach is far different from retired Bruce Arians.
The Bucs were 21st against the pass and did a very poor job in open-field tackling, that has to be cleaned up. Tampa should still be stout against the run (3rd last year) and they pressure the quarterback well and generate turnovers.
The L.A. Rams knocked them off last season, yet, who is honestly better than the Buccaneers in the NFC coming into 2022?
---
Out the Door
---
College Football
USC Football Dominance? We would like to know if Lincoln Riley knew this was coming when he signed with USC. It made sense he would have the confidence to believe he could do what Peter Carroll did and dominate the Pac-12. But now?
MLB
Today is Bobby Bonilla Day. Bonilla will collect a check for $1,193,248.20 from the New York Mets today, as he has and every July 1 since 2011, and will all the way till 2035.
---
Who is Right?
---
There is a real difference of opinion on Friday's WNBA clash between Los Angeles and Dallas. Bettors have a total of Over 70% of the betting tickets purchased. The sharp money completely disagrees with Under bets accounting for approximately 85% of the cash.
Here is wild totals line movement on the White Sox and San Francisco. It is Lance Lynn vs. Alex Cobb and the total slid from 8 to 7.5. Yet, both the cash and bets placed are in the mid-90s% on the Over!
Let's get some winners. Have a terrific holiday weekend and see you back here Wednesday.