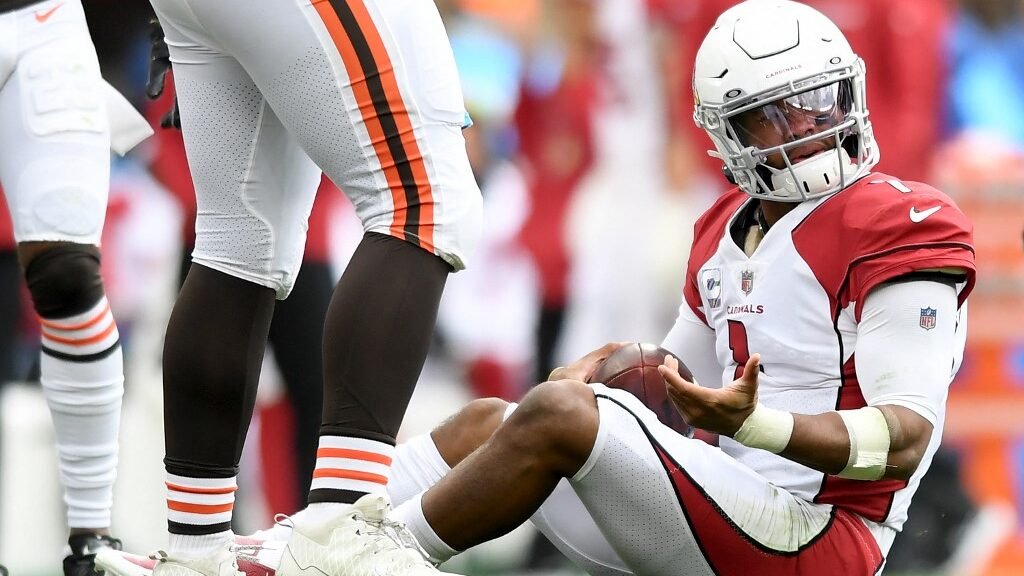 As the last weekend of July approaches, we are talking about MACtion football, the Packers and Kyler Murray. We also have quite a bit of interesting baseball news on several fronts which includes a tough beat and Joe's vs. Pro's debate.
This and a lot of free picks and previews of weekend sports betting action!
---
About Last Night…
---
MLB
Last night, there were four shutouts and the scores were:  
According to Stats Inc., the last time there was a 1-0, 2-0, 3-0 and a 13+ run shutout all on the same day was on August 12, 1890.
One of the shutouts involved the Yankees and if you had them on the run line, you were in disbelief. Why? Well, New York pitchers held Kansas City to a third consecutive scoreless contest this week, yet, needed an Aaron Judge walk-off solo home run just to win and failed to cover the RL.
Double Duty: San Francisco ended their seven-game losing streak by defeating the Cubs 4-2 as -138 home favorites and also snapped Chicago's six-game win streak.
WNBA
Diana Taurasi of the Phoenix Mercury makes basketball history. Her team also won 90-80 as -5 point faves at home against Los Angeles.
NFL
Seattle's DK Metcalf agreed to a three-year, $72 million contract extension late Thursday and he'll be just 27 when he's a free agent. Next up is Deebo Samuel of San Francisco.
---
Trendy Talk
---
MLB
Arizona is 4-37 in road games vs. an NL starting pitcher whose WHIP is 1.25 or lower.
The L.A. Angels are 3-13 (-14.4 Units) after allowing three runs or less in two consecutive games.
San Diego is 20-5 OVER in interleague games.
Toronto is 25-8 OVER vs. a starting pitcher with good control (less than 1.75 BB's/start).
Martin Perez and Texas are 9-0 (+11.4 Units) in road games this season.
WNBA
Indiana is 8-2 OVER in home games after allowing 75 points or more in three straight games.
Chicago is 0-6 ATS off two or more consecutive upset losses as a favorite.
CFL
British Columbia is 0-7 ATS versus defensive teams giving up 23 or fewer points a game the last two seasons.
Winnipeg is 7-0 ATS in games when the line is +3 to -3 the last two years. (Saturday)
Ottawa is 12-3 UNDER in road games off a home loss against a division rival. (Sunday)
---
BMR's Betting Pulse
---
MLB
We are continuing to follow the Cubs at Giants series looking at Game 2 Friday and the series finale on ESPN Sunday Night baseball. Also on Friday, we'll see if the Dodgers do more damage in Denver and can the Astros make it five in a row over Seattle? Saturday, we have a preview and free pick on the Cardinals and Nationals.
NFL
We continue to get into the NFL spirit with a breakdown of the Green Bay Packers.
WNBA
New York and Chicago have a rematch from last Saturday, can the Liberty engineer the upset again?
UFC
It's UFC 277 and we feature Best Bets between Peña vs. Nunes!
Motorsports
We have previews and picks for the Verizon 200 at the Brickyard Race along with the Hungarian Grand Prix.
---
The Buzz
---
NFL: Kyler Murray's Study Habits
Murray signed his big contract Monday, but all anyone was talking about was part of the language. In the contract was the verbiage of at least four hours per week of "independent study" for the team's next game. There were even stipulations about him not watching TV or playing video games while studying.
Murray got angry hearing all about this Thursday (though he and his agent agreed to it and Arizona wanted it known to Kyler obviously) and the Cardinals withdrew it from the contract. However, the damage was done and this just adds more fuel to his reported immaturity.
MLB: Mancini's Inside the Park Wild Homer
Still trending this morning was Baltimore's Trey Mancini, hitting an inside-the-park home run. The Orioles won 3-0 as a -122 home favorite over Tampa Bay.
Mancini hits a harmless flyball to right field and for reasons unknown, Rays outfielder Josh Lowe did not have sunglasses, lost the ball in the sun and clouds and the ball hit him in the head and went directly to the right field foul line. The Rays centerfielder had to chase it down running a long distance.
Mancini showed he will not make the Olympic team for the 100 meters and barely made it home. This might have been his last home game with pennant contenders looking for a bat, but what a way to go out, two years after battling stage 3 colon cancer.
---
Football Focus
---
As we get closer to the start of football, we will have a report on every college football conference and each NFL division before their season starts. Monday – The Mountain West
Odds to Win MAC Conference 2022
Central Michigan +350
Toledo +400
Miami Ohio +500
Northern Illinois +600
Western Michigan +900
Kent State +900
Eastern Michigan +1200
Ohio +1400
Buffalo +2000
Ball State +2000
Bowling Green +4000
Akron +10000
*All odds via BetOnline (visit our BetOnline Review)
Football Pulse
The MAC Conference has been largely unaffected by all the upheaval in college football. They will still be after the big paydays by visiting the Big Ten and SEC in football which helps pay for athletics across the board, otherwise, all bettors cannot wait for late season weekday football MACtion!
By the betting odds, at least six teams have a chance to be crowned champions. What's initially fascinating is Central Michigan is favored, despite being picked no better than third in the MAC West by every renowned college football magazine. Head coach Jim McElwain is outstanding, but CMU was raided and lost a lot of talent via the transfer portal.
Toledo makes the most sense to be champion with QB DeQuan Finn a budding star and the Rockets have a lot of returning starters.
In the MAC East, Miami-O is the clear pick thanks to a loaded and experienced offense. The RedHawks' worry, graduation, and transfers have thinned out the defense considerably.
If not Miami, then Kent State is not a bad choice as they are the defending MAC East champs. The Golden Flashes have a brutal nonconference slate and if they don't lose confidence and remain healthy, they could take another run at the division.
Northern Illinois was the surprise champion a year ago after a winless 2020. Huskies head coach Thomas Hammock, a former star running back in DeKalb, has focused on recruiting in Chicago and it's paying off. QB Rocky Lombardi is a steading presence.
Western Michigan has all-conference talent at several positions but needs a quarterback and more playmakers.
MAC Champion Pick: Toledo (+400) at BetOnline
MAC Darkhorse Pick: Northern Illinois (+600) at BetOnline
---
Out The Door
---
WWE
This writer used to watch the WWE SummerSlam when my kids were following wrestling. This Saturday, it's back and I'll be honest, it is great fun and theatre and you can bet on fixed matches. (Let that sink in.)
NCAAF: Postscript
One last note on MAC football, watch for Over's and underdogs when conference play starts.
---
Who Is Right?
---
The total in the Mets and Marlins is definitely low at 6.5 and that is because of starting pitchers  Chris Bassitt  (7-7, 3.72 ERA) and Sandy Alcantara  (9-4, 1.81 ERA). You have heard countless times that Joe's like higher scores and bets placed are backing the Over at over 70 percent.
But the Pros are supporting the Under to the tune of right around 75%. Who knows what about this NL East encounter?
Let's get some winners! Have a terrific weekend and we'll be back on Monday.