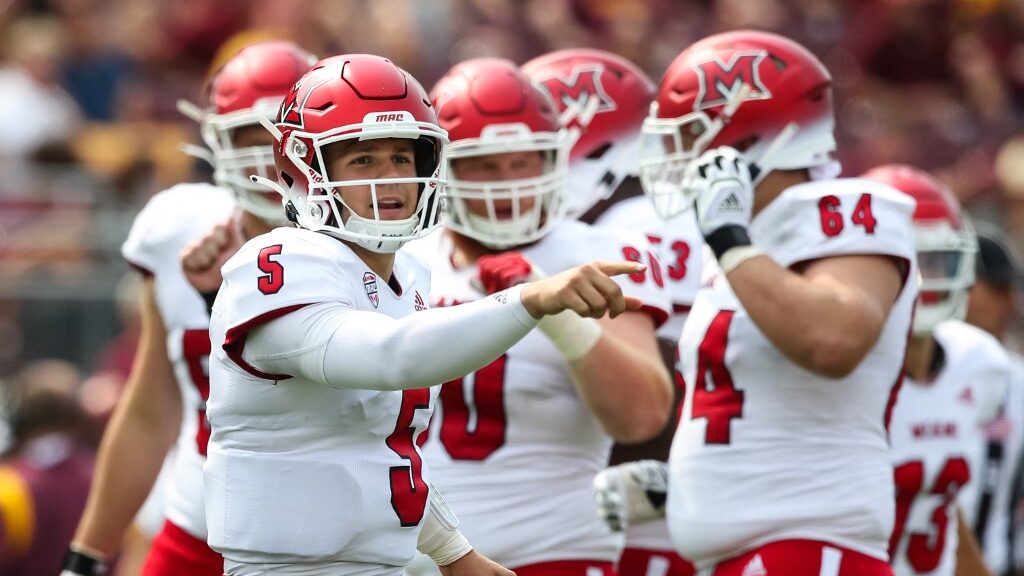 The MAC is seen as one of the most entertaining college football conferences in the country. No team has taken over the conference in recent years, and any team can compete if they piece everything together at the right time.
Will Akron find its way after a disappointing 2021 season with only 2 wins? Will Northern Illinois win the division again? Can Western Michigan live up to the PJ Fleck days?
Here are the win totals for every team in the MAC along with predictions for each bet. All NCAAF odds come from BetOnline (visit our BetOnline Review).
---
Akron Zips
It's not fun to root for a bad team to lose every week, but the Zips only have one easy win on the schedule in Week 1.
They'll lose three non-conference games to Michigan State, Liberty, and Tennessee. That means that Akron would have to beat two conference teams, which is unlikely given their roster and the strength of the conference.
---
Ball State Cardinals
This Over/Under win total puts Ball State on the cusp of making a bowl game. The only guaranteed loss on the schedule is against Tennessee, but the other non-conference games are winnable for this roster.
This team barely made it to a bowl game last year, but don't be surprised if they make it to another one with an easier schedule.
---
Bowling Green Falcons
Bowling Green is a quality team with a chance to exceed expectations this year. They only won four games last year, but they can pull off some upsets in the MAC.
If they go 2-2 out of the conference, they can easily win three conference games and hit the over. It's not a lock, but don't be surprised.
---
Buffalo Bulls
I don't see the Bulls making it to a bowl game. The offense has exceeded expectations in the past due to one or two superstars on that side of the ball, and I have too many questions surrounding the quarterback position.
This team does not have enough depth to overcome tough games, and the offense will be lackluster.
---
Central Michigan Chippewas
CMU has a few tough opponents out of the conference, but they may pull off an upset or two. Beyond that, they are poised to contend in the division.
They play the right games at home this year, and the defense should be good enough to help when the offense falters.
---
Eastern Michigan Eagles
I hate the value of a -150 bet, but I can't expect Eastern Michigan to win more than six games.
They may have added a former five-star player to the basketball team, but they lack elite skill players for the football squad.
---
Kent State Golden Flashes
The Golden Flashes are destined to go 1-3 outside of the conference, so you're really trying to see if they can win half of their conference games.
I don't see them competing with the top teams in this conference with the way the roster is currently structured.
---
Miami (Oh) RedHawks
Again, I hate this value. But Miami is one of the best teams in the conference on paper, and their physical speed and strength should set them apart in the MAC.
---
Northern Illinois Huskies
This NCAAF pick is strictly off of value. Northern Illinois is a quality program, but they have some tough road games this season, and the value of the Over is not enough for me to consider them taking another step forward.
I realize that they were the best team in the conference last year, but I'm not sure if all of that success will carry over.
---
Ohio Bobcats
I like the Bobcats to improve on offense this year, and the schedule is at least winnable for a scrappy team.
They are far from perfect, but I could see them pulling off a few upsets and making it to a bowl game.
---
Toledo Rockets
Toledo has a winnable schedule, and they are one of the best teams in the MAC on paper.
If they can execute in key moments and avoid the massive mistakes that haunt many teams in this conference, they should be a contender to win the whole thing.
---
Western Michigan Broncos
Again, I just can't justify the horrible value of the Under. I don't love this pick, but I like the positive value on an NCAAF futures bet in a conference known for craziness.
This team caught lightning in a bottle before, and maybe they can do it again.