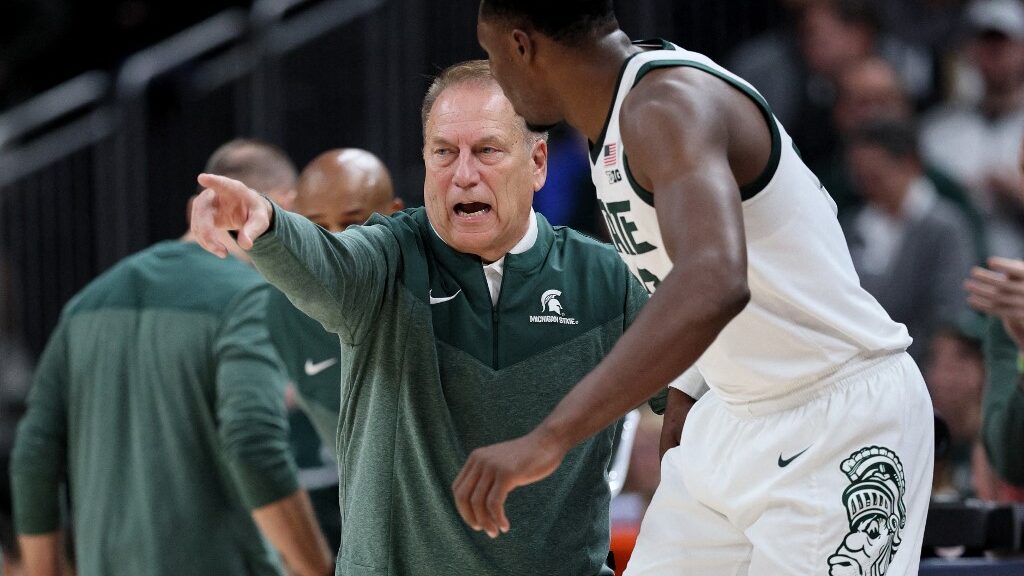 We have big stories in college basketball concerning Michigan State and Louisville and one of those is not positive.
The Sacramento Kings are good? We explain why. What NBA teams should you be fading, and what NHL club should you be riding? Hopefully, you dumped your cryptocurrency a while ago, not like some notable people did not.
All this and the latest football line moves and more.
PLAY NOW: $25,000 Free-To-Play NFL Contest BMR's 2022 Pick'Em Pool With Weekly Prizes
---
About Last Night…
---
NCAAB
In an interview just before the season, Michigan State's Tom Izzo said he liked his new team despite the fact they were not even starting the year ranked. Now we have seen why, losing to No. 2 Gonzaga by a point (+12 point underdogs) last Friday and upsetting No. 4 Kentucky 86-77 in OT catching +7.
We are not saying Sparty will be a force, but Izzo's team is farther along than either the Zags or Wildcats at this point.
Louisville's new coach Kenny Payne is already feeling the pain with the Cardinals 0-3 to start the season. Each loss has been by the slimmest of margins, here is what we mean.
NCAAF
With Ohio U. winning 32-18 as 3.5-point road favorites at Ball State, the Bobcats have won MAC East and will face Toledo in the MAC championship.
NBA
Is this a misprint? The Sacramento Kings are a game behind the Phoenix Suns for the lead in the Pacific division. That's right, ahead of Golden State and it's almost Thanksgiving. How is that possible? Off a woodshed beat down of Brooklyn Tuesday 153-121 (-1.5 fave), the Kings are on a 7-2 and 8-1 ATS roll.
The secret? Sac-Town is taking great shots and making them, listed 2nd in shot percentage and 6th in 3-point accuracy. This came out of nowhere after an 0-4 start.
---
TRENDY TALK
---
NBA
Cleveland is 3-17 ATS after four straight games allowing a shooting pct. of 47% or higher.
Oklahoma City is 16-3 ATS in road games in non-conference games.
Miami is 15-3 ATS in road games after three or more Overs.
Denver is 28-12 OVER when the total is 220 to 229.5.
NHL 
Chicago is 5-24 vs. division opponents the last two seasons.
Edmonton is 4-12 playing with three or more days rest.
NCAAB
Arkansas is 10-1 ATS at home after two straight games giving up 9 or fewer offensive rebounds.
BYU is 13-2 ATS when playing only their 2nd game in 8 days.
Tennessee is 18-4 ATS at home after two straight games where they had 10 or more steals.
Ohio U. is 9-0 UNDER in road games after a win by 10 points or more
NCAAF
Miami-0H is 10-1 ATS after allowing 325 or more passing yards in their last game. (Wednesday)
SMU is 0-6 ATS in road games after a win by 17 or more points. (Thursday)
Stanford is 0-9 ATS in November games in the last three seasons.
Northwestern is 1-11 ATS  off one or more Unders.
Troy is 0-10 ATS  in home games off three or more Unders.
NFL
Tennessee is 7-0 ATS  in road games after five or more consecutive ATS wins. (Thursday)
Dallas is 8-0 ATS after allowing 6 or more yards a play in their previous game.
Chicago is 0-7 ATS in weeks 10 through 13 in the last three seasons.
Cleveland is 1-10 ATS off a road loss.
---
BMR Betting Pulse
---
NBA
We are breaking down the best NBA picks to choose from Wednesday and return Thursday to review every aspect of the Nets vs. Trail Blazers tussle.
NCAAB
We have some special action for you. Wednesday, we tear apart both contests in the Legends Classic and Thursday we do the same for the Myrtle Beach Invitational.
NHL
On Hump Day is a division encounter with Los Angeles at Edmonton on TNT and the next day we dig into the best ML, Puck Line and Totals for free NHL picks.
NCAAF
Today we start digging into this week's top games like Utah vs. Oregon, USC vs. UCLA and Illinois vs. Michigan, along with at least 10 other terrific matchups against the betting odds. On Thursday, we release our Best Bets, Top Parlay and Value Picks.
NFL
For Week 11, we will start in the frozen tundra with the Titans at the Packers on Thursday. We move ahead to dissect the Cowboys vs. Vikings and release our Best Bets, Upset Alert and Thursday Night Top Props.
---
The Buzz
---
NBA – What Teams Are Play Against Material
Heat 3-11 ATS
Lakers 3-10 ATS
Here is the rest of the list.
NHL – Devils Are Nothing But Trouble
We have recently talked about Boston and Vegas playing fantastic hockey. Let's add New Jersey to the list as their win streak reached 10 last night in crushing the Canadiens 5-1. Nothing fluky about New Jersey's play, ranked 2nd in scoring and 3rd in goals allowed.
Sports – Don't Mess With My Money
According to Front Office Sports, investors have filed an $11 billion lawsuit against FTX and former CEO Sam Bankman-Fried, alleging they deceived "unsophisticated investors."
Among the names in the suit are Tom Brady, Shaquille O'Neal, Naomi Osaka, the Golden State Warriors and actor/writer Larry David.
A separate suit seems likely from Miami-Dade County in Florida, which struck a deal in 2021 in renaming the Miami Heat's arena to FTX Arena. That deal is now off as well.
---
Football Focus
---
NFL – Thinking About the Patriots Over the Jets Sunday? Food for Thought
The Patriots are 1-10-1 ATS in home games following a bye.
NFL – Deshaun Watson Back
Deshaun Watson can start practicing this week and make his debut in Week 12. But what is Watson coming back to? The Browns are 3-6, having a few good pieces and a whole lot of holes. The sarcastic sorts may think they deserve each other. Just sayin'.
NCAAF – Virginia Cancels Home Finale
With the shooting deaths of three Virginia players Sunday night, the university has canceled its last home game against Coastal Carolina this Saturday.
NCAAF – Biggest Line Moves
Indiana +13 to +10 vs. Michigan State
Purdue -17.5 to -19.5 over Northwestern
Western Kentucky +7.5 to +5.5 vs. Auburn
North Carolina -19 to -21 over Georgia Tech
UNLV -8 to -11 over Hawai'i
NFL – Biggest Line Moves
Packers -1 to -3 over Titans (Thursday)
Colts +10 to +6.5 vs. Eagles
Jets +4.5 to +3 vs. Patriots
Steelers +6 to +4 vs. Bengals
---
Out The Door
---
NCAAB – Looking Forward to Pac-12 Hoops?
Though the season is less than two weeks old, there are again troubling signs for the Pac-12. Just like this.
NFL – The Raiders Are Crapping Out
We mentioned the other day about Las Vegas underachieving and now Bill Plaschke of the L.A. Times and ESPN2's Around The Horn reports that even if the Raiders wanted to fire Josh McDaniels after nine games, they could not because they don't have the available money to buy out his contract.
He believes owner Mark Davis will keep him this year and next no matter what happens.
---
Who is Right?
---
There is a good matchup in the Eastern Conference tonight with Boston at Atlanta who has the first and third-best records respectively. The total on this tilt opened at 234 and climbed to 236.5 at 02:00 PM EST. At this time, 85% of the money is on the Over, which makes sense for the NBA odds to move.
What is a head-scratcher is 60% of the bets made are on the Under. What are you thinking about this ESPN clash?
Let's get some winners! See you back here Friday!