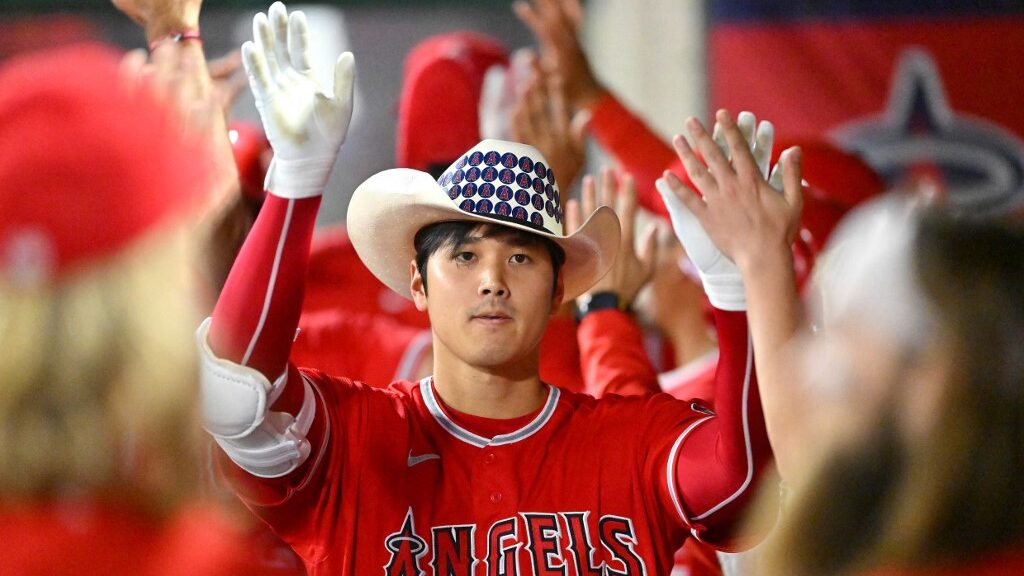 If you are a Shohei Ohtani fan, you already know what he did last night. Now, we'll share it with the world.
We also have news about a massive WNBA comeback, the College World Series and of course Game 4 of the Stanley Cup. This and more for you to chew on.
---
About Last Night…
---
MLB
As much as Shohei Ohtani reportedly likes playing with Mike Trout and the Angels, he wants to get paid and play with a winning team. (Trout at least got paid).
Last night Ohtani hit two home runs and drove in eight runs, including a dramatic three-run blast in the ninth inning to tie Kansas City 10-10. But that wasn't enough as the Halos (-170) fell 12-11 in extra innings, losing a second straight night to the lowly Royals.
Pittsburgh's Rookies
The Pittsburgh Pirates have called up two rookies in the last several days. One stands out, literally, and that is Oneil Cruz. The 6-7 shortstop (not a misprint) is the first Pirates player with an RBI in each of his first four career games since 1934.
He also had a throw from deep in the hole that was 96.7 MPH, the fastest speed by an infielder this year. The Bucs go for the sweep of the Cubs today.
WNBA
The Chicago Sky are the defending WNBA champs and they were 8-point road underdogs at Las Vegas Tuesday night. The Sky trailed 51-23 in the second quarter in what appeared a blowout.
But Chicago regrouped, played great defense, and could not miss, outscoring the Aces 83-44 from that point to win 104-95. The 28-point comeback is the largest in WNBA history.
Gronk Retires, Presumably for Good
Rob Gronkowski announced his retirement yesterday at 33. He was the consummate professional and did everything a tight end is supposed to do, including blocking, even in the latter part of his career.
His character and fun lifestyle will be missed in the No Fun League (NFL) but we are already counting the days to his Hall of Fame speech which should be epic.
---
Trendy Talk
---
MLB
The Oakland Athletics are an MLB-worst 8-26 at home, -20.8 units in 2022.
The New York Mets are 15-3 after scoring two runs or less this season.
The Atlanta Braves are 20-7 under after a game with a combined score of 15 runs or more.
The L.A Dodgers are 12-3 under when the money line is -100 to -150.
Patrick Corbin of the Nationals is 0-9 as a road underdog of +100 to +150 since last season. (Team's Record)
NHL
The Colorado Avalanche are 34-12 revenging a loss of two goals or more.
The Colorado Avalanche are 7-0 OVER in the 4th game of a playoff series.
WNBA
Los Angeles Sparks are 7-0 over after playing a game as an underdog.
CFL
The Saskatchewan Roughriders are 8-1 under in road games the last two seasons. (Thursday)
---
BMR's Betting Pulse
---
MLB
The New York Yankees and Tampa Bay conclude their series on Wednesday while St. Louis and Milwaukee move to Game 3 of 4 and we dissect each contest for you. On Thursday, the Bronx Bombers open up a four-game extravaganza in H-Town. Plus, the smokin' hot Phillies hit SoCal in San Diego.
NHL
Game 4 of the Stanley Cup is massively important for both clubs. Tampa Bay can even the series and take over the momentum or Colorado can head back to Denver looking to be crowned the champions.
WNBA
For Wednesday, New York visits Los Angeles and both teams have losing records. Who will win and cover?
CFL
Week 3 of the Canadian Football season starts Thursday and we have previews and free expert picks on all four matchups!
---
The Buzz
---
Stanley Cup: Now What?
If you are as confused as we are after three games of the series, you are not alone. The last two games have been like the NBA Playoffs this year: massive blowouts. Did Colorado just have an off night in Game 3 or has goalie Darcy Kuemper finally been exposed? Was playing at home what Tampa Bay needed to play like champions?
Most sportsbooks have the game as a Pick or a very slight edge towards the Lightning. An uncertain call and the best bet might be the over, which is 3-0 in this series.
College World Series
We are down to the Final Four of this tournament. Today, Oklahoma tries to eliminate Texas A&M, who they beat 13-8 in the first game of the tourney. The Sooners' pitching looks deeper and they have plenty of bats and they just have to defeat the Aggies once to reach the title game. BetOnline (visit our BetOnline Review) has Oklahoma as -120 favorite in today's first encounter.
In the nightcap, SEC rivals Mississippi and Arkansas collide and the Rebels have not lost yet. Ole Miss, like the Sooners, appears to have more pitching which is why they should knock out the Razorbacks. Mississippi is a -125 fave and both contests have totals of 12 or higher.
NFL
Deshaun Watson has settled 20 of his 24 lawsuits as he and his lawyers are trying to put this to bed to lessen the punishment by the NFL. The league released a statement saying those decisions would have "no impact" on their decision-making.
---
Football Focus
---
With the NHL likely over this week, the sports betting world options are getting light. Now through sometime in August, we will provide information about an NFL or college football team of interest and offer a quick read to get you in the mood for September.
We will continue with college football this week and move to the NFL next week.
Ohio State Buckeyes to Win the National Championship: +400 (2nd overall choice at BetOnline)
Buckeyes Over/Under Total Wins: 10.5 Games (+180)
Football Pulse: With the way college football is played right now, you have to dominate on offense or defense to win a championship. Ohio State will start the season with an offense that might be unmatched, led by quarterback C.J. Stroud. Columbus is now the home of – Wide Receiver U. with so many talented pass catchers.
What has held Ohio State back is the defense, which has featured dreadful tackling and poor fundamentals. Coach Ryan Day's recruiting has to get better football players, not athletes, who want to mix it up at the line of scrimmage. New DC Jim Knowles should help.
---
Out the Door
---
NBA: The Draft
In terms of talent and upside, most agree this is the Top 6:
Chet Holmgren (Gonzaga)
Jabari Smith Jr. (Auburn)
Paolo Banchero (Duke)
Jaden Ivey (Purdue)
Bennedict Mathurin (Arizona)
Jeremy Sochan (Baylor)
Though the betting odds will vary modestly, the Top 3 in order are Banchero, Smith and Holmgren. While you never know how hard a player will eventually work or fit in with a particular club, we think the betting order for an eventual outcome is correct.
Golf: Koepka Joins His Brother at LIV
The golf world was pretty shocked to see Brooks Koepka leave the PGA Tour at 32 to join the rival league. While he's a big name as a four-time majors champion, this might not be as big a deal as it sounds.
Koepka loves to play in majors, other than that it is mostly preparations and few golf bettors consider him in regular tournaments. He's gotten more surly with age and if he can play less golf and make the same or more money, he's a mercenary in that way. Plus, the continual injuries keep piling up for Brooks.
---
Who Is Right?
---
Our betting interest is pulled away from the diamond for Wednesday. In the Stanley Cup, we find 80 percent of bets are on the over, with the money almost dead even at 50-50. Hmm.
Another intriguing part of Game 4 has more than 60% of the money on Colorado and almost 60% of wagers on Tampa Bay at home.
Though the bet slips barely favor Connecticut and the Under in the WNBA, New York has 80% backing to cover on the road and a whopping 95% is on the over when we talk about sharp money movement.
Let's get some winners and see you back here Friday.