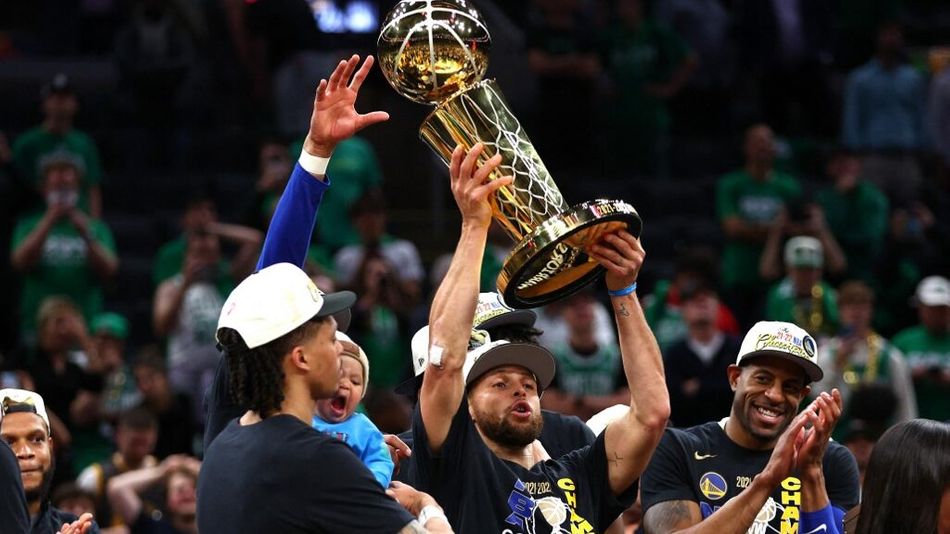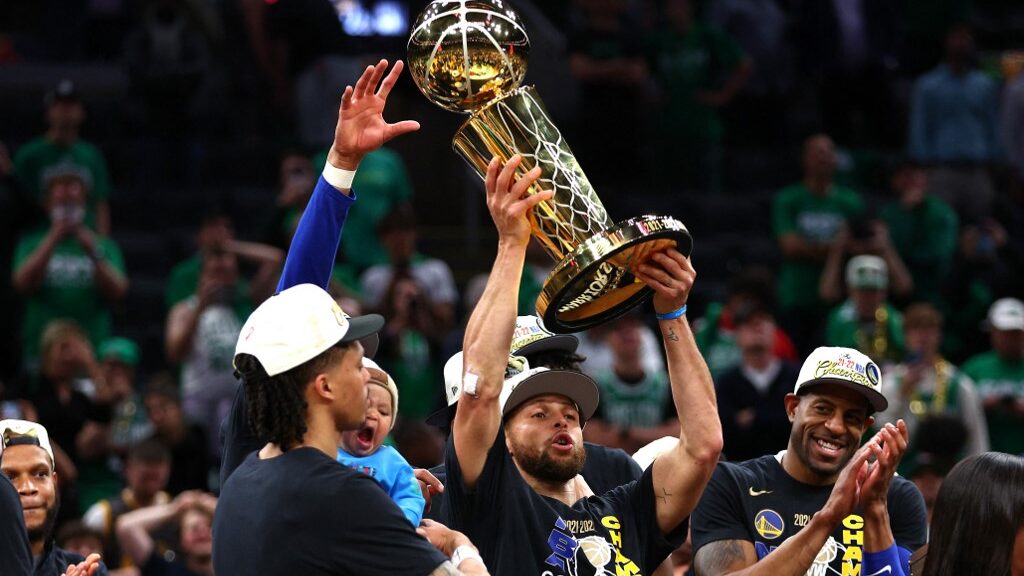 With no NHL on Friday and the NBA Finals done, the sports calendar is thinning out.
That's OK, it's summertime and we will still cover what is available and delve into MLB, WNBA, CFL, and UFC. Hell, we're even looking at the College World Series. And of course, we have cool top trends and free picks to offer.
---
About Last Night…
---
NBA
The Golden State Warriors were believed done after three games in this series. Instead, they turned it up a notch and Boston had no answers. Steph Curry cemented his status as one of the all-time great guards and Steve Kerr as one of the best coaches.
The Warriors have won four titles in eight years and made six trips to the NBA Finals. Like all great clubs that win frequently over that amount of time, they start as an offensive team that plays good defense and morphs into a stellar defensive crew that plays smart offense and makes shots.
For Boston, their young stars have to get better and add bench scoring depth if they want to return.
U.S. Open Golf
If you surveyed the Round 1 leaderboard it was Rory McIlroy and a bunch of "who's that?" players. Unless you bet on the opening round, which is seldom a great idea, seeing Adam Hadwin atop the leaderboard with 4-under 66 was odd.
McIlroy briefly lost his cool, but still shot a 67. Phil Mickelson had a four-putt on his way to an 8-over 78 and looked defeated.
MLB
Pat Corbin of the Nationals was perfect for two innings against the Phillies, then he and his team imploded, badly. After two quick outs in the third inning, a Washington error opened the floodgates.
The next eight Philadelphia batters reached base by base hits, a walk, and another error, as Philly posted a season-best seven runs. They went on to win 10-1 and if you had the Phillies on the run line, it was a Lazy-Boy special.
---
Trendy Talk
---
MLB
The Houston Astros are 0-8 (-10.7 Units) after scoring eight runs or more this season.
The Minnesota Twins are 7-1 (+8.1 Units) away after two straight games with no home runs.
The Boston Red Sox are 21-5 under after a loss this year.
The Tampa Bay Rays are 12-1 over on the road after a game with a combined score of four runs or less.
Julio Urias and the Dodgers are 2-7 (-12.8 Units) as a favorite of -150 or more in 2022.
NHL
The Colorado Avalanche are 27-4 in home games after a three-game unbeaten streak the last two seasons. (Saturday)
The Colorado Avalanche are 7-1 over at home after scoring four goals or more in four straight games. (Saturday)
WNBA
The Seattle Storm are 2-11 ATS off a win against a division rival.
The Chicago Sky are 2-11 ATS after two straight wins by six points or less.
The Dallas Wings are 12-3 over in home games after a combined score of 155 points or more.
CFL
The Ottawa Redblacks are 6-0 under after playing their last game on the road.
The Calgary Stampeders are 34-16 under after a win by three points or less. (Saturday)
The Edmonton Elks are 15-32 ATS in the first two weeks of the season. (Saturday)
---
BMR's Betting Pulse
---
MLB
There will be a lot of red when the Cardinals visit Fenway Park to face the Red Sox this weekend. We have the action covered head to toe in the first two tilts.
Friday night, Toronto will attempt to slow the Yankees Express. The ESPN game Sunday night is the White Sox at Houston and we have all broken down.
NHL
Tampa Bay had their chances against Colorado in Game 1. Can the Lightning improve their penalty killing in Game 2? This has been abysmal since the Rangers series.
UFC
We have everything you need to know about the Kattar vs. Emmett fight Saturday!
USFL and CFL
We have football for you. Check out the final week of the USFL regular season and the remaining Week 2 battles in CFL.
---
The Buzz
---
MLB: Injured Rotations
Thursday evening, the Brewers Aaron Ashby left his start with left forearm tightness and the Mets Tylor Megill was pulled with right shoulder discomfort. Megill seems the more serious problem after just returning from the IL.
Both starting pitcher staffs are depleted, with New York still holding on to first place in the NL East and Milwaukee attempting to stay in contact with St. Louis. We'll see what the reports say in the coming days, but this is not good for either club and for us trying to bet for or against these clubs.
College World Series: First Round Favorites
The men's CWS rolls today and here are the betting odds for each first-round game from Bovada (visit our Bovada Review).
Friday:
Oklahoma (-155) vs. Texas A&M
Texas (-140) vs. Notre Dame
Saturday:
Stanford (-130) vs. Arkansas
Ole Miss (-140) vs. Auburn
In case you missed it, the SEC West has half the field.
WNBA:
Word dropped on Wednesday that Seattle Sue Bird was retiring after 21 seasons.
She has literally seen it all in women's basketball and she is just the third professional basketball player of any gender to win a championship in three different decades. Amazing.
---
Out the Door
---
MLB:
We searched all over for this because it seems rare. Friday afternoon Atlanta will put its 14-game winning streak on the line against the Chicago Cubs who have lost 10 in a row. Competing double-digit opposite streaks colliding? The Braves are a -170 ML road favorites to continue both streaks.
NBA:
Still wrapping our heads around the fact that Golden State had a 21-0 run against Boston in Game 6 that wrapped up the title for the Warriors. That is the longest such run in The Finals in 50 years.
Stanley Cup:
Backing Tampa Bay in Game 2 at about +130 makes sense, but their special teams were outplayed in the Finals opener, which makes them a less secure selection it seems. Join the conversation at BMR's forum as we have a dedicated thread for anyone to jump in with a hot take!
---
Who Is Right?
---
The Brewers/Reds total has risen from 8.5 to 9.5, and the money and bets placed are in the 90 percentile. The money and bets placed are nearly identical for San Diego at Colorado, as that total has jumped from 11 to 12.5!
Let's get some winners, have a great weekend and see you back here Monday.