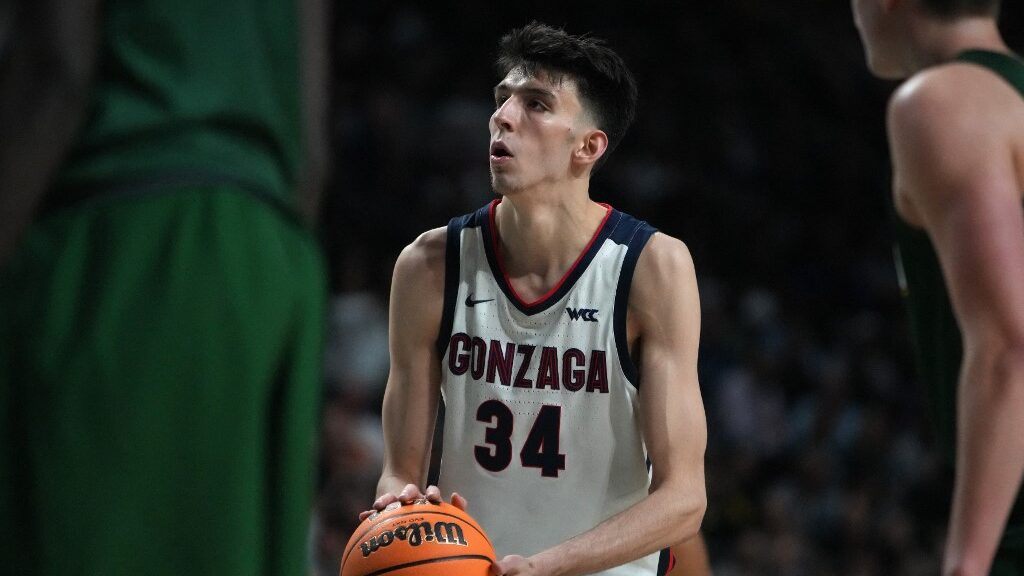 If Jabari Smith Jr. is selected first overall, should the Oklahoma City Thunder draft 7-0 center Chet Holmgren with their selection? Let's talk about why Holmgren would be a solid fit for the Thunder and why he should be drafted second overall.
Who Will the Orlando Magic Pick?
It's looking more and more likely that Jabari Smith will be drafted by the Orlando Magic using the first pick of the NBA Draft.
That would put the Oklahoma City Thunder on the clock with the second overall pick. The Thunder have plenty of options. They can, of course, go with Chet Holmgren, a 7-0 center who weighs under 200 lbs from Gonzaga. Or they can go with Paolo Banchero, a 6-10 forward that weighs 250 lbs from Duke.
There are positives and negatives on both of these prospects but in the grand scheme of things, the Thunder can go wrong in either direction.
Thunder's Roster Analysis
The Thunder have been in rebuild mode for the last two seasons. At guard, the Thunder are pretty much set between Shai Gilgeous-Alexander and Josh Giddey. However, at center, the Thunder have struggled to find a player that could give consistent minutes at the center position.
Although he might not be selected first overall in this year's draft, Holmgren was the "prized" prospect coming into this year's college basketball season. He didn't disappoint. He added 14.1 points, 9.9 rebounds, and 2.7 blocks for Gonzaga, and helped lead Gonzaga to another very successful season.
He's got a wingspan of 7-6 and although he's just 195 lbs, we've seen other players with this body type who have transformed. Chet doesn't play like Giannis but Giannis looked just like Chet coming into his first season in the league. Now, look at Giannis.
How Can Holmgren Be Useful to the Thunder?
With Holmgren, the Thunder would be able to set high-ball screen action with Gilgeous-Alexander and Josh Giddey. He can also pop after setting screens as he hit nearly 40% from downtown with Gonzaga. He's dynamic and is able to score off catch-and-shoot situations.
He's also got the ability to slash and could help the guards with spacing to get better looks.
The Thunder have also been weak in defending screens. Holmgren would be able to come in and defend screens with his wing span. He's easily one of the best pick-and-roll defenders in this draft. He's got long strides which gives him the ability to make plays on the defensive end.
Why Would the Thunder Pass on Holmgren?
Most teams don't want to pass up on Chet. But they're also scared of him becoming a bust in the league.
The Thunder have always been terrific at drafting. And if they don't think Holmgren is a star, the Thunder won't draft him. They'll draft that one player that they truly believe in.
There have been reports about Jaden Ivey possibly being drafted second to the Thunder. The Thunder won't shy away from making noise early in the draft if they believe they have a star on their hands.
Chet Holmgren's Personality
However, the interesting thing about Chet is that he's very confident and cocky. When he's asked about himself or how good he thinks he can be, he doesn't shy away.
He thinks he'll be the best in the league and believes teams that pass him will pay for it in the future.
Holmgren's frame is what is talked about the most. He's 7 feet tall but weighs just 195 lbs with a reach of 9-6. He's a walking stick but if he fared well in college, there's likely no reason to think that he can gain muscle and be just as dominant in the pros.
Conclusions: The Thunder Should Draft Holmgren
In my opinion, Chet Holmgren gives the Thunder what they've been missing for years.
Holmgren's Individual Qualities
The Thunder have never had a big this versatile.
They've always had slow feet at center.
They've never had a guy who can catch-and-shoot from three or move quickly off a screen to roll to the rim.
Holmgren's Team-Player Qualities
Holmgren would spread the floor, cut to the rim, and help give space to Giddey and Shai.
Giddey is a pass-first guard, who would have insane chemistry with Holmgren.
Those two would work so well with one another and then Thunder will have Gilgeous-Alexander who is becoming one of the better scorers in the game.
The depth that the Thunder would have in the starting lineup with Holmgren is very good.
This team wouldn't be a playoff contender right away but they'd be competitive and fun again if everyone can stay healthy.
That's been the problem for the Thunder, at least last season. Health was a major concern. But Chet allows the Thunder to hit reset and gives them a versatile player that can fit right in with the other young talent that the Thunder have.
I would draft Chet Holmgren if I were the Thunder.