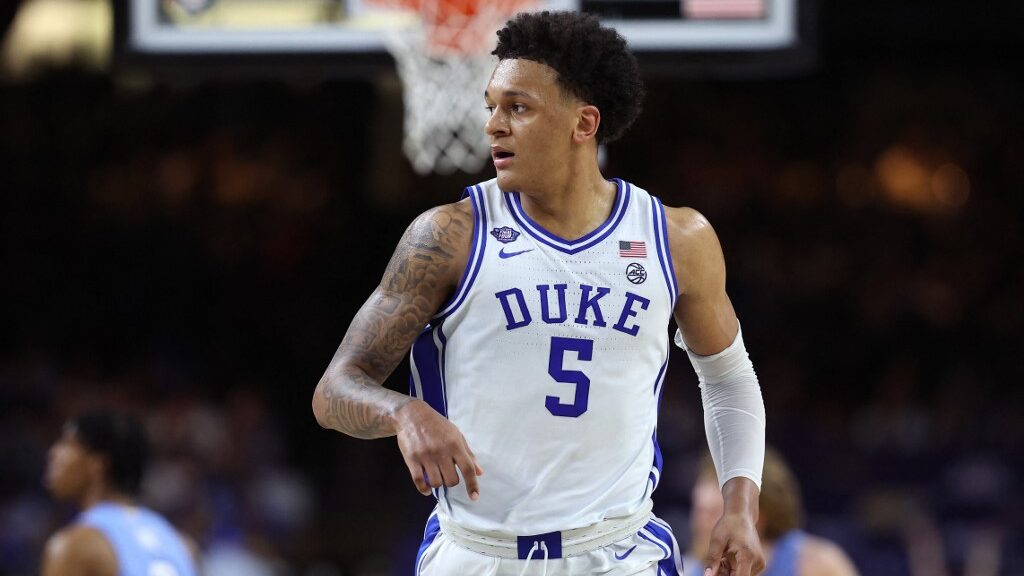 Despite what oddsmakers think, Paolo Banchero could be the number one overall pick in this year's NBA Draft. Is there value on betting this prop?
Let's get this straight. I'd be shocked if Paolo Banchero went first overall with Chet Holmgren and Jabari Smith Jr. on the board. However, it wouldn't be the first time that we'd be shocked at the first overall pick. Insert a name like Anthony Bennett, for example. Anything can happen. A prospect could always increase his value through workouts, interviews, and whatever else.
So Banchero still has a chance at the first pick of the NBA Draft. I'll break down why he would fit the Orlando Magic with the first selection and also why it would make sense for Banchero to get selected first overall.
Paolo Banchero Odds
At BetOnline (visit our BetOnline Review), Paolo Banchero is currently third on the list to be drafted first overall at +800. Jabari Smith jr. is currently -230 while Chet Holmgren is sitting at +150.
But there's still reason to believe that Banchero could be the best prospect among the three.
Paolo Banchero 2021-22 Stats
Paolo Banchero scored 17.2 points per game with Duke last season while also adding 7.8 rebounds and 3.2 assists per game. He shot 47.8% from the floor and had a very good freshman campaign with Duke.
You probably can't tell me another player from Auburn that has made it big in the NBA. But you can absolutely tell me a bunch of players from Duke that won a championship or two.
Look at Jayson Tatum, for example. He did exactly what Banchero is doing. Tatum left college after one season and joined the pros. Within five years, Tatum is now in the NBA Finals. Banchero is the kind of athlete who can make that kind of impact on the program.
Scouting Report on Banchero
Banchero played his first game in college against Kentucky. He added 22 points and seven rebounds in that game. In the final game of his college career, he scored 20 points and 10 rebounds against North Carolina in the NCAA Tournament.
He's a dominant offensive player, who can hit mid-range jumpers in his sleep. He's able to create his own space and pull up on defenders and still make shots look easy. He's able to move without the ball, understands, and reads the defenses well on the offensive end. You're able to run plays through him and he plays like a dual-threat.
He's able to be a guard or a forward. Whatever you ask of him, he'll do. Sure, Banchero needs to become a better shooter. But many prospects develop a three once they get into the league. That won't stop him from being great.
Jimmy Butler isn't the best three-point shooter but he progressed in the playoffs and made some big-time shots. Clearly, you don't need a three-point shot to be successful in the league, but it would help. Still, Banchero made 33.8% of threes at Duke, which is a much better percentage than Butler, for example.
His defense probably needs some work as well but if he gets to become more of a leader, the defense will come with it.
The reality is that Banchero is the best half-court offensive player in the draft. He needs to improve his defense but a guy like Mo Bamba could be a solid fit playing next to him in Orlando. Banchero doesn't have length and that could force him to play the three at times, but ultimately, he could fit with Jalen Suggs and Cole Anthony playing the guard spots.
Conclusions
Banchero can create any shot for himself. He's got the ability to knock down threes and has a great mid-range game. He was a guard for most of his career but hit a growth spurt that forced him to play the forward position.
Therefore, he knows both positions well and could be used like LeBron James, for example. Banchero actually has a really good handle for the ball and is a good enough rebounder to get by. Banchero isn't explosive like a Jaden Ivey, for example, but he's a player that is just able to create his own shot and score at will around the rim.
His defense is going to improve and although his length isn't great, when he's taking on other small forwards, he'll match up much better.
However, will the Magic really want to take him over other needs like a center in Chet Holmgren or a pure lengthy scorer in Jabari Smith Jr.? Probably not. But we've been fooled before and +800 really is valuable after all.