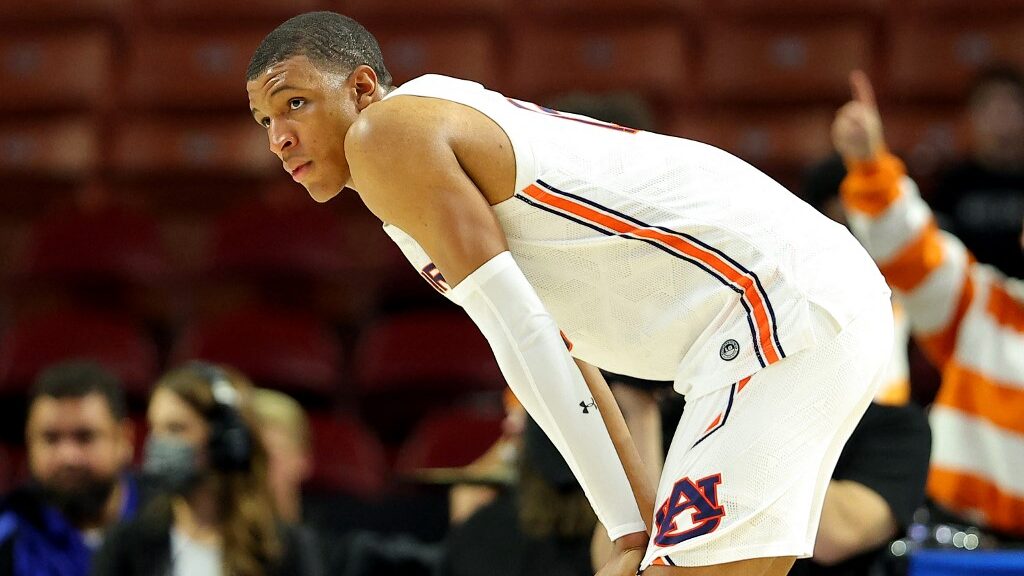 Jabari Smith will battle Chet Holmgren for first overall in the 2022 NBA Draft. Who will the Orlando Magic settle on with the first pick?
Jabari Smith vs. Chet Holmgren
With the NBA Draft approaching, many fans and bettors want to know how this year's NBA Draft will play out. In all honesty, there's no true number one overall pick this year. There are probably five players that could be first overall in the NBA Draft on Thursday, June 23.
It all really came down to which teams won the NBA Lottery last week. The Orlando Magic got the first selection and now can make their move. Jabari Smith has been getting comparisons to Kevin Durant and absolutely fits a need for the Magic.
However, many teams don't want to give up the chance of drafting Chet Holmgren, as scouts are either very high on him or very low on him.
With the Magic drafting first overall, is it safe to assume that Orlando goes after Jabari Smith with the first selection?
Jabari Smith Draft Odds
At BetOnline (visit our BetOnline Review), Chet Holmgren, the center out of Gonzaga, actually has the more likely odds of going first overall. Holmgren is -110 while Jabari Smith is +110 to go first overall.
It's basically a toss-up and the Magic can't really do any wrong selecting either of these players. At least for now.
At this point, it's going to come down to Holmgren and Smith for the first overall pick as Paolo Banchero is now currently +400 to be first overall, with the third-best odds.
Jabari Smith's Strengths
Smith has all of the athleticism you need. He's also got the size to be great in the league.
He's also extremely active and relentless and obviously has a slid wingspan with good lateral quickness.
He's going to be an elite defender with his ability to show instinct and earn blocks and steals when necessary.
Smith can guard any position and is good enough in the post to defend there as well. He was getting 1.5 steals and 1 block per game in Auburn last season.
The 6'10 stretch forward shot 44% from three on over 5 attempts per game through 17 games.
He can shoot over defenders with his length, which is key for this league.
Smith also hit 80% from the foul line last season.
He has a quick first step that allows him to finish at the rim at a high rate.
With the ball in his hands so much this season for Auburn, he still only turned the ball over 1.8 times per game.
Jabari Smith's Weaknesses
He averaged 6.2 rebounds per game but with his length, probably should've added more rebounds to his game.
Smith, for his size, won't be expected to be an elite ballhandler. That's something he hasn't been very good at.
He's also going to need to put on some more muscle and work on getting stronger to be bigger around the rim.
At times, Smith settles for shots around the perimeter. Teams are going to want him to create his own shot and get to the rim. He might settle for too many mid-range jumpers.
He's also not the best at creating space against defends with the ball or without the ball.
NBA Draft: Who Will Be the No. 1 Pick?
With that said, I do think that Smith will go first overall. He's the best potential player on the board. He's got the length, size, athleticism, and defense that will wow any front office.
The Magic have pressure though. There are many good options this year when it comes to the NBA Draft pool. They have to make the best decision based on their team. Smith fits what they're trying to do, especially when Jalen Suggs is ready to go and healthy.
The Magic are far from being competitive but they really can't go wrong with Holmgren or Smith. It just seems like Smith has the lower floor than Holmgren. Both have incredibly high ceilings but you just feel more comfortable with Smith than Holmgren.
At +110, it's worth riding Smith to go first overall to the Magic.