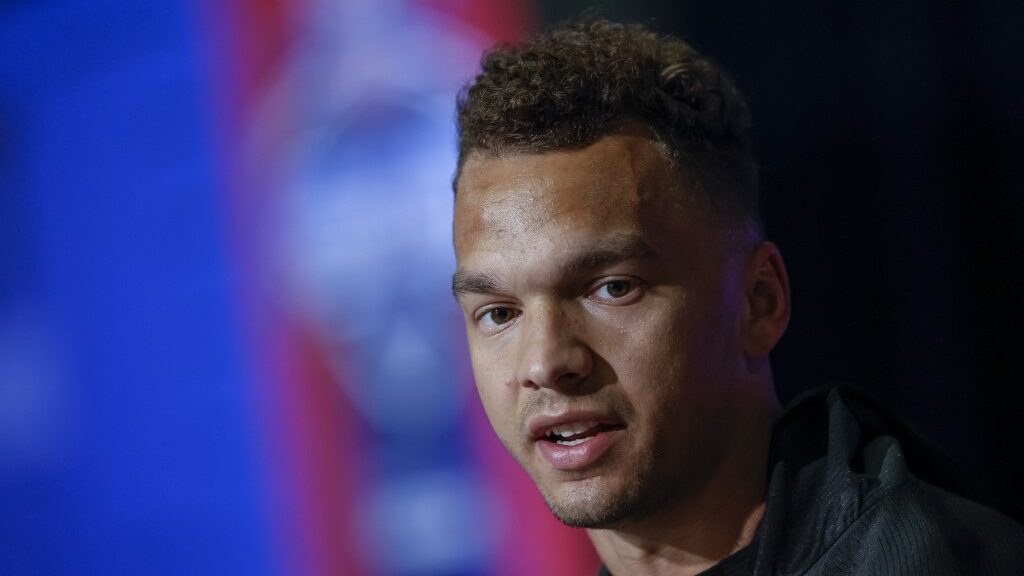 Last month the Atlanta Falcons added their projected future franchise quarterback to their roster after selecting Desmond Ridder with the 74th overall pick in the third round of the 2022 NFL Draft.
But is the Cincinnati product ready to fill the shoes left by 14-year Falcons starter Matt Ryan? That remains up in the air considering the fact that Ridder will have some competition this offseason against six-year NFL veteran Marcus Mariota.
The Falcons Plan to Roll with Mariota
Until Ridder is NFL ready, they expect Mariota to lead the way while the rookie soaks up all he can as a backup.
"We've added competition certainly," Falcons head coach Arthur Smith said following the draft. "Marcus being the veteran gives us a chance going forward. As with any position on this team, the best player is going to play, but obviously, Marcus being the vet, that's the way it'll go starting out."
Of course, things can change between now and the regular season, but it's all up to Ridder on how well he performs and competes.
Ridder Will Have to Learn a New Playbook
"I'm not going to sit here and speculate or give you our plan of development," Smith said. "We'll see what (Ridder) looks like when he gets here. If you're asking if we're going to put a package in for him, we'll see. We've got a long way to go until September.
I'm not going to tell you our long-term plan or a short-term plan. We know what we want to see behind the scenes. It'll play itself out. You guys will be able to watch it."
Any NFL player will tell you that the transition from the college level to the next level isn't easy. Ridder will have to spend most of his time learning a brand new playbook in order to build trust with his teammates and coaches.
Not to mention that the Falcons' schedule this season is a tough one, for any rookie as the team faces Tom Brady twice along with the Super Bowl Champs and runner-up.
Pressure Is On the Veteran
As for Marcus Mariota, keeping the starting job won't come easy for him either. The 28-year-old spent the last two years as a backup quarterback where he appeared in 11 games, 10 of them coming last season. He went 18-of-30 passing (60%) for:
230 yards
1 touchdown
1 interception
He also rushed for:
There's going to be a lot of pressure on him to step it up as the expected starter for the Falcons this season and if he doesn't, then he'll be back to being QB No. 2.
Pro Football Focus: Ridder Is "Most NFL-Ready QB"
In a mock draft released by Pro Football Focus on April 4, PFF had initially pegged the Falcons to select the first quarterback of the draft, taking Cincinnati Bearcats' Desmond Ridder at No. 8 overall.
PFF singled out Desmond in their mock by calling him the most "NFL-ready" QB in the 2022 class:
Arthur Smith's offense is a dream fit for Ridder.
The Cincinnati product displayed high-level processing and flawlessly executed the Bearcats' pure passing concepts this past season. He got through his progressions, consistently finding the right receiver, and had nine games without a turnover-worthy play this past season — the best mark in the FBS.
Ridder also ranked third among the top seven quarterback prospects in accurate-pass percentage on throws beyond the line of scrimmage. So, while it may not be perfect, his accuracy is not a liability.
Instead, Pittsburgh's Kenny Pickett was the first QB taken off the draft board at No. 23 overall by the Steelers, making Ridder the second QB to go. But PFF isn't the only one who believes Ridder is the readiest QB to start at the next level, Ridder––himself––believes it too.
Ridder Thinks He's Ready
"I played five years, so I have the most experience," Ridder said. "I've played in many situations over my five years at Cincinnati. I feel like I am the most ready prospect mentally and athletically."
As a four-year starter for the Bearcats, in 50 career games, Ridder tossed for a total of
10,239 yards
87 touchdowns
28 interceptions
Ridder won't be expected to start in 2022 but if he really wants to, then the door is wide open for him to do so.