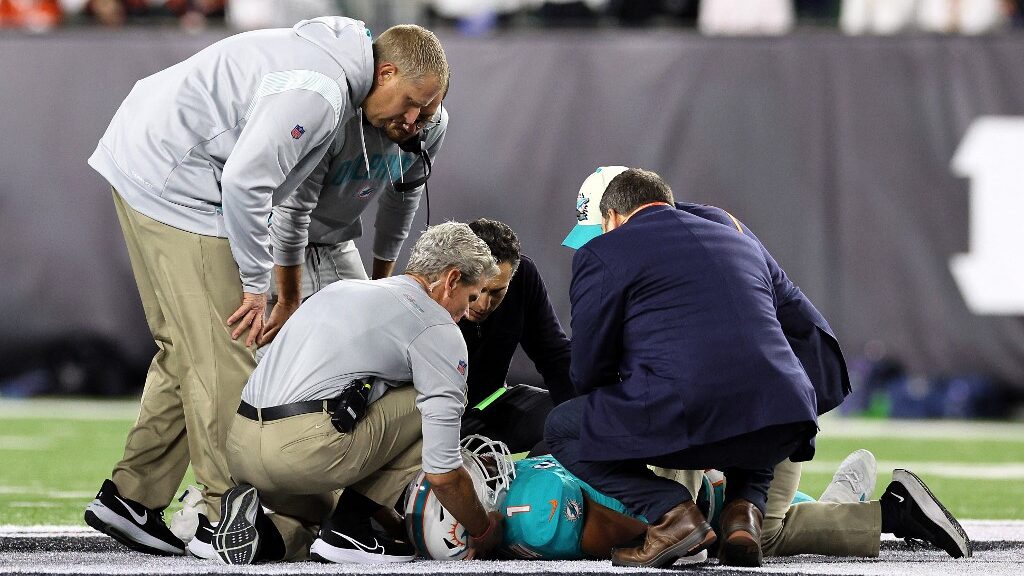 Another grand football weekend is upon and that will draw almost all of our attention. However, we still are thinking and will hear about Miami's Tua Tagovailoa and NFL protocols.
Aaron Judge will be out to set the AL record for dingers and we have enough football betting information to make your head spin, yet hopefully will add to you making more cash!
---
About Last Night…
---
NFL
Cincinnati got the win and cover over Miami to take the Dolphins off the undefeated list but what everyone was thinking about was Tua Tagovailoa suffering a head injury, just four days after having something similar occur.
Given the NFL protocols for concussions, it was surprising to see Tua come back last week. It would be very amazing to see him return for a long time. At least Tagovailoa was discharged from the hospital Thursday night and flew back to Miami with the team.
NCAAF
We knew that this game meant more to Utah State than BYU Thursday, nonetheless, that was a weak showing by the Cougars who won 38-26 as 26-point home favorites.
BYU only outgained their in-state rivals by five yards in spite of a +3 turnover edge. The Cougars are at Notre Dame next Saturday.
MLB
Shohei Ohtani took a no-hitter into the 8th inning and extended his hitting streak to 14 games and he won his 15th game over Oakland 4-2. Just think what this guy has done……
Rookie of the Year
Hit for cycle
45-HR/25-SB season
Led league in triples
Unanimous MVP
200 strikeouts season
15-win season
He is the most complete baseball player ever.
---
Trendy Talk
---
NFL
Atlanta is 2-18 ATS at home after three or more consecutive wins against the spread.
NY Jets are 1-12 ATS after two straight games with 40 or more pass attempts.
Carolina is 1-10 ATS vs. defenses allowing 235 or more passing yards a game.
Dallas is 7-0 ATS versus division opponents the last two seasons.
Minnesota is 23-6 Over in road games off a no-cover where the team won as a favorite.
Buffalo is 8-0 Over in road games vs. teams averaging 235 or more passing yards/game.
Denver is 8-0 Under after one or more wins.
Atlanta is 13-3 Under versus teams averaging 350 or more yards/game.
NCAAF
San Diego St. is 21-6 Under in road games after playing two straight non-conference contests.
Houston is 0-7 ATS at home after playing a game where 60 total points or more were scored.
Minnesota is 13-1 ATS after allowing 40 or less rushing yards.
Northwestern is 0-9 ATS off one or more Unders.
Charlotte is 0-9 ATS off three or more consecutive Overs.
Iowa is 31-9 ATS versus foes averaging 5.25 or more rushing yards/carry.
Arkansas St. is 18-1 Under playing against a top-level team (Win Pct. of 75%+).
Rice is 11-1 Over as an underdog the last two seasons.
Auburn is 8-0 Under vs. teams scoring 34 or more points/game.
MLB
Boston is 3-22 playing against a good team (Win Pct. 54% to 62%) in the second half of the season.
Atlanta is 23-8 Under in home games vs. an NL team with an on-base percentage of .325 or worse in the second half of the season.
Pittsburgh is 11-1 Over after allowing four runs or less in three straight games.
Brady Singer and the Royals are 12-3 in the second half of the season.
Domingo German and the Yankees are 17-2 in home games when playing against a team with a winning record in his career.
---
BMR's Betting Pulse
---
NFL
We released our Best Bets and Top Value Plays along with several other key game breakdowns and free picks for Sunday and Monday.
NCAAF
We have the Marquee Matchup of the week with Alabama at Arkansas along with several other encounters for Friday and Saturday. In addition, we have our Best Bets along with several other Saturday selections and our Top Value Plays.
MLB
We know everyone is football crazy on the weekend but you should still review our top picks for money line, run line, and totals for this weekend.
Soccer
Please check out our UEFA Champions League Matchday 3 Best Bets and English Premier League Matchday 9 free picks.
---
The Buzz
---
NCAAF – Code of Honor and All That
In what has to be the strangest probation for recruiting violations, the NCAA placed Air Force's football program on probation for two years and issued other penalties for recruiting violations committed during COVID-19 dead periods.
That just doesn't sink in for a military school.
MLB – The Judge Might Go Off
With the pressure off, Aaron Judge has seven games to become the all-time American League home run hitter for a single season. The Yankees have a weekend home series against Baltimore and Judge has nine homers against the Orioles this season, the most by any player against one team in 2022.
NFL – Injuries
Reports emerged today that Jameis Winston and Michael Thomas probably won't play in London against Minnesota. Expect the Vikings to be a rising favorite for NFL odds.
If you placed a bet on Detroit at -4, you won't be happy to hear WR Amon-Ra St. Brown has been ruled out and RB D'Andre Swift is considered unlikely to play. That Lions spread number will for sure start dropping.
Pickleball
LeBron James, Draymond Green, Kevin Love, Drew Brees, and more are among financial backers in the Major League Pickleball. If you don't know what this is, get with the times, it's everywhere. Google it.
---
Football Focus
---
NFL – Ravens Are Dangerous Dog With Lamar
Lamar Jackson and Baltimore are 9-1 ATS (7-3 SU) in his last 10 starts as an underdog. They are presently catching three points versus visiting Buffalo.
NCAAF Biggest Line Moves – Updated 9/30
Illinois +10 to +7 vs. Wisconsin – No movement, just 60% of money on Illini and 60% of bets on Badgers.
Duke Pick to -3 over Virginia – A slight buyback on Duke to -2.5 with 60% of cash on the Wahoos.
James Madison -16.5.5 to -21.5 over Texas State – Unmoved, yet just mid-50's cash and bets on the favorite.
Bowling Green -6.5 to -9.5 over Akron – Bowling Green has come back to -8.5 despite 85% of bets backing the Falcons.
Fresno State/Connecticut Total – 56.5 to 51.5 – Unchanged in light betting with nearly 100% on the UNDER.
Houston -1 to -4 over Tulane – This Friday night affair finds the cash split at 50-50.
Cent. Michigan/Toledo Total – 60 to 56 – 90% money and 75% bets on OVER. Curious.
Top 5 Bets Placed by Percentage (highest first) (8-12 record) – Georgia, USC, Oregon, Minnesota, and Air Force
Top 5 Bets Placed by Money (highest first) (8-11-1 record) – Kentucky, Miss. State, Okla. State, Tulsa, and Arizona
Top 5 Totals Bets by Percentage (highest first) (10-9-1 record) – Wake Forest/Flor. State Over, Rutgers/Ohio State Over, UAB/Rice Over, UTSA/Mid. Tenn. State Over and Ariz. State/USC Over.
NFL Biggest Line Moves – Updated 9/30
Vikings -1 to -3 over Saints – Has not moved yet but likely will with Saints missing top players.
Falcons +3 to +1 vs. Browns – Steady and 70% of cash on Browns and 60% of wagers on Dirty Birds.
Panthers +2.5 to -1 over Cardinals – Nothing happened, still Cards have upper 80s percent for support in both categories
Seahawks/Lions Total – 46 to 48 – Seems odd with Detroit missing two key offensive players.
FYI – There are other line moves, but they are weather or injury related.
NFL Top 3 Bets Placed by Percentage (highest first) (3-6 record) – Cardinals, Rams, and Vikings.
NFL Top 3 Totals Bets by Percentage (highest first) (4-5 record) – Bills/Ravens Over, Jaguars/Eagles Over, and Patriots/Packers Under.
---
Out the Door
---
MLB
With last night's win over San Diego, the Dodgers are 60 games over .500.
MLB
If you are a Cubs fan or wondered what it looked like around Wrigley Field, here is literally a bird's eye view.
---
Who is Right?
---
Tonight's Tulane at Houston AAC encounter has seen the total dip one point from 54 to 53. Those playing their wagers are certainly having no impact on the line movement because 75% of bets placed are on the Over. The influence is coming from the money wagered which is in the middle 50s for percent backing the Under.
What side will you be supporting on this total?
Let's get some winners! Have a super weekend and see you back here Monday.