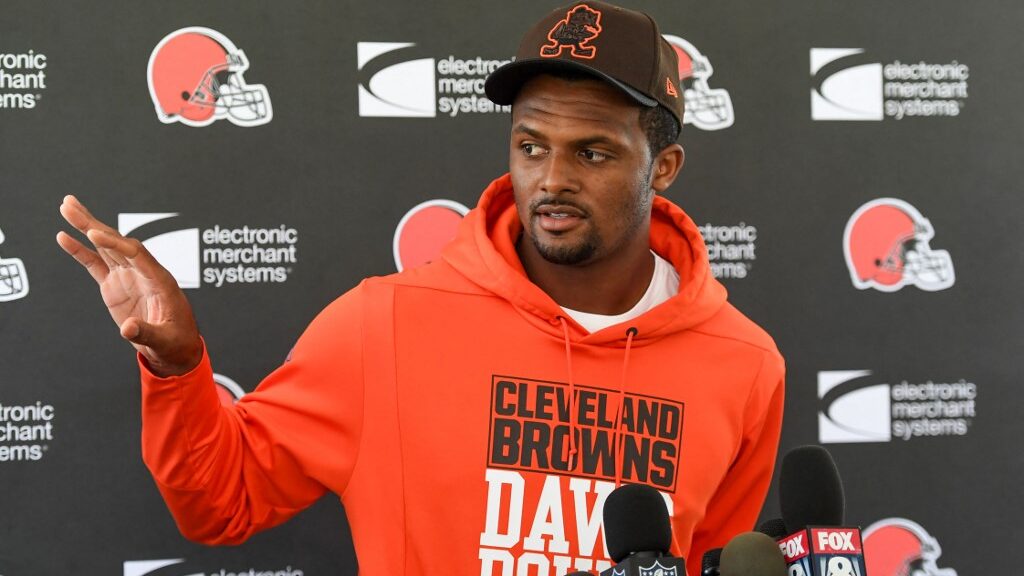 We now know how much time Deshaun Watson will have to sit for Cleveland and what his true feelings are and we discuss it. The Big Ten is stinking rich with new TV deals, while the New York Yankees need a parachute.
This plus NFL Preseason Week 2 line moves and football bettors are truly split on Friday night totals. We finish things off with an AFC North betting preview. Let's check The Pulse!
---
About Last Night…
---
NFL
Deshaun Watson and Cleveland came to a compromise and he was suspended for the first 11 games and was given a 5-million dollar fine. The Browns' win total immediately dropped to 8 after the announcement.
Sadly or not unexpectedly, Watson after being somewhat remorseful last week for the first time proved that was just an act and was indignant in his press conference, saying again he was not guilty. Not an easy person to root for.
Ironically, or maybe not at all, Watson's first game with Cleveland will be at Houston.
MLB
Atlanta (+115 odds) won last night 3-2 to take three of four over the New York Mets. They have recently met nine times and the home team was 7-2. These certain playoff teams have only three contests left with each other and that will be the final three days of the season at Truist Park.
We have spent a lot of time talking about the New York Yankees in this space, nonetheless, they were newsworthy as the best team in baseball, and now for having lost 13 of 17 after being pounded 9-2 by Toronto (+143) on Thursday, at Yankee Stadium.
As this article was posted, the Yankees are a home underdog, which is the first time that would happen in 2022. (Joey Gallo Curse anyone?)
---
Trendy Talk
---
MLB
Colorado is 11-1 in home games after scoring four runs or less in four straight games.
Los Angeles Angels are 7-28 vs. a starting pitcher who gives up 0.5 or fewer homers start this season.
Arizona is 13-2 Under vs. NL teams scoring 4.5 or more runs s game in the second half of the year.
Houston is 24-8 Under vs. a team with a good bullpen whose ERA is 3.45 or lower.
Graham Ashcraft of the Reds is 7-0 (+13.6 Units) when the total is 7 to 8.5 this season.
NFL Preseason
Carolina is 10-2 ATS off an upset win as a road underdog.
The Green Bay Packers are 38-17 Over as a favorite.
Denver is 12-3 OVER as a road underdog of 3.5 to 7 points. (Saturday)
Pittsburgh is on a 13-4 ATS run recently. (Saturday)
Baltimore is 19-1-1 ATS in their last 21 tries. (Sunday)
WNBA
New York is 13-4 Over after scoring 40 points or more in the first half of two straight games. (Saturday)
Las Vegas is 16-3 Over in the first round of the playoffs. (Saturday)
CFL
British Columbia head coach Rick Campbell is 7-0 ATS in road games after gaining 500 or more total yards in their previous game in his career.
Montreal is 6-0 ATS revenging a same-season loss the last two seasons. (Saturday)
Calgary is 10-2 ATS in road games off a close home loss by three points or less. (Saturday)
---
BMR's Betting Pulse
---
MLB
The slumping Yankees will try to break out of it when facing Toronto Friday night. Are the Marlins worth a look on the run line tonight against the Dodgers? Those two games and be sure to see our daily free picks on the money line, run line and totals all weekend long.
NFL Preseason
NFL Preseason Week 2 is here and see how to bet on this weekend's action.
UFC
Check out UFC 278: Usman vs. Edwards the main event of another great card.
---
The Buzz
---
MLB – "The Machine" is Still Powerful
Albert Pujols is not the player of a decade or more ago, but he's having a blast with St. Louis and has four homers in his last eight games, including yesterday's pinch-hit grand slam. That gives "The Machine" 690 homers and while he is unlikely to reach 700 before season's end, Alex Rodriguez's record at 696 is within reach.
College Football – Big Ten Stands for Big Money
SEVEN BILLION Dollars. That is how much the Big Ten's TV contracts are reportedly going to be worth over the next seven years starting next football season. The participants are FOX, CBS and NBC. Every Saturday will feature three all-day Big Ten contests on these networks.
ESPN is heavily invested in the SEC and to a lesser degree the ACC, so now what will happen with the Big 12 and Pac 12 (or thereabout)?
---
Football Focus
---
As we get closer to the start of football, we will have a report on every college football conference and each NFL division before their season starts. On Monday we have the AFC South.
Odds to Win the AFC North and Season Win Total 2022
Baltimore Ravens (+130 ): Over 9.5 (-170) / Under (+140)
Cincinnati Bengals (+165): Over 9.5 (-135) / Under (+105)
Cleveland Browns (+425): Over 8 (-140) / Under (+110)
Pittsburgh Steelers (+850): Over 7.5 (-115) / Under (-115)
*All odds via BetOnline (visit our BetOnline Review)
Football Pulse
The Baltimore Ravens suffered a rash of injuries which led to a rare losing season and a last-place finish in the division. Almost all the injured players are returning and the Baltimore organization made some good offseason moves and drafted well. With quarterback Lamar Jackson currently without a new contract, what will his mindset be?
Cincinnati had an unbelieve journey all the way to the Super Bowl, just falling short. Last year there were no expectations and they hopped on the Joe Burrow Express and the Bengals played with his confidence. The new-season dynamics are 180 degrees different and the betting odds from the sportsbooks don't lead one to think Cincy is coming close to a repeat in 2022.
Super Bowl losers are notorious bad bets, but the Bengals addressed every need from last year. An Over bet seems possible though.
We got the news yesterday that Cleveland won't have Deshaun Watson for 11 games to start the season, which lowered their season win total and raised their NFL odds everywhere else. No matter how good the Browns run the ball (4th in 2021) or stop the run (5th) you have to have someone who can throw the pigskin.
Jacoby Brissett is serviceable for a half or maybe a game, but 11? Unless they can sign Jimmy Garoppolo, another losing season on Lake Erie.
For the first time since 2004, no Big Ben in Pittsburgh. Instead, two veteran QBs that have not worked out (Rudolph and Trubisky) and a rookie (Kenny Pickett) with promise and doubters at the same time. Last season the Steelers were 7-1-1 in games decided by seven or fewer points. That doesn't figure to happen again. 
AFC North Champion Pick: Baltimore Ravens (+130) at BetOnline
AFC North Fun Pick: Cincinnati Bengals Exact Wins 10 (+245) or 11 (+350) at BetOnline
---
Out The Door
---
NFL Preseason – Week 2 Biggest Line Moves
Houston +2.5 to -3 at L.A Rams (Friday) Update: Now Texans -2.5
FRESH: -New England +1.5 to -6 vs. Carolina
Buffalo +2.5 to -2 vs. Denver (Saturday) Update: Now Bills -6.5
San Francisco +1.5 to +4 at Minnesota (Saturday) Update: Split, Now Vikings -4.5 or -5
Baltimore -2.5 to -6.5 at Arizona (Sunday) Update: Now Ravens -5.5
MLB – Dangerous Slide = Holy Crap
Dodgers broadcaster David Vassegh, though going down the slide in Milwaukee would be an attention-getter. Turns out it was harder than it looked Vassegh lost his balance in the final turn and broke his arm and cracked several ribs. Who knew Bernie Brewer had such a dangerous job?
NBA/NFL – Christmas Day Will Feel Like Christmas
The other day the NBA announced its Christmas Day slate highlighted by Milwaukee at Boston and Memphis at Golden State.
However, this year the NBA's five-game package has real competition because of landing on a Sunday. The NFL will have three games themselves with:
Our suggestion as sports bettors, schedule all gift-opening for Christmas Eve.
---
Who Is Right?
---
On Friday night we have three NFL Preseason games. In all three matchups, the total has risen 1 ½ to 2 points, and the tickets written show mid-60s by percent on the Over. However, that is not where the money is as Panthers/Patriots and Saints/Packers are in the upper 60% range for Unders.
Plus, the Texans/Rams clash is a smidge past 80% on the Under. What is going on?
Let's get some winners! Have a great weekend and see you back here Monday.