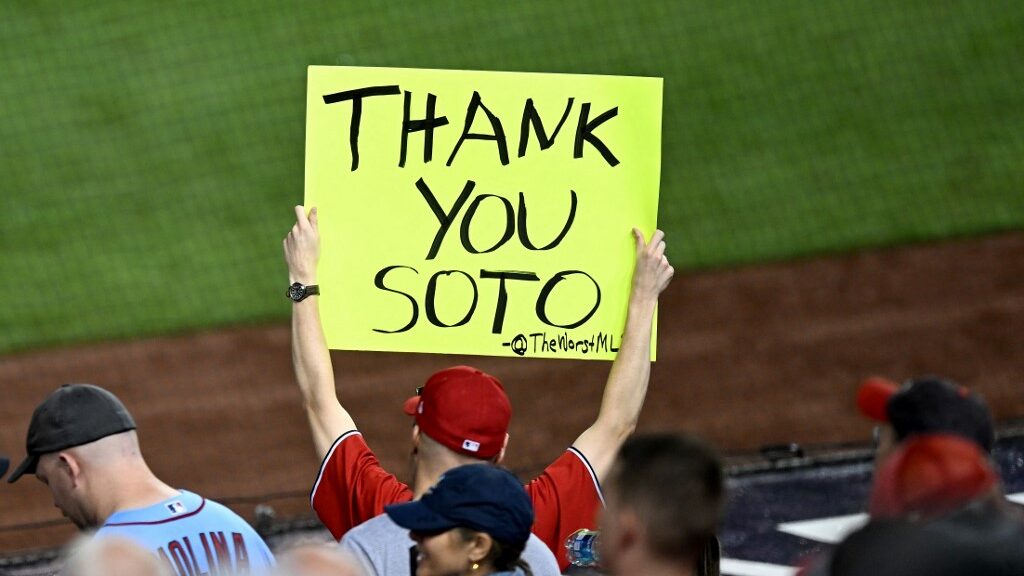 The San Diego Padres got their man and a few more and have put the National League on notice they are ready to make noise. We also pay tribute to the late great Vince Scully.
In addition, we have news about those stirring the pot from Miami and LIV Golf and have a Sun Belt Conference preview and loads of other free picks.
---
About Last Night…
---
MLB: Trade Deadline Recap
The San Diego Padres moved all their chips to the center of the table going all in acquiring Juan Soto, Josh Bell, Josh Hader, and Brandon Drury.
Next is doing it on the field and anything less than playing for the NL pennant has to be a failure. Harsh but true.  Most sportsbooks checked have moved San Diego up to the third-best odds to win the National League, now ahead of Atlanta and behind the Dodgers and Mets.
Cincinnati and Kansas City are now 100% on rebuild mode with the deals they made and have to be at least considered nightly as Play Against teams versus the betting odds.
The Yankees trading Jordan Montgomery to St. Louis was puzzling, though maybe they thought what we did was that the left-hander is arguably just a 4/5 starter on a true World Series contending team and at 29, how much better will he get? The Cardinals rotation is probably deeper, but it is filled with starters that are No. 3's at best, still lacking a true ace.
For a deeper looker at all the trades, this is a good spot to look over.
MLB: Betting Recap
Washington is already in complete rebuild mode, but it does not mean they cannot win. The Nationals were +300 underdogs last night to the New York Mets and won 5-1. That was the second-largest underdog win of the season (Royals +328 over Blue Jays on 7/14/22).
Interesting to note that -300 or better favorites are underperforming 20-10 SU this season.
MLB: RIP Vin
Extremely sad to hear about the passing of Vince Scully last night. "Vin" as he was known, started with the Brooklyn Dodgers at 25 and spent the next 67 (mindboggling) years broadcasting baseball.
In his earlier days, he not only called some of baseball's biggest moments but the NFL as well on CBS. (He did games with John Madden among others)
But Scully was a storyteller and nobody could seamlessly weave a story about a player while a game was taking place like him. Truly, the best of the best.
---
Trendy Talk
---
MLB
LA Dodgers are on a 25-5 run and have beaten San Francisco six straight times.
Oakland is 5-17 after scoring one or less runs in a loss to a division rival.
Milwaukee is 12-2 over after scoring three runs or less in two straight games.
Chad Kuhl of Colorado is 10-0 over as a road underdog of +175 to +250.
Sandy Alcantara of Miami is 15-5 under at home when the total is 7 to 8.5.
WNBA
Los Angeles is 13-4 ATS playing their fourth game in seven days in the last three seasons.
Indiana is 3-10 ATS versus teams scoring 77+ points a game after 15+ games this season.
Seattle is 0-9 ATS after four straight games making 42% or more of their shots.
CFL
Winnipeg is 8-0 ATS off a road win the last two seasons.
---
BMR's Betting Pulse
---
MLB
On Wednesday, will Boston sweep Houston and the Dodgers do the same to the Giants?
We also have free picks on the last two games between the Cubs and Cardinals the next two days along with Thursday's opener, which is a massive series between Atlanta and the New York Mets.
NFL
The Hall of Fame game is Thursday between Las Vegas and Jacksonville and we have everything covered in our preview.
WNBA
With the WNBA season winding down, we have tonight's coastal battle between Los Angeles at New York and tomorrow, Las Vegas at Dallas on ESPN3.
CFL
It's Week 9 and will the two-time defending champion Winnipeg lose this year?
This plus all the other hot action in the CFL for this week.
---
The Buzz
---
NFL – Dolphins Slapped With Tampering Charges
Miami owner Stephen Ross was also suspended through Oct. 17 and was fined $1.5 million for making impermissible contact with Tom Brady (when with the Pats and Bucs) and with former New Orleans head coach Sean Payton's agent.
Additionally, Bruce Beal, the Dolphins' vice chairman/limited partner, may not attend any league meetings for the remainder of the 2022 season and was fined $500,000.
The Fins will forfeit their first-round selection in the 2023 NFL Draft and a third-round selection in 2024 for their misdeeds.
NFL – Denver Suffers Big Loss
The Broncos leading touchdown producer from a year ago, Tim Patrick, suffered a season-ending torn ACL it was revealed today.
Patrick was third on the team in receptions last season with 53 and led the team in touchdown catches with five. He has risen from being signed off waivers by the Broncos in 2017 and was highly respected in the Denver locker room.
---
Football Focus
---
As we get closer to the start of football, we will have a report on every college football conference and each NFL division before their season starts. 
Odds to Win Sun Belt Conference 2022
Appalachian State +215
Louisiana Lafayette +265
Coastal Carolina +550
Marshall +600
Georgia State +850
Troy +1200
South Alabama +2200
Southern Miss +4000
Arkansas State +5000
Old Dominion +6000
Georgia Southern +6000
Texas State +6600
UL-Monroe +20000
*All odds via BetOnline (visit our BetOnline Review)
Football Pulse
A decade ago, Conference USA raided the Sun Belt and extracted four teams. The SBC retrenched, the conference added powers from the FCS, and now has a style of play that is recognized as the "Fun Belt".
With C-USA falling apart, the Sun Belt picked up Marshall, Southern Miss, and Old Dominion and added FCS power James Madison (no odds listed on them). With what the American Conference is losing and may continue to lose, the Sun Belt might be the top G5 conference in a few years and be a part of an expanded playoff picture.
Adding Appalachian State and Coastal Carolina was a stroke of genius, with two strong commitments to football, even if head coaches come and go.
The Mountaineers again feature a powerful running game and have two possible 1,000 runners in Nate Noel and Cameron Peoples. The defense is typically stout but needs a stronger pass rush to cover for a run-of-the-mill secondary.
Quarterback Grayson McCall is back to run the Chanticleers offense. McCall is a two-time Sun Belt POY and flirted with transferring but stayed and hopes to use that to move up the NFL Draft boards for next year. However, Coastal Carolina has numerous holes on both sides of the ball to fill.
PLAY NOW: $25,000 Free-To-Play NFL Contest: BMR's 2022 Pick'Em Pool Opens for Registration
If Coastal Carolina slides, Marshall could move up to threaten App. State in the SBC East, but has to find a quarterback to replace two-year starter Grant Wells who moved on to Virginia Tech.
Based on experience and overall talent, Georgia State is ready, but they are in a rugged division, yet could surprise more than one team listed ahead of them in the SBC East.
As the Sun Belt has improved its talent and recruiting efforts, they are more vulnerable to the transfer portal. Louisiana is again favored to win the SBC West for a fifth straight time and they are the defending Sun Belt champions. The Ragin' Cajuns probably would have favored to win the conference again, but too many transfers dropped them some.
SBC Champion: Appalachian State  at BetOnline
SBC Champion: Florida Atlantic (+1000) at BetOnline
---
Out The Door
---
LIV Golf Players Want it All
Phil Mickelson and his lawyers lead a group of LIV Golf players suing over their suspensions, with three also seeking a temporary restraining order that would allow them to play in the Tour's FedEx Cup Playoffs.
What this writer does not understand, these individuals took a stance and wanted the money. Fine, that was their prerogative. But they had to expect blowback and to think the PGA Tour would do nothing is preposterous.
In this case, they were free to go, but still wanted the perks of the old job. Imagine quitting your job for another to make more money, but still wanting or expecting your previous employee to grant you the perks you had from your old job.
---
Who Is Right?
---
With so much day baseball today, not much to look at for unusual betting odds. Instead, we move ahead to Thursday where as of Wednesday at 02:00 PM EDT, the Raiders had gone from -1 to -2.5 though cash and bets made were running in the low 50s for percent. Granted, it doesn't take a lot of money to move NFL preseason lines.
With the news, no starters are expected to play for Las Vegas or Jacksonville and given the recent history of this Canton contest, the total plummeted three points to 30.5. Two-thirds of the bets are on the Under and better than 80% of the money is also backing a lower score. However, 30.5 is a hard number to back for an Under even if it ended up correct.
Let's get some winners! We'll be back on Friday.