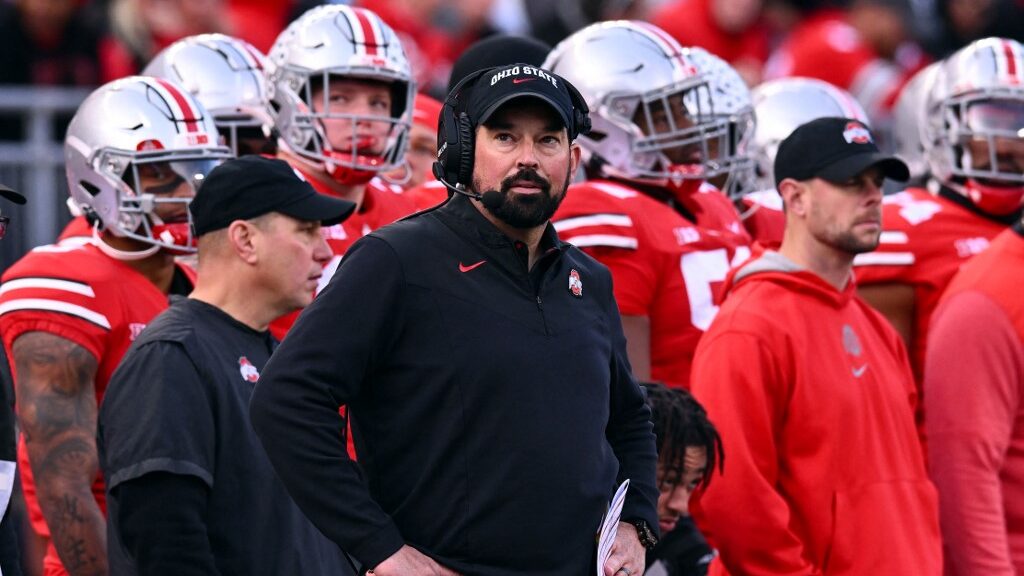 Our midweek edition is all over the sports landscape. We begin with Tuesday's most interesting stories and move on to great trends that you need to see for sports betting. There are reports of Ohio State football trying to throw its considerable brand around and we have a Trent Dilfer sighting. (Remember him?)
Next is our Football Focus, college hoops concerning tonight, and what Lakers streak was broken. We close with a report of soccer great, Cristiano Ronaldo about to break the bank.
PLAY NOW: $25,000 Free-To-Play NFL Contest BMR's 2022 Pick'Em Pool With Weekly Prizes
---
About Last Night…
---
World Cup
Not that everyone cares, but the U.S. advanced to the Round of 16 by knocking out Iran. On Saturday they will face the Netherlands, which is a -110 favorite. As Stephen Colbert said Tuesday on his show, "We should beat the Netherlands since their players wear clogs."
NBA
Golden State and Dallas put on a show with the Mavs winning 116-113 as one-point favorites. Luka Doncic has 41 points and Steph Curry has 32 for the Warriors. Golden State is now 2-10 SU and ATS on the road.
NCAAB
There were several good games last evening, with two catching our eye. No.3 Virginia held off Michigan 70-68 but failed to cover the -4.5. In case you didn't know, the Cavaliers have six seniors who are in their 4th to 6th year with the program!
No. 6 Baylor was a 5.5-point favorite at Marquette and was never in the game, outscored 51-25 in the first half and lost by the same margin 96-70. The Bears had 20 ugly turnovers that the Golden Eagles cashed in for points in the rout.
NHL
If you didn't know any better, you would have thought the Mariners and Angels were playing exhibition baseball in a foreign country. Instead, the Seattle Kraken and Los Angeles Kings played what sounded like a March Cactus League contest with Seattle winning in OT 9-8. That led to this.
---
TRENDY TALK
---
NFL
Buffalo is 6-0 UNDER as a road favorite this season. (Thursday)
Chicago is 0-9 ATS in weeks 10 through 13 in the last three seasons.
Cincinnati is 12-2 ATS playing against a team with a winning record.
Jacksonville is 0-8 ATS in non-conference games.
NBA
New York is 5-21 ATS in home games when playing against a team with a winning record.
Brooklyn is 5-18 ATS as a home favorite of 6 points or less.
Boston is 36-13 UNDER after a huge blowout win by 30 or more.
Oklahoma City is 10-1 OVER versus teams attempting 24 or fewer free throws a game.
NHL
Toronto is 23-4 in home games after playing a road game.
Chicago is 8-30 after allowing three goals or more in three straight contests.
Ottawa is 9-2 OVER after playing two road games.
NCAAB
UNC-Wilmington is 13-1 ATS off an upset win as an underdog.
No. Carolina is 1-12 ATS in November games in the last two years.
Middle Tenn. ST. is 22-5 ATS versus teams who attempt 21 or more 3-point shots a game.
No. Iowa is 8-0 OVER after three consecutive non-conference games.
NCAAF
UTSA and North Texas are 8-2 UNDER. (Friday)
USC is 7-1 OVER after four consecutive games where they committed one or less turnovers this season. (Friday)
Ohio U. is 8-0 ATS against conference opponents this season.
Clemson is 9-1 OVER as a favorite of 3.5 to 10 points the last three seasons.
---
BMR Betting Pulse
---
World Cup
Group play continues on Wednesday and Thursday and we cover everything in-depth and offer free soccer picks. 
NBA
Over the next two days, we release our top spread, moneyline and over/under free picks along with top player props. Also, seek out our parlay picks!
NCAAB
On the Wednesday card we wrap up the Big Ten/ACC Challenge with North Carolina visiting Indiana plus other Best Bets. Come right back Thursday and find out what you need to know about Creighton vs. Texas.
NHL
For Wednesday we dissect the Rangers vs. Senators encounter and return Thursday to cover ML, Puck Line and totals action.
NFL
We have a sweet matchup between division rivals the Bills vs. Patriots Thursday on Prime. And this week is a wonderful batch of contests and we'll preview all of them including Titans vs. Eagles, Dolphins vs 49ers and Chiefs vs. Bengals and several more.
NCAAF
It is Championship Week and we have 10 Championship contests covered with in-depth analysis. And on Thursday we release our Saturday Best Bets. 
---
The Buzz
---
NCAAF – Ohio State Whining
Not only was Ohio State whining like babies about being thumped by Michigan again, reportedly, but they are also trying to pull a power play.
Reports have them begging the Rose Bowl not to take them and have the desire to go to the Orange Bowl. It was not that long ago that was always every Big Ten team's dream to play in the Rose Bowl on New Year's Day.
Because the 11-1 Buckeyes fans might not want to go to the same site as last year, since they failed to beat Michigan at home, they feel they should dictate the process. If that happens, one person will be rooting for who Ohio State would play.
NCAAF – Tennessee or Alabama?
There is a lot of buzz about Alabama ranked 6th and Tennessee 7th in the last poll. Because the Vols had defeated the Crimson Tide, that argument is correct. Our guess is the committee is looking at Tennessee without star QB Hendon Hooker and from that perspective that seems fair to rank the teams in that manner.
NCAAB – Tobacco Road Looking For Bounce Back Tonight
Duke and North Carolina started the year in the Top 10 and after tonight, one or both could have three losses before December starts.
The Tar Heels are a 4.5-point underdog at Indiana and they are looking to avoid a real rarity.
While Duke is a 5.5-point home choice over Ohio State, which has given them problems in the past.
---
Football Focus
---
NCAAF
Though anything is possible, the Top 4 for the CFB Playoffs look solid to advance. Georgia, Michigan, TCU and USC are the four teams, followed by Ohio State and Alabama. The conspiracy group is convinced that if USC in particular would lose, the Crimson Tide would hop over Ohio State to take the fourth slot despite neither team playing this week. We wouldn't think so but…
NCAAF –  Trent Dilfer Returns
Trent Dilfer was the ultimate game manager and won a Super Bowl as the starting quarterback for the Baltimore Ravens in 2001. He parlayed that experience into a TV gig on ESPN and was a rising star. However, he ran out of interesting things to say and was not hired back.
Dilfer went into high school coaching in Nashville and became very successful and he got hired to be the head coach at UAB Tuesday. Fascinating.
NCAAF – Biggest Line Moves
USC -1 to -3 over Utah
Fresno State +5.5 to +3 vs. Boise State
Tulane -2 to -4 over UCF
No. Texas/UTEP Total 65.5 to 70
Toledo/Ohio U. Total 61 to 55 
NFL – Biggest Line Moves
Patriots +5.5 to +4 vs. Bills
Ravens -7 to -9.5 over Broncos
Commanders +2 to -Pick vs. Giants
Lions +1 to -1 over Jaguars
---
Out The Door
---
NBA – Lakers String Broken
This bit of news is from Monday. The Lakers had a 17-point lead over Indiana in the fourth quarter and were a three-point home favorite. Then the Pacers got hot and the Lakers could not throw the ball in the Pacific Ocean and lost 116-115. That broke a string of 174 games for L.A. in which they had a lead of at least 15 points in the final quarter and lost.
Soccer – People Complain About Movie Stars And Major Sports in the U.S.
Front Office Sports is reporting Cristiano Ronaldo is "close" to signing a deal with Saudi Arabian club Al Nassr worth $207.3 million PER YEAR. (Not a misprint)
We would love to know what the .3 is for.
---
Who is Right?
---
The 76ers and Cavaliers have both played well recently and they will collide tonight. Both have generally trended to falling below the NBA odds for totals and thus far the total has slipped from 212 to 210, with 75% of the money on the UNDER at 02:15 PM EST today.
That is not the case with wagers, as 70% of those are on the OVER. Where would you place your money?
Let's get some winners! See you back here Friday!