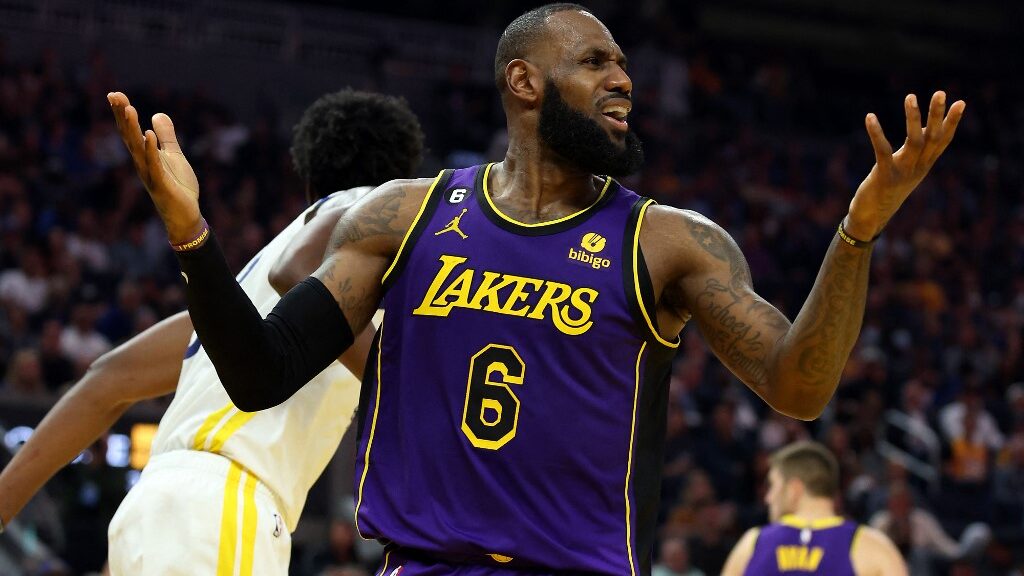 Baseball was mostly in focus yesterday and we have that broken down with an amazing highlight to view. The NBA got underway and if you thought the Los Angeles Lakers might come out with fire to start the season, you are poorer today.
This and several off-the-field NFL stories, numerous HOT college football trends and a peak at the biggest line moves so far. Almost forget an odd NHL occurrence.
---
About Last Night…
---
MLB Playoffs
To the surprise of nobody, the New York Yankees took out Cleveland and advanced to face Houston in the ALCS. The Yankees are the first team in MLB postseason history to win a best-of-5 (or longer) series despite not having more than six hits in any game. (Thanks OptaStats) New York is a +165 underdog against the Astros to win the series at Betonline.
Game 1 of the NLCS seems like a great pitching matchup and it was with Zack Wheeler besting Yu Darvish 2-0. Bryce Harper and Kyle Schwarber both hit home runs but Schwarber's was a BOMB!
NBA
Boston put the off-season turmoil behind them and defeated Philadelphia as three-point favorites behind Jayson Tatum's 35 points.
Golden State received their championship rings and went out and routed the L.A. Lakers 123-109 as a touchdown favorite in a contest that was not that close, especially in the second half. The Lakers scored 38 points in the fourth quarter, but when the game mattered, they were shooting 35.2 percent through three quarters. A bad effort by L.A.
NHL
Scoring is up again in the NHL in the early going. Evidently, no lead is safe as five different teams came back from a multi-goal deficit to win (Blue Jackets, Devils, Flames, Flyers, Kings). That tied the previous record for a single day.
---
Trendy Talk
---
MLB
Philadelphia is 30-12 after a win by two runs or less this season.
Houston is 18-3 against the run line vs. teams outscoring foes by 0.5 or more runs a game.
NBA
Brooklyn was 5-29 ATS as a home favorite last year.
Phoenix is 29-7 ATS as a home favorite of 6 points or less the last two seasons.
Washington was 13-26 ATS in road games last year.
Portland was 11-22 ATS as a road underdog last season.
L.A Clippers are 7-0 SU and 6-1 ATS vs. the Lakers (Thursday)
NHL
Philadelphia is 1-12 off a road win by one goal.
Winnipeg is 1-19 in road games after one or more under.
NFL
Arizona has lost eight straight home games and is 1-7 ats. (Thursday)
Carolina is 2-13 ATS vs. teams with a completion percentage of 61% or higher.
Cleveland is 2-11 ATS versus teams allowing 5.65 or more yards a play.
Atlanta is 6-0 ATS this season, all as an underdog.
N.Y. Jets are 4-13 ATS after two straight wins by 10 or more points.
Kansas City is 15-5 ATS after allowing 375 or more total yards in three consecutive games.
NCAAF
Georgia st. is 7-0 ATS in road games in the second half of the season since 2020. (Wednesday)
Virginia is 19-4 under after gaining 40 or fewer rushing yards. (Thursday)
UAB is 0-7 ATS after gaining 475 or more total yards in two consecutive games. (Friday)
Oregon State is 9-0 ATS at home the last two seasons.
Alabama is 11-1 ATS after allowing 24 points or more in the first half of the last game.
Army is 0-8 ATS vs. defenses allowing a completion percentage of 58% or worse.
Missouri is 11-1 ATS at home versus defensive teams allowing 6.25 or more yards a play.
---
BMR Betting Pulse
---
NFL
We start Week 7 Thursday with the Saints at the Cardinals. Moving forward we have Best Bets, one team on Upset Alert, along with other key games like the Chiefs at the 49ers.
MLB
The American League and National Leagues' pennants are on the line and we will have every detail of each contest dissected for wagering purposes.
NBA
Wednesday is the first full day of NBA action with numerous games, review our various free plays across the board. Come back Thursday for the Bucks vs. 76ers and Clippers vs Lakers battles on TNT.
NHL
Hockey bettors, review our Wednesday NHL Player Props.
NCAAF
We have college football from the Sun Belt starting Wednesday, along with other contests on Thursday and Friday. For another great Saturday of gridiron action, we hone in on Miss. State vs. Alabama, UCLA vs. Oregon and Syracuse vs. Clemson. In addition, we have our Best Bets and a vast amount of other important matchups for Week 8.
---
The Buzz
---
NFL – Jerry Jones Not Thrilled
Reportedly, Jerry Jones and Robert Kraft had words about a new contract for Commissioner Roger Goodell.
NFL – Panthers Anderson is Now a Cardinal
Robbie Anderson got it to Sunday with his Carolina position coach. Next, he and interim head coach Steve Wilks had words and Wilks told him to take the rest of the day off during the game. On Monday, Anderson was traded to Arizona for two future late-round picks.
With the Cardinals losing Hollywood Brown for an extended period and now just getting DeAndre Hopkins back from suspension, the Anderson move made sense to kickstart their offense.
NFL – Who Said Kickers Are Not Tough
If you watched the Broncos/Chargers contest, not only did you see another bad game by Russell Wilson but L.A. kicker Dustin Hopkins pulled up lame and collapsed to one leg after each kick. Turns out Hopkins has a hamstring issue that will keep him out for two to four weeks.
---
Football Focus
---
BIG 12 – Doggie Time
Don't look for a Big 12 team in the Final Four this season, unless TCU can keep their miraculous start going. Instead, watch for conference underdogs, who are 11-5-1 ATS this far in league play.
NCAAF – Losers Lose
Thus far in college football, teams off exactly three straight spread losses are 8-16 ATS in their next contest if no bye is involved. (Playing four consecutive weeks)
NCAAF Biggest Line Moves:
Kansas State +6 to +3.5 vs. TCU
Louisville Pick to -2.5 over Pittsburgh
LSU Pick to -2 over Mississippi
Texas Tech -3.5 to -7 over West Virginia
Rice/Louisiana Tech Total 61.5 to 57.5
NFL Biggest Line Moves:
Saints vs. Cardinals Total 46 to 44
Buccaneers -9.5 to -11 over Panthers
Chiefs -1 to -3 over 49ers
Patriots -6 to -9 over Bears (Monday)
---
Out The Door
---
Having Fun
If you happen to be going to London in the near future (and who might not be) and are a Formula One fan, you will want to check this out.
Golf– Phil Mickelson is Showing True Self
Phil Mickelson was beloved by adoring fans for taking chances on the golf course and his "aw shucks" everyman approach. It was always a wonder to many why so many PGA Tour players literally could not stand him.
Mickelson was a legendary sports bettor in many circles and for years, reportedly was rather successful in the NFL. As it turns out Mickelson later lost millions gambling and he was a key witness in professional gambler Billy Walters going to jail allegedly selling him out for insider trading.
You know Mickelson was the first to join LIV GOLF and after toning it down a bit, he's had a lot to say lately, including lying. Sad to see for the fans that admired him but never knew this side of him.
---
Who is Right?
---
The New York Knicks and Memphis Grizzlies get their seasons started tonight. The Grizzlies opened at -7.5 and have slid -4 at home against the Knicks with Dillon Brooks out. The betting tickets still favor the Grizz, running at 65 percent. However, the money is trailing the Knickerbockers at 70%. What side will you be on?
Let's get some winners! See you back here Friday.