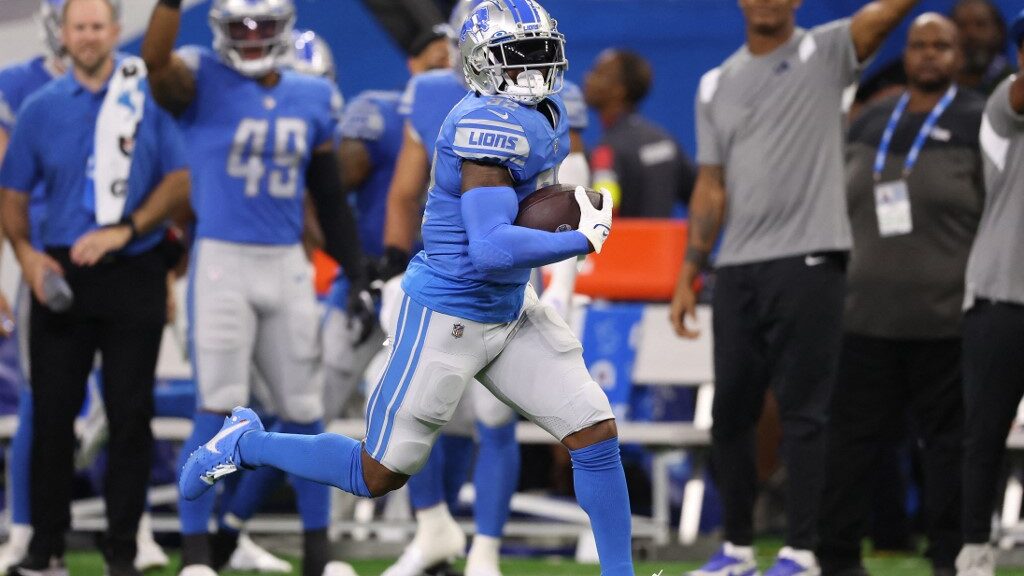 We start preparing for the upcoming football week and take a deep dive into where the numbers for line moves are going in college and pro football.
Included in this is betting news about the Detroit Lions.
We also cover the betting news from last evening in baseball and the WNBA and talk about how an NBA owner has not been a good person.
PLAY NOW: $25,000 Free-To-Play NFL Contest: BMR's 2022 Pick'Em Pool Opens for Registration
---
About Last Night…
---
MLB
Aaron Judge keyed the New York Yankees comeback in Boston last night hitting his 56th and 57th home runs. With the game tied going into extra innings, the Yanks tallied 3 runs in the 10th inning and held on to win 7-6 as -155 road favorites.
The Los Angeles Dodgers clinched the NL Central for a ninth straight time Tuesday night in Arizona. That was not a surprise.
What was surprising is that the Dodgers believed they had done so on Monday, but due to an error by Major League Baseball, they had not secured a playoff spot and made it official yesterday.
By accomplishing in only 141 games, that is the earliest the Dodgers had clinched a division or league crown since moving to Los Angeles in 1958.
The New York Mets are desperately trying to hang on to the NL East lead. The Mets have lost six of 10 and Atlanta now has the same number of defeats as the Metropolitans, just having played one less contest.
Last evening the Mets with Jacob deGrom were super-sized -420 home favorites and lost 4-1 to the Cubs. Another tough night for the Blue and Orange.
WNBA
If you have never seen or heard of Las Vegas Aces star A'ja Wilson, you are missing something. She led her team to a 2-0 Finals lead over Connecticut, winning 85-71 as 4.5-point home favorites.
The Sun has their work cut out for them, trying to do the seemingly impossible and they are currently a one-digit home fave for Game 3 Thursday.
---
Trendy Talk
---
MLB
Miami is 2-20 vs. teams averaging 1.25 or more HR's a game in the second half of the season.
San Francisco is 3-17 after scoring one run or less this season.
Arizona is 10-1 UNDER in home games after a five-game span where the bullpen ERA was 7.00 or higher.
Minnesota is 26-9 UNDER when playing against a bad team (Win Pct. 38% to 46%) this season.
J.T. Brubaker and the Pirates are 3-24 in road games the last two seasons. (Thursday)
NFL
Los Angeles Chargers are 7-0 UNDER in September games. (Thursday)
New York Jets are 0-7 ATS in September games since 2020.
San Francisco is 23-7 ATS off an upset loss as a road favorite.
Indianapolis is 10-1 ATS off a division game.
Cincinnati is 10-2 ATS off one or more consecutive Unders.
NCAAF
Louisville is 24-10 UNDER after a two-game road trip. (Friday)
Air Force is 8-0 ATS after gaining 350 or more rushing yards last game. (Friday)
Syracuse is 1-13 ATS after two consecutive games committing no turnovers.
Charlotte is 0-8 ATS off one or more straight Overs.
Florida Atlantic is 0-8 ATS after a win by 17 or more points.
Minnesota is 12-1 ATS after allowing 40 or less rushing yards in the last game.
UCLA is 23-6 ATS at home after scoring 42 points or more.
WNBA
Connecticut is 11-2 ATS after a game allowing a shooting percentage of 50% or higher. (Thursday)
---
BMR's Betting Pulse
---
MLB
We have exactly three weeks left in the regular season so make certain to review our top picks for money line, run line, and totals for Wednesday and Thursday.
NFL
Week 2 will kick off Thursday with the Chargers against the Chiefs. We will also examine the Packers against the Bears and other key divisional matchups.
In addition, we have early week Value Picks and Props, Best Bets and Last Chance Value Picks (Thursday) and so much more for Week 2.
NCAAF
Will Texas A&M be able to rebound against the Miami Hurricanes this week? As if things couldn't get worse for Nebraska even with Scott Frost fired, having to face Oklahoma is not a joy.
We'll evaluate those and other matchups along with our Best Bets and Last Chance Value Picks (Thursday) for another exciting week of college football.
Note: Review all our popular prop plays in all the sports.
---
The Buzz
---
NFL – Honesty is The Best Policy
A tip of the cap to new Denver head coach Nathaniel Hackett who admitted he made a late game error in his team's loss at Seattle.
Not every person would be willing to admit that, especially in today's world of "doubling down" to save face. Good for him and chances are most Broncos fans will give him a 'pass', but just one.
NBA – The Association Suspends Owner
After a long investigation, Phoenix Suns and Phoenix Mercury owner Robert Sarver has been suspended for one year and fined 10 million for conduct that 'clearly violated' workplace standards.
While some are satisfied with the results, several whistleblowers are not and have said so publicly.
If you read what Sarver was accused of and what former L.A. Clippers owner Donald Sterling did, the difference is not significant and Sterling was forced to sell the team. The sense of this is that everything is not settled yet.
NCAAF – Urban Meyer
Maybe this was sarcasm, but several individuals (not your typical sources) on Twitter have reported Urban Meyer being in Lincoln, NE for the weekend. He's a hot name to replace Scott Frost as the head coach of Nebraska.
Nonetheless, even if Frost had not been fired, Meyer was going to be in Lincoln, because that's his job working for FOX broadcasting the Oklahoma at Nebraska showcase game.
---
Football Focus
---
NFL – The Lions are What?
After being an underdog for 24 consecutive games (the most in the Super Bowl era) the Detroit Lions are presently a 1.5-point home favorite over Washington for this Sunday. With that low a number, that could change by Sunday. At this time, NFL odds show 60% of the cash is on the Commanders and 60% of the bets are on the Lions.
NCAAF Biggest Line Moves
Syracuse +1 to -1.5 over Purdue
Nebraska +14 to +10 vs. Oklahoma
Ohio U. +21.5 to +18.5 vs. Iowa State
Washington -1 to -3.5 over Mich. State
Oklahoma/Nebraska Total – 63 to 67
North Texas/UNLV Total – 57 to 62.5
Ole Miss/Georgia Tech Total – 58.5 to 65
SMU/Maryland Total – 69 to 74
NFL Biggest Line Moves
Lions +2 to -1.5 over Commanders
Falcons +13 to +10.5 vs. Rams
Raiders -2.5 to -6 over Cardinals
Bills -7 to -10 over Titans
Jets/Browns Total – 43.5 to 39.5
Texans/Broncos Total – 42 to 45
---
Out The Door
---
MLB – The Sawx
The Boston Red Sox are 20-41 in the AL East and 17 games over .500 against everyone else as the MLB pick.
Cycling
Not everyone would care about this top topic, but everyone should see this. Amazing!
---
Who is Right?
---
The Miami Marlins are in free fall and Philadelphia is trying to hold on to the No. 2 Wild Card in the National League.
Tonight they compete in Game 2 of their series with the Phils Kyle Gibson (9-6, 4.57 ERA) facing the Marlins Edward Cabrera (5-2, 2.63).
The total has remained steady at 7.5 and almost 70% of bets placed are on the Over. However, just past 70% of the money is on the UNDER, suggesting sharp action. Who will be correct?
Let's get some winners! See you back here Friday.