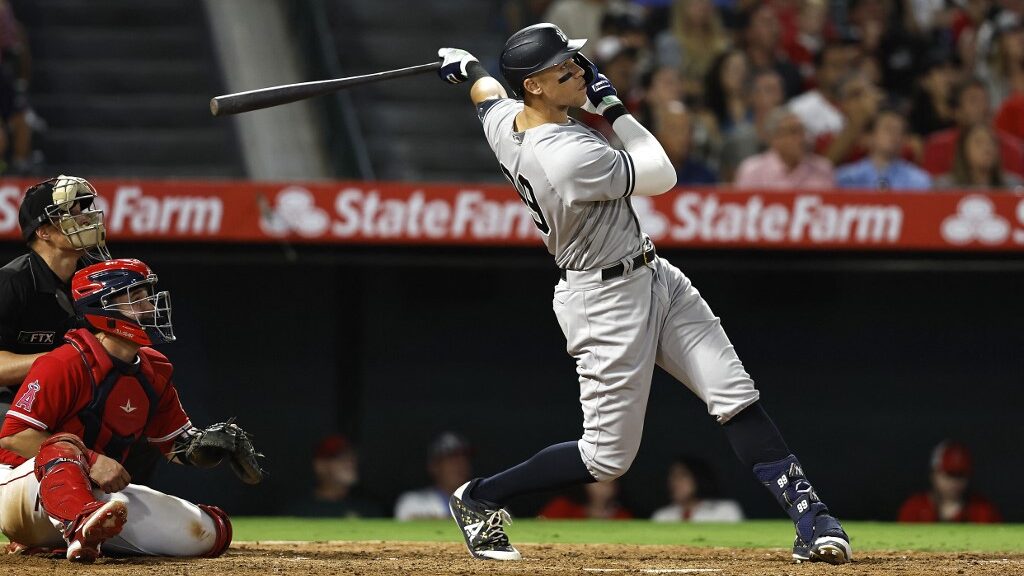 The New York Yankees may be struggling, but Aaron Judge can still overtake Roger Maris and break his record of 61 home runs.
Let's break down the numbers and take a look at what's left on the Yankees' regular season schedule to find out if we lean towards an over or under for Judge's 2022 home run tally.
Where Is the Love?
Roger Maris never got the respect he deserved despite achieving just about everything you can in baseball:
Three World Series titles
Two American League MVP awards
Seven All-Star appearances
One Gold Glove in right field
Have his No. 9 retired by the New York Yankees
Unfortunately for Maris, he wasn't No. 1 in the hearts of Yankees fans. That honor went to teammate Mickey Mantle, so when Maris won their 1961 battle to reach 61 home runs and break Babe Ruth's regular-season record, he got the cold shoulder.

Don't expect the same treatment for Aaron Judge. Heading into Monday's travel day, the current Yankees centerfielder and face of the franchise is sitting on 55 home runs with 21 games left before the playoffs. If Judge can make it to 62, he won't just break the team record – he'll also break the American League record.
Hypothetical Scenario
Not every sportsbook has this prop on their MLB odds board but, heading into the weekend, some locations favored Judge to finish Over 61.5 (-160) dingers and +130 to finish Under 61.5.
Those odds may have changed slightly since or might no longer be available. But let's do a hypothetical scenario exercise and take a closer look to figure out which side would belong in our MLB picks, at this price.

Who's Pitching Against the Yankees?
The first and most obvious thing to do is some simple math to see where Judge will land if he keeps up this pace. Judge has 55 home runs in 137 games played, or 0.40 homers per game. Assume Judge plays each of the remaining 21 games; that's an additional 8.4 long balls, for a total of 63.
There are other things to take into consideration, though. Strength of schedule is important, and it's a relatively easy path for Judge and the Bombers, with a combined 12 games coming up against Boston, Pittsburgh and Texas; the remaining nine versus Milwaukee, Toronto and Baltimore.
Scouting Bullpens
If we wanted to be really clever, we could take a stab at exactly which starting pitchers Judge is likely to face down the stretch, but for now, let's just look at how these six staffs stack up on the WAR charts at FanGraphs:
No. 11: Toronto
No. 14: Milwaukee
No. 16: Baltimore
No. 19: Boston
No. 22: Pittsburgh
No. 25: Texas
Not exactly the best and the brightest in the majors. So, it's easy to see why Judge is favored to overtake Maris and finish the regular season with at least 62 home runs. But should you make that bet? Maybe not.
Who Will Help Judge Reach 62?
There are a lot of complicating factors at work here. The first is that New York (85-56, minus-3.37 betting units), despite their recent struggles, are still 5.5 games ahead of Tampa Bay in the AL East division as we go to press.
There's a good chance the Yankees will clinch the division title with a few games to spare, and give Judge a day or two off to keep him healthy for the postseason. Speaking of health, that's the key reason the Yankees have been less than stellar of late. Look at who's missing from their batting order right now:
2B DJ LeMahieu (.740 OPS)
OF Andrew Benintendi (.734 OPS)
1B Anthony Rizzo (.832 OPS)
3B Matt Carpenter (1.138 OPS)
This is not good for Judge and his "Quest for 62". Without those players surrounding him in the lineup, opposing teams have more incentive to pitch around Judge and take their chances with the likes of, say, 2B Gleyber Torres (.719 OPS).
Top of the Batting Order
Given these injuries, Yankees manager Aaron Boone has wisely moved Judge to the top of the batting order, with DH Giancarlo Stanton (.769 OPS) hitting second the past couple of games, and Torres third.
But with Stanton having the worst season of his career, this isn't Murderers' Row out there. This isn't even 1961, where Maris batted fifth behind Mantle and was usually followed by Bill "Moose" Skowron (.790 OPS).
That lack of support has definitely affected Judge; he has 13 home runs in 37 games since August 1, or 0.35 per game. That puts him on pace for 62 home runs – if he plays each of the remaining 21 games.
There's still reason for optimism. Rizzo could be back this Friday, and LeMahieu the following Tuesday. But so many things still have to go right for Judge to break the record that, if we had to make a play, the value would be with the under.