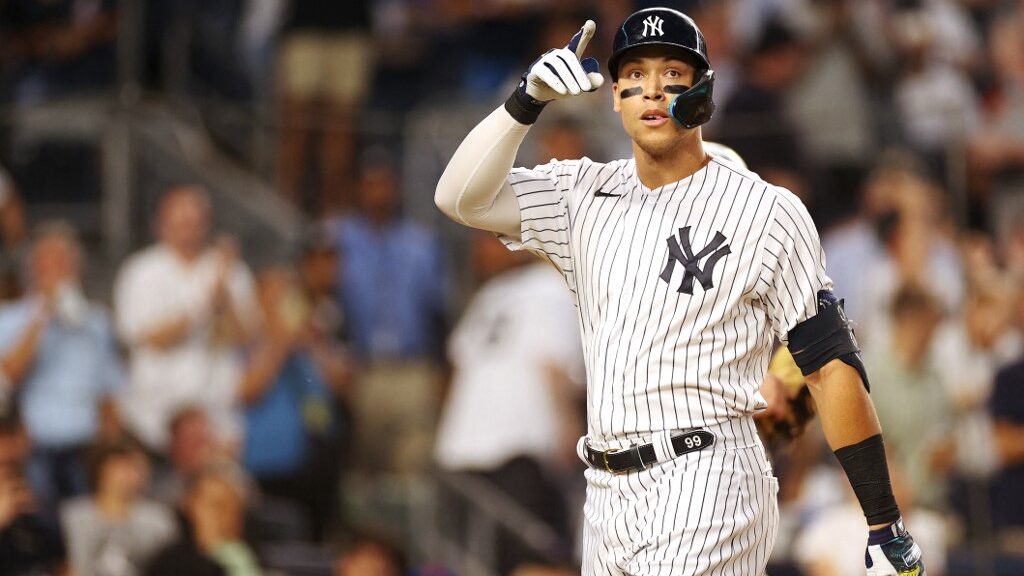 Aaron Judge has struggled on the road against the A's this season, but his prior stats prove that he'll be dominant in his return to Oakland over the weekend during the four-game series.
Let's put the gamebreaker spotlight on the likely AL MVP, Aaron Judge. Below, you'll find a link to the matchup info for each of the four games including the current MLB odds as they become available.
PLAY NOW: $25,000 Free-to-Play NFL Contest: BMR's 2022 Pick'Em Pool Opens for Registration
---
New York Yankees vs. Oakland Athletics
Thursday, August 25, 2022 – Sunday, August 28, 2022, at RingCentral Coliseum
---
MLB Gamebreakers: Aaron Judge
---
It's no coincidence. When Aaron Judge is hitting home runs, the Yankees are winning ball games.
Judge hit two more home runs against the Mets on Tuesday to sweep them in a two-game "Subway Series" at home. Judge is hitting .297 with 48 home runs and 105 RBIs on the season. He's destroyed right-handed pitching and has had no problems with left-handed pitching. But when he was slumping a bit, to start the second half, the Yankees' offense was non-existent.
He's carried this team throughout the entire season and looks to be back in true form.
Trip To the West Coast
Over the weekend, Judge and the Yankees get to take on a terrible Oakland team. It's not nearly as easy to hit home runs in Oakland compared to Yankee Stadium, but Judge figures to see some really good pitches throughout the series against some really bad pitchers.
Pitchers He'll Likely Face vs. Athletics
The Yankees will start a four-game road trip series against the Athletics on Thursday night. Cole Irvin is starting on Wednesday night, against the Marlins, which means, unless things, change, James Kaprielian will get the start on Thursday.
He's a right-handed pitcher with a 3-7 record to go along with a 4.29 ERA. Next up, would be former Yankees pitcher, JP Sears, on Friday night. Sears has actually been solid, going 5-0 with a 1.93 ERA on the season.
However, on Saturday and Sunday, Judge will get to face:
Right-hander Adam Oller (2-6, 6.41 ERA)
Left-hander Zach Logue (3-8, 6.04 ERA)
Judge has been productive whether he's home or away. He's got 27 home runs at home but also 21 on the road. His RBIs are almost identical too. He's got 53 RBIs at home and 52 RBIs on the road. His OBP is actually better on the road and his OPS is just .010 different between his home and away splits.
He'll get to face plenty of bad righties and lefties in this series. The likely AL MVP is going to have a field day.
Little Success vs. Oakland This Year
What's interesting about Judge is that he's struggled against Oakland this year. This is why if you believe in the law of averages, he'll bounce back with a big series against this terrible Oakland team.
He's currently batting .182 through 11 at-bats at RingCentral Coliseum, so far this season. He also has a .705 OPS in that venue. Compare that to his 1.056 OPS on the season and it's baffling.
He's struck out five times in those 11 at-bats. He wasn't even giving himself a chance against Oakland earlier on in the year. He walked once and hit one home run. He's had two hits with just three runs and a home run this season.
Few and Far Between
Other than the Astros and the Reds, Judge hasn't really struggled with a team like this. After hitting two blasts against the Mets earlier in the week, Judge should be able to turn the corner and propel the Yankees to a series win over the Athletics.
If you look at last year's stats, Judge hit .379 against Oakland in 29 at-bats. He had a 1.075 OPS and it was essentially one of the only teams that he absolutely crushed last year.
At the Coliseum, he had 17 at-bats and hit .471 with an OPS of 1.441 last year. He hit two home runs, along with two doubles, and knocked eight hits in those 17 at-bats. He only struck out three times.
Judge Will Run Away with MVP Race This Weekend
Judge's recent slump before taking on the Mets was hurting his chances at an AL MVP. Shohei Ohtani has done very well on the mound and continues to put up quality numbers offensively with his bat too.
But the reality is that the Yankees struggle to win games when Judge isn't playing well. Judge has earned that MVP award and he's my MLB pick for it.
After he puts together a big weekend against Oakland, he'll have the MVP award all but locked up in the American League. He's changed everything for the Yankees this year and deserves to be recognized for the things he's accomplished with the team.
Let's see if Judge can hit home run number 50 on the season in Oakland as Judge continues to chase another Yankee great in Roger Maris. I wouldn't doubt him.