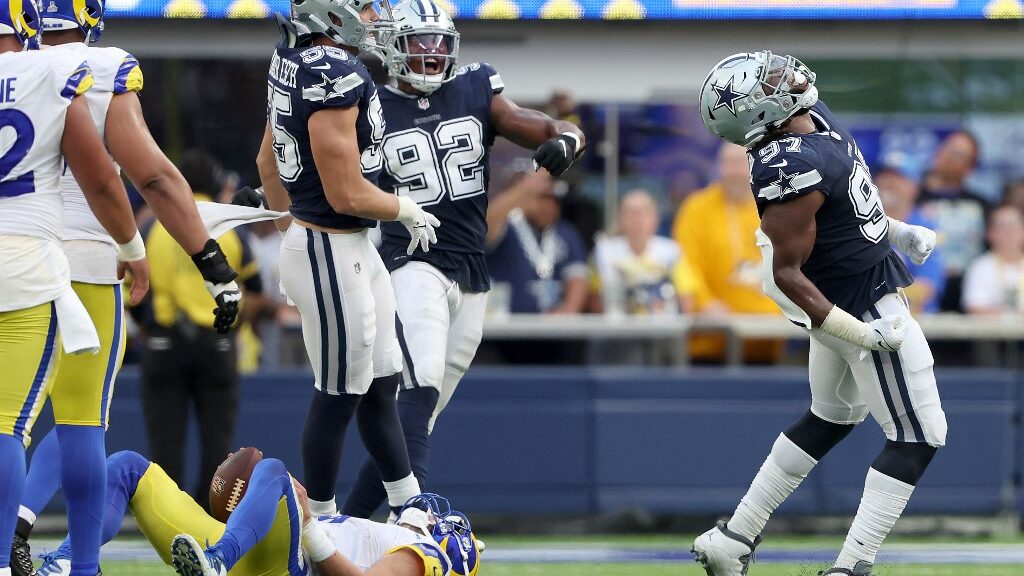 A few surprises in the NFL as Green Bay was the biggest favorite to lose this season when they fell to the New York Giants in London.
We'll look back at what happened over the weekend in all of the sports betting world and prepare not only for more football this week but the next round of the MLB Playoffs along with the NHL commencing its season Tuesday with hockey daily in North America.
---
About Last Weekend…
---
NFL – Upsets and Shutouts
The Dallas Cowboys' defense is one the best in the NFL and they proved it again in bottling up the Rams in a relatively easy 22-10 upset as five-point road underdogs. Quarterback Cooper Rush is not making mistakes and when Dak Prescott returns, he'll be asked to throw less but still make plays thanks to the running game.
Green Bay couldn't hold leads of 10 and 14 points over a depleted New York Giants club and lost 27-22. The Packers' defense is either overrated or playing the wrong scheme for its talent. The Packers not having at least one top-level receiver is wasting Aaron Rodgers's talent.
After being the top-scoring team in the NFL, Detroit was shut out by New England 29-0 as just a field goal underdog. The Patriots might have a QB controversy on their hands in the near future because third-string rookie Bailey Zappe has been impressive in two assignments.
The Philadelphia Eagles escaped Arizona 20-17, failing to cover the -5.5. Jalen Hurts had another strong showing but needed Matt Ammendola's missed late field-goal attempt to stay unbeaten.
The Saints' Taysom Hill defined his career in one game with 112 yards rushing and three touchdowns and going 1-for-1 passing, which was a 22-yard TD to fellow tight end Adam Trautman in New Orleans' wild 39-22 victory over Seattle.
MLB – Dog Days of Fall
With San Diego taking out the Mets Sunday, three of the four underdogs took their series in the Wild Card Round.
NCAAF – Jimbo vs. Nick
Texas A&M at Alabama was supposed to be a great game, then after five weeks, it wasn't with Alabama a 24-point home favorite. Thanks to four Crimson Tide turnovers, their most in seven years, the Aggies had a chance for a monumental upset and came up just short in a 24-20 setback. Maybe the Tide will win another title, but not with how they are playing today.
Wasn't it just three weeks ago the pundits were saying UCLA was the worst 4-0 team in the country? After upsetting Washington and Utah in Pasadena, the Bruins are getting the love they deserve and they will have a week off before a trip to Oregon.
Since its 3-0 start, Oklahoma has lost three times in decisive fashion. In losses to Kansas State, TCU and Texas, the Sooners are -98 points ATS, which according to ESPN is the 5th-worst three games stretch versus the sportsbooks since 1992. One has to wonder right now if first-year coach Brent Venables is a terrific defensive coordinator and NOT a head coach.
---
TRENDY TALK
---
NFL
Kansas City 6-0 ATS off an upset win by 10 or more as a road underdog.
Chicago is 15-4 ATS  off two consecutive road losses. (Thursday)
Atlanta is 3-18 ATS at home after three or more consecutive wins against the spread.
Carolina is 0-8 ATS playing against a team with a losing record.
MLB – All Games on Tuesday
Atlanta is 11-2 in October home games since last season.
Houston is 20-7 at home against Seattle since 2020.
Cal Quantrill and Guardians are 10-0 vs. teams who strand 6.9 or fewer runners on base per game in the second half of the season.
L.A. Dodgers are 19-7 at home against San Diego since 2020.
NHL
Tampa Bay has won four in a row (playoffs) after losing six straight to N.Y. Rangers. (Tuesday)
Vegas vs. Los Angeles are 9-2 OVER in the latest meetings. (Tuesday)
NCAAF 
Louisiana is 10-1 UNDER against conference opponents. (Wednesday)
Baylor is 9-2 ATS after covering the spread in two out of their last three games. (Thursday)
Navy is 8-1 ATS vs. teams scoring 34 or more points a game. (Friday)
Syracuse is 13-1 ATS at home after gaining 300 or more rushing yards.
---
BMR Betting Pulse
---
MLB
The Divisional Round of the Playoffs are set and we will have the action followed daily from the start to the finish with all sorts of free MLB picks.
NFL
We have a Monday Night Football AFC West battle with the Raiders vs. Chiefs and look to Week 6 with Thursday's matchup between Washington at Chicago. We also break down the anticipated skirmish between Buffalo and Kansas City.
NCAAF
Everyone in college football will be talking about Alabama vs. Tennessee, Penn State vs. Michigan and Oklahoma State vs. TCU. We have these broken down into details and offer our Early Value Picks.
NHL
With two games down on the ice, the rest of the regular season begins Tuesday with a doubleheader on ESPN and Wednesday with a twin-bill on TNT.
---
The Buzz
---
NFL – Ruhled Out
Last night rumors circulated that Matt Ruhle might be out at Carolina and that was proven true this morning when he was fired. Though Ruhle was partly to blame for how he handled certain aspects of his job, not having a Top 10 quarterback will doom almost every coach at this level.
Don't look for him to be unemployed long because he was a very successful college coach.
MLB – The Playoffs – Division Round
With three upsets in the Wild Card Round, we have three division matchups that add to the intrigue in a shorter series. At BetOnline (visit our BetOnline Review) these are the prices on the series as of press time.
Division Series Prices – Best of 5
Braves (-190) over Phillies (+165)
Dodgers (-228) over Padres (+198)
Astros (-225) over Mariners (+195)
Yankees (-210) over Guardians (+180)  
Hard to find a real upset, but the Yankees could be vulnerable against a white-hot Cleveland crew.
---
Football Focus
---
NFL – Woof Woof
NFL underdogs are 9-6 against the spread in Week 5 and 45-31-3 (.592) on the season, the best ATS mark through five weeks since 2010 (.622).
NFL – Sportsbooks Back in the Black
After their first losing week of the NFL season, fueled by upsets of the Giants and Texas and underdog covers by Atlanta and Chicago, sportsbooks had a winning week.
NCAAF – What an Entrance!
This is James Madison's first season at the FBS level and they are a perfect 5-0. The Dukes are also the lone remaining squad in college football that has not lost or tied against the spread. They are a 10.5-point road favorite at Georgia Southern this week.
Football – More Betting Opportunities
Beginning this week on Wednesday, we will have Sun Belt contests that will add to wagering chances and on November 1, MACation is back in action beginning on Tuesday.
---
Out The Door
---
NFL – That Can't Be Right!
As noted above, Detroit was held scoreless Sunday and here is the oddity of that. The Lions after five weeks have still scored more points than the undefeated Eagles. (140-135).
NFL – Detroit Going Backwards Fast
While almost most have a lot of respect for Dan Campbell of the Lions after 21 games as head coach, this is the truth.
NFL – Mahomes a Pooch
Buffalo and Kansas City for this upcoming Sunday opened as a Pick for NFL odds and this morning the line had moved to +2 on the Chiefs. If that number holds, that would be the first time Patrick Mahomes and K.C. are a home underdog.
---
Who is Right?
---
Kansas City opened as a 7-point favorite for Raiders Week and has stayed there all week. As of this morning, the money and bets placed are running in the upper 70s percentile which suggests the book would rather have a Push than go to -7.5 on the Chiefs. Do you think Las Vegas could cover the number?
Let's get some winners! See you back here Wednesday.