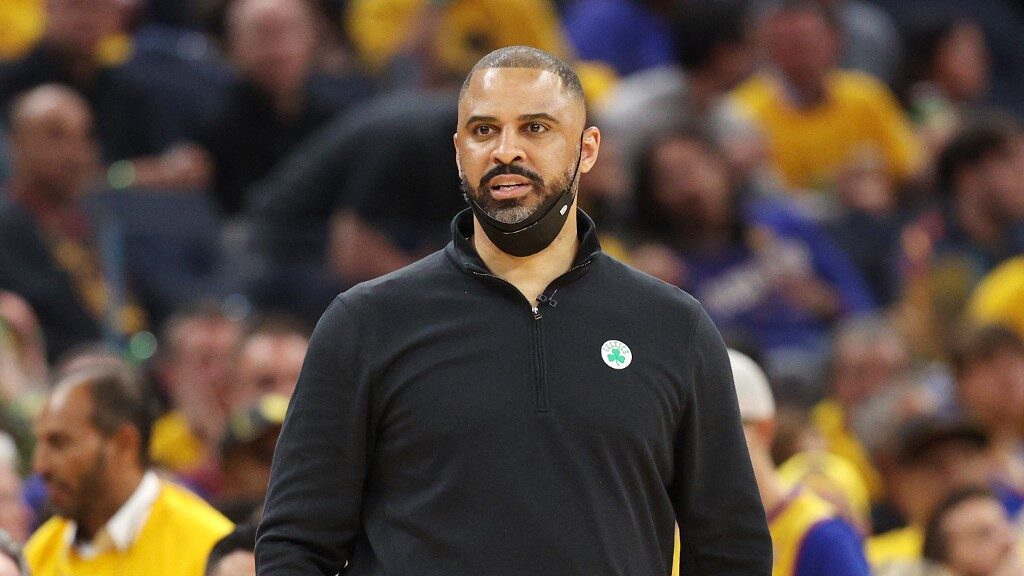 It's football coming our way again and we know all of you are smiling about it. We are too and we have betting information to scour over, which hopefully gives you some insights.
We also have an Awesome Angle you must know about. This along with other stories of note you will enjoy like the curious deal with the Celtics head coach.
---
About Last Night…
---
NFL
As opposed to last Sunday, Browns fans in the Dawg Pound went home happy last evening after Cleveland put away Pittsburgh 29-17 as -4 or -4.5 point favorites. The difference not unexpectedly was the Browns running game. (171-104 yards)
NBA
The news out of Boston was not good, especially for the head coach as Ime Udoka was suspended for one full season.
More details will certainly emerge, but this is rather unsavory and it is hard to imagine he will be back in Beantown. This is so awkward for the Celtics franchise who were in The Finals last season and will be on their third different head coach in three years and likely four in four years.
NCAAF
The highlight of the night for Virginia Tech fans was the – SandMan – entrance. In the 33-10 drubbing by West Virginia (-1.5), the country got to see how little offense the Hokies have and they will put you to sleep.
---
Trendy Talk
---
MLB
Texas is 18-4 (+16.6 Units) after two straight games where they stranded 5 or less runners on base.
Arizona is 18-8 (+14.9 Units) after 5 or more consecutive road games this season.
Colorado is 14-1 Under after a game with a combined score of three runs or less.
Houston is 18-5 Under against AL East opponents this season.
Kyle Wright and the Braves are 17-0 when the total is 8.5 to 10 in 2022.
NFL
NY Jets are 1-11 ATS after two straight games with 40 or more pass attempts.
Carolina is 1-9 ATS at home playing their last game on the road.
Arizona is 4-13 ATS in home games the last three seasons.
L.A. Chargers are 32-7 ATS against AFC South division opponents.
LA Chargers are 8-0 Under in September since 2020.
Houston is 12-2 Under in road games after scoring 9 points or less.
Buffalo is 7-0 Over in road games after two or more consecutive wins.
Denver is 7-0 Under after one or more wins.
NCAAF
Syracuse is 2-13 ATS after two consecutive games where they committed no turnovers.
Air Force is 4-20 ATS at home after scoring three points or less in the first half of the last game.
Tulsa is 8-0 ATS as an underdog the last three seasons.
Northwestern is 0-8 ATS off one or more Unders.
Middle Tennessee St. is 1-15 ATS against teams with a turnover margin of +1 per game or better.
Oregon is 33-9 ATS after leading their last two games by 14+ points at the half.
Mississippi St. is 10-0 Under vs. very teams who give up 34 or more points a game.
Florida International is 13-1 Under as an underdog of 21.5 to 31 points.
Rice is 10-1 Over as an underdog the last two seasons.
Marshall is 9-0 Over after a road game where both teams score 31 points or more.
---
BMR's Betting Pulse
---
NFL
Week 3 continues Sunday and we have key matchups in each conference, along with Best Bets, Last Chance Value Picks, and thoughts on Sunday and Monday Night Football.
NCAAF
We have all the top tilts covered including Texas A&M vs. Arkansas and Wisconsin vs. Ohio State. In addition, several other important matchups like Kansas State vs. Oklahoma plus our Best Bets and Last Chance Value Picks for an exciting Saturday of action.
MLB
This is the next to the last weekend of the regular season and we have top picks for moneyline, run line, and totals for all three days.
UFC
The octagon matches are back with UFC 61, featuring Mackenzie Dern vs. Yan Xiaonan. See what our experts think.
Soccer
Another quality weekend of soccer is taking place and we offer sharp free soccer picks.
---
The Buzz
---
MLB – Warning Track Power
Aaron Judge came up a few feet short of his 61st home run and Albert Pujols had the same fate in his quest for homer 699 yesterday.
PAC-12 – Say What?
Pac-12 commissioner George Kliavkoff had talking points about why UCLA moving to the Big Ten will not be the financial boom they think it will be as their cost will skyrocket and it will disrupt the plans of the California college system of public education.
Among his points is – Significant negative impact on UC system's stated goal of reducing carbon emissions.
NCAAF – USC Was Sent Out as Big Favorite by US-Based Sportsbook and it Crashed Quickly
According to an ESPN article, Caesars Sportsbook released USC as a 13.5-point road favorite for their upcoming game at Oregon State. Within 30 minutes the Trojans were down to -8 and 90 minutes after that they were at -7.
The reasoning given for the higher-than-anticipated release seems shaky, but we checked it out from one of our friends at a sportsbook and he said the reason given is legit. You can decide for yourself.
---
Football Focus
---
One aspect to note. In the past few years, sportsbooks have released betting odds before the next week's games are played and so line movement is not the same as it was five or more years ago and should be understood that way.
More serious bettors review the college football odds on Sunday and the NFL odds on Sunday night.
NCAAF Biggest Line Moves
Minnesota +2 to -2 over Michigan State – Golden Gophers to -3 since Thursday, with 80% of the money on the Spartans.
Liberty -26.5 to -29.5 over Akron – This returned to the starting point and 70% of bets are on Liberty.
Cincinnati -13 to -16.5 over Indiana – Number unchanged, bettors think the betting odds are correct.
Duke +10 to +7 vs. Kansas – No changes but 65% of bets on Jayhawks and 65% of the money on Blue Devils.
LSU -28 to -31.5 over New Mexico – Modest buyback to -31 and 80% of wagers on Tigers.
North Carolina +2.5 to -1.5 over Notre Dame – This has slowly rolled towards the Tar Heels all week.
Nevada/Air Force Total – 49 to 45 – The total has climbed back to 46.5, over 80% of bets and money support the Over.
Notre Dame/North Carolina Total – 60 to 56 – Despite almost 80% of bets placed on the Over, the total has slid to 55.
Ball State/Geor. Southern Total – 60 to 67 – A small half-point adjustment to 67.5, with bettors of all types backing the Under.
Oregon/Wash. State Total – 53 to 57 – No movement with 80% of the cash on the Over.
Top 5 Bets Placed by Percentage (highest first) (5-10 record) – TCU, UCF, UCLA, Arkansas and James Madison
Top 5 Bets Placed by Money (highest first) (6-9 record) – Utah, Georgia, Memphis, Alabama and Miss. State
Top 5 Totals Bets by Percentage (highest first) (6-8-1 record) – Missouri/Auburn Under, Vanderbilt/Alabama Over, Bowling green/Miss. State Over, Connecticut/N.C. State Over, and TCU/SMU Over
NFL Biggest Line Moves
Lions +8 to +6 vs. Vikings – This is down to +5.5 with just over half of the money and bets on the Lions.
Chiefs -3 to -6.5 over Colts – The Chiefs are down to -6 with 80% bets placed on them.
Raiders -Pick to -2.5 over Titans – Has not budged all week and 55% of bets and money on Da Raiders.
Eagles -3 to -6.5 over Commanders – No movement, but 70% of cash on Washington.
49ers +3 to -2 over Broncos – San Fran a slight slip to -1.5 with 65% backing across the board.
Eagles/Commanders Total – 50 to 47 – Steady with 70% of wagers Over.
Packers/Buccaneers – 47.5 to 41.5 – A slight rise to 42 even with almost 90% of the money Under.
Jaguars/Chargers Total – 50.5 to 47 – A bit of a dip to 46.5 and the action is nearly even.
Bills/Dolphins Total – 50 to 53.5 – Public pounding Overat 80% clip.
NFL Top 3 Bets Placed by Percentage (highest first) (2-4 record) – Bengals, Ravens, and Chiefs
NFL Top 3 Totals Bets by Percentage (highest first) (4-2 record) – Texans/Bears Under, Bills/Dolphins Over, and Rams/Cardinals Over
---
Out the Door
---
MLB – Baseball Races
If Tampa Bay and Seattle both win Friday night, the three teams that are expected to be the Wild Card in the American League (Toronto is the other) will all have 67 losses with 12 days left in the regular season.
NCAAF – Easy Money?
Saturday is the "Battle of the Bayou" and this writer has bet on it blindly for the last 16 years after uncovering the angle. The road team between Louisiana and UL-Monroe is 20-2-1 ATS over the past 23 years. The Ragin' Cajuns are a -9.5 road favorite.
---
Who is Right?
---
Let's be honest, Middle Tennessee State at Miami-FL is not going to move the needle for many football bettors. Yet there is intrigue. The Hurricanes are 25-point home favorites and 80% of those betting are backing them.
However, the Blue Raiders have won and covered their last two contests after a shocking opening loss and almost 60% of the money wagered as of Friday afternoon is on M.T.S. Who you got?
Let's get some winners! Hope you have a profitable weekend and see you back here Monday.