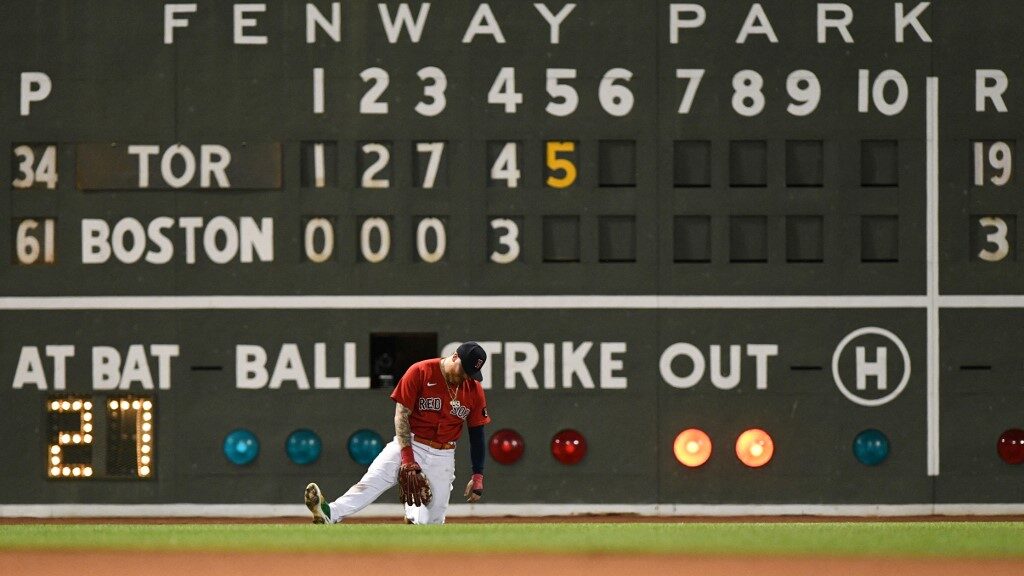 Glad to be back and ready to roll! We recap some of the highlights and low moments in MLB. We also introduce a new segment in our Football Focus we think you will enjoy.
This plus some of the latest news on Kevin Durant, Kyler Murray and Lamar Jackson and more!
---
About Last Weekend…
---
MLB
Baseball returned after the All-Star break with the noticeable absence of the Boston Red Sox. Boston was swept at Fenway Park by Toronto and outscored 40-10, showcasing a vast amount of listless play.
The low light was Friday when the BoSox lost 28-5 and Stats Inc. had this info on the Blue Jays.
Scored 28+ runs on the road.
Hit an inside-the-park grand slam.
Achieved the HR cycle (solo, 2-run, 3-run, GS).
Had a player with 6+ hits in a 9-inning game.
Those four feats had never all occurred in the same MLB season, let alone by one team in one game. Boston is 12-29 in division games at -18.3 units.
Houston and the L.A. Dodgers have supplanted the New York Yankees in the headlines. The Astros ended Seattle's 14-game win streak in decisive fashion, with a three-game sweep taking them to 19-5 since June 28.
The Dodgers used a bigger broom, sweeping rival San Francisco in four contests. They have won 19 of 21 and have the best record in the National League by seven games.
NFL
Kyler Murray got paid by Arizona with a mega-deal. Is Murray worth the money, no, but what option did the Cardinals have, let him sit or walk out? But here is the thing, until Tom Brady and Aaron Rodgers retire, is Murray even a top 10 quarterback?
---
Trendy Talk
---
MLB
The L.A. Angels are 9-27 (-21 Units) vs. a starting pitcher with good control (less than 1.75 BB's/start) this season.
Oakland is 4-21 after four or more consecutive home games.
The Padres are 12-1 OVER (+10.9 Units) with an AL team slugging percentage of .410 or worse since last year.
Philadelphia is 20-4 UNDER in home games vs. an NL starting pitcher whose ERA is 3.20 or better.
Max Fried and Atlanta are 21-3 when the total is 8 to 8.5.
WNBA
Chicago is 7-1 ATS versus teams outscoring their opponents by 3+ points a game this season. (Tuesday)
---
BMR's Betting Pulse
---
MLB
The Phillies were just swept by the Cubs at home! Next up is division rival Atlanta who continues to play great and they have crept up on the first-place Mets. You can also learn if you should back the Rockies and Tigers on the run line. On Tuesday, it's the Subway Series in New York, this time at Citi Field.
NFL
We start in earnest by looking at NFL season previews and win total predictions. Monday is Buffalo and Tuesday is Tampa Bay's turn.
---
The Buzz
---
NBA – Kevin Durant to Boston?
Reports emerged over the weekend that Boston has put together a package that supposedly included Jaylen Brown and draft picks for Kevin Durant.
Some outlets have reported Brooklyn also wants Marcus Smart in the deal. From a betting perspective, does that truly change the odds of Boston winning a title with a 33-year-old player with modestly diminishing skills, who is injury-prone and a below-average defender?
NFL – Get Well John!
Former Alabama standout wide receiver John Metchie III and Texans rookie announced Sunday that he was diagnosed with acute promyelocytic leukemia, which will likely sideline him for the entire 2022 season. Fortunately, this is the most curable form of leukemia and Metchie can return next season, hopefully.
Golf - Scott Piercy Collapse
Scott Piercy entered the final round of the 3M Open with a four-shot lead and sportsbooks that offered the wager – Odds to Win Tournament – had him around -1000. With 11 holes to play, Piercy was -20 and looked assured of a victory, when the wheels came off.
Piercy played those last 11 holes in seven over par, to tumble all the way into a tie for 4th place. In stepped pre-tournament favorite Tony Finau, a notable non-finisher himself, who carded a 67 to win by three strokes. Finau, always the gentleman said he felt for Piercy, having done that himself.
---
Football Focus
---
As we get closer to the start of football, we are changing gears and will have a report on every college football conference and each NFL division before their season starts. We begin today.
Odds to win AAC Conference 2022
Cincinnati +175
Houston +225
UCF +350
SMU +1000
Memphis +1200
East Carolina +2000
Tulsa +3300
Tulane +4000
South Florida +5000
Navy +7500
Temple +25000
*Odds via BetOnline (visit our BetOnline Review)
This could be the final year of the AAC as we have known it, with departures and new arrivals coming soon.
As you can see by the betting odds, the top three teams are close and any one of them has a legit shot of claiming the title. Cincinnati and Central Florida have to replace quarterbacks, yet both have a strong cast of returning players. Houston has the QB in Clayton Tune and explosiveness on the perimeter but has to rebuild the offensive line and secondary.
SMU and Memphis both have the gunslingers to apply the offensive pressure in Tanner Mordecai and Seth Henigan respectively, and one of both could move into the top 3 in the American Athletic.
However, we are sticking with the Bearcats to win another title because Luke Fickell is easily the best coach in the conference and he'll navigate his club through the rough spots.
AAC Champion Pick: Cincinnati  (+175) at BetOnline
ACC Darkhorse Pick: SMU (+1000) at BetOnline
---
Out The Door
---
NFL – Billboard Material
This appeared on Twitter this morning. No question there is some truth in this comment about Lamar Jackson, but to say it out loud, well, we hope that the defensive coordinator's club (if revealed) is not on the Baltimore Ravens schedule this season if it is true.
WNBA – Commissioner's Cup
The Chicago Sky and Las Vegas Aces are the top two teams in the WNBA standings. They will compete Tuesday in the second-ever WNBA Commissioner's Cup, playing for a $500,000 prize pool Tuesday night.
The defending champion Chicago is a 1.5-point favorite with the total at 169.5 at Bovada (visit our Bovada Review) and this matchup is at 08:30 PM EDT on Prime Video.
---
Who is Right?
---
As of 01:35 PM EDT, three MLB games have bets placed at 80 to 94 percent on the Over for money and bets placed. They are the:
Braves/Phillies
Astros/A's
Rangers/Mariners
Yet, not one opening line has budged off its starting point with a modest amount of juice going up or down slightly. This suggests a great deal of public money and the sharps staying away. Will all three bets be correct? 
Let's get some winners! We'll be back on Wednesday or Thursday.