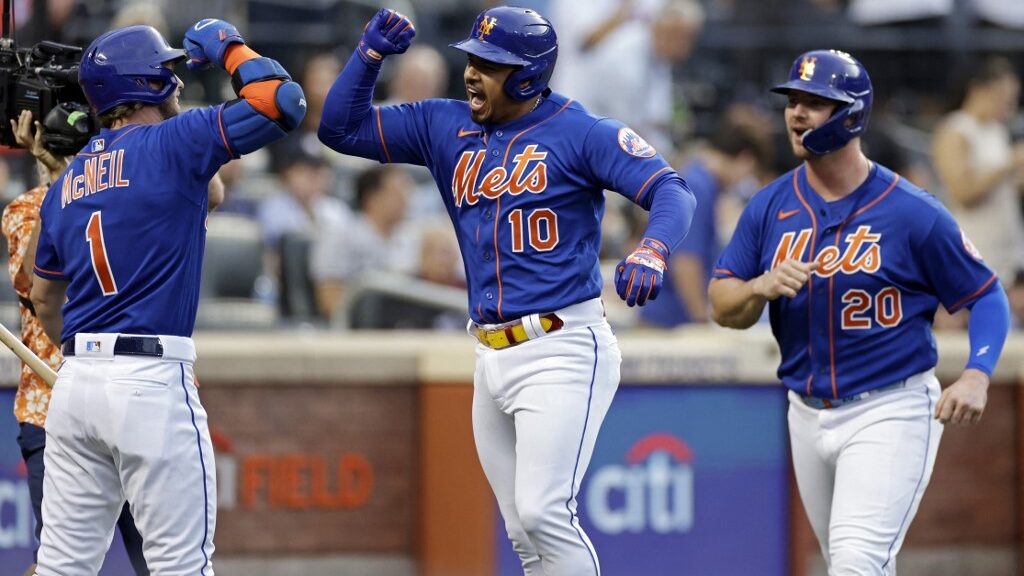 The Mets took both games against the Yankees so, should you place a bet on the Blue and Orange to win the World Series? Besides this question, we have a hot phrase you have to start using.
This, plus the latest on the Cubs, Tom Brady and another college football conference preview. Let's check The Pulse of the sports betting world!
---
About Last Night…
---
MLB
There is a new saying going around that is becoming commonly accepted. Since baseball seldom makes sense day to day and betting on it is even worse, the term "That's Baseball" has caught on.
Cases in point, with Washington at the L.A. Dodgers and Houston at Oakland. The only real question about both series was would the Dodgers and Astros take at least two out of three against the run line?
So what happens, the Dodgers lose the series to the worst team in the MLB, and Houston is swept by the 2nd-worst team in baseball. If you backed the two favorites for all three games, you dumped 10 units against garbage teams. That's baseball!
The Yankees were no match for their cross-town rival the Mets and were swept in the two-tussle series. The Metropolitans got to 60 wins in the second-fastest time in team history Tuesday. The fastest was 1986, the last time they won the World Series. Time to place your bets?
NFL
Tampa Bay Buccaneers starting center Ryan Jensen was carted-off the field during Thursday's training camp practice with a left knee injury.
No prognosis is expected until the swelling goes down, but Jensen has been a fixture for five years for Tampa Bay, and going off in a cart is never good.
---
Trendy Talk
---
MLB
Seattle is 7-0 in away games after four or more consecutive home contests.
Boston has lost 11 of 13 and 17 of 21 to fall below .500.
Oddity: Cleveland is 12-0 under in Thursday road games the last two seasons.
Colorado is 31-14 under vs. NL teams scoring 4.5 or more runs a game in the second half of the season since 2021.
WNBA
Minnesota is 8-1 ATS after allowing 80 points or more in 2 straight games this season.
Connecticut is 12-2 ATS after a game where both teams scored 75 points or more.
Washington is 11-1 ATS versus three-point shooting teams making 33% or more of their attempts.
Los Angeles is 7-1 over after a loss by 10 points or more.
CFL
Montreal is 4-14 ATS against teams with a turnover margin of -1.25 per game or worse.
British Columbia is 0-7 ATS versus defensive teams giving up 23 or fewer points a game the last two seasons.
---
BMR's Betting Pulse
---
MLB
Seattle has revenge on their mind after being swept at home by Houston starting tonight. The Chicago Cubs take their stunning six-game winning streak to San Francisco to open up there with the Giants. Lastly, the Dodgers are a mile high in Denver.
NFL
Our NFL season previews and win total predictions continue today with a breakdown of the Los Angeles Chargers.
WNBA
The No. 4 and No. 3 teams in the standings collide when Seattle visits Connecticut. Find out who might be a good betting choice.
CFL
Week 8 of the season starts Thursday evening with four skirmishes, highlighted by Winnipeg (7-0) at Calgary (4-1) on Saturday.
---
The Buzz
---
MLB: Quick News
Kansas City All-Star outfielder Andrew Benintendi will be wearing Pinstripes sometime this weekend as New York made the trade last night. He is exactly what the Yankees need, a player who can get on base and he'll face his prior team immediately, which is awkward.
Mike Trout is dealing with a rare condition — costovertebral dysfunction at T5 — which causes inflammation in the vertebrae. The Angels trainer made it sound serious, Trout downplayed it. Not good news for the Halos who are 5-15 this month.
According to Buster Olney of ESPN reports, San Diego is the frontrunner to trade for Juan Soto.
Golf: Bubba Heading to LIV
Two-time Masters champ Bubba Watson is the latest 40-something golfer to jump to LIV Golf to make more millions than he had before. Watson's best finish this year is T-14 and he's ranked 86th this season in FedEx points.
Remember all the players that jumped ship from the PGA Tour to join the LIV Golf so they could spend more time with their families? LIV Golf announced 14 tournaments for 2023, which is three less than what Dustin Johnson played in 2021. Enjoy the money!
NCAAF: Big Ten Might Not be Done
While the SEC has stated they are comfortable with 16 teams for now (when Oklahoma and Texas join), the Big Ten still has the radar up.
Reports emerged they are still interested in raiding the Pac-12 (in name only) for Oregon, Washington, Stanford and California (San Fran TV market) and of course Notre Dame. The surprises were the supposed interest in Florida State and Miami-Fl. This story will not die.
---
Football Focus
---
As we get closer to the start of football, we will have a report on every college football conference and each NFL division before their season starts. Next up: The MAC
Odds to Win Conference USA 2022
UTSA: +225
UAB: +250
Western Kentucky: +400
North Texas: +1000
Florida Atlantic: +1000
Middle Tennessee: +1200
UTEP: +2000
Charlotte: +2000
Louisiana Tech: +3300
Rice: +5000
Florida International: +10000
*All odds via BetOnline (visit our BetOnline Review)
Football Pulse
While we have all sorts of changes occurring in college football, no conference in the FBS has been as directly impacted as Conference USA. The conference shrunk by three teams this season, losing Marshall, Old Dominion and Southern Mississippi to the Sun Belt. In 2023, six more will depart, replaced by four even less known universities, including two from the FCS.
What does that mean for 2022, oddsmakers have established UTSA, UAB and Western Kentucky as the favorites and they have won five of the last seven championships.
UTSA is the defending champion, led by head coach Jeff Traylor who has done a great job in turning this into a winning football program. He has holes to fill, but having quarterback Frank Harris can cover up early issues.
UAB having coach Bill Clark retire two months before the season, needing back surgery, was a massive blow to the Blazers. This is a wait-and-see situation at UAB.
Western Kentucky always seems to have an all-conference quality QB and they might have another in transfer Jarret Doege from West Virginia. However, last year's top receivers and quality defenders are also gone.
Florida Atlantic is the other program to win championships in C-USA football since 2015, but closing with four consecutive double-digit defeats last year brings great scrutiny to coach Willie Taggart. The Owls have experience on both sides of the ball, will Taggart get them to play?
After being a high-flying offense for years, North Texas ditched the pass offense after a 1-5 start last season and went heavy on the run in the second half, closing with a record of 5-1. What will they use in this campaign?
UTSA will have to come together but if they do as expected, they will repeat as the champions of C-USA. We actually like Mean Green as the dark horse but they have all their toughest games on the road, while FAU has those same types of matchups at home.
C-USA Champion Pick: UTSA (+225) at BetOnline
C-USA Darkhorse Pick: Florida Atlantic (+1000) at BetOnline
---
Out The Door
---
NFL – Tom Brady is 45 Next Week
All we can say is Brady is still doing this. Unbelievable!! And let's never forget the "expert" analysis from ESPN's Max Kellerman a few years ago.
MLB: More Sadness For Cubs Fans
In what has been a long but expected season for the Chicago Cubs, they have put together a six-game winning streak. You probably saw the social media picture of Ian Happ and Wilson Contreras hugging in the dugout, figuring this was their last home game in a Cubs uniform.
Sadly, the Ricketts family spent to win a championship, now they have turned into the former Cubs owners, the Wrigleys, and just want to drain every nickel of profit out of the franchise and stopped caring about winning. However, baseball bettors can cash by playing against the North Siders.
---
Who Is Right?
---
In a key WNBA matchup tonight, Connecticut climbed from -3 to -3.5 point home favorite over Seattle. Nearly 60 percent of the bets placed are on the home squad, yet, three-quarters of the money is backing Seattle. What side do you like?  
Let's get some winners! We'll be back on Friday.