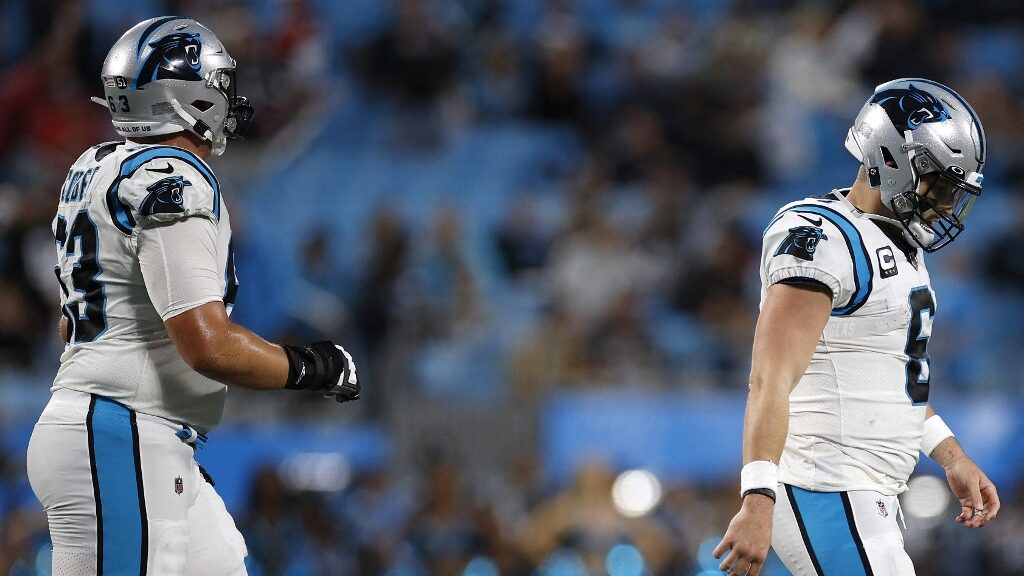 With rare exceptions, this season, most NFL cities on talk radio and social media are complaining about their team's quarterback play and we dive in and talk about some of the worst of the bunch.
We also have mid-week line moves in the NFL and college football. This and betting odds for the MLB Playoffs and hot show on ESPN.
---
About Last Night…
---
MLB
Though it felt like it took a month with all the ESPN break-ins, Aaron Judge hit his 62nd home run to become the all-time American League leader and the top home run hitter outside the steroid era.
MLB
From Bovada (visit our Bovada Review), here are the latest World Series Odds.
Los Angeles Dodgers +300
Houston Astros +425
Atlanta Braves +500
New York Yankees +525
New York Mets +850
Toronto Blue Jays +1200
St. Louis Cardinals +1600
San Diego Padres +2200
Seattle Mariners +2500
Philadelphia Phillies +3300
Tampa Bay Rays +3300
Cleveland Guardians +3500
---
Trendy Talk
---
NFL
Indianapolis is 14-4 ATS when playing on a Thursday.
Arizona is 0-8 ATS at home after outgaining foes by 100 or more total yards in their previous game.
Detroit is 3-12 ATS in road games off a close home loss by three points or less.
Miami is 9-0 ATS off two or more consecutive unders.
Cincinnati is 7-0 ATS in road games when the total is 45.5 or higher.
NCAAF
SMU is 14-32 ATS in road games vs. teams scoring 31 or more points a game.
Rutgers 1-9 ATS at home against conference opponents since 2020. (Friday)
UNLV is 1-9 ATS in road games off a win by 10 points or more over a conference rival. (Friday)
Pittsburgh is 11-0 ATS after two consecutive games where they forced no turnovers.
Tulsa is 10-0 ATS after one or more unders since 2020.
Stanford is 0-9 ATS vs. teams with a completion percentage of 58% or better.
Tulane is 0-10 ATS off a road win by three points or less.
NHL
Nashville has won four in a row over San Jose. (Friday/Saturday)
MLB
With all Wednesday afternoon games, nearly everything will have started when this goes live.
---
BMR's Betting Pulse
---
NFL
Looking ahead to Week 5, we start with Thursday's battle of the horses, the Colts vs. Broncos.
Additionally, the Giants vs. Packers in London, the Bengals and Ravens for Sunday Night Football, and our best bets, who is on upset alert, and last chance value picks.
NCAAF
Though it is hardly a marquee game based on the season, Texas and Oklahoma in the Red River Rivalry is always great viewing for the pageantry and we have that broken down.
We also try to figure out disappointing Texas A&M vs. Alabama, Tennessee vs. LSU, and a whole batch of other tilts.
Along with this, we have our Week 6 Best Bets and last chance value picks on Thursday.
MLB
The Baseball Playoffs commence Friday and continue all weekend long for the Wild Card Round.
On Thursday, review all series prices and series free picks. Also, make sure to check out our daily best bets.
Note: Review all our popular prop plays in all the sports.
---
The Buzz
---
MLB – Wild Card Series Prices
*Note: Before starting pitcher rotations are announced
Cardinals (-150) over Phillies (+120)
Mets (-170) over Padres (+140)
Blue Jays (-180) over Mariners (+150)
Cleveland (-130) over Tampa Bay (Even)
The sense is one favorite will lose, possibly two. Who do you like for the upset(s)?
NFL – Bad Quarterback Play
Justin Fields was a stud coming out of Ohio State, but right now the Chicago Bears are averaging 97.5 yards a game passing. Yes, the offensive line is not good at pass blocking and receivers have problems creating separation, but under 100 yards passing! That's on Fields.
Baker Mayfield has not gotten better since being a professional. He's not accurate on out-routes and doesn't throw good passes outside the numbers. Being on a weaker team than he was at Cleveland only makes him look worse.
Russell Wilson and Matt Ryan were supposed to lead Denver and Indianapolis into the playoffs and hopefully go on deep runs. Right now, both QBs look very uncomfortable in new offenses. The decline we had seen in recent years from both seems real at the moment.
NFL – ESPN NFL Live
This week on Twitter we have seen a great deal of discussion about ESPN's NFL Live.
Viewership is at its highest level in six years and people are talking about how informative it is. Times vary, but typically 4:00 EDT is right. Check it out.
---
Football Focus
---
NFL – Thursday Night Last Stand?
As if Indianapolis and Denver already didn't have enough issues this season, the loser of that game will need a real rally to turn their season around.
This feels very much like driving by an accident that just happened on the freeway. The Broncos are 3-point home favorites.
NCAAF Biggest Line Moves
Purdue +5 to +3 vs. Maryland
Georgia -27.5 to -30 over Auburn
Buffalo +1 to -2 over Bowling Green
Kent State -2 to -5.5 over Miami-O
Washington State/USC Total – 59.5 to 65.5
NFL Biggest Line Moves
Colts/Broncos Total – 40.5 to 42
Titans Pick to -2.5 over Commanders
49ers -3 to -6.5 over Panthers
Cowboys/Rams Total – 46 to 43
---
Out The Door
---
MLB
Today is a sad day for true baseball bettors. Since early April, six months ago, we get up and go through 15 games to make picks at least five days a week.
The rhythm of doing that is intoxicating and though the results will vary day to day, the pure joy of doing this is something few understand.
The MLB playoffs will be great, but for a group of us, we are already looking to the start of next season.
NCAAF
Alabama is an elephant-sized (intentional) 24-point favorite over supposed rival Texas A&M.
For all the complaining and whining Nick Saban does about not liking the transfer portal, NIL, and any number of other topics of his choice, you might have noticed he's better than almost anyone on these in college football. If they roll the Aggies, the legend just grows.
Women's Soccer
Sally Yates's report on the U.S. women's national team is extremely damning. Most of the allegations appear fact-based or will be proven so over time.
That means it is time to clean house of that organization because this is atrocious.
---
Who is Right?
---
We got a bonus football game tonight because of the hurricane in Florida last week with SMU at Central Florida. This game's betting odds on the side were tame until today.
UCF was basically -3 for over a week but dropped to -2.5 today with over 80% of the cash on the Mustangs (low 50s for tickets).
The total has been more volatile. Most sportsbooks released a 64 and it slowly drifted downward to 62, but today, it has rebounded to 63.5, with 80% of the money on the Over (low 60s for tickets).
Let's get some winners! See you back here Friday.