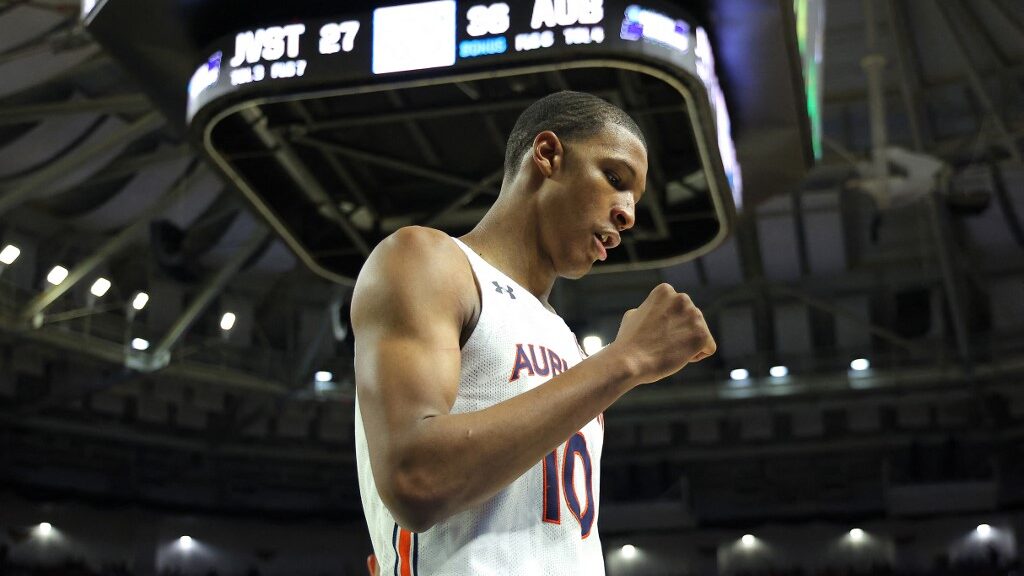 It's looking more and more likely that Jabari Smith Jr. will be selected by the Orlando Magic with the first overall pick.
Smith has been compared to the likes of Kevin Durant among other stars in the league. Many believe he has the most ability in this year's draft to turn into a player like Durant.
But what makes Smith Jr. so highly touted? Here are some reasons why Jabari Smith Jr. is the best player in the NBA Draft.
---
Smith's Scouting Report
How Did Smith Play for the Auburn Tigers?
Jabari Smith played for Auburn last season and turned the Tigers into one of the best teams in college basketball last year. Auburn had massive winning streaks and was even ranked number one in college basketball throughout the year.
Smith Jr. was the reason why, as he added 16.9 points per game along with 7.4 rebounds and 2 assists. He also contributed 42% from downtown on 188 attempts from deep.
He's 6-10, weighing 220, and has a wingspan of over seven feet. That's why he's getting the Durant comparisons. He's long, athletic, and can shoot over most defenders with his length.
Jabari Smith's Offensive Qualities
Smith Jr. has a high release and holds his follow-through on his shot attempts. He's able to use his jab-step well to create shots on his own. He's also always ready for a pass to catch and shoot but never in a hurry to take a shot if a defender is in his face.
In transition, he would always get beyond the three-point marker to get wide-open looks and extend the defense. Smith can also pick teams apart on the offensive end with pick-and-rolls, as he can also catch and shoot off-screen action and pop as the screener.
Smith Jr. also knew when to take advantage of defense, especially in the paint, if he was matched up with someone smaller who couldn't defend his height. He will be effective in the high post or on the elbow turning around on either shoulder. While sometimes he might over-dribble, he'll work on that portion of his game with the team that drafts him.
Jabari Smith's Defensive Qualities
Smith Jr. is also a very good defender thanks to his wingspan. He's quick on the feet and that allows him to recover in pick-and-roll situations or help in the paint if necessary.
Plus, of course, he has good length and a good frame that's NBA level.
---
Comparisons Around the League
Jabari Smith Jr. has had a lot of comparisons before stepping onto the NBA court. He's been linked to guys like Rashard Lewis, Michael Porter Jr., Khris Middleton, Klay Thompson, and of course, Kevin Durant.
All of these players have the length in common. These players also have great range and the ability to score anywhere on the court.
Rashard Lewis
Smith Jr. was compared to Lewis because of his three-point shooting ability along with his pick-and-pop game that Smith can be very effective in.
Michael Porter Jr.
He was linked to Michael Porter Jr. because of the similar frame, but I think it's safe to say that Smith can be a much better defender than Porter Jr. in this league.
Khris Middleton
Middleton has shown some things that Smith can do too on the offensive end. Middleton, like Smith Jr., is comfortable from three but can also take a couple of steps in a drain the midrange jumper, pulling up.
Klay Thompson
He's also been compared to Klay Thompson because like Thompson, he's always hunting shots, especially in transition. He's confident and electric when on his game.
Kevin Durant
And the comparison to Durant is due to his ability to shoot over defenders with his length. Smith Jr. has all the tools to be as successful as Durant has been over the years.
---
Is Smith the Best Player in the NBA Draft?
We won't know who the best player in the draft is for likely another decade. We have to let it all play out. But when it comes to potential, Smith has the most potential in the draft because of his ability to shoot from deep, score inside, and defend. He can defend multiple positions and really get after it on both ends of the floor.
With Smith be as vocal as Durant in the league? Will he be a quiet assassin? It's hard to know but what we do know is that Smith Jr. has all of the tools to be one of the best players in the league.
That's going to make him the best overall player in the draft. Not many other players have the shot, defense, and height/wing span that Smith Jr. has.