Wyoming Horse Race Betting – 2023's Best Online Racebooks for Wyoming Bettors
Shawn West has been involved with college basketball, NFL and college football and MLB since he left his job as bank vice president two decades ago. He lives in North Carolina with his wife, children, two dachshunds and a variety of turtles.
Horses have been an important part of Wyoming's history and culture since people first started living in the state. Native Americans used horses to navigate the territory for years, and the first settlers who would eventually populate the U.S. state also depended heavily on horses. Some of the earliest entertainment was rodeo riding and long-distance horse races. And, as soon as historic horse racing began, other people began betting on the result.
For many years, betting on horse racing was the only form of gambling legal in Wyoming. Currently, gamblers can wager on races at track betting locations, horse racing betting sites online, and off-track betting facilities.
However, many gamblers also like to place other types of bets, such as putting money on sporting events, playing casino games, and visiting online poker rooms. Most of the state-licensed facilities that offer race betting do not offer other forms of gambling. Wyoming betting sites operating offshore are the only one-stop locations for all gambling needs.
Our Highest-Rated Online Sportsbooks
The Top Horse Race Betting Sites for Wyoming
We assembled a team of gambling experts to evaluate offshore horse race betting sites available to Wyoming bettors. After reviewing more than 100, they compiled the following list of the 10 best.
Is horse racing betting legal in Wyoming?
For many years, betting on horse racing was the only form of gambling legal in Wyoming. Now, legal gambling legislation has expanded the betting market in the state to include a state lottery, tribal casinos, and online sports betting.
Wyoming has a long history of horse-related competitions, with rodeo and distance racing dating back to the days of the Old West. Betting on horse racing has been legal for many decades, although the racing industry's popularity waned over time and nearly disappeared for a time due to a lack of interest. Now, however, it has resurged in popularity with betting available at track betting facilities, off-track locations and horse racing betting sites.
Comparing the Top Wyoming Racebooks
Most of the sites in our top 10 racebooks in Wyoming use the same software to run the horse racing betting section. That means that the process of actually playing a bet on a race is very similar regardless of the site you use. But the 10 best sites differentiate themselves in a number of different ways, including customer service, bonuses and promotions, lines and odds as well as the speed of payouts.
Here's a detailed look at each site in our top 10 along with pros and cons lists for each.
1. Bookmaker: Best Overall Horse Betting Site in Wyoming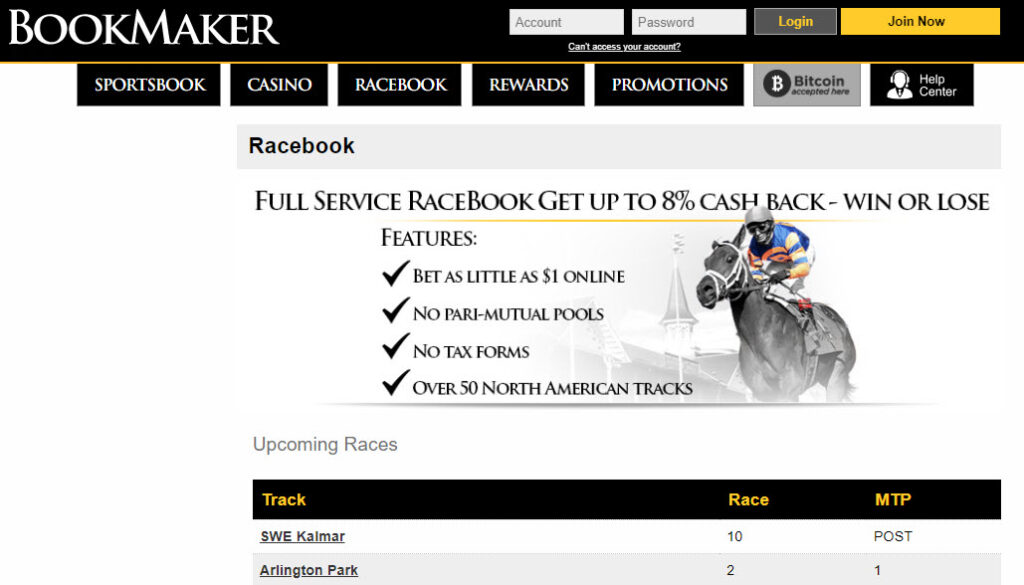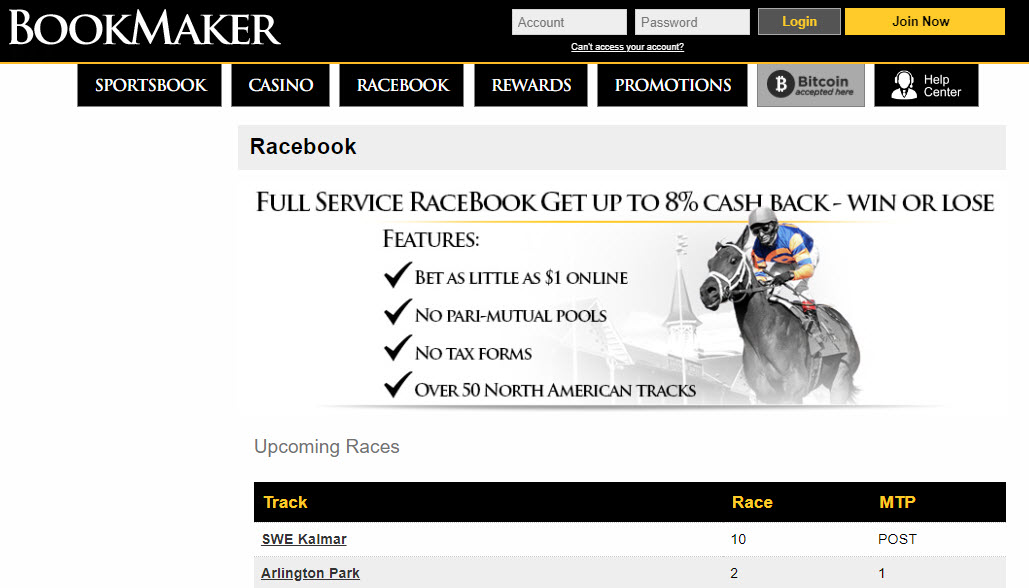 Bookmaker.eu took the first spot in our top 10 and got the nod from our experts as the best overall racebook in Wyoming. There is a wide range of tracks and races featured at Bookmaker, including action from over 50 tracks across North America. There are also international races from Europe available.
Bookmaker welcomes all gamblers, from high rollers to conservative bettors, from experienced veterans to brand new customers. It makes sure to tailor everything from its tailor limits to its VIP program to cater to all levels. There are high betting limits as well as minimum bets as low as $1, so everyone will be able to find a bet that fits their risk tolerance.
They are the earliest in the online gambling industry to publish lines and odds, and they have an outstanding rebate program that returns 3% of racebook losses on straight bets, as well as 8% on exotic bets.
Pros
Rebate program returns 3% of straight bet losses and 8% of exotics
Posts lines and odds earlier than anyone else
High betting limits and low minimums
Has one of the best loyalty programs among offshore operators
Cons
Welcome bonuses are relatively low compared to competitions
Doesn't offer much performance history on horses, making it hard to handicap races
2. Heritage Sports: Red Carpet Treatment for All Bettors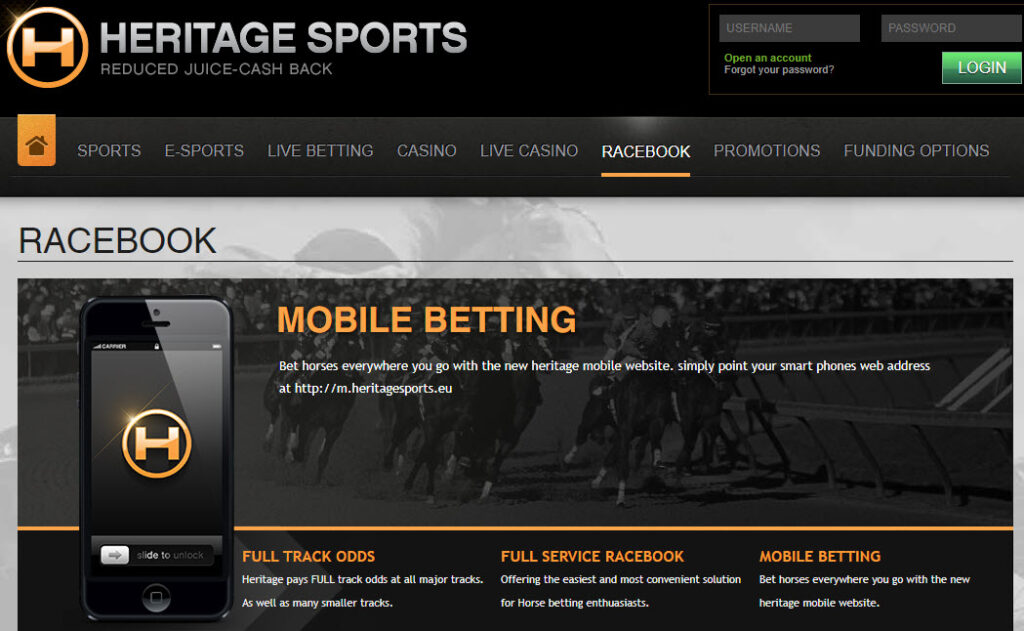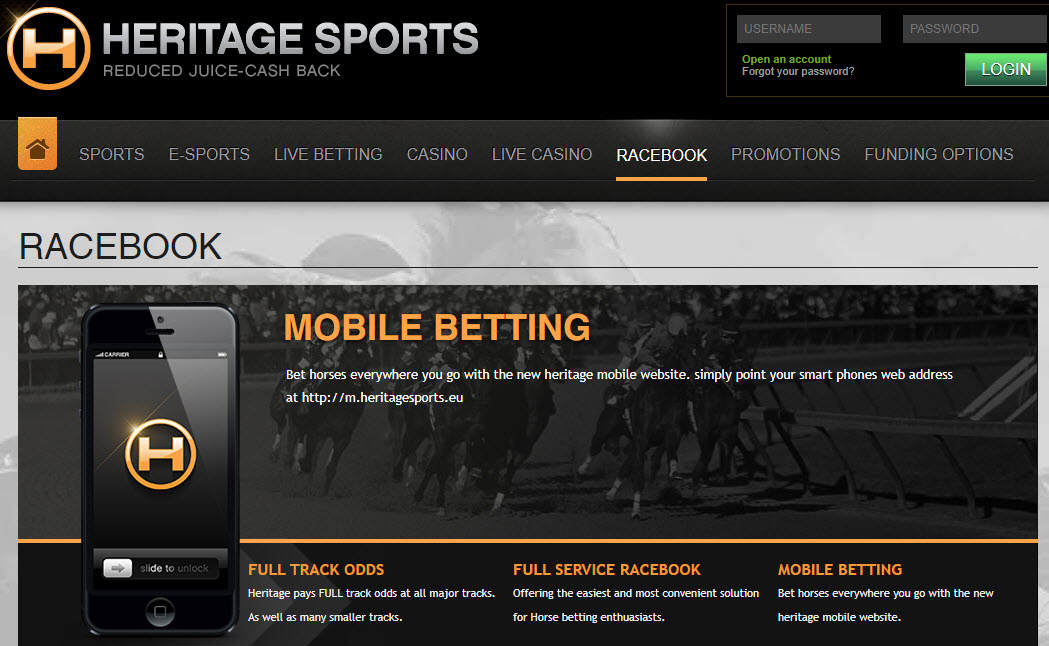 Heritage Sports finished second in our top 10, but it earned special recognition from our panel of experts for having the best red carpet treatment for customers of any offshore racebook. That's no surprise. Heritage Sports began as an invitation-only site for the 1%. Over time, it decided to accept all members, but it still remembers how to pamper a bettor and provide an elite betting experience.
The racebook has plenty of action with 60 tracks from around the world featured. International racing options include Ireland, the U.K., mainland Europe, Japan, Australia, Hong Kong, and South Africa. Heritage Sports separates its tracks into different tiers, with different betting limits.
There are 16 "major tracks" where Heritage Sports sets betting limits at $1,000. Another 14 tracks are on the next tier, with $500 limits.
Heritage Sports also was singled out by our experts for having the best mobile site in Wyoming.
Pros
Offers red carpet service for all gamblers
Pays full track odds for major races and tracks
The best mobile racebook interface
Limits go up to $1,000 at major tracks
Cons
Welcome bonuses are lower than other sites
Doesn't offer live streaming of races for real-time gaming
3. Bovada: The Best Loyalty Program in Wyoming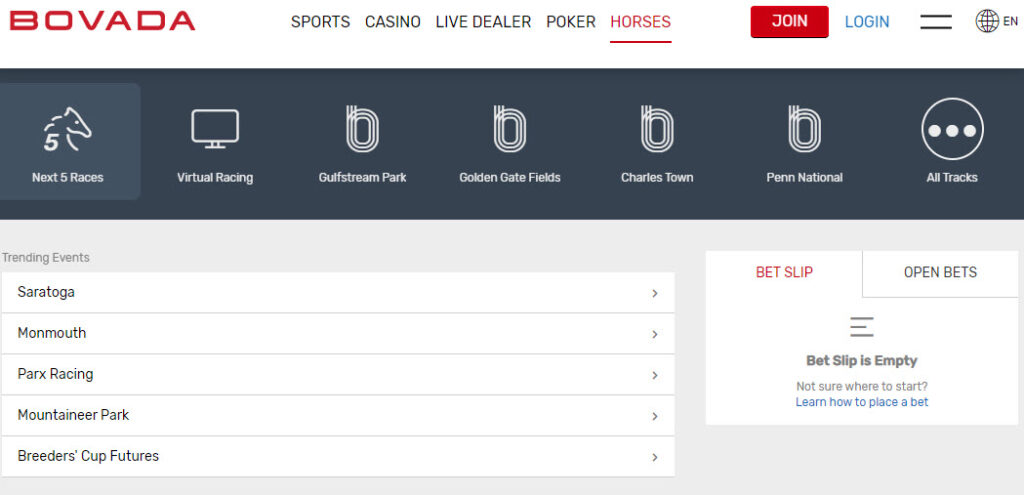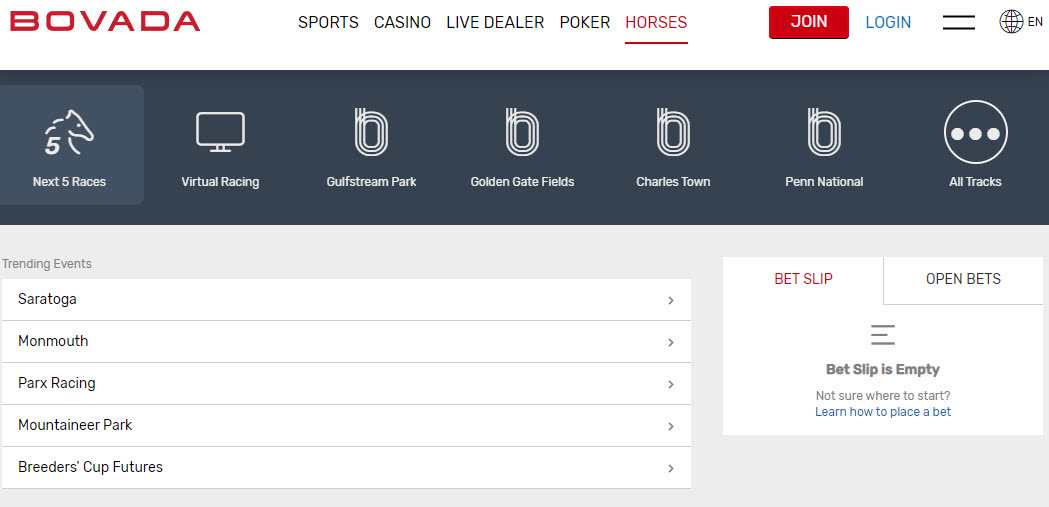 Bovada is a popular offshore gambling site because it provides a full casino experience for gamblers. In addition to the racebook, it has one of the best sportsbooks around with Wyoming's largest menu of prop bets. There's also a casino with a huge variety of slots and table games, and Bovada is home to America's busiest poker room.
But the racebook is what earned it the No. 3 spot in these rankings. It includes races from America, mainland Europe, the U.K. and Ireland, South Africa, Asia, and Australia. Bovada embraces variety in everything from sports props to casino titles, so it's no surprise that it offers a wide range of betting futures on upcoming races.
For racing's biggest days, Bovada pulls out all the stops. It pays up to $100,000 on the three races that make up the Triple Crown and up to $30,000 on other major races on the calendar. Bovada also offers the top loyalty program for horse bettors.
Pros
The best loyalty program for race bettors
Pays up to $100,000 for Triple Crown races and $30,000 for other big events
Offers more racing futures than any other site
Has a full casino experience with slots, table games, sportsbook and America's busiest poker room
Cons
Doesn't have a cashback rebate on race betting losses
There's no performance data available for handicapping
4. BetOnline: Wyoming's Best Cashback Rebate Program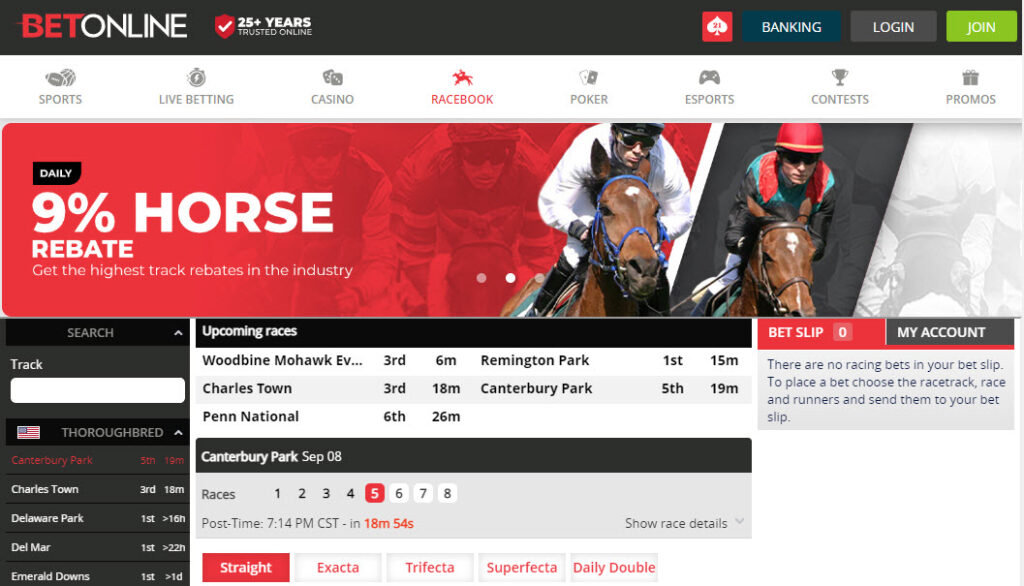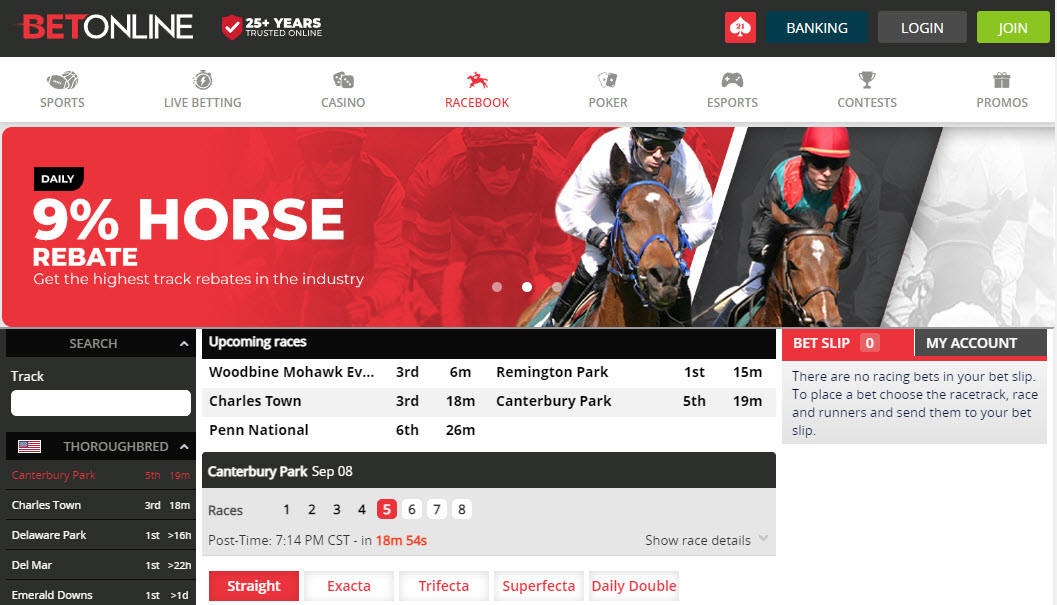 BetOnline takes the fourth spot in the rankings. Our experts also pointed out BetOnline's cashback rebate program for the racebook, which they proclaimed to be the best in Wyoming. The site returns 4% of the amount wagered on straight bets (bets to win, lose or show) in the form of a rebate. That's not the amount you lose placing those bets. It's 4% of your total amount wagered, regardless of whether your best win or lose. For exotic bets, they return 9% cashback on the amount bet.
BetOnline has a deep menu of races, including tracks in the United States, Australia, the U.K., Ireland, France, South Africa, and Japan. It also has events that many other sites don't offer, such as Swedish harness racing. For major races that have fixed odds, like the three legs of the Triple Crown as well as the Breeders' Cup, BetOnline has its odds posted several weeks ahead of time. Their odds are also generally more favorable to gamblers than at other sites.
Pros
Wyoming's best racebook rebate program, with up to 4% of straight bet amounts and 9% of exotic bets returned
Publishes futures odds for major races several weeks before the event
Welcome bonus includes a $25 risk-free bet in the racebook
Full-casino experience with a sportsbook and online casino games
Cons
Site's welcome bonus money can't be used at the racebook, only the casino and sportsbook
Credit card transactions have fees
5. BetAnySports: Cashback Rebates and Favorable Odds Provide Value for Gamblers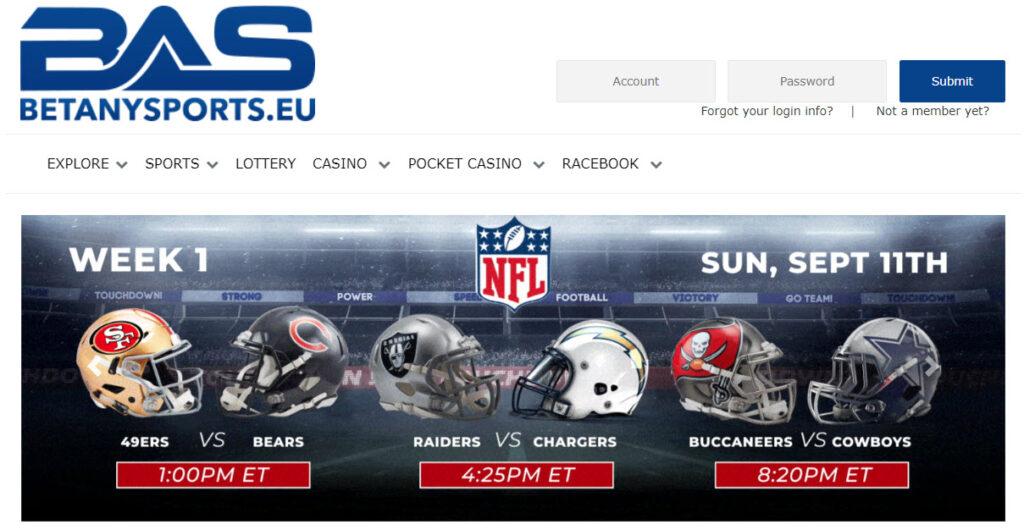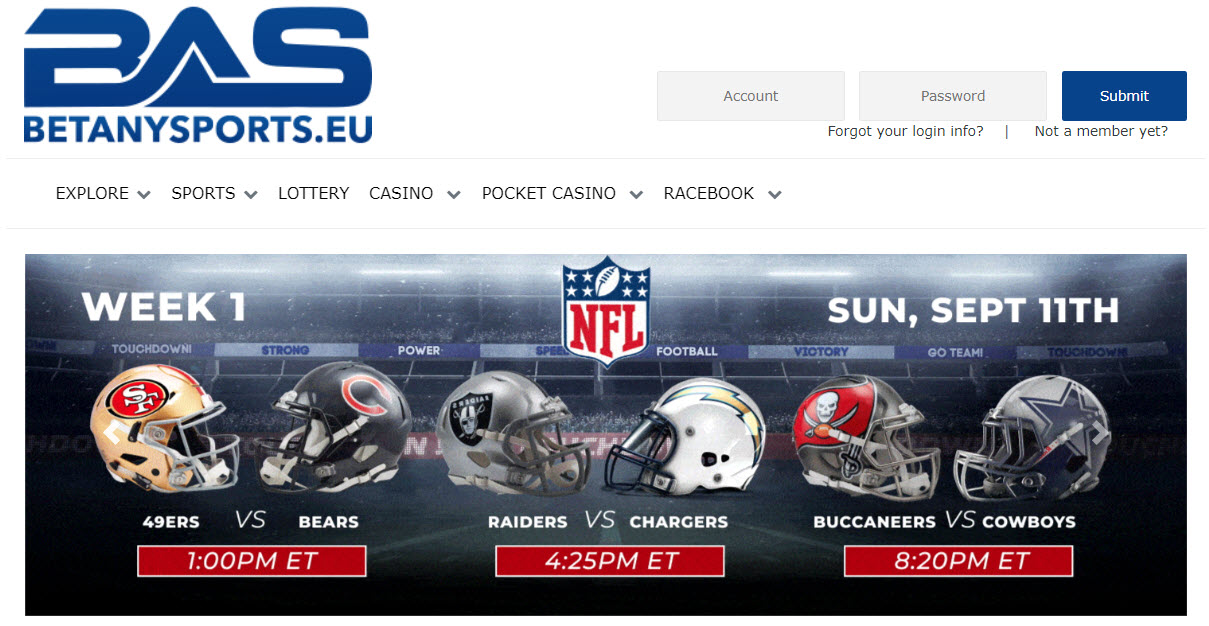 BetAnySports is known among sportsbook customers for providing value with reduced juice and gambler-friendly odds giving it one of the lowest house edges around. The racebook also makes sure to provide value for its customers.
BetAnySports' win limits are among the highest in the state, and it has a cashback rebate program for the racebook. The site will return 3% of the amount wagered on all straight bets and 6% on exotic bets. That's a rebate on all betting activity, win or lose, not just your losses. And the exotic percentage goes up the more you bet, with it maxing out at 9%.
Pros
Cashback rebate gives back 3% of straight bets, up to 9% on exotics, based on betting volume, not just losses
Also offers 10% payout boost program on select races
Win limits are the highest in the state
The site's welcome bonus can be used in the racebook, unlike other sites
Cons
Attaches rollover requirements to bonus funds as well as initial deposit amount
Website is bare bones, not as stylish or polished as other offshore gambling sites.
6. BetUS: Offers the Most Generous Welcome Bonuses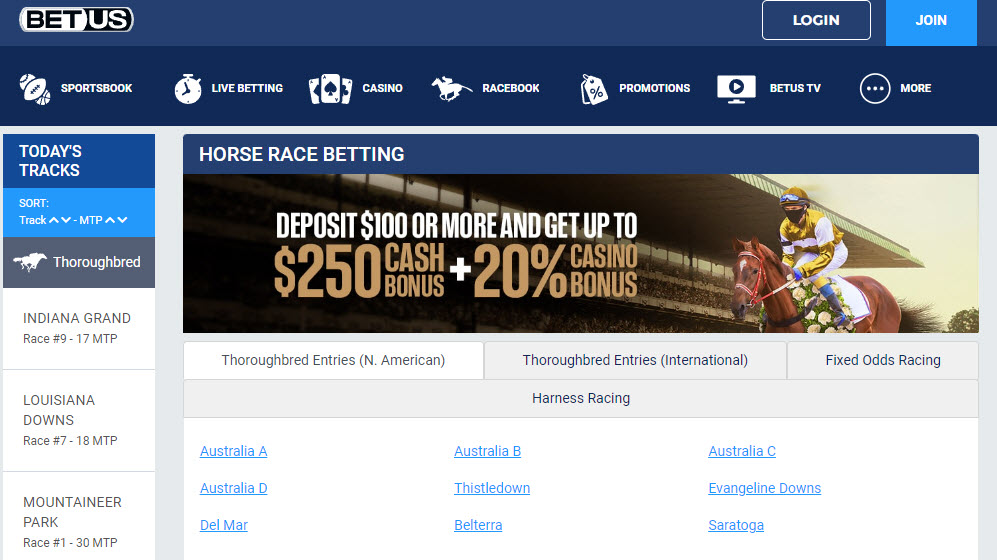 BetUS impressed our expert panel with its welcome bonuses, which they declared to be the most generous ones offered in Wyoming. It matches your first deposit up to 250%, and up to $2,500 as well. That means that you'll more than triple your money before you place your first bet.
The racebook has races from across the United States, as well as the United Kingdom, Ireland, France, and Australia. The site also has a fun, creative user experience. They've recently revamped their site and have state-of-the-art software. Plus, they offer podcasts and videos to help analyze upcoming racing action.
Pros
Pays out the highest welcome bonuses, allowing you to more than triple your money on your first deposit
New software upgrade gave it a fast, attractive user interface
Has videos and podcasts offering analysis of big races
VIP program for loyal customers is one of the best you'll find
Cons
Steep rollover requirements are attached to the bonus money
Doesn't publish odds and lines as early as other sites
7. WagerWeb: Cryptocurrency Users Get Same-Day Payouts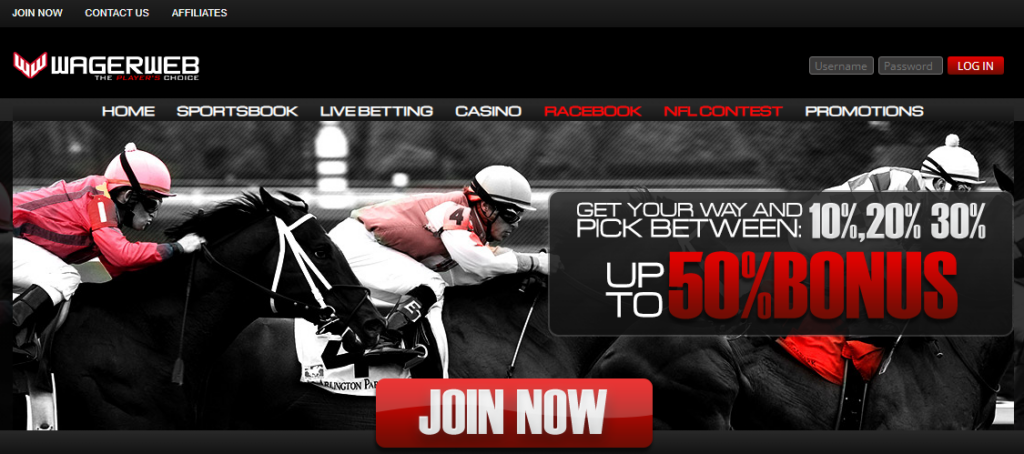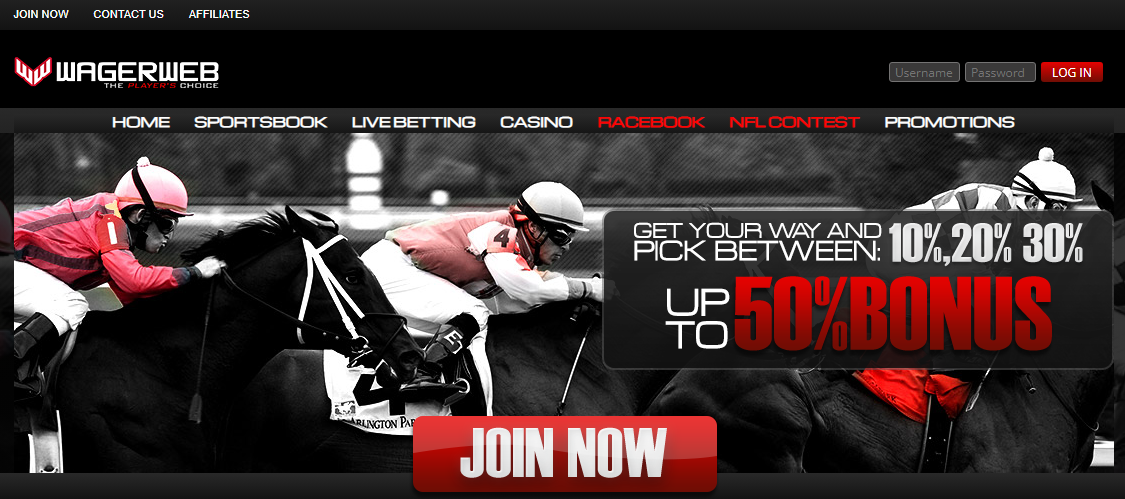 You could get déjà vu at WagerWeb. The site is a sister site of Heritage Sports, which is No. 2 in our rankings. It offers many of the same characteristics and the high-quality betting experience that put Heritage Sports near the top of our list. WagerWeb also has been around since the 1990s, giving customers a nearly 30-year track record of trust and dependability.
The WagerWeb racebook has action from major American tracks and tracks worldwide. They also pay out a weekly cashback rebate. On Mondays, you get back 5% of your racebook losses from the last week.
Pros
Pays out 5% weekly rebate on racebook losses
Offers similar gambling experience as sister site, No. 2 ranked Heritage Sports
Pays out quickly, easily, and in full
Has been treating customers fairly for nearly 30 years
Cons
Can only make one free withdrawal a month
Betting limits are not as high as competing sites
8. JustBet: Fast, Efficient User Interface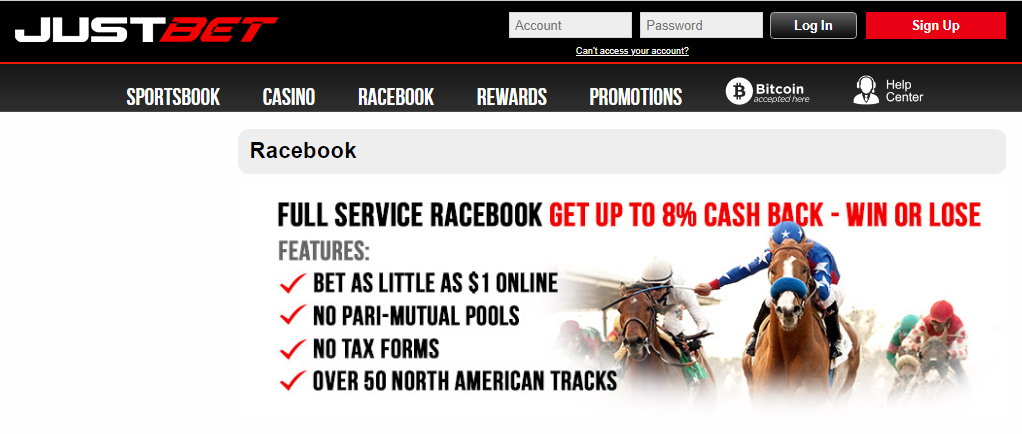 JustBet has a very similar betting experience as its partner site, Bookmaker.eu, which you'll recognize as the top-rated site in our 10 best racebooks in Wyoming.
JustBet's racebook has races from 40 tracks across North America and additional action from the United Kingdom, mainland Europe, and Australia. They offer a variety of different racing styles, including thoroughbred racing and harness racing. It's easy to find a bet that matches your risk tolerance because JustBet has high limits and minimum bets, as low as $1 a race.
JustBet has a cashback rebate for racing losses, and its user interface is uncluttered, making it fast and efficient to place bets.
Pros
Has both high betting limits and low minimum bets
Interface is uncluttered, organized, and very easy to navigate
Offers variety of races, including thoroughbred and harness races
Has a cashback rebate program
Cons
Doesn't have a poker room or reduced juice sportsbook lines
Welcome bonuses are lower than some competitors
9. Everygame: The Oldest Racebook in Operation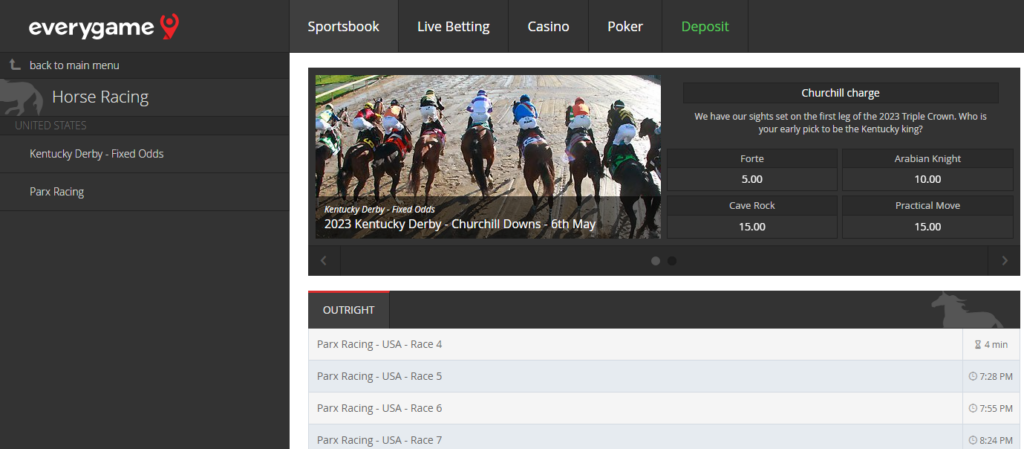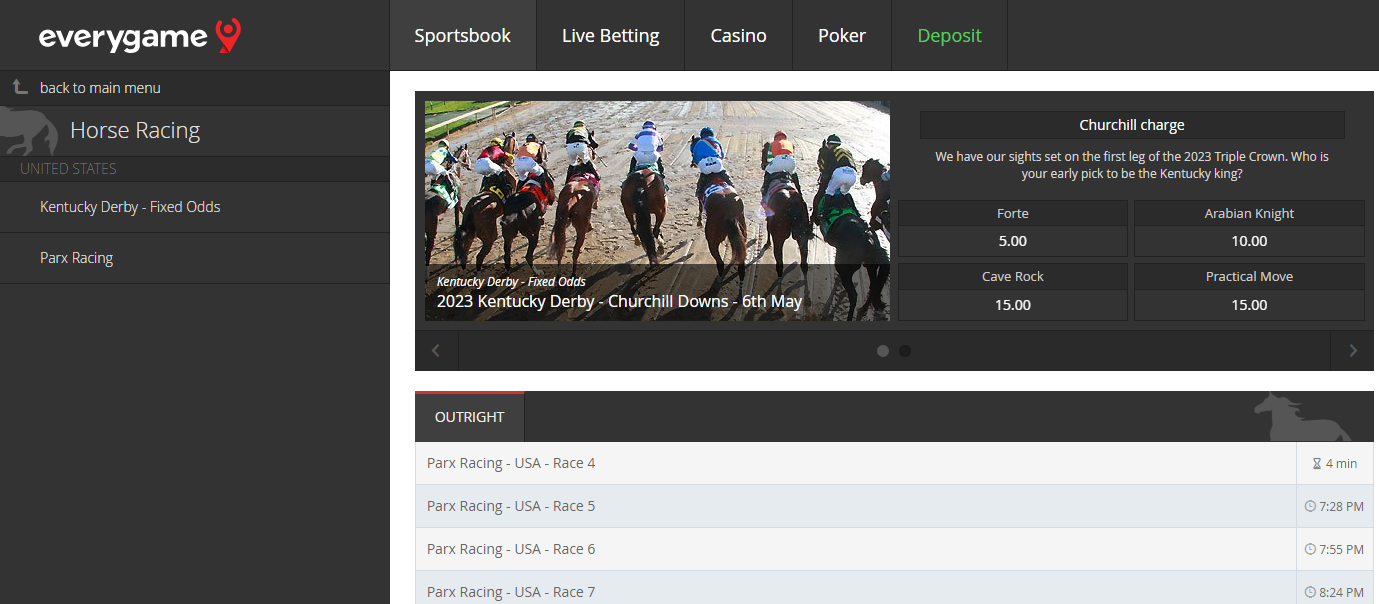 Everygame is the granddaddy of them all when it comes to online betting sites. It started in the early 1990s and has been paying out on time and in full for nearly 30 years. That means no one has a more extended history of trust and dependability, both a must when you're sending money to offshore sites.
Everygame doesn't have a stand-alone racebook, like most offshore sportsbooks. Instead, Everygame includes horse racing as an option in the sportsbook. The sites that keep the racebook and sportsbook separate often restrict where welcome bonuses can be spent, meaning the money you get upfront can't be used to bet on horses. Everygame removes the division between the two books, so the bonus can be used in both.
The racing section at Everygame features American races. Few, if any international races are offered. Everygame also has undergone a software upgrade and now has a slick environment for mobile betting.
Pros
The oldest betting site, with three decades of trustworthy operation
New software upgrade gives it a slick, attractive mobile betting interface
The mobile casino is the best in Wyoming
Welcome bonuses can be used on racing
Cons
Focuses on American races with very few international races
Bonuses are lower than competition
10. SportsBetting.ag: Betting limits are among the highest in Wyoming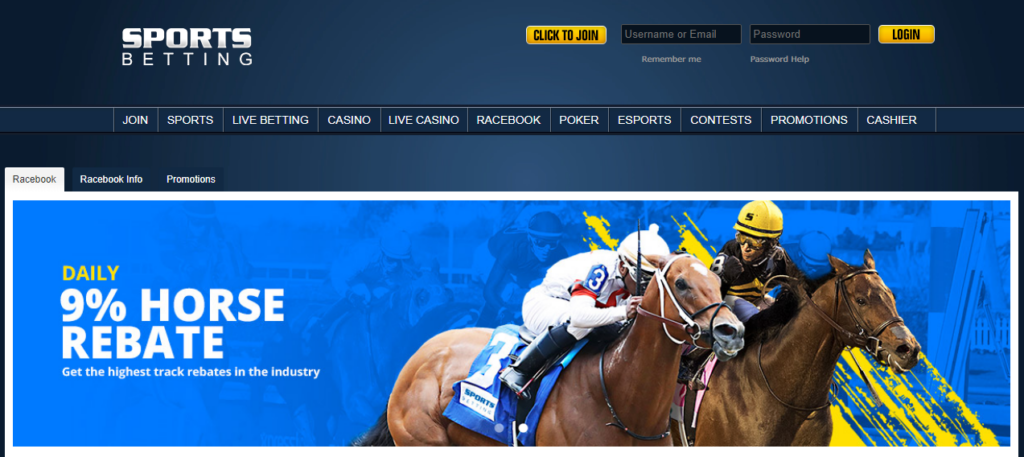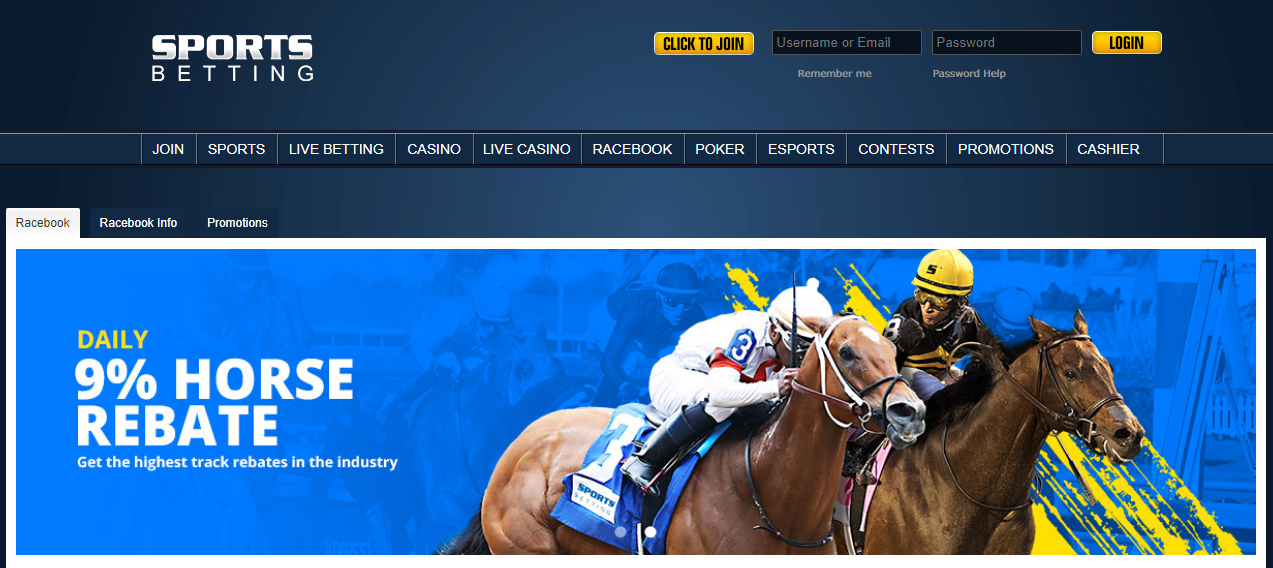 SportsBetting.ag rounds out our top 10. It earned a spot on our list, as did its sister site, BetOnline. Both sites share several characteristics and offer similar betting experiences.
SportsBetting's racebook features races from across America, the UK, Ireland, South Africa, Australia, Japan, Sweden, and Canada. The site has a cashback rebate, returning 7% of your daily net losses back to you. They also offer a $25 risk-free bet for the racebook as part of the welcome bonus. SportsBetting is known for its fast, efficient interface that allows you to place bets in a few seconds.
Pros
User interface is fast, allowing customers to place bets in 10 seconds
Deposit limits and betting limits are high
Pays a 7% cashback rebate on daily net losses in the racebook
Gives a $25 risk-free racing bet as part of the welcome bonus
Cons
Site's appearance is relatively plain, and interface is an older version of BetOnline's
Casino game menu is more limited than other sites
Our Rating Methodology
Our experts looked at a number of different factors to put together our rankings of the top horse racing betting sites. They looked at the promotions and bonuses offered by each site as well as other perks like cashback rebates and VIP points programs. We looked at the customer service department of each site, odds and lines offered for big races like the Triple Crown, and we even took online customer reviews into account.
The History of Wyoming's Gambling Laws
Wyoming's state history is intertwined with gambling almost as tightly as it is with the horse, dating back to the early days of the Old West. The history of gambling in the state dates back to those old saloons, although gambling history has seen several changes of direction.
The first came in 1901 when the McGill Act banned all forms of gambling. The state eventually allowed betting on horse racing, but for decades, that was the only legal form of gambling.
As horse racing began to wane in popularity, the state took an interest in opening up other forms of gambling. A 2000 lawsuit that took five years to settle eventually paved the way for tribal casinos. There are currently four of them, which are the only commercial casinos in Wyoming. In 2021, the state passed a law paving the way for legal sports betting.
Timeline of Gambling in Wyoming
2021: Wyoming passes a law legalizing sports betting online. Legal sports betting began later that year, regulated by the Wyoming Gaming Commission, and there are now four licensed sportsbooks
2016: The state reviewed online gambling and considered bringing legalized online gambling to the state, but no sports betting legislation was proposed at the time.
2014: Two tracks reopen offering horse betting
2013: The state becomes one of the last (46 out of 50) to legalize a lottery
2010: The last horse racing track in the state closes.
2005: After a series of victories in court, the Northern Arapaho tribe wins in appeals court, paving the way for a casino
2003: The state passed a law allowing racetracks to install instant racing terminals, which allow for virtual race betting.
2000: The Northern Arapaho tribe sued the state for the right to create a casino.
1967: The Wyoming Pari-Mutuel Commission was formed, leading to betting on horse racing, both in person and at off-track parlors
1901: The McGill Act banned all forms of gambling in Wyoming
Key Features of the Top Online Racebooks
There are a number of important factors that all top-rated racebooks had to offer, in order to be considered for our list of recommended sites. These are must-haves that all offshore operators need to demonstrate to be considered for the top 10 by our experts.
Gambling Odds
Odds should be fair and representative of the relative probability of a given horse winning or other event occurring.
Betting Markets
There should be a variety of forms of gambling offered. The best offshore sites provide racebooks, sportsbooks, poker rooms, online slots, and table games. Within the racebook, there should be a variety of different betting markets, including straight and exotic bets, as well as futures.
Banking Methods
There should be a number of different ways to fund your account and withdraw your winnings, ranging from traditional banking methods like credit and debit cards as well as newer methods like e-wallets and cryptocurrency.
Bonuses & Promotions
Online race betting is a competitive industry, and sites should compete to have you as a customer. They should offer generous welcome bonuses with a flexible set of options such as dollar amount, match percentage, and rollover requirement. There should also be ongoing promotions for loyal customers.
Live Betting
Other than the gem events on the racing calendar, it can be difficult to find horse racing on TV or internet video. So the top racebooks should offer live streaming of races. Live streaming also allows the site to offer live betting, something that has become more and more popular among sports bettors.
User Interface
The user interface should be easy to use and dependable with no pages crashing or glitches. Menus should be logical and organized, and shortcuts should help you find what you need quickly.
Mobile Experience
More bets are placed on mobile devices than computers, so the mobile site should be as functional and attractive as the main site. Many sites also offer mobile apps for racing as well as sportsbook apps. If they don't, they should have a fully optimized mobile version of the site.
Customer Support
It should be easy to get help if something goes wrong. Customer service should be available 24/7, in multiple languages. You should have a number of contact methods available, including phone, email, and live chat.
Safety Features
An online racebook should provide a safe, secure environment for your money and personal information. Any site that couldn't guarantee this wasn't considered for our top 10.
Wyoming Horse Racing Betting Bonuses
Online gambling sites use bonuses to attract new customers and to keep existing customers happily betting. Here are some common bonuses you'll see offered.
Welcome Bonus
Sites will offer money to customers for signing up for an account and making a deposit. The bonus amount is usually a percentage match of your initial deposit. The amount may have a maximum cap, and the bonus money may have rollover requirements, meaning you need to bet that amount a certain number of times before you can withdraw the money.
Free Bets
Also sometimes called risk-free bets, they are bets where you don't risk any of your money to make them. If you win the bet, you collect your winnings like with any bet, but if you lose, your stake is returned to you, usually in the form of a free bet credit.
Rebates
Rebates return a portion of what you lose gambling. It is often a percentage of your net losses, although some sites return a percentage of everything you bet, regardless of whether you win or lose. You usually find bonuses like this in online casinos and racebooks.
Enhanced or Boosted Odds
These promotions boost your profits by paying off at higher than posted odds. For instance, if you take a 4/1 bet, but you have enhanced odds, it may pay off at 10/1 if you win.
Loyalty & VIP Programs
These come in a number of forms but they usually reward customers who bet more often. Many of these programs involve awarding points based on activity that can be exchanged for bonus money and other perks.
How Horse Race Betting Odds Work in Wyoming
There are two different ways to bet on horse races: fixed odds and pari-mutuel wagering. Fixed odds are generally used for the biggest races on the calendar, such as the Kentucky Derby, while the vast majority of other races use a pari-mutuel wagering system.
Fixed Odds in Wyoming
Fixed odds are similar to moneylines in other sports. Each horse in the field is listed with a dollar amount. If the odds amount is positive, that tells you how much you'll win with a $100 bet. If it's negative, it tells you how much you have to risk to win $100.
For example, if a horse were a -110 favorite, it would mean you need to bet $110 for a chance to win $100. If the horse is +500 that means a $100 bet wins you $500 in profit (plus you get back the $100 you put up).
Pari-Mutuel Betting in Wyoming
Most new horse racing bettors are less familiar with pari-mutuel betting, but it is used by most tracks and races. In a pari-mutuel betting system, all the money bet goes into a pool. After expenses and fees are taken out, the pool is then split among all the winners, based on the amount each of them bet. That means you likely won't know the exact amount you could win when you first place the bet. It's a little like buying a lottery ticket for a multi-state drawing like Powerball. They can estimate the payout, but they won't know for sure until all the bets are in.
Pool Betting on Wyoming Horse Races
Pool betting is another term for pari-mutuel betting. You may hear them both used, but they describe the same thing.
How to Calculate Horse Racing Betting Odds
Fixed odds can be listed as a moneyline or as a fraction. Both are related to the probability that the event you're betting on will end up occurring. The more negative a moneyline is, the higher the probability it will happen. The larger the positive number, the lower the probability. This chart shows the relationship between moneyline and fractional odds, as well as payouts and probability of winning.
| Horse Racing Odds | Payout from a $2 Wager | Implied Probability of Winning |
| --- | --- | --- |
| 1/5 (-500) | $2.40 | 83.33% |
| 1/4 (-400) | $2.50 | 80% |
| 1/3 (-300) | $2.60 | 75% |
| 1/2 (-200) | $3.00 | 66.67% |
| 4/6 (-150) | $3.33 | 60% |
| 1/1 (-100) | $4.00 | 50% |
| 2/1 (+200) | $6.00 | 33.33% |
| 3/1 (+300) | $8.00 | 25% |
| 5/1 (+500) | $12 | 16.67% |
| 10/1 (+1000) | $22 | 9.00% |
| 50/1 (+5000) | $102 | 1.96% |
The payout amounts listed include getting back your initial $2 bet. So in the first line, you win $0.40 and get back your $2.00 for a total of $2.40.
Commonly Placed Types of Horse Race Bets
There are several different ways to bet on horse races. Here are some of the most common horse racing bets you'll come across.
Win: The most common bet. You choose the horse you think will finish first in a race.
Place: You choose a horse but get paid if it finishes first or second.
Show: You get paid if the horse you choose finishes first, second or third.
Exacta: You pick the two horses you think will finish in first and second place (in order) in a race.
Trifecta: Similar to an exacta, but you pick the top three horses in a race, in order.
Superfecta: You pick the top four finishers, in order, in a given race.
Daily Double: You pick the winners of consecutive races. It's basically a parlay on back-to-back races.
Pick 3/4/5/6: Similar to a daily double, except you pick the winners of 3, 4, 5, or 6 consecutive races.
Common Horse Race Betting Terms
It can take a while to get used to the terms used in the horse racing industry. Here are some of the words and phrases you may need to know.
Ante-Post: This is a bet placed before the betting market opens on race day. It's like futures betting on a race.
Drifter: A horse whose odds get worse (longer) as the race approaches. It means people are not betting on that particular horse. It's the opposite of a steamer, whose odds get better over time.
Dead Heat: A race where horses finish at the exact same time, in a tie.
Dutch: Betting on multiple horses in the same race. Bettors will do this to cover a number of possible outcomes in the hope that one pays off enough to make up for the other losses.
Exotic Bet: The opposite of a straight bet, exotic bets involve multiple horses and/or races, such as daily doubles and exactas.
Favorite: The horse that has the best chance of winning, in the eyes of handicappers, and has the shortest odds.
Furlong: A distance measurement of one-eighth of a mile. Race lengths are often reported in furlongs.
Longshot: A horse not expected to win a race that has long odds. They sometimes appeal to bettors, because their payoffs will be large if they happen to win.
Morning Line: The odds posted by the track handicapper when the day's betting begins. The morning line then shifts based on betting activity throughout the day.
Odds: The implied probability of a bet winning. The odds determine your payout if a particular bet wins.
Pari-Mutuel: The method used to calculate payouts for winning bets in most races. Money wagered goes into a pool and is divided among the winners.
Stake: The amount a horse owner has to pay to enter their horse in a race.
Creating a Racebook Account
Creating an account at one of our recommended horse racing betting sites is fast and easy.
Step 1. Sign-Up
First, choose a racebook from our list of the 10 best in Wyoming. Go to the racebook's website and click the create account button.
Step 2. Verify Your Details
After you fill out your registration information, the site may verify your identity by texting a code to your phone.
Step 3. Deposit Your Funds
Choose a deposit method from the ones listed on the site's cashier page. Enter your deposit amount, financial information, and the promo code for the welcome bonus you want to collect.
Step 4. Place Your Wagers
That's it. You're ready to get started. Find a race and pick a winner
In-Person Horse Race Betting in Wyoming
How do I place a bet in Wyoming?
Wyoming Downs is the largest racetrack in the state. In addition to the track, located near Evanston, Wyoming Downs LLC has several Wyoming Downs OTB locations located around the state.
Sweetwater Downs is located in Rock Springs and is owned by Wyoming Horse Racing LLC.
Horse Palace, which has locations around Casper, features live racing, OTB, several slot machines, and historic race betting terminals.
FAQs – Online Horse Race Betting in Wyoming
Is horse betting legal in Wyoming?
Horse betting is legal in Wyoming, in person at a horse racing track or OTB parlor, and at online betting sites. Offshore gambling sites like the ones we recommended, can also offer sportsbooks, live poker rooms and casino games. 
What gambling is legal in Wyoming?
Currently, betting on horse racing is legal in Wyoming, in person and online, and the state passed a law legalizing online sports betting in 2021. Wyoming residents can also visit one of several in-person tribal casinos located in the state. 
Does Wyoming allow online betting?
Wyoming allows online betting on horse racing and sports. The state has licensed a number of online sportsbook operators, as well as several online racebooks. There are also offshore gambling sites that offer betting on both, as well as casino games, video slots, and poker.
How do I place a bet in Wyoming?
You can place a bet in person in Wyoming either by going to a racetrack, OTB parlor, or tribal casino or by using a website. There are online sportsbooks and racebooks that are licensed by the state, as well as offshore sportsbooks that offer a number of betting options. 
Can you make a living off horse betting?
Your income may fluctuate a lot more than in other careers, but it is possible to make a living betting on horse racing. Many people are able to support themselves by gambling on the ponies, and some people even get wealthy doing it.
In what can only be described as a seminal pact between adversaries, Governor Newsom has signed a bill into law that both the California Native American tribes, as well as cardroom operators, support – no additional cardrooms in the state for two more decades. In turn, this collaboration between Native American tribes and gambling hall

---