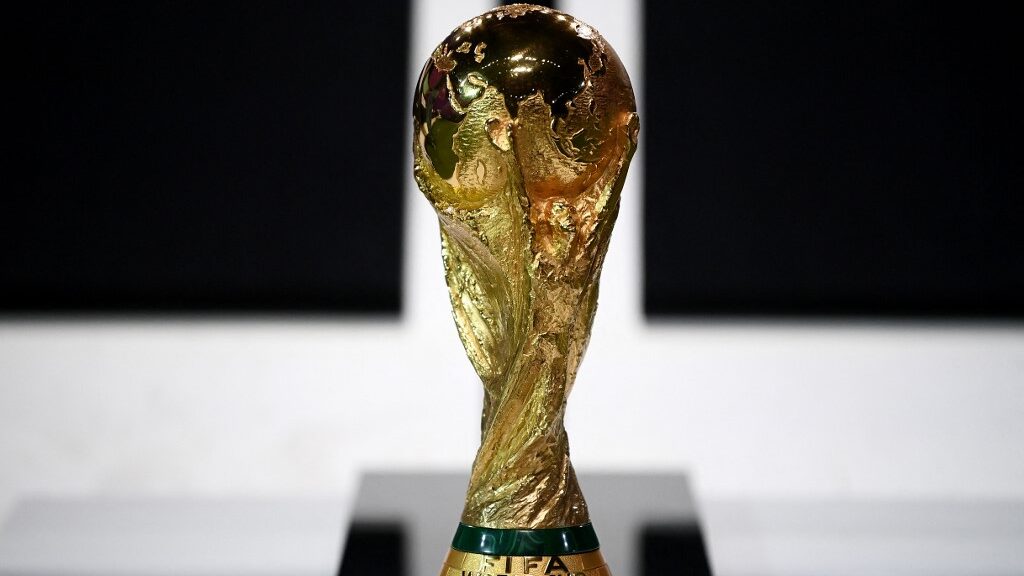 The most popular and celebrated sporting event on the planet is a mere three months away, as the elite of international soccer will gather in Qatar to compete for the 2022 FIFA World Cup.
The likes of Cristiano Ronaldo, Lionel Messi, Kylian Mbappe, Kevin De Bruyne, Neymar Jr., and Harry Kane will represent their respective nations in an attempt to claim the most prestigious trophy in all of soccer.
Here at Bookmakers Review, we provide the most insightful look into the Qatar World Cup. Please continue reading for our extensive breakdown of the World Cup odds, most valuable information, and a complete preview of this year's tournament.
---
2022 FIFA World Cup in Qatar: General Information and Format
The 2022 FIFA World Cup will maintain its traditional format, with 32 qualified teams going head-to-head in a group stage format. Group stage fixtures will see the 32 qualified teams across 8 groups compete against 3 opposing squads in their respective groups. 3 points are awarded for a win, 1 point for a draw, and 0 for a loss.
Once the group stage fixtures are complete, the top 2 teams from the 8 competing groups will qualify to compete in the Round of 16.
The 16 teams who've qualified from the group stage will be positioned in a single-game knockout stage that stems from the Round of 16 into the quarterfinals, semifinals, and the penultimate World Cup final matchup.
Similar to a playoff format, the winner advances, and the loser packs their bags and exits the tournament during this stage of the competition. Extra time and penalties will be utilized if a winner cannot be determined within 90 minutes during the knockout stage.
Group Stage: Monday, November 21 – Friday, December 2
Round of 16: Saturday, December 3 – Tuesday, December 6
Quarterfinals: Friday, December 9 – Saturday, December 10
Semifinals: Tuesday, December 13 – Wednesday, December 14
Third-Place: Saturday, December 18
Final: Sunday, December 19
Location: Qatar
Watching the 2022 World Cup in the United States: FOX Sports, Fox Sports 1, Fubo, YouTube
2022 FIFA World Cup Kickoff Times
Four games will play out each day during the 2022 FIFA World Cup group stage, and these fixtures will be scattered throughout the day. The only games that cross paths are those played during the final day of the group matches.
Most countries in the world will get the opportunity to watch games at a relatively decent time, but here's a breakdown of how the local kickoff times in Qatar translate to the US, Canada, and the UK.
---
What Is the 2022 FIFA World Cup?
The World Cup in soccer is a quadrennial tournament of 32 national teams organized and presented by the Federation Internationale de Football Association (FIFA). The competition determines the men's world champion of international soccer.
With billions of television viewers drawn to their sofas, the World Cup has long been the most popular competition in all sports.
Typically, the tournament is held every four years during the summer. However, due to the sweltering heat of the 2022 World Cup host, Qatar, the competition was moved to November/December. Domestic leagues such as the Premier League will be put on hold during the Qatar World Cup, a dubious move that will undoubtedly present European players with a challenge they've never faced in previous tournaments.
This 48-month gap between World Cup tournaments allows enough time for the qualification games and playoffs among national teams to play out. In addition, the four-year gap allows the hosting country enough time to plan the logistics of the World Cup and prepare for the millions of fans who plan to attend.
---
World Cup 2022 Odds
A plethora of odds are already available for the 2022 World Cup at some of the top-rated sportsbooks. But for those wagering on these betting markets, you must understand the difference between the group stage and the outright winner odds.
World Cup Group Stage Odds
Below you'll find the group stage future betting odds. These betting odds represent which teams are favored to win their group outright, and your bet will only be graded as a winner if the team you back places in 1st place of their group.
The above group stage odds will fluctuate and decrease between now and November, as sharp bettors will place their bets early to avoid a loss in value.
You aren't required to wager against the group stage winner, but if you're looking for value, they're usually some of the best markets to approach, as the single-game moneyline bets could present undesirable prices.
For example, when France is competing against Tunisia, you can expect odds of -500 and upwards.
World Cup Winner Odds
Bettors looking to predict the outright winner can find some generous World Cup futures odds:
The above odds represent which team you believe will lift the World Cup trophy on December 19, but you can alternatively put your money behind the best players and who you expect will score the most goals.
2022 FIFA World Cup Top Goalscorer Odds (Top 10 Prices)
Harry Kane (England) +700
Kylian Mbappe (France) +900
Karim Benzema (France) +1200
Cristiano Ronaldo (Portugal) +1200
Lionel Messi (Argentina) +1400
Neymar Jr. (Brazil) +1400
Romelu Lukaku (Belgium) +1600
Raheem Sterling (England) +2500
Diogo Jota (Portugal) +2500
Vinicius Junior (Brazil) +2500
---
Who's Competing at the 2022 World Cup?
World Cup Qualification Explained
Qualification into the World Cup is an extensive process – hence the four-year gap – that plays out during the years between each quadrennial competition.
The six confederations each determine its own qualification system that ultimately produces the teams representing each confederation's region. They are:
Europe
North America, Central America and Caribbean
South America
Asia
Africa
Oceania
World Cup Format Explained
The World Cup qualifying teams are separated into 8 groups, and they'll play 3 games before the group stage winner and the runner-up is determined.
The tournament is finalized with a single-elimination bracket (Round of 16), as the 16 teams who've placed first or second in their group will compete to reach the quarterfinals and then the semi-finals.
On December 19, the two teams who've successfully defeated every team in front of them will meet in the final to determine the World Cup champion.
---
Best Sportsbooks for the 2022 World Cup
Looking for the best sportsbook to supplement your 2022 World Cup wagering needs? Look no further. Our vigorously researched, highly-rated offshore sportsbooks provide some of the best value and most diverse World Cup betting selections available.
The aforementioned sportsbooks will provide US bettors with a varied selection of World Cup betting markets and various other sports such as the:
---
World Cup 2022 Betting Markets Explained
Outright group stage and Round of 16 betting predictions won't be the lone markets bettors can approach during this year's World Cup. Once the tournament kicks off, pre-game betting options on World Cup fixtures will become the most prominent approach for bettors.
The most popular single-game betting options are:
Moneyline
Handicap
Total Goals (Over/Under)
Draw No Bet
Correct Score
Halftime/Full-Time
Moneyline and Total Goals Combined
Double Chance
Player Props (goal scorers, players to receive a card, etc.)
Game Props (corners, throw-ins, bookings, etc.)
The markets above can be wagered on pre-game. Sometimes, live betting wagers can be made while the game is underway. In addition, you can always combine your selections for a parlay.
---
World Cup 2022 Top Contenders
Brazil to Win the World Cup (+450)
The most prosperous country in World Cup history returns to the competition following a historic undefeated qualification campaign. Brazil are the established favorites to win the World Cup 2022, as bookmakers believe the South American outfit will transfer their domineering qualification form to Qatar.
However, the Brazilians have struggled in recent World Cups, and despite winning the competition on five separate occasions – more than any opposing nation – they've failed to lift the trophy since the 2002 World Cup Final in Japan.
France to Win the World Cup (+600)
France are the defending World Cup champion and has earnt its place as a top contender in Qatar. A disappointing end to their Euro 2020 campaign witnessed an exit from the European competition versus Switzerland, but this can easily be rectified with consecutive World Cup successes.
When evaluating the squad quality of each nation, it's hard to argue against France owning the most elite squad. However, players don't win cups, teamwork does.
England to Win the World Cup (+550)
After reaching the Euro 2020 final with a robust defense and a tactical masterclass, the Three Lions are amongst the top-3 favorites to win the World Cup.
Most recently, England faltered in the Nations League competition. Still, despite this lackluster outing, sportsbooks believe the Englishman has a great chance at snapping their World Cup-winning drought that dates back to 1966.
---
World Cup 2022 Dark Horses
Portugal to Win the World Cup (+1200)
Cristiano Ronaldo has already etched his face onto the Mount Rushmore of soccer, but CR7 is likely looking at his final attempt to collect a World Cup trophy. One piece of professional soccer silverware that has evaded one of the most talented players of the last two decades is now within his grasp.
With the likes of Bernardo Silva, Bruno Fernandes, and Diogo Jota alongside the Manchester United star, Portugal's chance of cashing a +1200 ticket and winning the World Cup isn't an unlikely outcome.
---
World Cup 2022 Futures Odds Markets
Future bets are widely popular in the United States, which won't differ during the 2022 World Cup competition.
These long-term wagers often center around a team/player the bettor (you) believes will win the tournament they're competing in. Unlike single-game wagers, future bets require multiple successes, but lucrative betting odds represent the difficulty level.
Currently, there are several 2022 World Cup future betting markets:
World Cup Winner
Team to Reach the Final
Team to Reach the Quarterfinals
Team to Reach the Semi-finals
Group Stage Winners
Group Stage Qualifiers
Top Goalscorer (Golden Boot)
---
Is France a World Cup 2022 Favorite?
Following their success at the 2018 World Cup in Russia, the defending World Cup champions are naturally a favorite to win the 2022 edition in Qatar.
Most bookmakers have France listed as a second or third favorite – behind Brazil and England – and should they conquer this year's tournament, they'll become the first team - minus Pele - since the 1962 squad of Brazil to retain the World Cup trophy.
Interestingly, France and Brazil faced off 24 years ago in the 1998 World Cup final. If both teams succeed in their Qatar 2022 group stages, there's a strong chance of that happening again.
---
USMNT World Cup 2022 Qualifying Roster
Qualifying teams haven't announced their 23-man (or 26) rosters they'll be taking to Qatar, but more than several US players are guaranteed to make the trip. And one of them is their star front-man, Christian Pulisic.
The Chelsea No. 10 has flourished in Europe and will be one of the biggest threats to the opposing teams of Group B.
Christian Pulisic (Chelsea)
Weston McKennie (Juventus)
Gio Reyna (Borussia Dortmund)
Tyler Adams (RB Leipzig)
Brenden Aaronson (Leeds United)
Tim Weah (Lille)
Kellyn Acosta (LAFC)
Yunus Musah (Valencia)
Walker Zimmerman (Nashville SC)
Antonee Robinson (Fulham)
Sergino Dest (Barcelona)
Zach Steffen (Manchester City)
Matt Turner (New England Revolution)
Outside the potential of injury, the thirteen men above will be going to Qatar, as their talent speaks for itself. The other (10 or 13) squad positions are up for debate, but overall, the US is working with some serious talent.
---
Qatar World Cup 2022 Conclusion: From a Betting Perspective
The most simplistic approach to organizing your World Cup betting predictions is by utilizing our wide selection of betting odds here at Bookmakers Review.
Whether looking for single-game odds, future odds, or the latest betting markets, BMR provides a comparative price chart with an easy-to-use navigational web page and direct links to the best available World Cup 2022 odds.
---
World Cup 2022: Frequently Asked Questions
Is It Legal/Better to Wager at an Offshore Sportsbook?
Offshore sports betting is a legal and more viable option for anybody looking to place wagers. The online sportsbooks found here at Bookmakers Review provide safe, reliable, and trustworthy options to wager on the 2022 World Cup and a broader range of sports.
It's entirely legal to sign-up with an offshore sportsbook, and you're likely to receive greater odds in the meantime.
What Are the Best Offshore Sportsbooks to Bet on the World Cup?
Bookmaker, Heritage Sports, BetOnline, and Bovada are a handful of the most notable offshore sportsbooks to bet on soccer. They deliver a diverse selection of betting markets, a wide array of bonuses/promotions, and some of the best-priced odds on the World Cup.
With that said, you can find endless trustworthy and reliable offshore sportsbooks here at Bookmakers Review. Simply navigate your way to our World Cup odds page.
Can I Use Cryptocurrency to Bet on the World Cup?
Simply put, yes. Most of our offshore sportsbooks provide customers with an option to deposit and withdraw using cryptocurrency.
Crypto such as Bitcoin is the simplest banking option, and you'll stumble across lucrative bonuses, promotions, and benefits for choosing a digital currency depositing method.
What Is the Three-Way Line in Soccer?
Unlike many American-based sports, soccer presents three different outcomes in a game – home win, draw (tie), or away win. When betting with a three-way moneyline market, you'll have three options at hand.
For slightly lower value, bettors can use the "draw no bet" market, which ultimately removes the tie, and you'll be wagering for either team to win. Should the game end in a tie, bets are pushed, and bettors will receive their initial stake.
Are There Ties in the World Cup Games?
A tied game (draw) is entirely possible in a World Cup game. Should a game finish as a tie in the group stages, each team will receive 1 point.
However, a knockout stage game will deliver an added 30 minutes of play – known as extra time. A penalty shootout will determine the winner if the two teams are still tied after extra time.
How Does a Team Win the World Cup?
Teams must qualify in 1st or 2nd position of their World Cup group to advance into the tournament's knockout stage.
Four games remain in the knockout stages (Round of 16, Quarterfinals, Semifinals, and the Final), and a team must be successful in all those meetings to be declared the World Cup champion.
Is the Next World Cup in the US?
The FIFA World Cup competition takes place every four years, with different country/countries hosting the event each time. The 2022 edition of the World Cup is set to take place in Qatar.
Once the four-year wait has passed, North and Central America will host the 2026 World Cup as the United States, Mexico, and Canada has been confirmed as the official hosts.
What's the Time Difference Between the US and Qatar?
A time frame of eight hours separates Qatar and the Eastern Time zone in the United States, with an 11-hour gap presented for Pacific Time zones.
All USMNT World Cup group stage games will kickoff at 02:00 PM EDT to supplement US fans.
What Team Has Won the Most World Cups?
Brazil has won more World Cups than any other nation, taking the honors on five occasions.
Italy and Germany have won the competition on four occasions.