Oklahoma Horse Racing Betting – Comparing the Best Horse Racing Betting Sites in Oklahoma 2023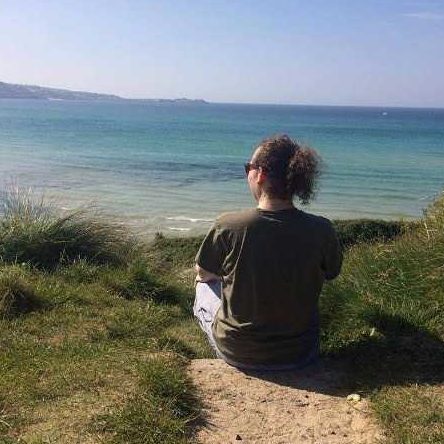 David is a freelance sports journalist who comes from West Midlands. He specializes in sports content, both written and visual. With an impressive record in pre-fight predictions, David is quickly becoming recognized in his field for his in-depth fight analysis and impressive contender & fight history knowledge.
Oklahoma and horse racing go hand-in-hand, like sweet tea and a scorching hot summer's day. With three horse racetracks in the Sooner State, the locals are well-acquainted with the horse industry and the practice of wagering on horse races.
That said, times are changing, and as we move deeper into a digital world, horse racing enthusiasts are stumbling across more accessible options for horse racing betting at offshore sportsbooks and betting sites. Betting on horse racing in Oklahoma is shifting away from wagering at tracks and towards online horse betting instead, and we've found ten fantastic sports betting sites you can use all year round if you're located in the state.
We've put together a detailed guide covering several Oklahoma horse racing betting topics. From the best horse racing betting sites in OK, horse industry history, current gambling laws, and specific details highlighting the best options for horse racing betting online.
Attending land-based horse racetracks in the Sooner State isn't for everyone, but we have you covered, starting with the top 10 online betting sites for horse racing markets in Oklahoma.
The Best Oklahoma Sportsbooks in 2023
Oklahoma Betting Guides
If you would like to find out more about the top Oklahoma betting sites or you want to learn how to get started with one of the state's other online betting markets, we suggest checking out our respective pages on those topics.
Ranking the Top 10 Betting Sites for Horse Racing in Oklahoma
Reviewing the Best Oklahoma Horse Racing Betting Sites
The top 10 horse racing betting sites in Oklahoma highlighted above have been selected by our dedicated experts. However, we'll now look closely at the best four operators in the horse racing betting business.
These offshore sportsbooks that provide horse racing betting in OK have been carefully studied to meet the highest of standards, thus reaching our top-rated list. So, if you're still looking for the best Oklahoma horse racing betting sites, you will enjoy the reviews below.
1. Bovada: The Best Online Racing Betting Site in Oklahoma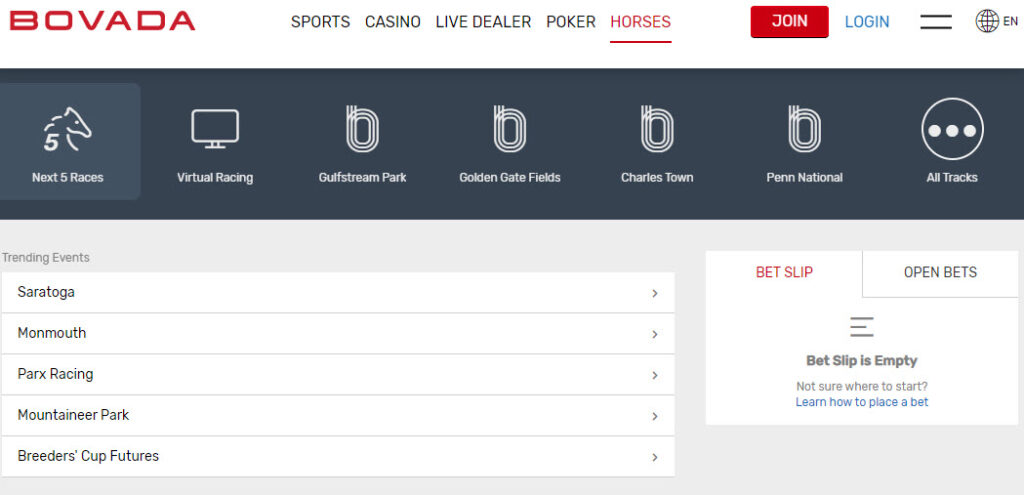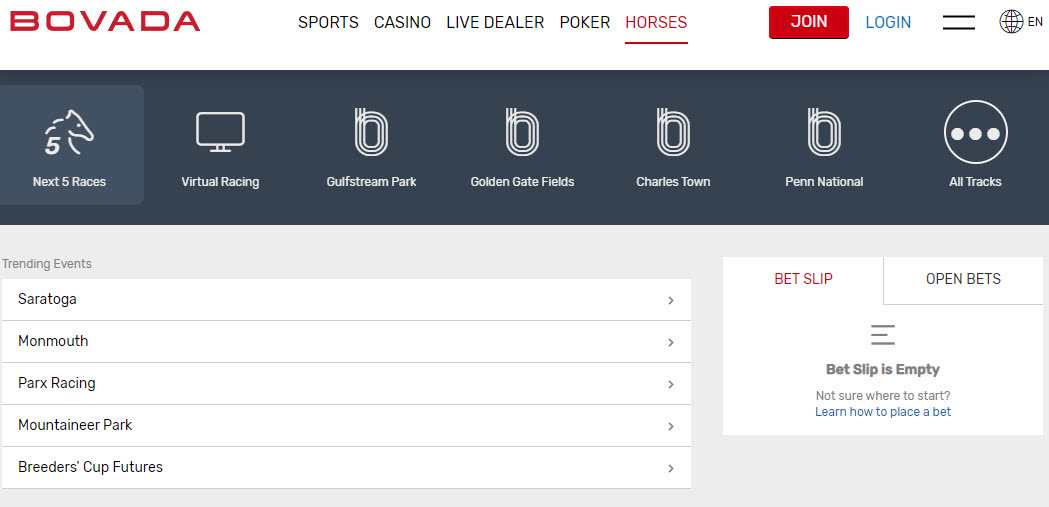 When discussing the top brands in the gambling industry, you'll often hear Bovada enter the conversation, so it should be no surprise that they're topping our list regarding the best online racing sites in OK. Our experts believe that Bovada is an outstanding racebook, and the competitive betting lines really set them apart from the competition.
While they offer international horse betting, Bovada excels at providing U.S. racing and top-tier coverage on the North American market. Furthermore, they offer promotions and bonuses focused on horse racing, such as enhanced odds and cash-back offerings. These promos can give bettors a 5% rebate on exotic wagers and a 3% rebate on single bets.
With more than 60 U.S.-based horse racing markets available, Bovada's deliverance in North American horse betting is unmatchable. And they aren't just a one-trick pony, as you'll find an excellent sportsbook and a well-respected online casino.
Pros:
Early betting lines
$1,000 welcome bonus and lucrative rebates
More North American racing markets than most
Mobile-friendly website
Virtual racing
Cons:
Betting limits can be lower than rivals
2. BetOnline: A Well-Established Racebook with Horse-Specific Features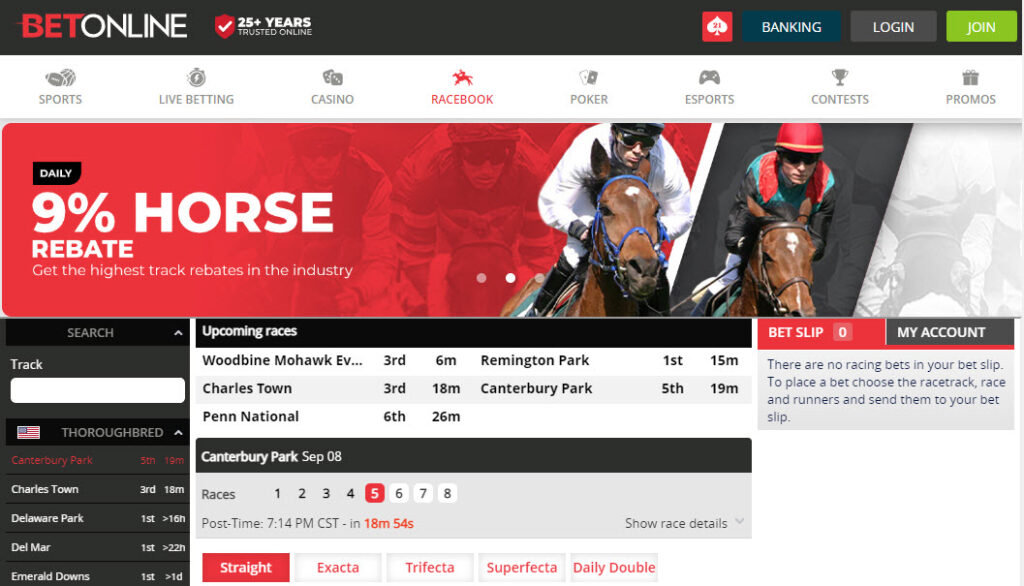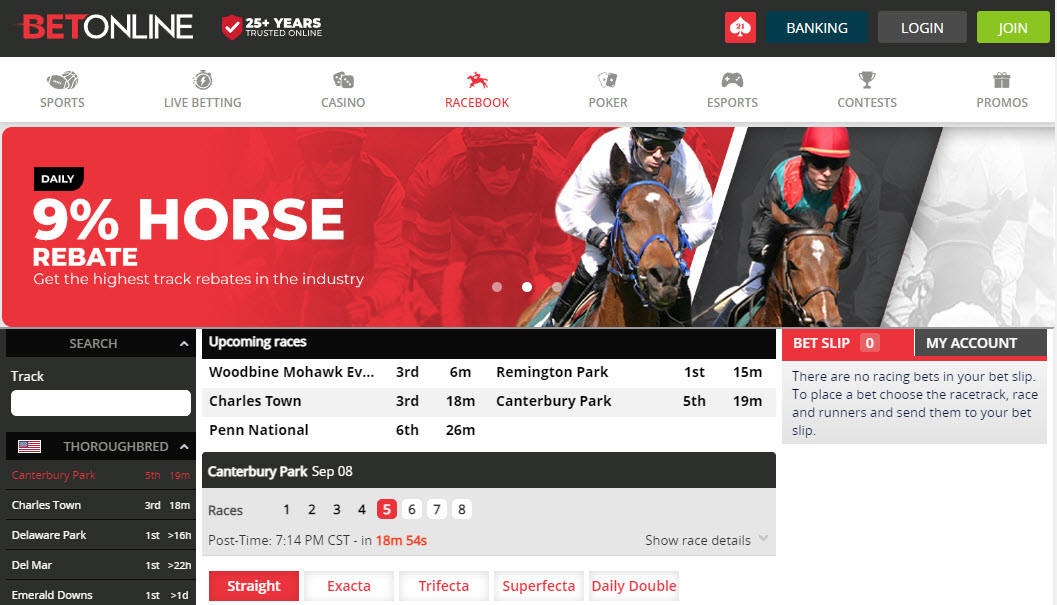 BetOnline is the king of online gambling sites, and their strong reputation for providing elite betting services translates to the horse racing on offer. The site is filled with horse-specific features that guide you toward horse-related promotions. One of their feature tools is the classic section, which allows customers to track five races in one session.
With decades of experience in the business, BetOnline has kept on top of its technical network. Their mobile betting is excellent, and the website works flawlessly on desktop or mobile devices. Boasting more than 600 racetracks worldwide, BetOnline become a highly respected online Oklahoma horse racing betting site.
Oklahomans looking for a reputable and trustworthy racebook, sportsbook, and casino have found a diamond in the rough with BetOnline. Behind an excellent live betting service and the ability to stream live events, they also allow legal online horse racing betting in Oklahoma.
Pros:
Great selection of international races
$25 free bet at the racebook
Excellent handicapping tools
Professional interface & layout
Cons:
Fees for credit card deposits
3. Bookmaker: Fast Payouts & High Betting Limits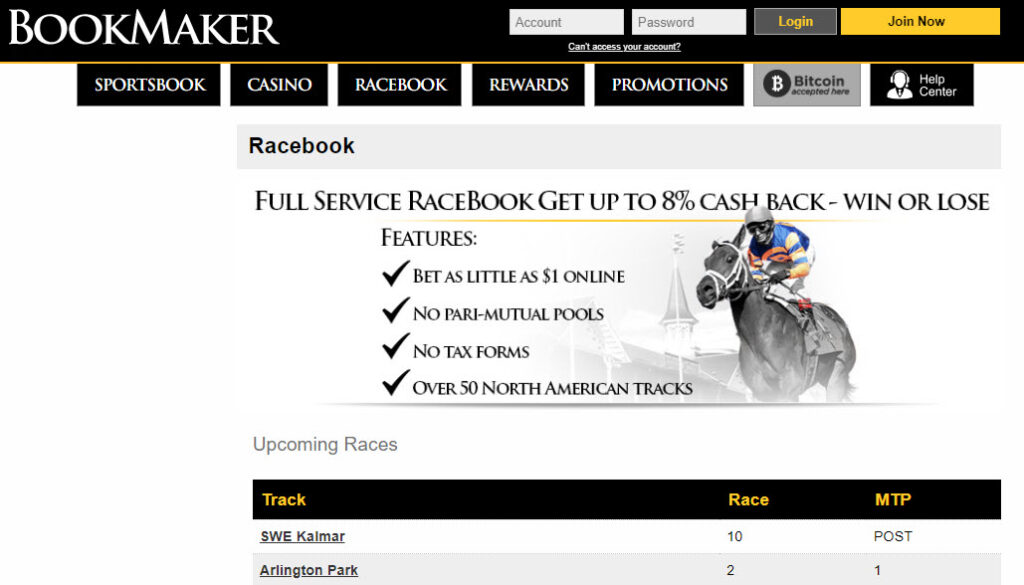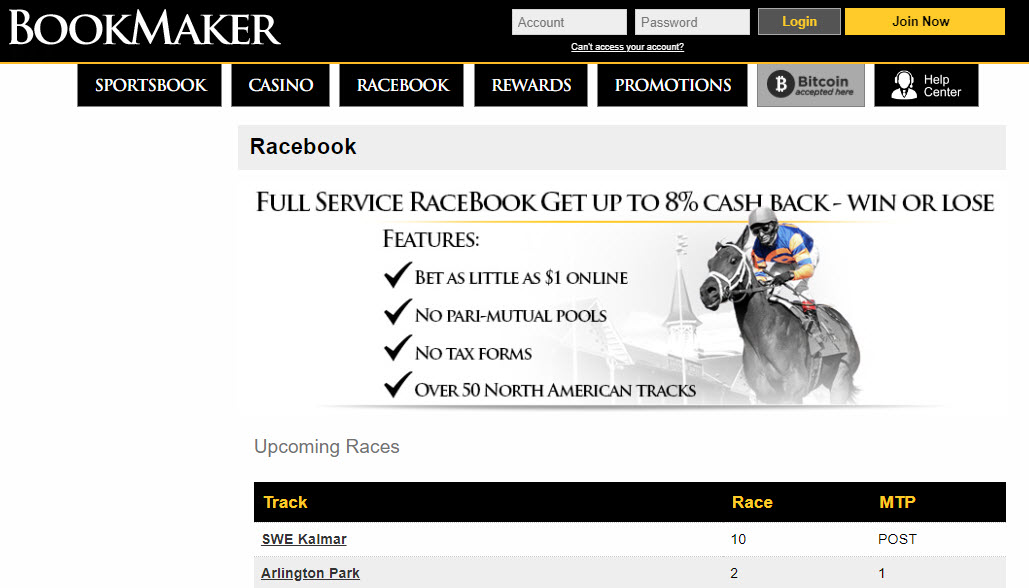 More than two decades of experience in offering Oklahoma customers a reputable betting service is why Bookmaker.eu will forever be a top-five-ranked operator. Their racebook provides more than one hundred tracks to bet on, both international and local, and of course, they present some of the highest betting limits in the business.
Bookmaker is reaching its 30th anniversary in providing horse racing betting, and they've garnered a detectable level of respect for their pony offerings. Whether you want to wager on the Triple Crown or the Kentucky Derby, you'll know that Bookmaker will provide some of the sharpest lines and early odds.
Most sportsbooks/racebooks will have 40-80 horse racing tracks available to bet on, but at Bookmaker, you'll find more than 100 North American tracks, which doesn't include their international markets. Our expert reviews cannot stress how pleased the horse racing betting community made use of this site; you'll find countless top ranks from all of the leading racebook reviewers that have utilized the services at Bookmaker.
Alongside the plethora of Oklahoma horse racing events, new customers will love the sign-up bonuses and the regular promotions offered to loyal users. They constantly pay out winnings in full and on time, so the Bookmaker racebook is a perfect choice for Oklahoma bettors looking for a trustworthy site that provides horse racing betting.
Lastly, and to some, the most important, Bookmaker has a reputation for being the home of sharp bettors. The site's extremely high betting limits have drawn professional handicappers' attention over the years, as they'll never limit or remove the account of a winning bettor. In conjunction with the various positives, this no-ban policy has already highlighted Bookmaker and made them one of the best racebooks in OK.
Pros:
High betting limits
Rebate on racebook wagers
Decades of experience
Fast-released horse betting lines
Cons:
Professional bettors can't use the loyalty program
4. Heritage Sports: Excellent Live Betting & High Horse Racing Betting Limits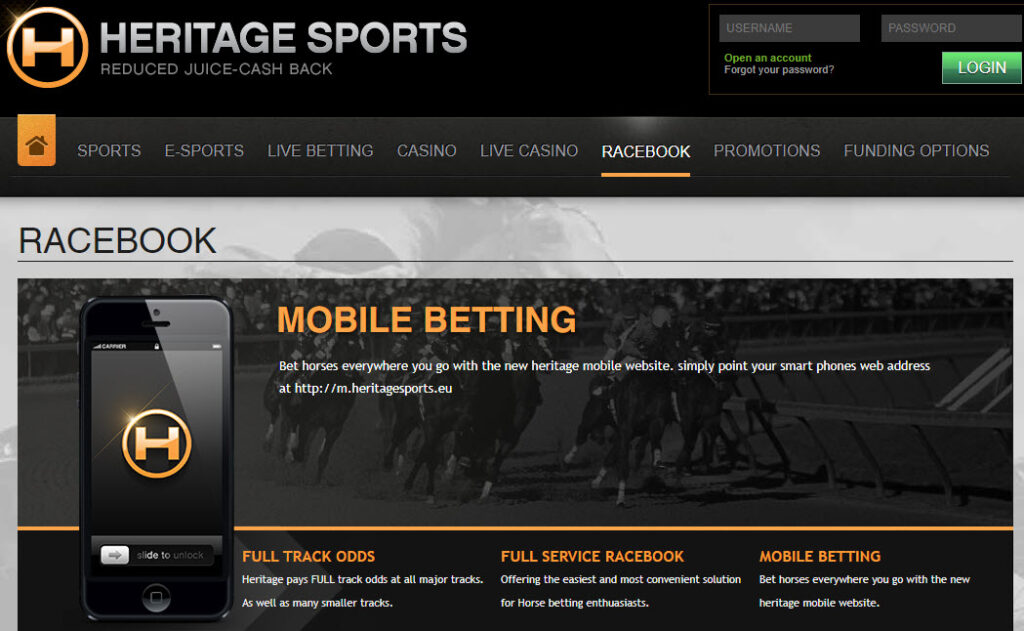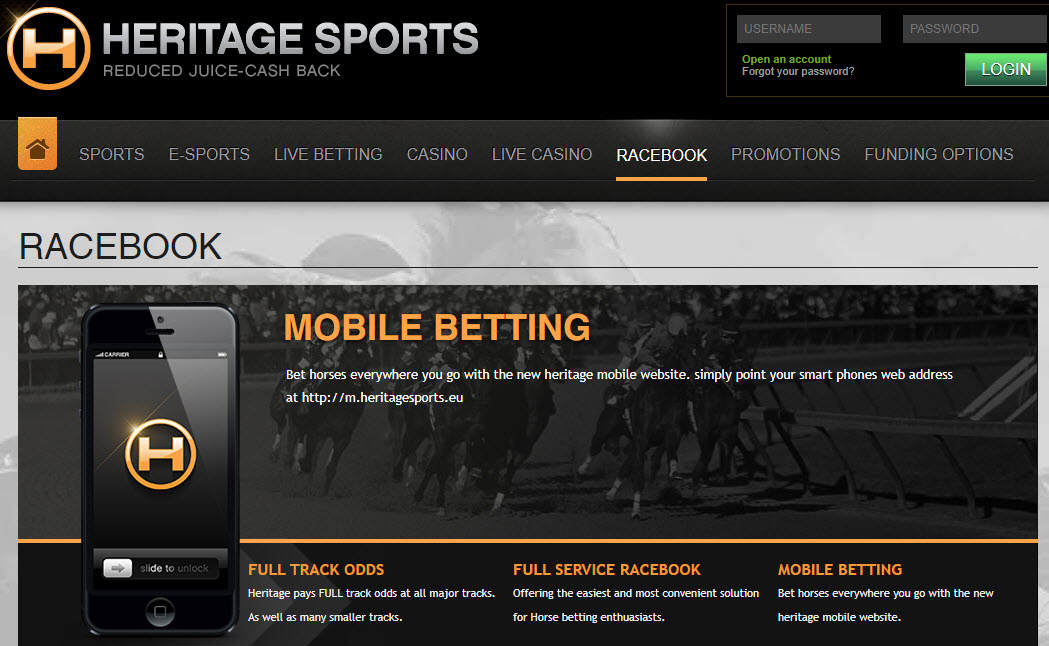 Online Oklahoma horse racing betting sites can rarely match the $1,000 to win, place, and show betting limit that Heritage Sports has on offer. And while they limit exotic betting limits to $200, it's usually a wise choice to keep low probability wagers with an equally low stake.
Our expert team has rated Heritage Sports with an A+ rating because of the overall services they offer. In addition to an excellent sportsbook and casino, they've gained deserving respect for their racebook offerings.
Heritage Sports is known for delivering competitive odds throughout its vast selection of sportsbook markets, and their horse racing betting odds don't differ. Bettors looking for a complete bookmaker that gives a perfect online horse racing betting site shouldn't look any further. Racebook rebates, a simple-to-use platform, and live betting services should also sway your vote.
Alongside its deep sports betting markets, Heritage Sports presents more than 60 thoroughbred and harness racetrack betting markets to keep its racebook lively and full of choice. With no less than 16 significant racetracks, other online horse racing sites struggle to compete with Heritage Sports and its extensive racebook.
Pros:
Racebook rebates
Live betting services
Simple-to-navigate racebook platform
Excellent promotional offers
Cons:
Restricted to U.S. and Canadian residents
Sign-up bonuses aren't as significant as some rivals
Comparing the Best Sites for Horse Racing Oklahoma has to Offer
Our experts here at Bookmakers Review aim to carefully study each horse betting site available to Oklahoma residents and compare them to one another, thus leaving us with a list of top-ranked sportsbooks that provide the services you desire to a high standard. The best method to achieve this goal is by factoring in each site's crucial features and testing them in our evaluation.
Below, you will find a list of features that determine which horse racing betting sites in Oklahoma deserve a top-rated ranking and how we reach our conclusion on the top-ranked operators. The most notable features that most OK horse racing sites should offer can be found below, and if the operator checks the box, it becomes a more straightforward comparison process.
Horse Racing Odds
Naturally, our experts often begin by reviewing the available odds to ensure they provide customers with the best available value. And when it comes down to online Oklahoma horse racing betting site odds, Bovada and BetOnline often stand tall above the competition.
When studying the horse racing markets, BetOnline would regularly excel in providing the best-priced odds throughout the industry, especially in the U.S. horse racing markets, where they offer consistently low margins on their wagers.
And then, Bovada has shown to provide the best odds on the underdogs. Bovada matched many prices for favorites, but they notably offered exceptionally higher-priced odds outside the events betting favorites.
Horse Racing Betting Markets
All of our top-rated sites for wagering on horse racing in Oklahoma present an abundance of betting markets every day, and you'll rarely find it challenging to find our respected racebooks that aren't providing available bets on the following:
Win
Place
Show
Exacta
Quinella
Trifecta
Superfecta
The best sportsbooks in Oklahoma will cover all of the critical betting markets and some niche ones too. Exacta, trifecta, quinella, daily doubles, and Pick 3,4,5 and 6 are readily available from our offshore providers in most national and international horse racing betting markets.
Horse Racing Betting Promotions
Who doesn't love a welcome offer? Well, as you may know, most horse racing betting sites will offer welcome bonuses and promotions. Still, we love horse racing-specific promotions because they focus entirely on the horse racing bettors.
Our experts concluded that BetOnline is one of the best horse racing betting sites in Oklahoma, with the best promotions and online sports betting welcome bonuses. You can get some considerable money, with a matched deposit bonus of up to $1,000, rebate offers, and risk-free horse promotions. However, Bovada, Heritage Sports, and Bookmaker provide some equally tempting online horse betting bonuses as well.
Choosing the Best Oklahoma Horse Racing Betting Sites
As the gambling industry continues to proliferate, we understand that finding an operator that best suits your needs isn't easy. So, we've highlighted some of the most critical traits of our top-rated sites, which we believe are the most important to consider when choosing the best site for wagering on horse racing.
Brand Recognition
The world's most successful businesses throughout countless industries require brand recognition, and none of our recommended Oklahoma horse racing betting sites falter in this area.
Trust is the firm belief in the character, ability, and strength of something or someone, and for sportsbooks or gambling sites to enter our top-rated list, they must deliver honest and transparent services. The sites we've recommended in our guide have had brand recognition attached to their company for countless years.
Payment Methods
The most reputable Oklahoma horse racing sites will give their customers multiple options regarding payment methods and online transactions. Behind the well-established banking options comes confidence when placing online wagers. Some OK horse racing betting sites have different payment methods, which require fees, so it's crucial to do your research to ensure you find the banking methods that you need.
Safety & Security
When our experts research the security of a particular betting site, they consider such things as SSL certificates and official licensing. While offshore sportsbooks cannot be granted licensing in the United States, all our recommended Oklahoma horse racing betting sites will own a license in their respective country of origin. If the previously mentioned information isn't available to the public, you should question if the site is legitimate. However, you can rest assured that our top-rated OK betting sites are secure, safe, and have undergone thorough evaluation.
Speed & Design
Online wagering requires dedication from the operator to ensure they deliver a fast website with a user-friendly design. Speed and innovation are imperative to the overall experience of online betting, which is essential for horse racing events. For this reason, our experts will only recommend sites that can perform optimally without lag, have an attractive interface, and have a simple-to-use platform.
Customer Service
Complications can arise when using any online service; sometimes, we all require a little help during our online gambling tenure. And that's why we look for Oklahoma horse racing betting sites that deliver top-notch customer service. When evaluating the customer service of our top-rated online betting sites, we tested their response time and the ability to deal with the issue at hand.
Overall Value
There are many excellent online Oklahoma horse racing betting sites to choose from, but it's also essential to understand the pros and cons of each operator.
Is horse racing betting legal in Oklahoma?
Licensed horse racing is entirely legal in Oklahoma; this form of gambling was first legalized in 1983. Bidding race fans can bet on pari-mutuel wagering, off-track betting, and interstate wagering. Oklahoma is the home of three horse racing venues: Remington Park, Will Rogers Downs, and Fair Meadows at Tulsa.
The Oklahoma Horse Racing Commission fully supports horse breeding and continuously provides services and help to assist the growth of live racing.
Oklahoma Horse Racing Betting Guide – How to Bet on Horse Races in Oklahoma
Residents of the Sooner State can make their way to one of the state's racetracks and place wagers in person. Alternatively, you can your horse racing bets online with one of our top-rated sportsbooks.
How does horse racing betting work in Oklahoma?
If you're new to horse racing betting in Oklahoma, don't worry; placing your first wager is simple.
First, pick one of the top-rated online horse racing betting sites mentioned in this guide, register an account, and then head to the extensive selection of horse racing markets found on the site.
Once you've decided which race you'd like to bet on, you'll have the option of choosing which type of bet you want to place. Win, place, and show are the most common, but you might enjoy betting on exacta, trifecta, or superfecta.
What are the different types of horse racing bets?
Each horse racing event will have various bets you can wager on. Below we've highlighted the most popular bets you'll find at Oklahoma's top-rated horse racing betting sites.
Win
A straight win is the most popular horse racing bet, and you simply pick the winner of the race. If your horse wins, so do you.
Place
A place wager will win if your horse places in first or second.
Show
You can also bet the horse to places first, second, or third. In this case, The odds are diminished but your probability of winning increases.
Exacta & Quinella
You can also predict the first and second place in a race. Exacta wagers require you to give the exact order. Meanwhile, a quinella bet allows you to choose the two finishing horses without the precise order.
Trifecta
It's the same idea behind an exacta but a trifecta prediction involves the top three horses that cross the finishing line. Again, you need to predict the exact order in which the horses finish.
Superfecta
The superfecta is the exact same thing as a quinella or trifecta but in this case, you have to choose the top four horses in the exact order.
Daily Double
Known as a double pick, certain tracks will allow you to choose the winning horse for two consecutive races. This last aspect is mandatory.
Pick 3/4/5/6
A parlay of predictions that cover the winners for three, four, five, or six consecutive races.
The History of Horse Racing in Oklahoma
1899: Yorktown Racecourse began to hold weekly races.
1912: The Oklahoma State Fair installed pari-mutuel machines.
1915: The Anti-Racetrack Gaming Law was upheld in court.
1915/1916: The Oklahoma State Fair and Muskogee State Fair resumed.
1920's: Support for horse racing began evolving.
1960's: The state's first pari-mutuel facility, The Blue Ribbon Downs, opened.
1993: The Oklahoma economy was significantly impacted by horse racing, with more than $51 million.
2015: Three pari-mutuel wagering racetracks continue their operations.
Comparing Betting at the Racetrack with Online Horse Racing Betting
Wagering at a local Oklahoma horse racing track is an entirely different experience compared to online betting. At the race track, bettors can use the simulcast machines that provide a vast selection of betting sites; however, you'll receive one fixed price that won't decline or fluctuate.
On the other hand, online horse racing betting allows bettors to shop for the best available price, thus giving customers a chance to make higher profits. You will be able to access major events from all over the world, as well, whether you want to wager on races at Remington Park or Churchill Downs.
Oklahoma Horse Racing Betting Apps
All of our top-rated offshore horse race betting sites offer mobile-optimized versions of their websites so their customers can enjoy mobile horse racing bets on the go in Oklahoma State. Online horse race betting is already convenient, but being able to enjoy it on your mobile device provides even more flexibility. Additionally, you can enjoy numerous different bet types and betting markets with each of these sites, including online slot machines, wagering on sports and niche betting markets in addition to wagering on horse races.
Other Types of Gambling in Oklahoma
Along with pari-mutuel betting being legal, tribal casinos are legally allowed to operate and provide casino gaming in Oklahoma on tribal land. You'll also find bingo, charitable games, card rooms, and raffle prizes.
But the best gambling option for those 18 years or older is to place real money bets at one of our top-rated Oklahoma betting sites. You'll find racebooks, sportsbooks, and online casino gambling, with the ability to partake in these gambling activities from any desktop computer, laptop, or mobile device.
What is the best site for horse racing betting in Oklahoma?
The options for online Oklahoma horse racing betting are endless, but we suggest you select one of our top 10 rated operators found in this guide. If we were to choose the best place to spend our money, Bovada and BetOnline often separate themselves from the competition with competitive odds, early betting lines, low margins, excellent welcome offers, and an overall pleasing experience while using their platform.
FAQs – Online Horse Race Betting in Oklahoma
Can you bet online in Oklahoma?
You can bet online by using an offshore online sportsbook. There are multiple forms of gambling available through the best offshore sites. You can not currently bet online with a state-regulated site due to the state's gambling laws.
Can you bet on horse racing in Oklahoma?
Yes, horse racing betting in OK is legal, though it is limited to one of the three land-based racetracks.

Online Oklahoma horse racing betting isn't legal, but residents of the Sooner State can use one of the many highly reputable and trustworthy offshore sportsbooks to place their online horse bets.

You can bet real money on a range of races across North America and all over the world, but you can also use these online sportsbooks to access other forms of gambling online. You'll also find online sports betting and online casino games.
What is the best site to bet on horse racing?
All of our top-rated offshore websites are excellent choices, but if our industry experts had to narrow it down to a single site, it would have to be Bovada.
How do I bet on horse racing online?
All you need to do is sign up with the offshore site of your choice, verify your identity, fund your account and then start placing wagers on your favorite horse races.
Are there horse races in Oklahoma?
Oklahoma State is the home of three excellent horse racing facilities, each providing unique features and each supported by the horse racing community in their respective areas:

-Remington Park
-Blue Ribbon Downs
-Fair Meadows
What is the big horse race in Oklahoma?
Remington Park is one of the most notable racetracks in the Sooner State. This track holds the Oklahoma Derby, a Grade III American Thoroughbred horse race for three-year-olds, run over a distance of 11/8 miles on the dirt.

It's an annual event and the most major race in the Oklahoma horse racing schedule. It takes place every September in Oklahoma City with a purse of $400,000.
Can you bet on the Kentucky Derby in Oklahoma?
You can bet on the Kentucky Derby in Oklahoma State by using an offshore gambling site or offshore mobile app under the state's online gambling laws.