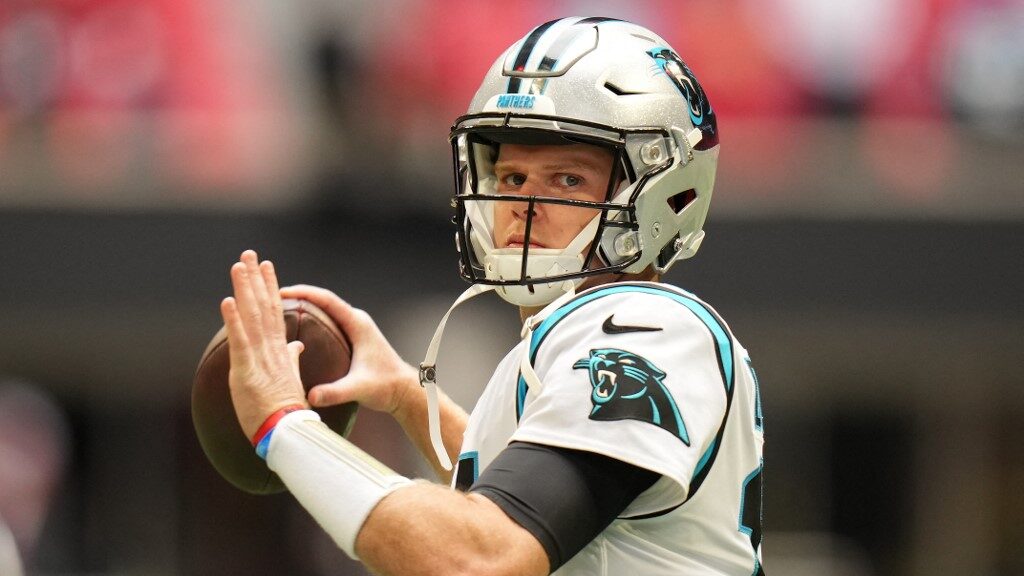 Nothing new here as the Carolina Panthers are still actively searching for their long-term QB answer.
Sure, they drafted Matt Corral out of Ole Miss in the 2022 NFL Draft, however, he has at least a year to learn the ropes before he takes over as QB1.
That leaves the Panthers stuck with Sam Darnold in the role, for now.
Does Matt Rhule Trust Sam Darnold?
Just because the rookie might not be "ready" to start in year 1 does not mean he won't try to win the job.
In fact, Darnold's starting position isn't safe, despite head coach Matt Rhule saying he would pick Darnold over Corral if he had to today.
"If we played today, Sam would be our quarterback," Rhule told The Charlotte Observer. "Sam's job is to take the next five weeks to make sure he shows up in Wofford better than he is right now. He said to me yesterday how good he feels footwork-wise in the offense. He's got to improve when he gets to training camp, and he has to do it with the pads on when people are trying to knock you down."
How Did Darnold Play Last Season?
Darnold ended the 2021 season ranked 29th among all QBs
He had a 71.9 passer rating and a 33.2 total QBR.
He completed only 59.9% of his attempts.
He had 9 touchdown throws to 13 interceptions.
The Panthers have been linked to trading for San Francisco 49ers' Jimmy Garropolo or Cleveland Browns' Baker Mayfield but seem to not be in such a hurry, giving Darnold some more time to prove himself.
What to Expect From Darnold for Next Season
Darnold, a former 2018 pick, is known around the league to be one of the quieter QBs.
However, things have changed this offseason as he's shown up to minicamp and OTAs with a more of a chip on his shoulder, according to Sports Illustrated's Schuyler Callihan, who has been present in the media conference room.
Darnold's Mindset
"I think I try to come with that mindset every offseason," Darnold said when questioned about his new demeanor. "I try to have an edge, a certain focus about me. It's not because of a situation or what have you, it's just the mindset you've got to have coming into OTAs and trying to get everything right with the new system and trying to feel out personnel. I'm just trying to feel it out and have a great attitude about it."
After a rocky 2021 season, things aren't going to get any easier for Darnold. He has been tasked with having to grasp a new offense this offseason under new offensive coordinator, Ben McAdoo and must block out the trade noise if he wants to keep his job.
Darnold's Confidence
Despite everything, Darnold remains confident in himself––very confident.
"It really starts with just understanding the offense, understanding the defense and really going out there with the confidence that as long as I know what we're doing, what the defense is doing, I'm confident I can be one of the best quarterbacks in the league. Right now it just comes with preparing, understanding the system and really making sure I got it down."
Darnold's Footwork Improvement
Aside from learning a new system, the biggest thing for Darnold this offseason has been working on his footwork, which he said was too "chaotic" last year.
In fact, Rhule has already even taken notice of his footwork improvement.
"I think he's bought into Ben's way of doing things and I think you see a calmness to him," Rhule said. "To your guys' point, there's no rush. There's no 300-pound gut trying to tackle him. But from a technical aspect, I think you see development happening with him which is important."
Conclusion
Could this "new and improved" Sam Darnold be the Panthers' answer at QB1? Well, it looks like he'll get a shot come Week 1 but it'll be up to him if he wants to remain the starter.