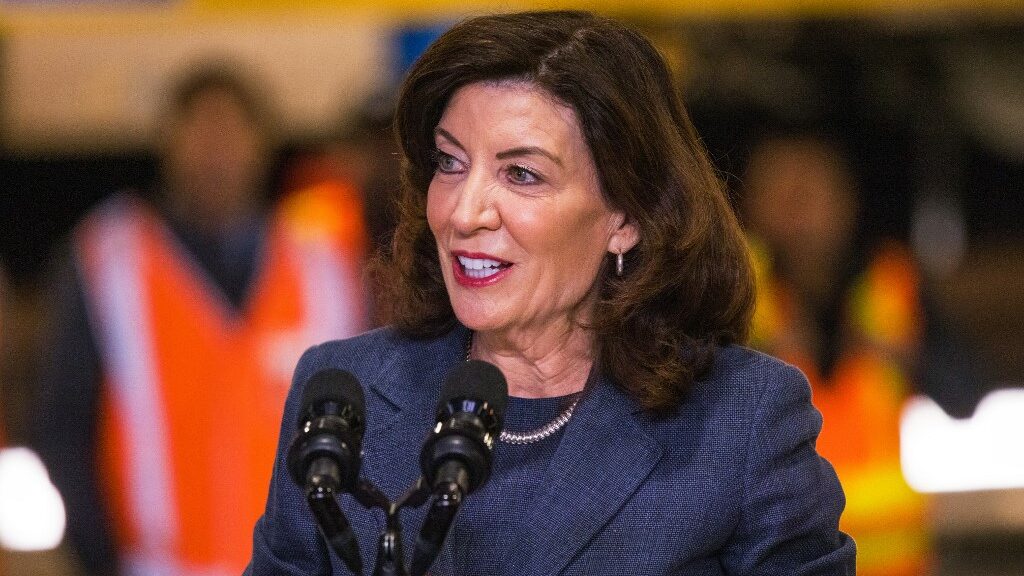 The Big Apple has already taken a big bite out of the sports betting industry. Now, New York lawmakers are focusing on the potential that casinos and icasinos could bring.
In two major developments, New York Governor Kathy Hochul announced that she wants to start diverting some of the money the state collects from casinos to New York City's Metropolitan Transit Authority (MTA), which is still reeling in the wake of the pandemic.
Meanwhile, hoping to capitalize off of the success of mobile sports wagering in New York, lawmakers and industry leaders are already looking ahead to what could come next —internet casinos.
---
New York May Divert Casino Money to MTA
Governor Hochul calls New York City's transit system the "lifeblood" of many New Yorkers. She says that if it's not addressed now, it won't be looked upon favorably by future generations. So, the three legs that make up the basis of her plan are as follows.
Increase the MTA payroll tax. This is a controversial move on her part because the tax is applied to all New York City and suburban employers downstate. It would generate $800 million each year, but trickles down to employees.
She will push City Hall to contribute another $500 million annually. The money would be used to help fund the MTA's Access-a-Ride service for the disabled and discounted student fares.
Diverting the bulk of the $1.5 million that will come from the sale of three new casino licenses to MTA. She's also promising the MTA a cut of future tax revenues.
Governor Hochul's budget includes an immediate booster shot for MTA as well, in the form of a one-time injection of $300 million to further stabilize the agency's finances this year.
One major hurdle she may have to climb to get it all done—it may take changing a state law, which stipulates that 80% of proceeds from casinos must go toward education programs. She says her office is already exploring its options.
---
iCasinos May Be Next Big Industry to Take Over New York
Also keeping their eyes on the future, when it comes to gaming in New York City are lawmakers and industry leaders who see online casinos as the next big revenue generator throughout the state.
During a nearly three-hour session, which was organized by Senator Joe Addabbo and Assemblyman J. Gary Pretlow —the chairs of the two state legislative bodies' gaming committees— the issue of allowing slots and other casino games for mobile devices came up repeatedly.
That's partly because New York has been leaking tax money to the surrounding areas that already have iCasinos, like New Jersey, Pennsylvania and Ontario.
A New Bill Enters the Game
But before the state can reap the revenue rewards that iCasinos have the potential to generate, New York legislators must first approve iGaming.
Pretlow introduced a bill, A3634, that would permit retail casinos to partner with two websites. This could potentially create as many as 14 internet casinos.
The idea is already getting support from Jason Robins, the CEO of DraftKings, and Christian Genetski, the president of FanDuel.
The Future of Internet Casinos in New York
Even though Pretlow's most recent bill might not be the one that brings iCasinos to New York, many feel it's only a matter of time.
The revenue potential may simply be too compelling to pass on the opportunity. Addabbo says another committee hearing will be held soon.
---