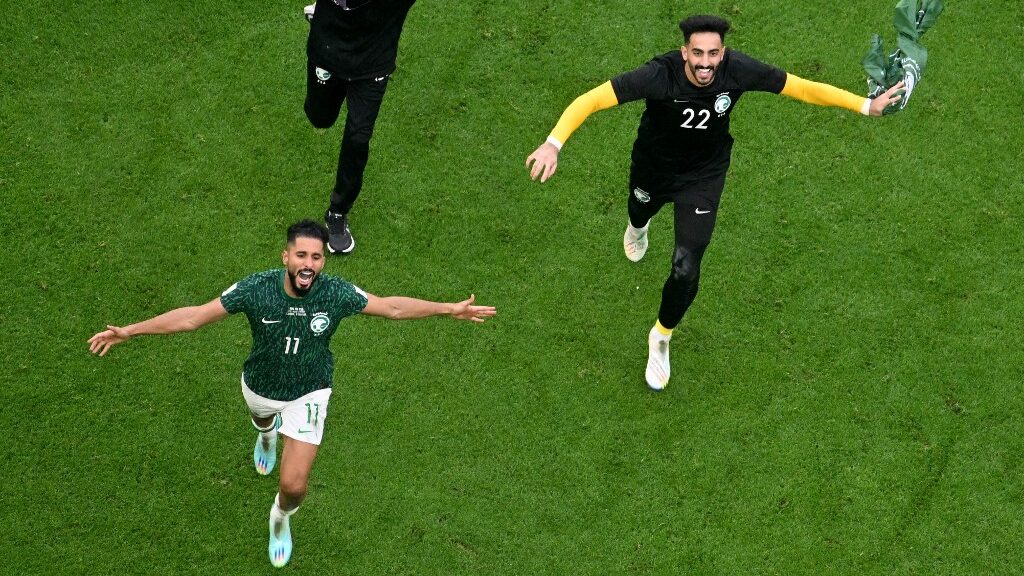 We want to first hope everyone has a fantastic Thanksgiving Day or when you celebrate this weekend.
When did the World Cup turn into the NCAA Basketball tournament with the opening round of Group play? We also learned today about a Flyboys QB change that is happening along with a –must-know– NFL Turkey Day trend.
This and our top trends and how Kansas State has owned Kansas as they prepare to play Saturday night.
---
About Last Night…
---
NBA
With Philadelphia missing so many starters and players, Brooklyn was supposed to roll over the 76ers Tuesday as 7.5-point road favorites and instead, lost 115-106. The Nets did this despite shooting 55% for the game. However, Brooklyn had six more turnovers, was -14 in rebounding, and was outscored behind the arc by 21 points.
Denver was a 12-point home favorite and as they have done the last few years, they lost to Detroit 110-108, giving another unfocused showing to fall to 10-7 SU and 7-10 ATS.
NHL
Buffalo ended their eight-game losing streak by mauling Montreal 7-2. Not much time for the Sabres to enjoy finally winning, hosting St. Louis tonight, who's won seven straight. Buffalo is a +130 home underdog.
NCAAF
Ohio U. wrapped up the MAC East by routing Bowling Green 38-14 as a seven-point home favorite, and they will meet Toledo next week for the MAC title.
NCAAB
A great game last night with No. 10 Creighton besting No. 9 Arkansas 90-87 in the Maui Invitational. The play was high-level if the defense was not.
Creighton has another tough assignment in No. 14 Arizona, who dismantled No. 11 San Diego State 87-70. The title game is at 5:00 PM EST on ESPN and is a must-view one.
---
Trendy Talk
---
NFL
Buffalo is 8-0 ATS playing against a team with a losing record in the second half of the season since 2020.
Dallas is 5-16 ATS after a win by 28 or more points.
Minnesota is 12-2 ATS in home games after a loss by 21 or more points.
Arizona is 1-11 ATS versus teams averaging 350 or more yards a game in the second half of the season since 2020.
NBA
Utah is 3-20 ATS after two or more Overs.
CLEVELAND is 14-2 ATS off a home win by 10 points or more.
Dallas is 23-8 Under versus teams making 48% or more of their shots.
L.A. Clippers are 14-4 Under in all games this season.
NHL
New Jersey is 11-0 after scoring four goals or more in their previous game.
Seattle is 9-1 against teams averaging five or more assists per game.
N.Y. Rangers are 13-2 Under when playing against a bad team (Win Pct. 25% to 40%) in the first half of the season.
Vancouver is 8-0 Over after scoring four goals or more in three straight games.
NCAAB
Butler is 1-9 ATS versus defensive teams allowing 64 or fewer points a game.
N.C. State is 2-12 ATS versus teams committing 12 or fewer turnovers a game.
Washington is 6-0 ATS in away games after playing two consecutive home games.
Wisconsin is 6-0 ATS after allowing 65 points or less in three straight games.
Pepperdine is 10-2 Under in November games in the last two seasons.
NCAAF
Ole Miss is 12-3 Under at home against rival Mississippi State. (Thursday)
Arizona State is 10-4 ATS at rival Arizona. (Friday)
Missouri is 9-2 ATS versus teams averaging 450 or more yards a game. (Friday)
Oregon State is 11-0 ATS in home games since last year.
Alabama is 26-5 ATS off two no-covers as a favorite when they won.
---
BMR's Betting Pulse
---
NFL
We are fired up for Thanksgiving with a trio of tilts and free picks. On the rest of the Week 12 slate, we have all 13 contests broken down in our NFL picks. This and our Best Bets and who is on Upset Alert.
World Cup
With what has already happened in the World Cup, follow us daily for all the group play action as we provide insightful information on the various matchups.
NBA
With a massive amount of contests the day after Thanksgiving, review our ATS, Money Line, and total picks at our NBA betting picks section.
NCAAB
This is a fun week for College Basketball with the holiday tournaments, and you can pick up a ton of information quickly on the various teams.
Also, watch for our useful daily free picks.
NHL
There is a complete slate of hockey matchups on Hump Day, check out our top parlay for Wednesday.
NCAAF
It is Rivalry Week, which is one the best weeks of the year in college football. We'll begin with Miss. State vs. Ole Miss Thursday.
We'll have it covered from wall to wall with Florida vs. Florida State Friday, starting Saturday with Michigan at Ohio State and closing the day with Notre Dame vs. USC.
This and 12 other battles plus our Best Bets.
Note: Review all our popular prop plays in all the sports.
---
The Buzz
---
World Cup – Upset Central
The world is still buzzing about Saudi Arabia upsetting Argentina as it should and here is why.
Though not of the same capacity, Japan at +600 took down Germany 2-1 today!
NFL – Jets Changing Things Up
As reported by ESPN's Adam Schefter this morning, the New York Jets are benching Zach Wilson for this week's game against Chicago.
Mike White is the projected starter and the news had such a betting impact, the betting line as this article was posted had not moved. Tells you about Wilson's impact on oddsmakers.
NBA – Clippers in the Same Mess
We know it is only Thanksgiving weekend, but tonight Kawhi Leonard and Paul George will not play against Golden State because of injuries.
Leonard has played in five of the Clippers' 18 games after missing all of last year. At 31, it seems impossible he could lead his team to an NBA title as a key component.
---
Football Focus
---
NFL – Thanksgiving Betting Tip
Do you like the favorites or the underdogs or a mixture of both? Consider this.
NCAAF – Kansas State Has Kansas Number
The Saturday night game on FOX has Kansas at Kansas State which is the Sunflower Showdown (Kansas is known as the Sunflower State).
Since former coach Bill Snyder arrived in the Little Apple (that's Manhattan, KS), beginning in his 4th season in 1992, K-State is 25-5 SU and 21-9 ATS.
Included in that are the Wildcats at 13-1 and 10-4 ATS at home. However, when Kansas State faced the Jayhawks as a ranked team like they are at #13 in Coaches Poll this season, they are a perfect 12-0 SU and ATS versus Kansas.
NCAAF Biggest Line Moves
Miss. State/Ole Miss Total 63 to 60.5
Cen. Mich. +1 to -2 over East. Mich.
Tulane +3 to +1 vs. Cincinnati
Temple +13 to +10 vs. East Carolina
LSU -8.5 to -10 over Texas A&M
NFL Biggest Line Moves
Bills/Lions Total 51.5 to 54
Giants/Cowboys Total 43 to 45.5
Cowboys -6.5 to -9.5 over Giants
Commanders -3 to -4.5 over Falcons
---
Out The Door
---
NBA – Not Sure How the 76ers Can Keep Doing This
P.J. Tucker is known as a great defender and is playing for Philadelphia. But can the Sixers really afford for him to play bigger minutes if he is doing this?
---
Who is Right?
---
In the NBA, we have a Central Division showdown between Chicago and Milwaukee. The Bucks opened as an 8-point home favorite and slid to -6.5 in this I-94 upper Midwest matchup.
The money evidently has had the most influence on the betting odds, with the Bulls at just past 80%. Nonetheless, the favored Bucks have betting tickets with their name on them to cover the spread at just under 80%. We know who we like, what about you?
Let's get some winners! See you back here Friday and have a great Thanksgiving!