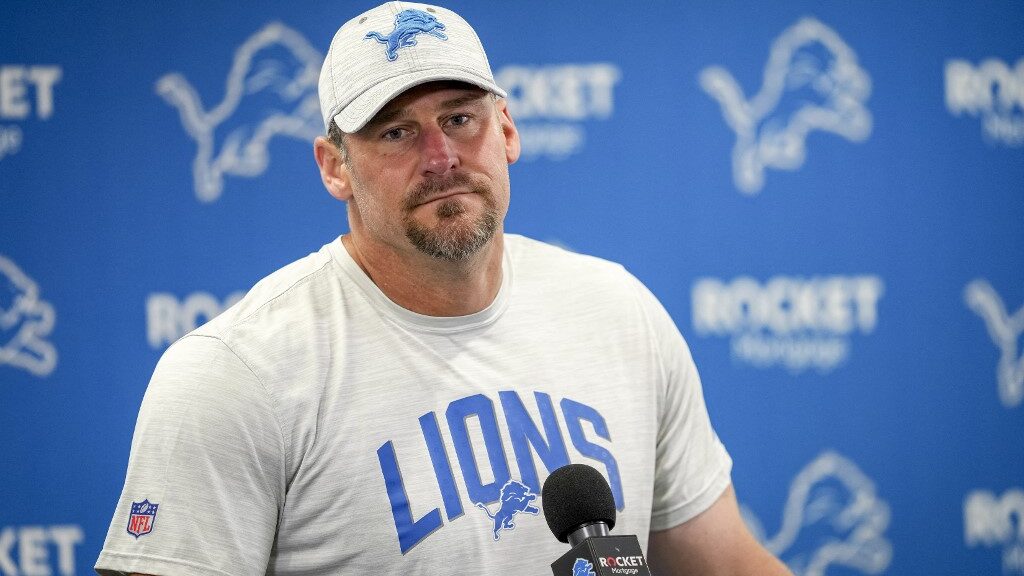 The Baltimore Ravens in preseason football are like a Justin Tucker field goal attempt: nearly automatic. Almost like the world's sudden love for the Detroit Lions. It's The Pulse and today we talk about the unstoppable Ravens, honoring Bill Russell and the Hard Knocks effect.
This and a quirky betting angle in our – Who is Right – segment and a Big Ten look ahead to 2022. Let's check The Pulse!
---
About Last Night…
---
MLB
It was not the most interesting day of the baseball season but it was mostly made up for with the "Field of Dreams" game between the Reds and Cubs. Sure, those teams are having rough years, but it was still fascinating to see all the corn, how the sun was hitting the field and the simple beauty of baseball in that setting. And if you had Chicago +105, the night was perfect.
NFL
Though there is no such thing as a lock, nevertheless, the Baltimore Ravens are as close as you can get. Winners of 21 straight August games and an ATS record that is also nearly spotless with their 23-10 victory over the Titans.
The New York Giants went from +2 to -3, at game-time, over New England on the road. It was primarily because some of their starters were going to play and the Patriots' front-liners were not. It looked like easy money unless you knew Bill Belichick was still coaching the Patriots.
In a back-and-forth affair, The G-Men kicked a game-winning field goal to escape 23-21, but the Pats had the winning betting ticket.
---
Trendy Talk
---
MLB
Milwaukee is 3-11 (-19.3 Units) vs. an NL team with a batting average of .255 or worse in the second half of the season.
Pittsburgh is 1-15 when playing on Friday this season. (Generally series openers)
Boston is 10-0 OVER  vs. teams averaging 1.5 or more homers a game this season.
Minnesota is 13-1 OVER in road games in the second half of the year.
Max Scherzer is 16-2 against division opponents since last year. (Team's record)
NFL
Green Bay is 21-9 ATS against conference opponents.
Kansas City is 22-44 ATS in games when the line is +3 to -3. (Saturday)
Carolina is 16-6 ATS against conference foes. (Saturday)
Buffalo is 7-0 ATS as an underdog. (Saturday)
Miami is 10-0 Under when playing at Tampa Bay. (Saturday)
WNBA
Seattle is 8-2 OVER versus teams making 44% or more of their shots.
Dallas is 11-4 ATS in road games this season.
New York is 6-0 ATS in road games after a game making 11 or more three-point shots.
CFL
British Columbia is 32-13 ATS in August road games. (Saturday)
Saskatchewan is 12-25 ATS in away contests off a home loss against a division rival. (Saturday)
---
BMR's Betting Pulse
---
MLB
No better time for Boston to turn their season around than facing the New York Yankees while they are slumping.
Also on Friday, we'll cover the big opening matchup between the Brewers and Cardinals. Daily, review our top MLB picks on the money line, run line, and totals.
NFL Preseason
Week 1 action continues Friday and makes sure to review our best bets for the weekend as well as some parlay action!
UFC
Learn what our experts think of the Vera vs. Cruz fight and what are the best bets!
---
The Buzz
---
NFL: Football is Back
Football followers on social media freaked out a bit when it was announced Tom Brady will leave Tampa Bay and not return until around Aug. 20 because he's handling a "personal matter". Since Brady never does this, Bucs fans went into a panic. However, there is zero indication anything is wrong.
Just like that, every fan's new favorite NFL team is the Detroit Lions. Not for their skill, just being on Hard Knocks with entertaining coach Dan Campbell's views and stuff like this.
NHL – Vegas Needs a Puck Stopper
Yesterday it was announced Vegas' No.1 goalie Robin Lehner will miss all of next season needing hip surgery. Lehner dealt with several injuries last season and this situation is made worse with Golden Knights' main backup Laurent Brossoit, also having surgery this summer.
What will VGK do now and how far will their betting odds fall?
---
Football Focus
---
As we get closer to the start of football, we will have a report on every college football conference and each NFL division before their season starts. On Monday we have: the SEC
Odds to Win Big Ten Conference 2022
Ohio State -210
Michigan +550
Wisconsin +900
Nebraska +1600
Penn State +1600
Iowa +2200
Minnesota +2800
Purdue +3300
Michigan State +3300
Indiana +20000
Maryland +20000
Illinois +20000
Northwestern +30000
Rutgers +50000
*All odds via BetOnline (visit our BetOnline Review)
Football Pulse
Every top sportsbook we reviewed has Ohio State second only to Alabama to win the national championship. The Buckeyes are stacked on offense with quarterback C.J. Stroud at the controls and boy, do they have the weapons!
It is hard to imagine the Buckeyes not winning the Big Ten title, but to win a national championship, the offensive line has to open more running lanes and new defensive coordinator Jim Knowles (by way of Oklahoma State) needs to turn Ohio State at least into a Top 30 defense.
Jim Harbaugh deserves credit for bringing the energy level back to Ann Arbor and making the necessary changes that led to a Big Ten title. What football bettors do wonder if Michigan will maintain that same intensity again? Especially on a defense that was so important.
What is the difference between a 10-win season for Wisconsin or an 8-win season? Quarterback Graham Mertz and the offensive line. If these two elements are a big success, the Badgers' defense has eight starters back and should again be among the Top 10 in the country.
The Rest of the Field
Not seeing the love for Nebraska. Coach Scott Frost has not had a winning season in four years and nothing about this team sends out a vibe of a breakthrough campaign. If the Cornhuskers can upset Oklahoma at Lincoln on Sept. 17, maybe that will ignite a surprising season.
Since posting a 42-11 record from 2016-19, Penn State is .500 since and the recruits coming in for James Franklin are not the same quality. QB Sean Clifford could have a breakout year if the O-Line gives him time and opens holes for the running game.
The Nittany Lions have to find better linebacker play. Penn State seems well behind Ohio State and Michigan in the East.
Don't expect Iowa to look much different in 2022. The offense will be ugly at times yet the defense will keep them in games. Also, play against the Hawkeyes at home and back them on the road.
Big Ten Champion Pick: Ohio State (-210) at BetOnline
Big Ten Darkhorse Pick: Wisconsin (+900) at BetOnline
---
Out The Door
---
NFL – Week 1 Biggest Line Moves
Detroit -1.5 to +1 vs. Atlanta – Update: Reverse to Lions -2.5 today
Chicago -1 to -3.5 vs. Kansas City (Saturday) – Update: Now a Pick
Buffalo -3.5 to -1 vs. Indianapolis (Saturday) – Update: Bills +1.5
NBA – Nice Job By The Association
Word has spread that the NBA will permanently retire Bill Russell's No. 6, just like MLB did for Jackie Robinson. All players (more than 20 last year) already wearing No. 6 will be grandfathered in (that includes LeBron).
NBA players will also wear a patch on their jerseys next season displaying a clover-shaped logo with No. 6.
MLB – Pursue The Pennant Time
Have a couple of series we are ready to follow this weekend. It's the battle for first place in the NL Central with Milwaukee at St. Louis. The Cardinals are a -125 favorite to take at least two games, yet, not much difference in the starting pitching in any contest.
Philadelphia has played great baseball since firing Joe Girardi but has a nasty assignment at the New York Mets. The Phillies are +180 underdogs and to win the series they need to keep the first two battles close and hope to win in the late innings before using ace Zack Wheeler Sunday.
---
Who Is Right?
---
Tonight's Arizona Cardinals at Cincinnati Bengals contest has the home team favored by two points. The bets are virtually even for each club.
However, the money is all over Arizona at 85 percent. Is someone paying attention to Super Bowl losers who are 6-22-1 ATS in their preseason openers and 2-14-1 ATS a favorite? (Trends courtesy of Mark Lawrence)
Let's get some winners! Good luck this weekend and see you back here on Monday.