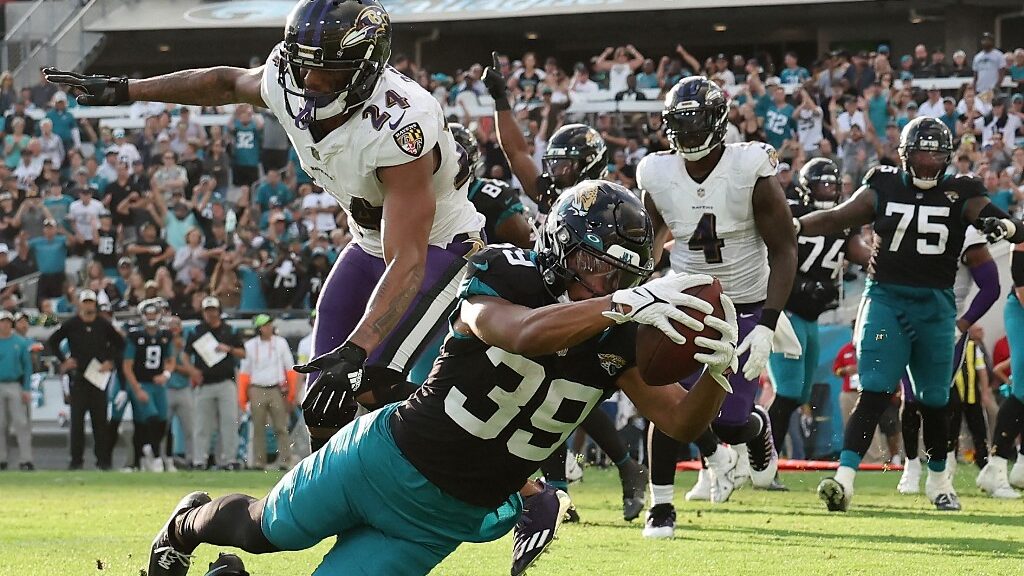 Hope you had a great holiday weekend and you did a number on the leftovers from Thanksgiving. College football saw plenty of chaos to close the regular season and we talk about the biggest upsets and a Bad Beat that is arguably the worst of the season, maybe longer.
Another amazing Sunday in the NFL left many thoughts including what we think of the Baltimore Ravens. If you watched a lot of football this weekend, you were not alone as we explain. We close with the curious story about the Chicago Bears quarterback situation Sunday and how it was handled on social media.
PLAY NOW: $25,000 Free-To-Play NFL Contest BMR's 2022 Pick'Em Pool With Weekly Prizes
---
About Last Night…
---
NFL
This writer started to fall for it. After blowing lead after lead, I like many was down on Baltimore. Then the Ravens were getting better on offense and defense and they climbed within a game of Kansas City for the best record in the AFC.
But after barely beating Carolina and losing at Jacksonville with a nine-point fourth-quarter lead, time to move on from Baltimore because great teams don't lose four times when having a 9-point or larger lead in the last quarter.
Impressive gut-checks victories by Cincinnati, Los Angeles Chargers and Washington, making the needed plays on offense and defense to secure victories.
Not as impressive were Tampa Bay and Denver just doing nothing to win their games. Even Russell Wilson's teammates are tired of his poor play.
We are not saying the Jets' Mike White is better than Zach Wilson, but we will say yesterday he got the ball out on time in the passing offense and made better throws in anticipation as Gang Green ganged up on Chicago 31-10.
The Philadelphia Eagles defense is becoming more suspect each week, but that offense is a thing of beauty led by Jalen Hurts. They gave a historic performance Sunday night.
NCAAF
With Michigan destroying Ohio State, Clemson losing at home to South Carolina and Oregon blowing a 31-10 lead to in-state rival Oregon State, it was a wild final weekend of college football.
Have to love Ohio State fans who want coach Ryan Day replaced. He's lost two games the past two years and while both were not very good losses to the Wolverines, winning every game against Michigan is not a birthright. Just sayin'.
Clemson blew a golden opportunity to move up the rankings as their pass defense was torched and the Tigers' special teams were dreadful in being upset by the Gamecocks. This blew up a lot of parlays Saturday.
All the Ducks had to do was beat the Beavers and with a 21-point lead, they were going to face USC for the Pac-12 title. With the Oregon State quarterback way off target, coach Jonathan Smith told his offensive line to take over when trailing by three touchdowns and the Beavers never passed again and won 38-34 dashing Oregon's hopes.
---
Trendy Talk
---
NFL
Pittsburgh is 24-5 UNDER in road games against teams who force one or fewer turnovers a game.
Buffalo is 6-0 UNDER as a road favorite this season.
Chicago is 0-9 ATS in weeks 10 through 13 in the last three seasons.
Cincinnati is 12-2 ATS playing against a team with a winning record
NBA
Atlanta is 6-22 ATS in road games playing against a team with a winning record
Oklahoma City is 19-6 ATS having lost four of their last five games.
Minnesota is 22-4 OVER after allowing 130 points or more.
Indiana is 12-2 OVER a road loss by 10 points or more.
NHL
New Jersey is 14-1 against teams averaging 29.5+ shots on goal per game this season.
Florida is 2-8 after playing a home game.
Columbus is 25-6 OVER after a division game.
Florida is 8-0 OVER after allowing four goals or more this season.
NCAAB
Pacific is 0-9 ATS off a home loss the last over seasons.
Arkansas is 10-1 ATS in home games after two straight games giving up nine or fewer offensive rebounds.
Columbia is 12-2 ATS in road games after playing a game as an underdog.
Nevada is 0-8 ATS in home games versus teams who attempt 21 or more three-point shots a game.
NCAAF
UTSA and North Texas are 8-2 UNDER.
USC is 7-1 OVER after four consecutive games where they committed one or fewer turnovers this season.
---
BMR's Betting Pulse
---
NFL
We close Week 12 with the Steelers at the Colts on Monday. Next is looking ahead to Thursday for a sweet matchup between division rivals the Bills vs. Patriots and also release our Early Value Picks.
World Cup
Group play continues to start a new week and we cover everything in-depth and dish out free picks.
NBA
For Monday, see our top picks in various elements for sides and totals along with player props. Return Tuesday as our attention turns to TNT for two matchups between Golden State vs. Dallas, followed by the L.A. Clippers vs. Portland predictions.
NCAAB
College basketball returns to normal and starting Tuesday is the ACC/Big Ten Challenge. Look for our top information!
NHL
We begin a new week and have free picks for the ML, Puck Line and total.
NCAAF
It is Championship Week and we have our top early Value Picks along with Friday's matchups in Conference USA and the Pac-12.
---
The Buzz
---
Football – Has Never Been More Popular
The Giants/Cowboys Thanksgiving game drew 42 million viewers, the most ever to watch an NFL game.
The Michigan/Ohio State battle had 17 million people watching, the most this season in college football this year and the most-ever for a FOX sports collegiate contest.
Thus far, 47 of the top 50 viewed programs of 2022 have been football.
NCAAF – Wisconsin's Stunning Hire
Even in the loss to Minnesota to finish 6-6, Wisconsin was expected to sign Jim Leonard as their next head coach. On Sunday morning, word broke that Luke Fickell was leaving Cincinnati for Madison, which was a shocker.
The contract will be interesting.
---
Football Focus
---
NCAAF – Taking Self-Punishment to the Next Level
This is painful to watch and not very smart, but it is humorous. Also, watch the player's teammate's reaction on the bench.
NFL – Monday Night Football Info
The Pittsburgh Steelers are 8-0-1 ATS the last nine games vs. AFC South opponents, while the Indianapolis Colts stand 1-6 ATS vs. AFC North foes.
NCAAF – It is Championship Week
On Wednesday's, The Pulse edition, we will have all the point spreads of the games and any line moves.
---
Out the Door
---
NCAAF – Utah State Fails To Cover, Unbelievably
Utah State was catching 17.5 points Saturday at Boise State and was going in for the go-ahead touchdown with around 90 seconds left down 28-23. After failing on the fourth down pass, watch what happened as the Aggies did not cover.
Those who had Utah State said it was their worst Bad Beat ever on Twitter.
NFL – Bettors Wondered What Was Going On
The Chicago Bears public relations group either overreacted, did not have the proper knowledge about who their starting quarterback would be Sunday, or was messing with people. Here is the account of what happened.
---
Who Is Right?
---
We start the week looking at the NHL, where Florida opened as  a -110 favorite at Edmonton. The Panthers have been hovering around -107 as of 2:00 ET with almost 80% of the money supporting them.
However, more than 60% of the wagers placed are on the Oilers with likely enough hockey bettors knowing Florida is 2-8 on the road this month. What are your thoughts?
Let's get some winners! See you back here Wednesday!